On day seven and eight of your vacation in Croatia, I wore a lot of animals and colourful prints. In this style diary post I'm going to show you two super fun outfits for the last days of summer.
Day 7: Good Times with a Cat Blouse and Flamingo Handbag
I'm obsessed with cats! But I guess you already know this. 😉 Everytime I see something with a cat on it, I'm very likely to buy it. And this is exactly what happened when I discovered the lovely cat blouse by Dancing Days by Banned. I teamed the blouse with my beloved and often worn pink circle skirt (find more combinations here, here, here, and here). As we went out for a walk, I chose ballet flats by Melissa. And just because I thought I didn't have enough animals on me, I took a cute flamingo bag by Collectif Clothing with me. Pink vintage earrings as well as a nourishing lipstick by Dior in the same colour finish the vintage inspired look.
As you can see in my pictures below, even real cats in Croatia liked my outfit. 😉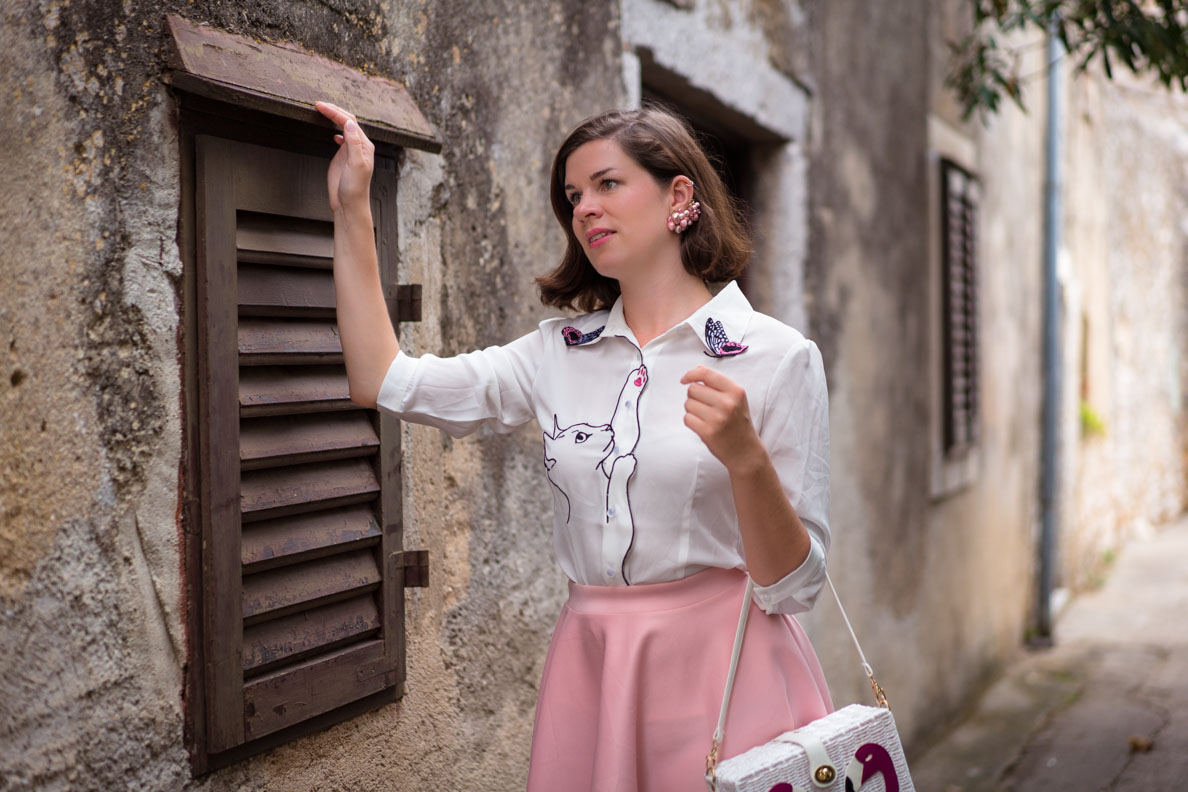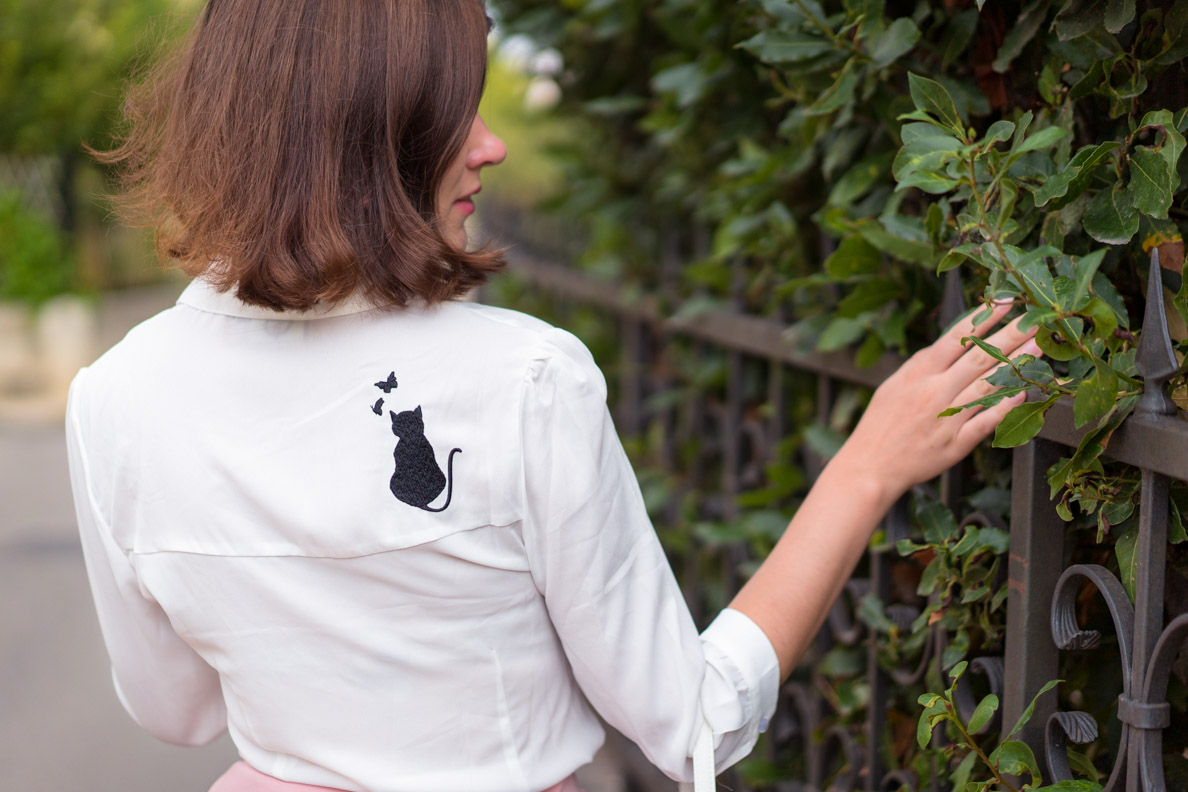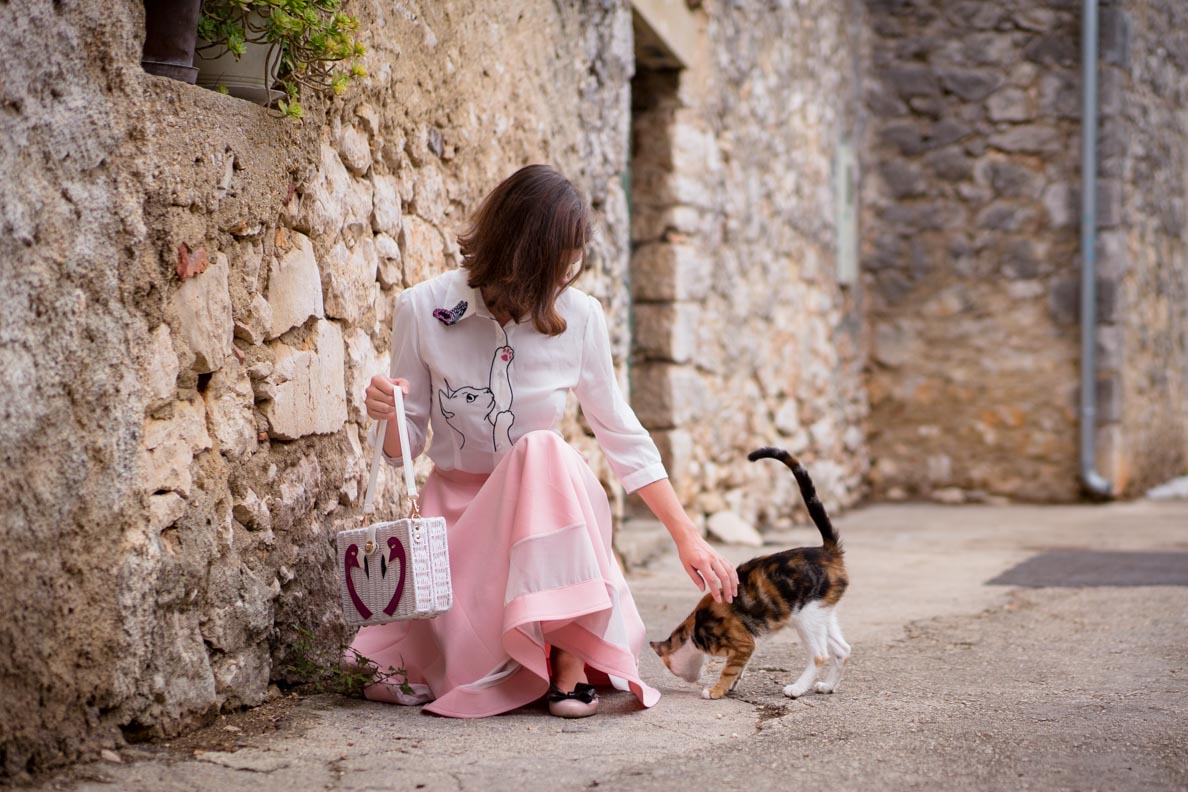 Outfit Details:
Cat blouse: Dancing Days by Banned
Circle skirt: Asos, similar here
Ballet flats: Melissa via Maison Chi Chi, similar here
Flamingo handbag: Collectif Clothing (sold out) c/o Fräulein Backfisch
Earrings: Vintage
---
Day 8: Sunny Days with the Starlight Swing Dress by Dancing Days by Banned
Is there a better occasion to wear the Starlight Swing Dress by Dancing Days by Banned than a sunny day during your summer vacation? I don't think so. Since the retro dress is super colourful, I only wore a few accessories. Colour matching earrings by Glitter Paradise, cateye sunglasses by Dolce & Gabbana, black wedges by Miss L-Fire as well as a true vintag handbag – that's it.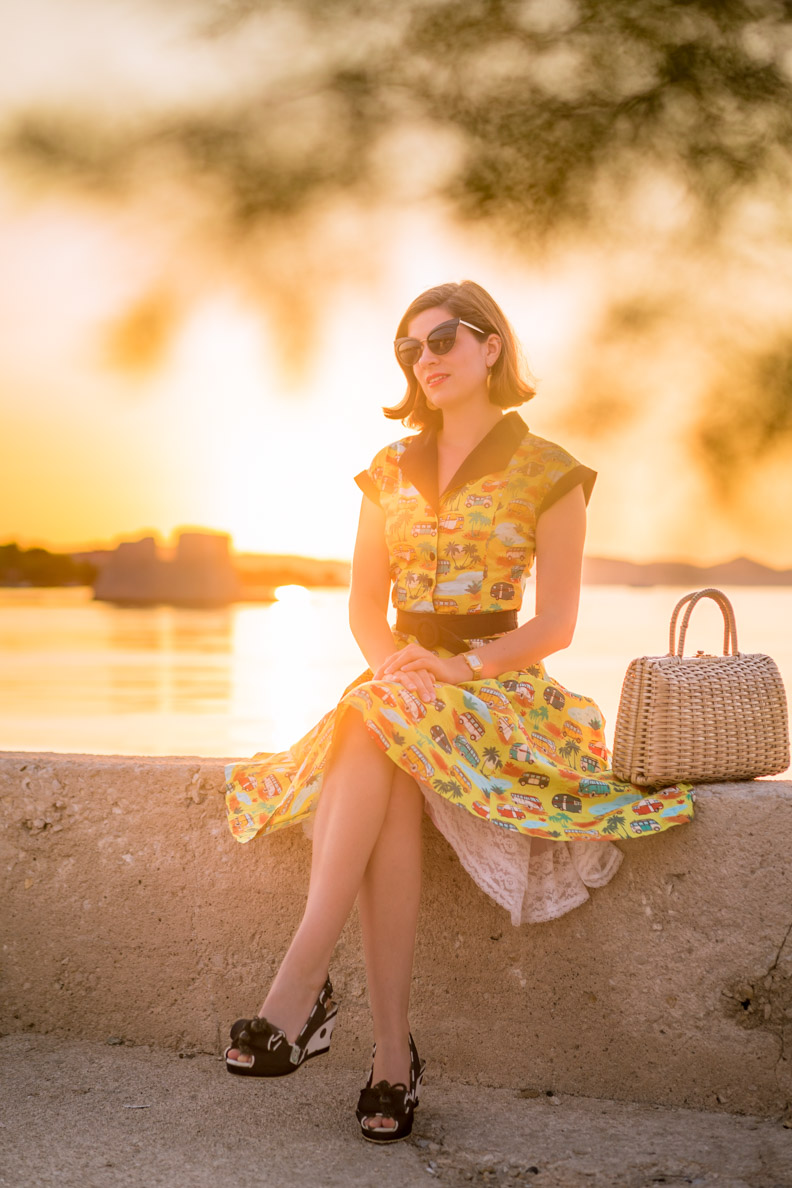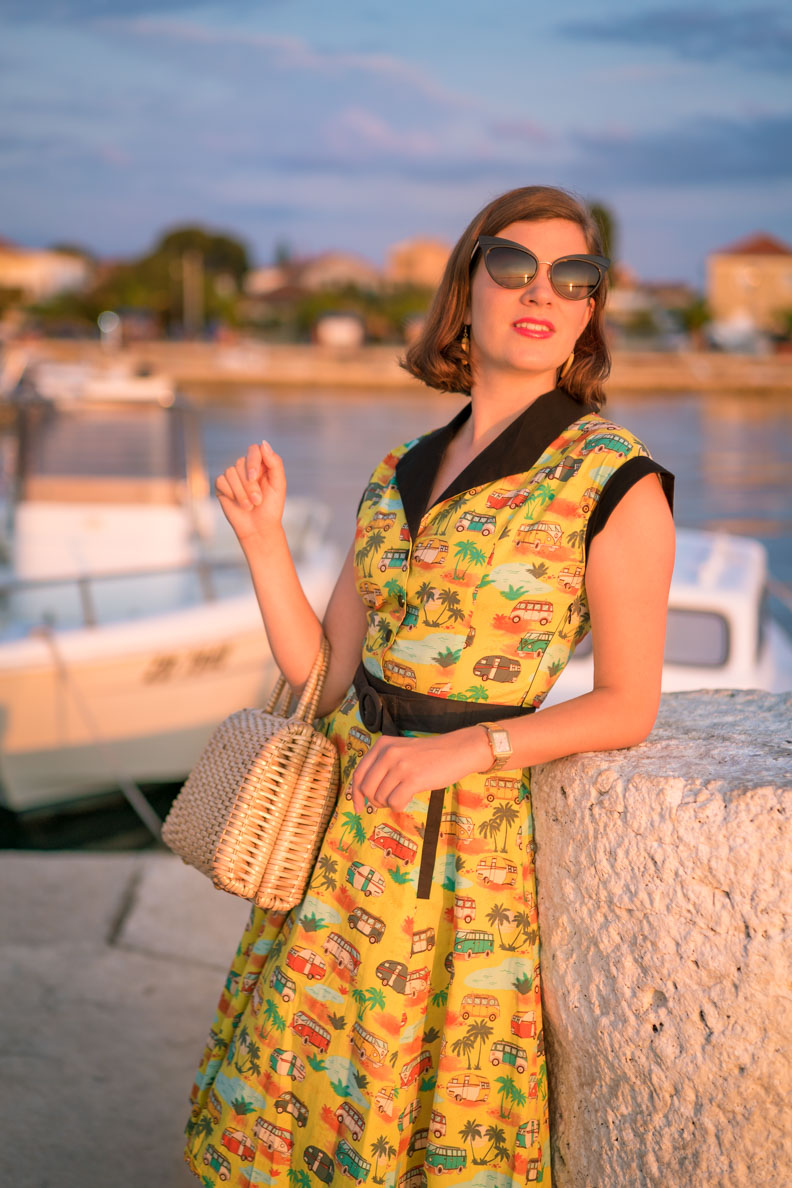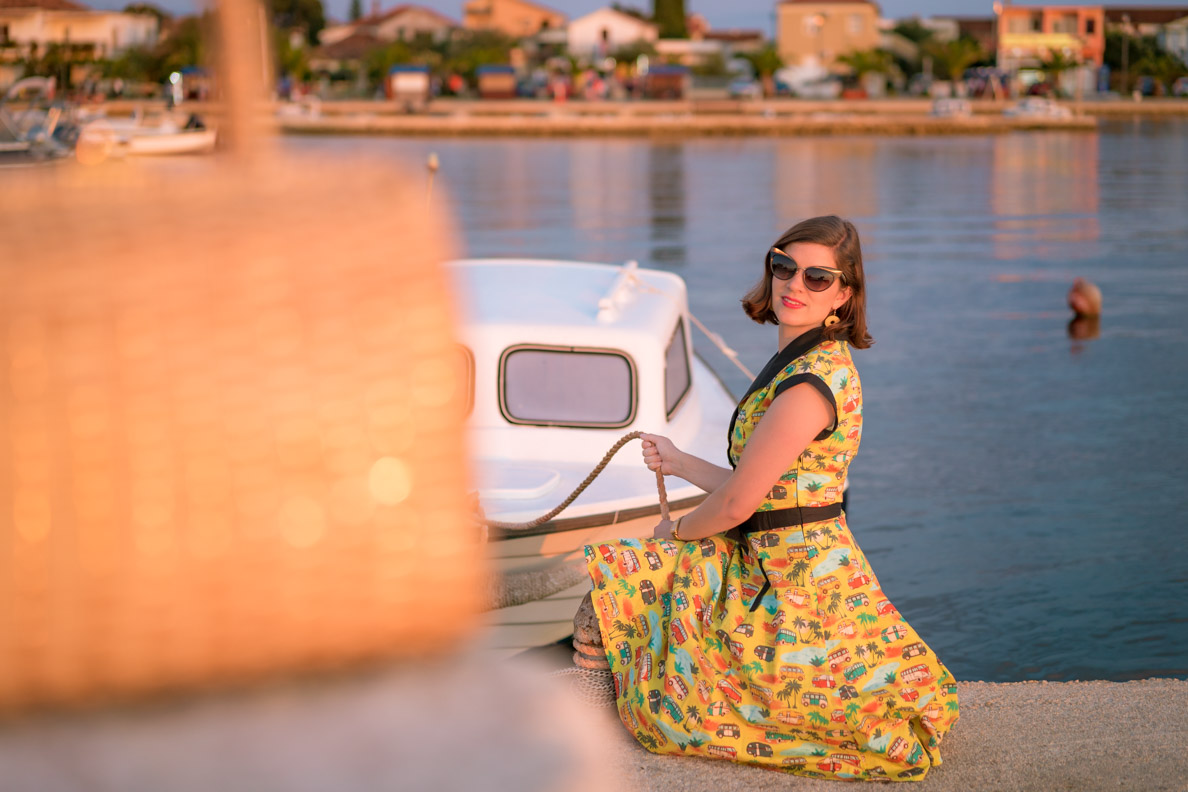 Outfit Details:
Starlight Swing Dress: Dancing Days by Banned
Sunglasses: Dolce & Gabbana
Earrings: Glitter Paradise
Shoes: Miss L-Fire, similar here
Handbag: Vintage