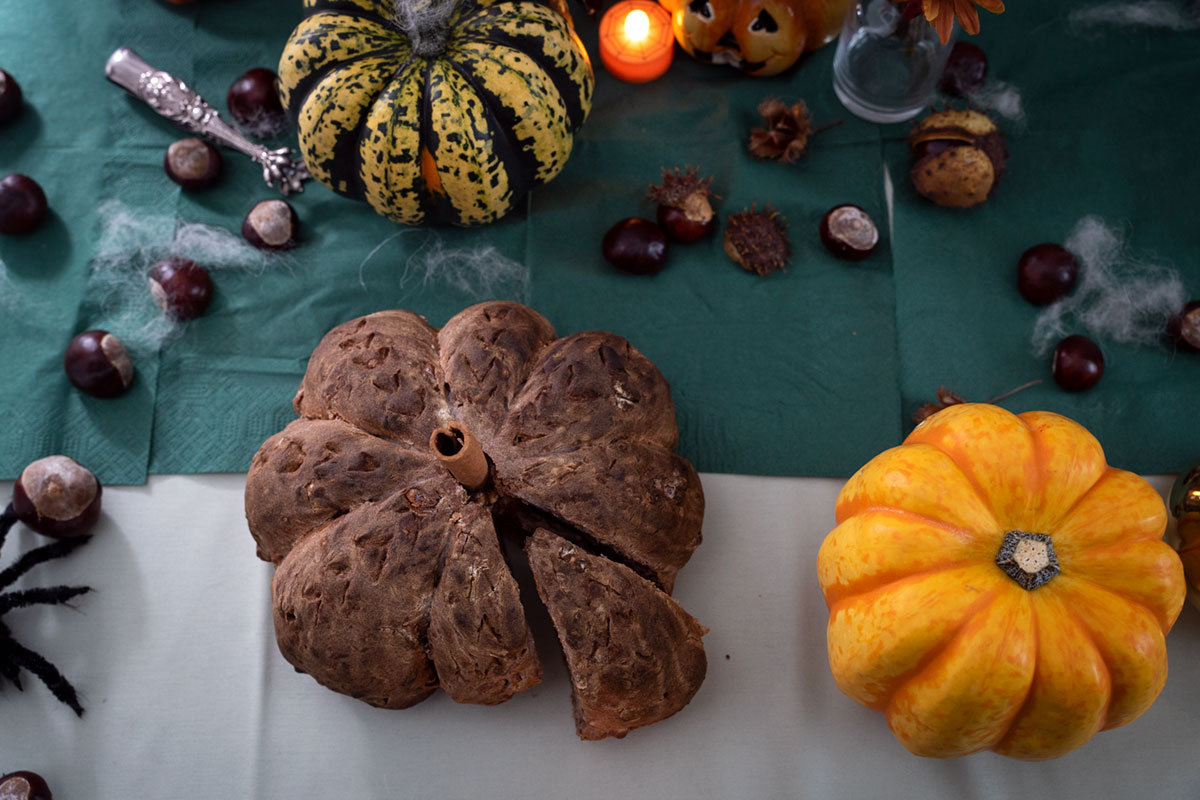 This blog contains affiliate links (marked with *). If you shop products via those links, I may get a small provision which helps me to maintain my blog. Of course the price doesn't change.
How to make a pumpkin-shaped bread
Is there anything better than homemade, fresh bread? This is also a wonderful small present, I believe. For Halloween, I wanted something especially beautiful and special. And what would suit better for autumn than a pumpkin-shaped bread? In the following, I am going to tell you how to make one by yourself.
What you need for a Pumpkin-Shaped Bread
Sourdough
Kitchen twine
Cinnamon Stick
To bake a pumpkin-shaped bread, first of all you need a sourdough. I made the walnut bread dough from the book Bread Bread Bread: Recipes, Advice & Shortcuts*. But of course, you can also use other sourdough bread recipes. As soon as the dough is ready, it is time to shape the bread
*Affiliate links

---
In this Instagram Reel, I show you how to make a pumpkin-shaped bread. And in the following, you will also find a step by step guide.
Cut four equal long pieces of the kitchen twine an lay it down in the shape of a snowflake/star on your floured working surface.
Shape the sourdough into a ball and place it in the middle of your "kitchen twine snowflake".
Now, knot the ends of the kitchen twine together to create grooves in your bread. Then cut the protruding ends of the kitchen twine.
Make your bread look even better by cutting some small lines into the dough. I went for small triangles, by the way.
Bake the bread and let it cool down.
Now, cut the kitchen twine and loose it from the dough.
Last but not least, put a cinnamon stick on top of the bread – voila, your pretty and delicious Halloween bread is ready to be eaten. 😉
By the way: I really recommend the book Bread Bread Bread: Recipes, Advice & Shortcuts* by Martin Johansson I mentioned earlier in the blogpost. It offers some great advice for baking bread and very delicious recipes.
Have a happy Halloween!
---