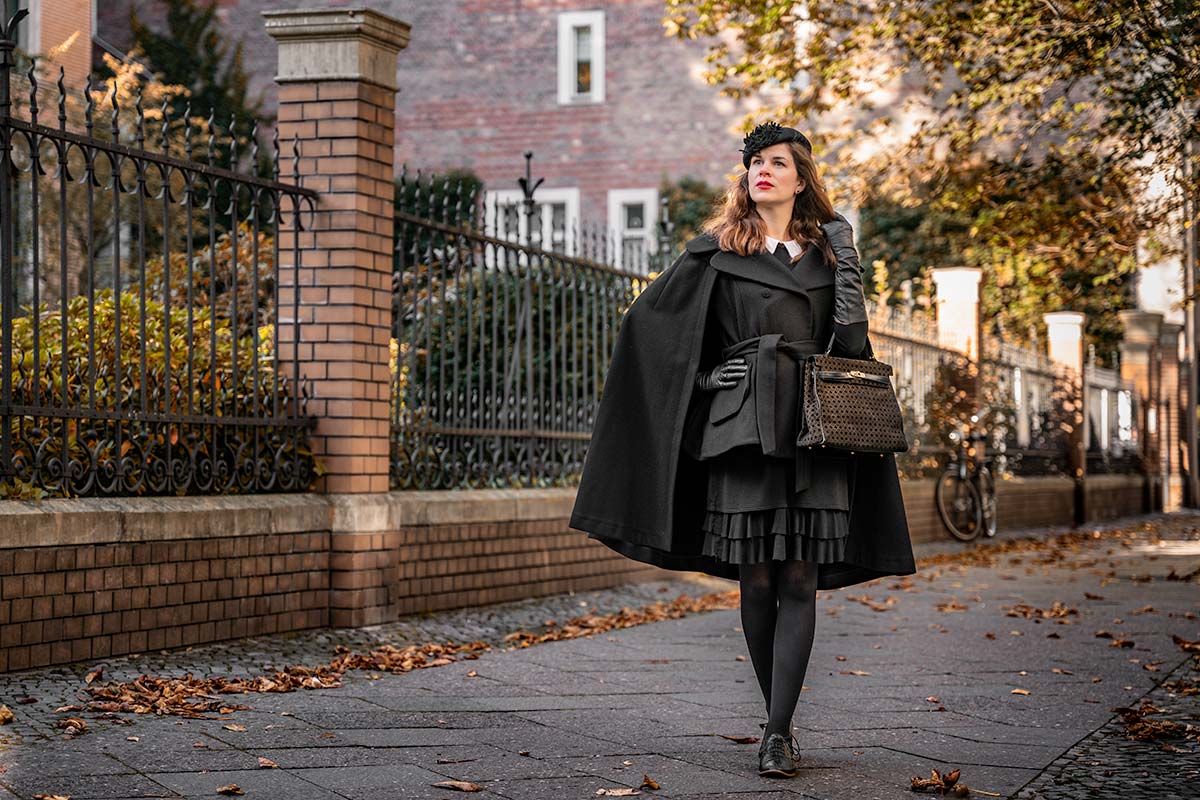 This blog contains affiliate links (marked with *). If you shop products via those links, I may get a small provision which helps me to maintain my blog. Of course the price doesn't change.
Lovely capes for the cold season
Winter is coming! I already started another blogpost with this sentence. But this time, there wasn't a phrase that could have started this article better, I believe. I mean, the characters in Game of Thrones wore wonderful capes quite often. And in this blogpost, I want to talk about this specific kind of clothing. Because capes are super elegant and a wonderful alternative to jackets and coats.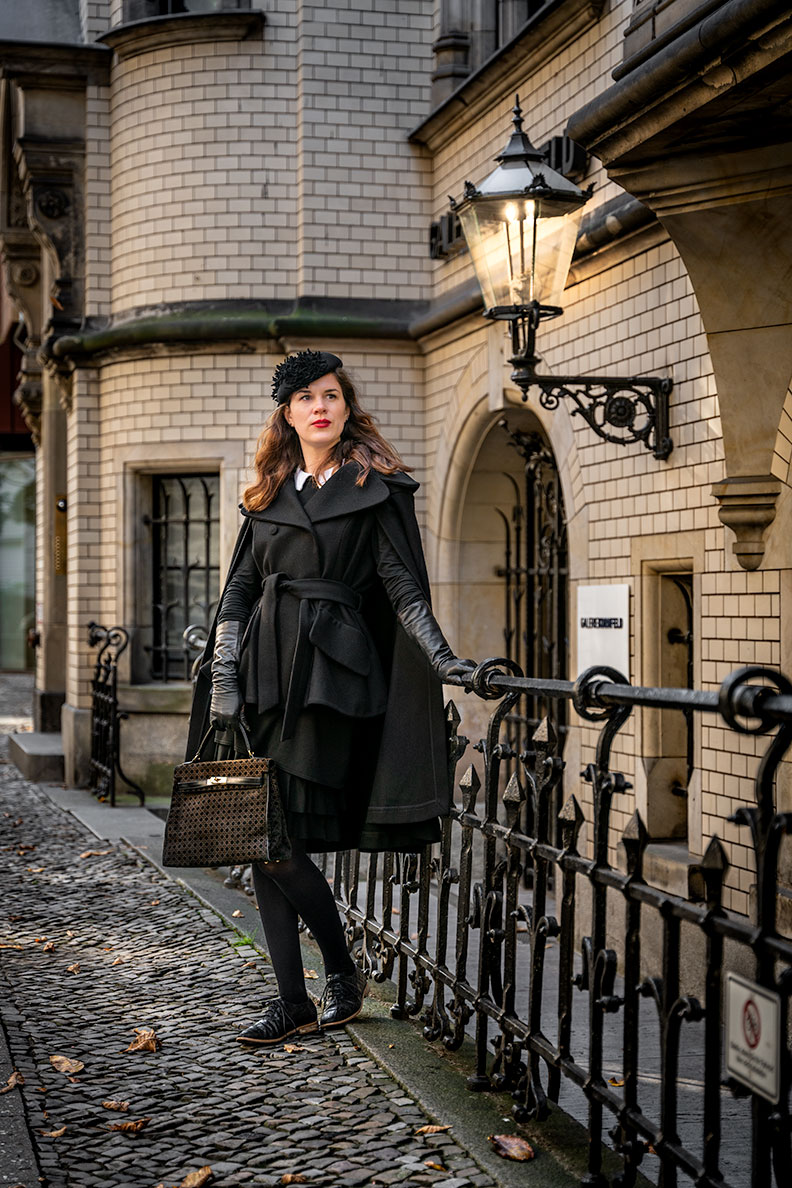 The Outfit Details:
Cape "Sherlock": Ginger Jackie, similar here*
Black dress: Jools Couture, similar here*
Hat: similar here*
Tights: similar here*
Long gloves: Vintage, similar here*
Shoes: Beyond Skin, similar here*
Handbag: Vintage, similar here*
*Affiliate links

---
Lovely Capes for Fall
Not only Red Riding Hood, but also royals and Sherlock Holmes look amazing in capes. And as this kind of garment is available in many different lengths, I am sure there is a perfect fitting cape for every taste out there.
When it comes to colours and patterns, always remember: Plain capes look super elegant and are quite easy to combine, while chequered ones look very British.
My Cape with the name "Sherlock" is by Ginger Jackie. It has some buttons and a waist belt – so although the cape has an A-line, it doesn't look bulky.
In combination with a hat, flat shoes as well as dark tights, I almost felt like a Hogwarts student, by the way. 😉
Some of my favourite online Finds:
*Affiliate links

---
What to wear with Capes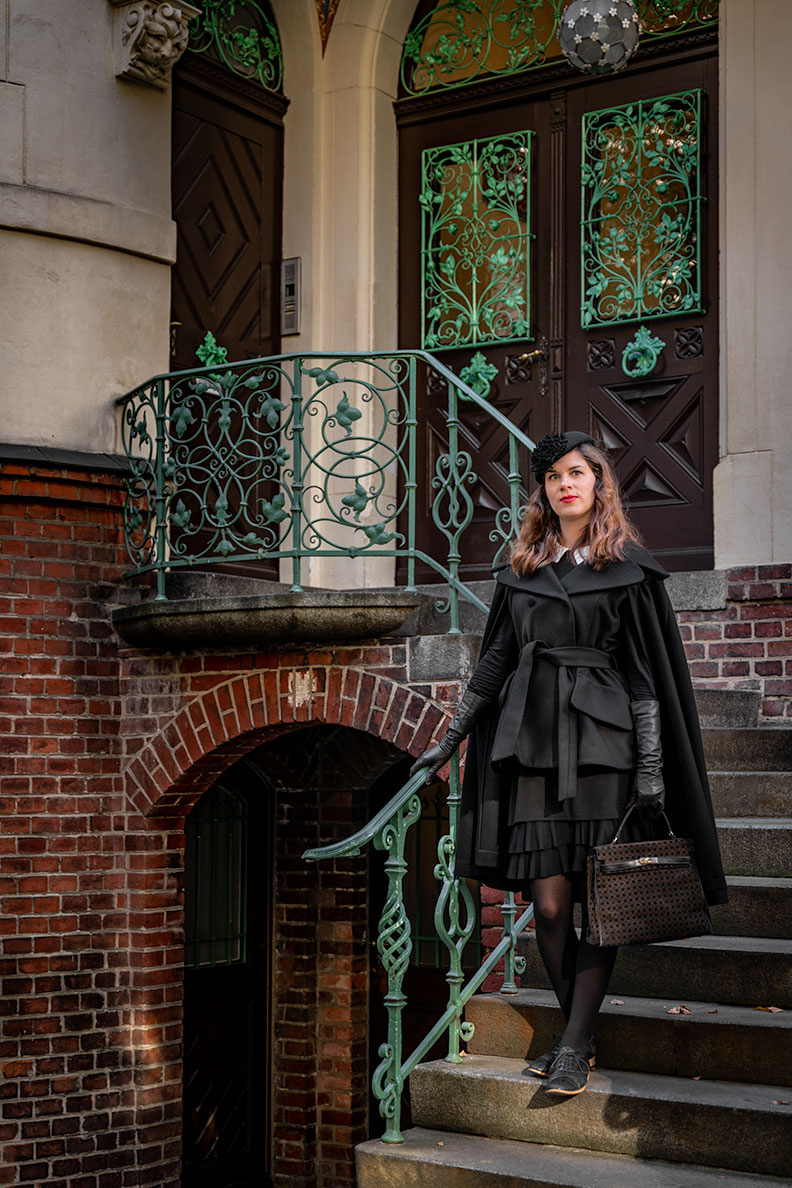 Capes look great in combination with leggings or cigarette trousers, but also go well with fitted dresses and skirts. You even can wear flared dresses underneath a cape.
As a cape doesn't have sleeves, don't forget your long gloves* when wearing one! Those not only keep your arms warm, but also look very elegant and stylish.
How to team Capes:
*Affiliate links

---