This blog contains affiliate links (marked with *). If you shop products via those links, I may get a small provision which helps me to maintain my blog. Of course the price doesn't change. Items marked with c/o were given to me as free test samples.
A Barbie inspired retro outfit
Barbie mania has broken out! Admittedly, I have not yet seen the new Barbie movie. After all, I have a baby… So until I can finally watch the movie, I sweeten the time with pink dresses, matching lipsticks and artificial hair, in the style of the popular plastic doll. In this blogpost, I will show you my personal interpretation of a Barbie look.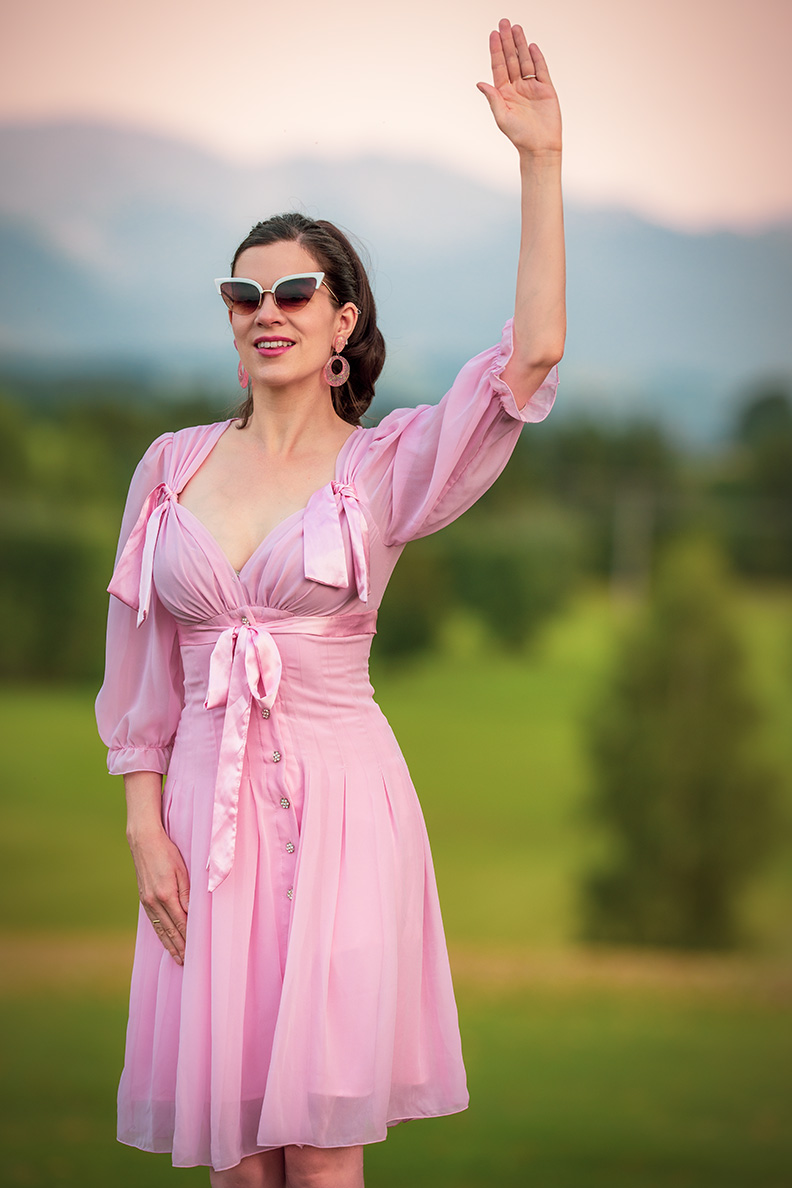 Outfit Details:
Dress: The Lana Dress von Wheels and Dollbaby, similar via Amazon*
Nylons: c/o Secrets in Lace
Shoes: Peter Kaiser, similar via Amazon*
Earrings: Glitter Paradise via Etsy*
*Affiliate links


---
My Barbie inspired retro Outfit
I was a huge Barbie fan as a child and could really spend hours with my plastic dolls, horses and houses. And I still like her look today.
Lovely pink Dresses: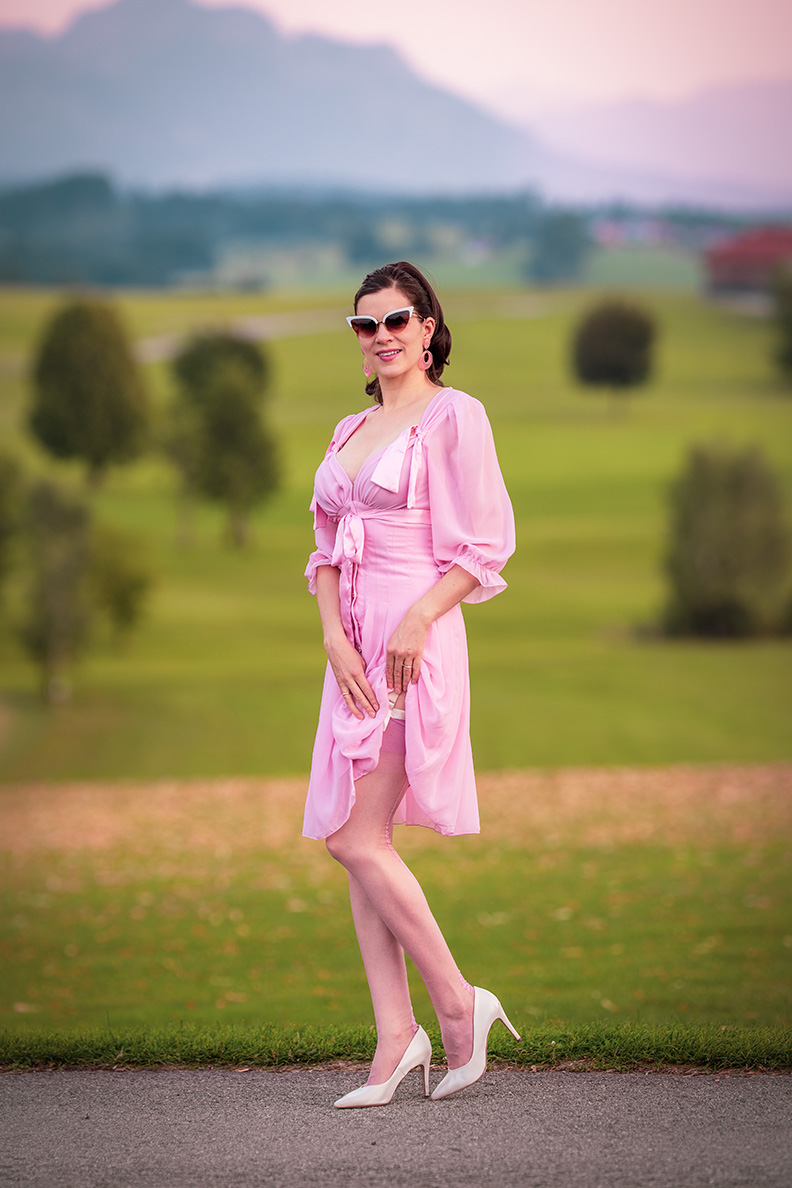 My outfit is based on a pink dress by Wheels and Dollbaby. But of course, other pink dresses also work for the ultimate Barbie look. Here is a small selection of my personal favourites:
*Affiliate links

---
Girly Barbie inspired Accessories
What would a Barbie outfit be without matching accessories? Cool, retro-looking sunglasses and large pink plastic earrings (e. g. by Glitter Paradise via Etsy*) make the outfit even more girly.
Also, of course, I wouldn't be me if I didn't wear matching nylons with my outfit. The delicate pink stockings are from Secrets in Lace and are one of my favourites. They look totally subtle and still give the look the finishing touch.
When it comes to shoes, there is only one option: high heels! Because of her foot anatomy, Barbie can't even wear flats. By the way, my choice fell on white pumps by Peter Kaiser, which were my wedding shoes. 😉
*Affiliate links

---
Artificial Hair and pink Lips: Barbie's Look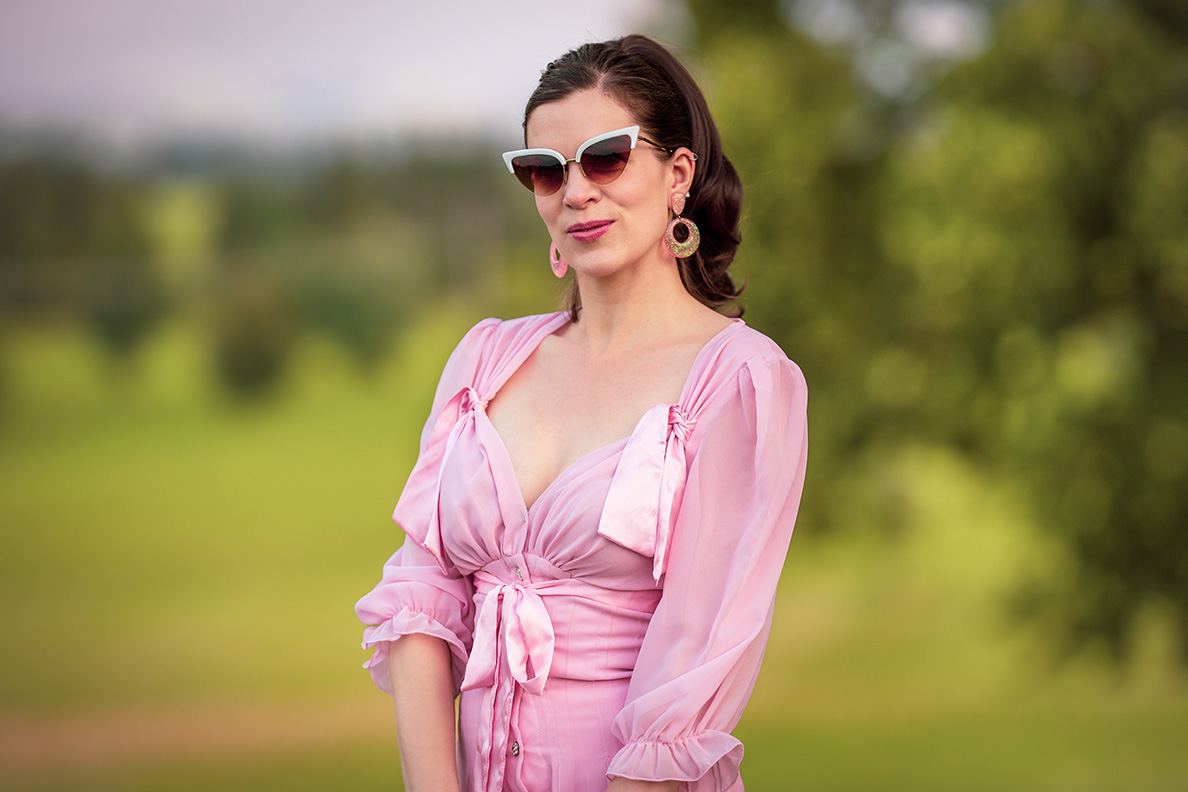 Full hair and pink lips are essential for a Barbie inspired retro look. I achieve the former very easily with the help of a fake ponytail (via Amazon*). Otherwise, I rely on an even complexion (the CC Cream from Chanel helps me here) as well as subtle pink lipstick, some pink blush and of course lots of mascara for a perfect look.
*Affiliate links
---
A Barbie inspired retro Look for the Beach
We can also wear the girly Barbie look on the beach! In addition to the right swimsuit, of course, the right accessories should not be missing. A visor or a peaked cap (e.g. via Amazon*) is just as essential as cool sunglasses. Add a pink swimming donut (e.g. via Amazon*) and a beach mat as well as a matching parasol and we are ready to have a good time.
*Affiliate links

---