Is there something more beautiful than spending the first warm days of spring at the lake? Feeding the ducks, enjoying the sun and a cool drink – this not only makes me happy, but is also very relaxing. And it's even more fun when I'm wearing my amazing Lena Hoschek gingham skirt. It was quite an investment, however worth the money since I wear the skirt again and again just like here, here, and here.
Perfect for Spring: A Gingham Skirt by Lena Hoschek
The skirt is quite voluminous and looks amazing even without a petticoat. Nevertheless, I decided to wear one simply because the skirt swings even better with one underneath. A simple white top, which I already wore here and here, looks best in combination with such an eye-catcher. To be prepared for the changeable April weather I took a red cardigan with me but luckily didn't need it.
Red accessories like drop earrings by Glitter Paradise, a handbag, as well as ballet flats by Melissa, which I introduced here, add a bit of colour to the retro outfit.
A vintage hat not only looks stylish, but also protects me from the sun. By the way: In this blog post, I show you more hats. Over there, I talk about true vintage pieces from the 30s, a repro inspired by the hat Audrey Hepburn wore in "Breakfast at Tiffany's", and many more.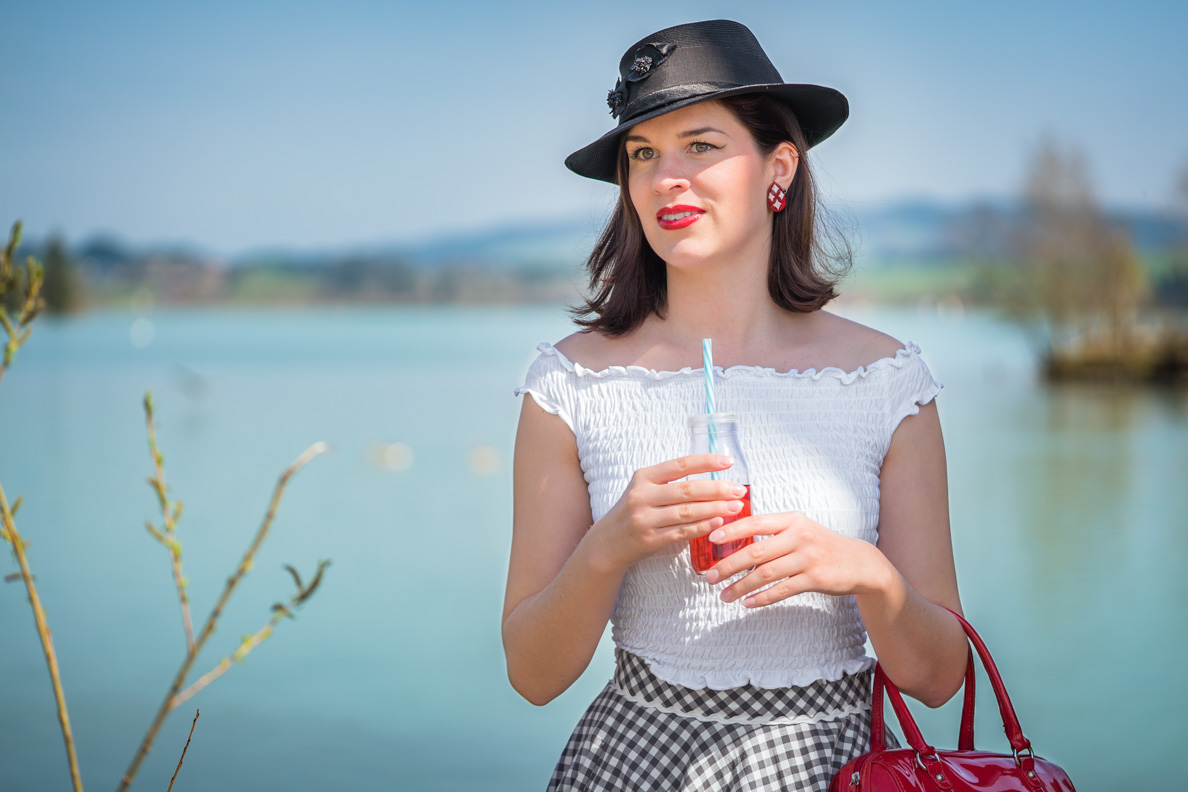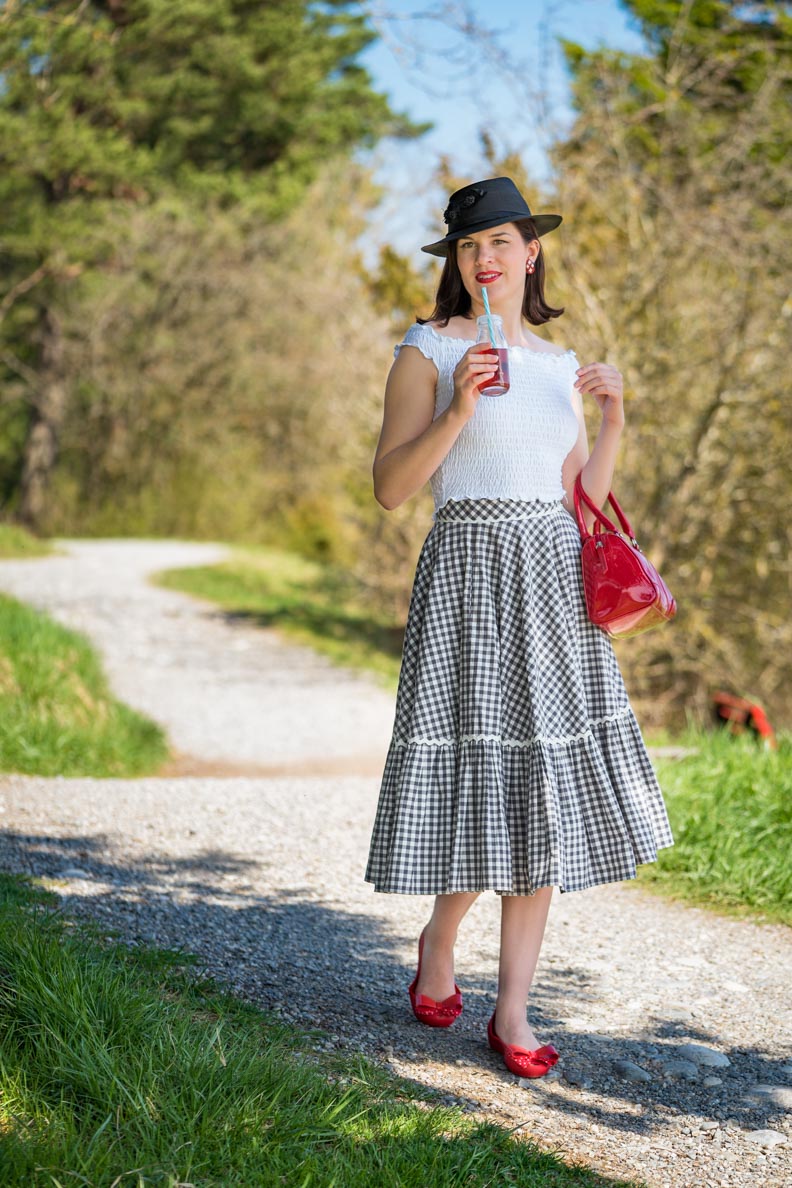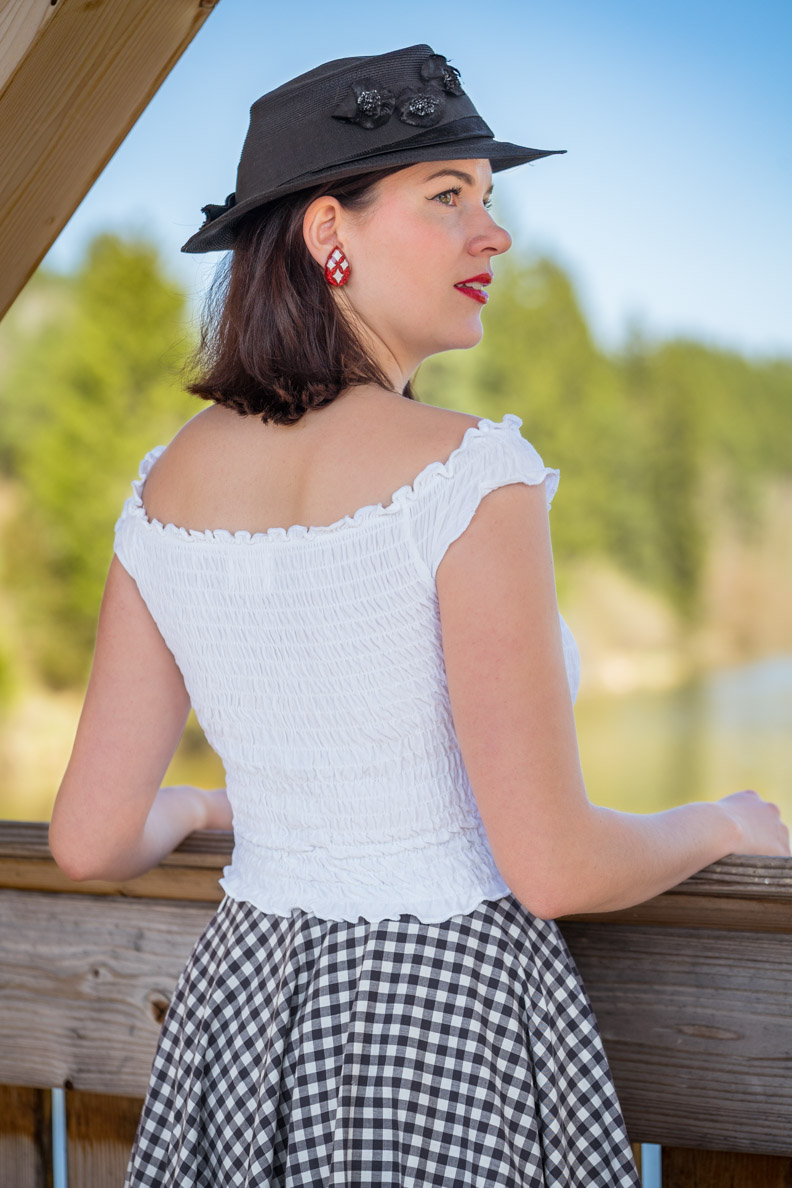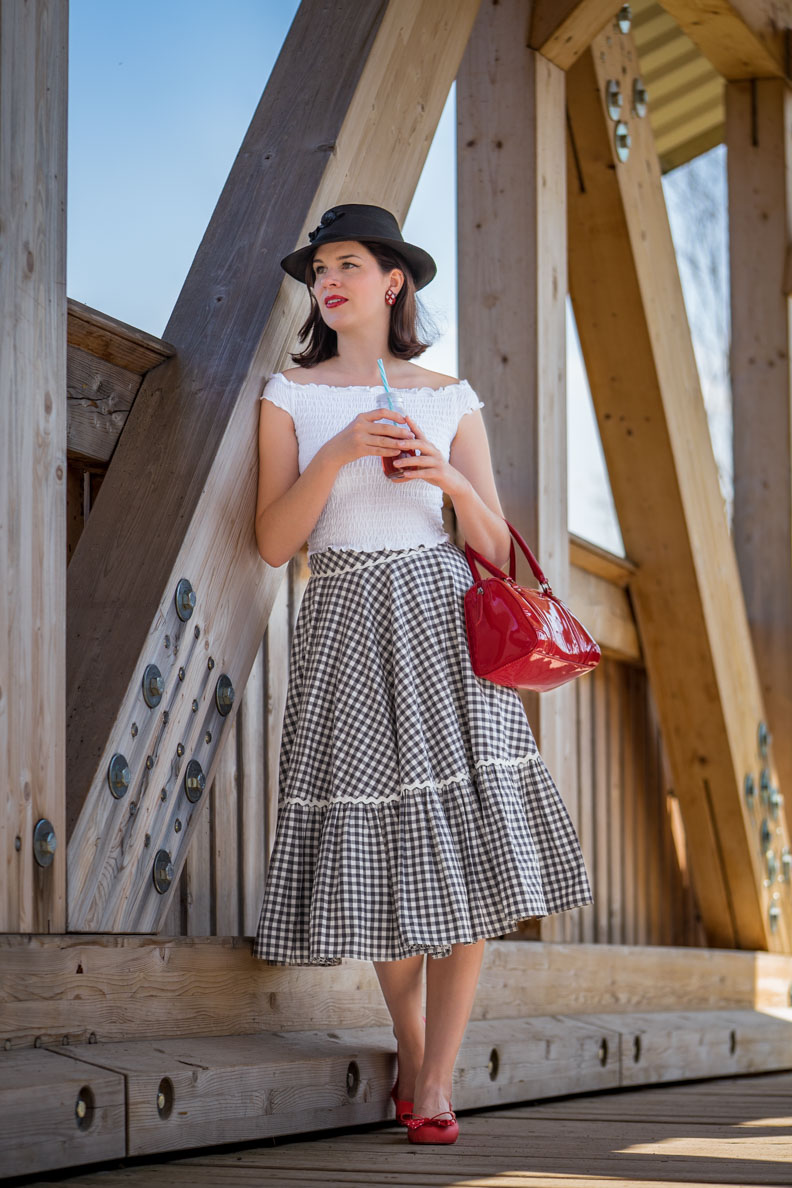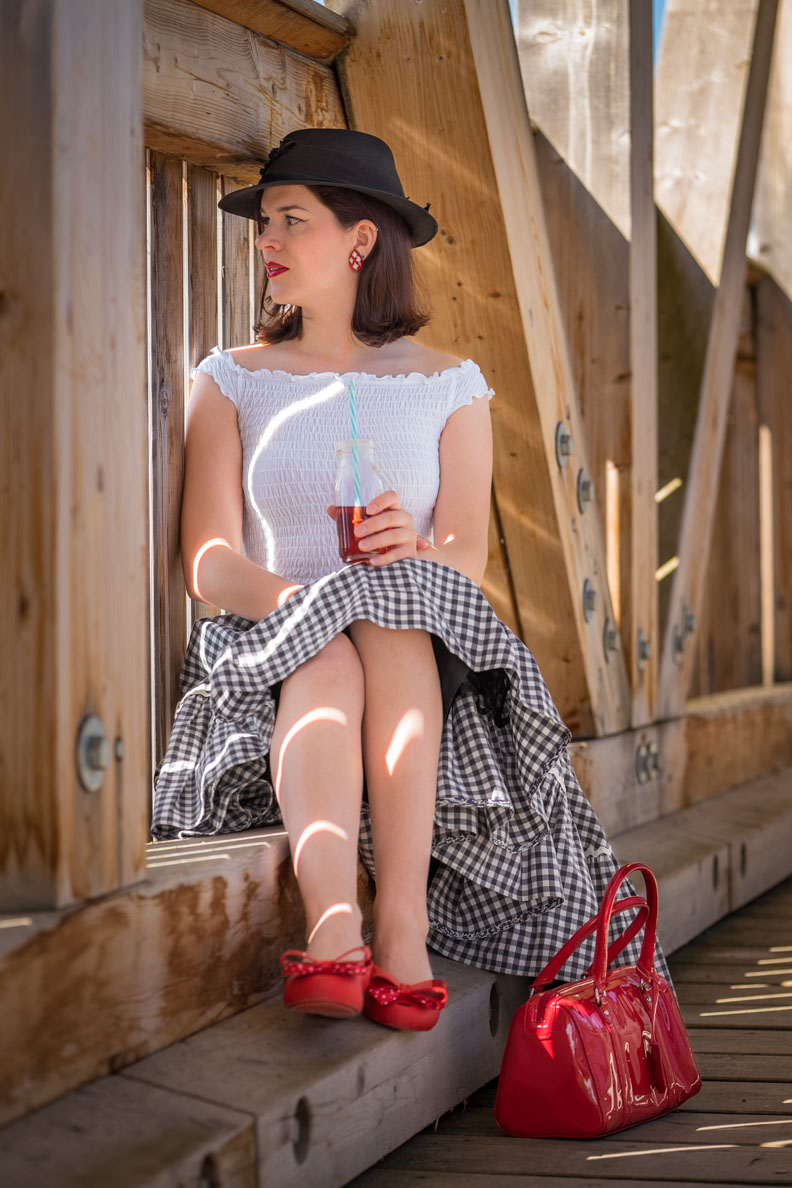 ---
The cutest Bottle for hot Days
Normally, I never go to electronics stores with my boyfriend Martin. But since he is always so brave when taking my outfit photos, I decided to accompany him. I'm usually not interested in technical stuff at all, but then I almost spent all my money on a water kettle, a matching mixer, and a pink food processor by Kitchenaid. Martin argued me out of this and bought me super cute bottles with colourful straws instead. They look so much better than those odd plastic bottles and match my outfit perfectly!
Next time when I visit an electronics store with Martin, I hope I will get those Kitchenaid kitchenware or maybe the styling iron in travel size – electronics stores aren't that bad, right? 😉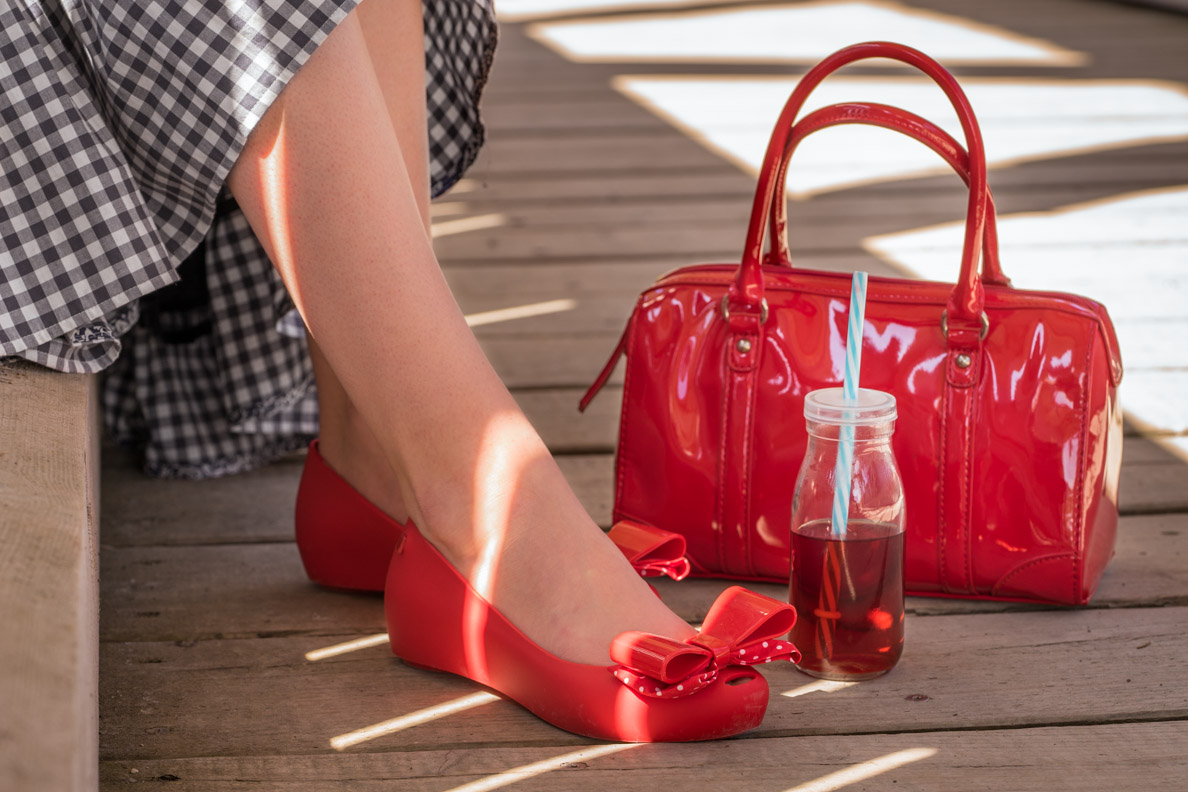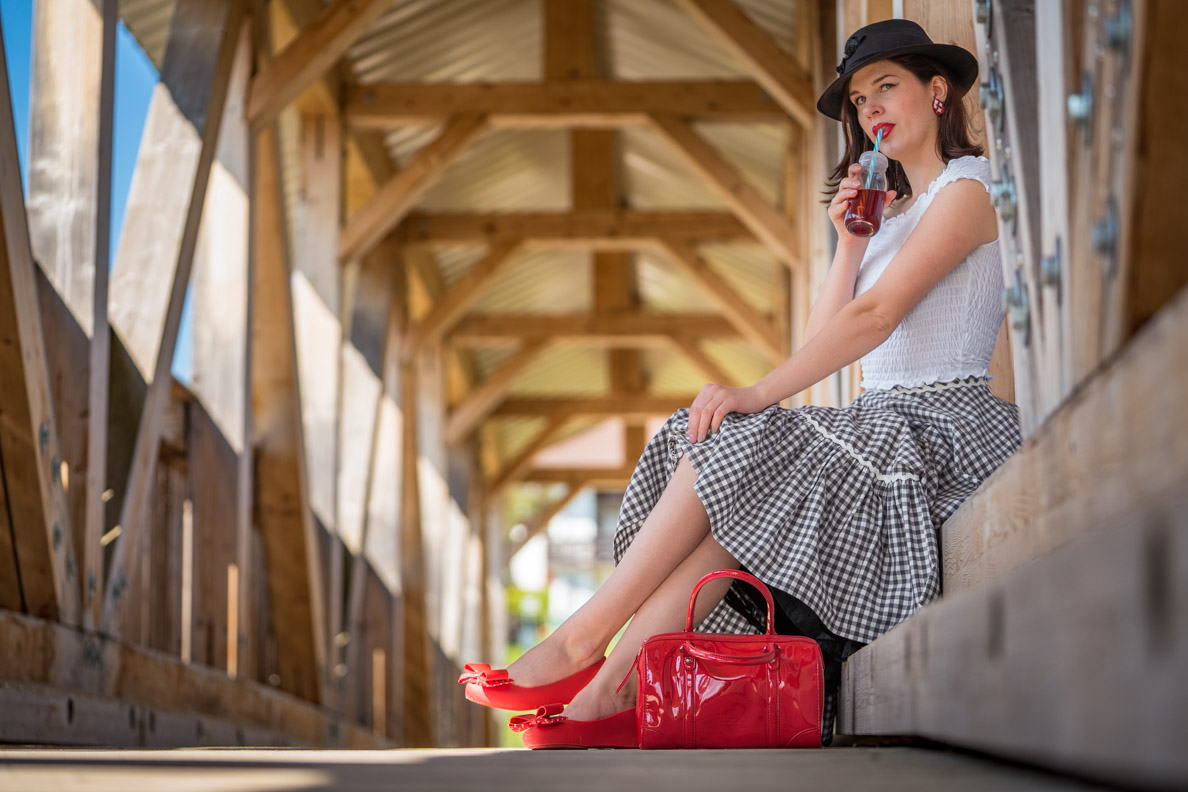 ---
Outfit Details:
Gingham Skirt: Lena Hoschek, similar here
Top: Urban Outfitters, similar here
Earrings: Glitter Paradise
Shoes: Melissa
via Maison Chi Chi
Hat: Vintage, similar here
Handbag: similar here
Bottle: shop here