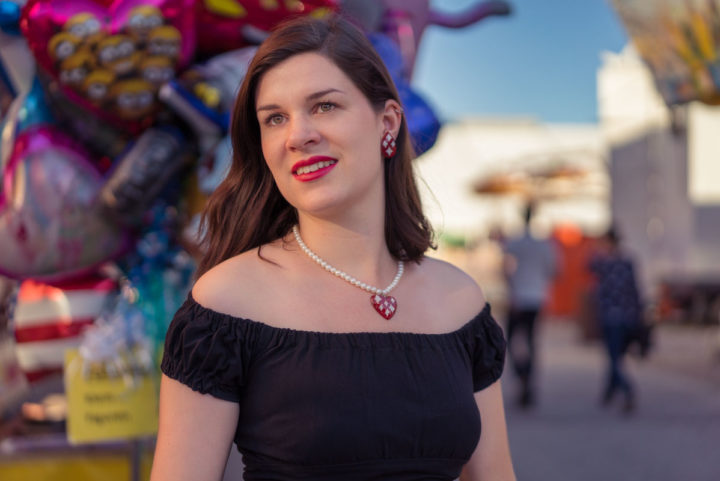 A perfect summer day for me starts with a huge cup of rose tea and delicious breakfast. Afterwards, I pack my stuff for a day at the lake. Luckily, there are a lot of lakes around Munich, and if you don't want to leave the city, you can go the Isar or the Eisbach. The perfect way to finsih such a summer day is to visit a beer garden or Volksfest (public festival). In this style diary post, I tell you what I wear on those days.
A Summer Day at the Lake
One doesn't need a lot of stuff for a day at the waterside. A bikini is a good idea, of course. Mine is by Banned. As I don't want to walk through the city in swimwear I wore a skirt by ArmedAngels and a simple white top by Lena Hoschek on top. A huge beach bag is perfect as it fits everything I need: a towel, books, sunscreen, etc. Pink flats as well as blue earclips by Glitter Paradise finish the summer outfit. I don't use a lot of make, just a CC Cream by Chanel with SPF, a bit of Mascara, and the Dior Addict Lip Sugar Scrub – that's it.
Outfit-Details:
Top: Lena Hoschek
Skirt: ArmedAngels
Shoes: Petite Jolie (similar here)
Earrings: Glitter Paradise
Beach bag: similar hier
Bikini: Banned Apparel (available in blue
)
---
A Retro Look for the Volksfest
Summer time means Volksfest time in Bavaria. You maybe only know the Oktober Fest, but there are so many more public festivals during this time of the year. Instead of a traditional Dirndl I wore a Ribbon Skirt by Lena Hoschek and a simple black retro top. Red jewellery by Glitter Paradise and ballet flats by Melissa finish the retro outfit. My makeup is almost the same as during the day. I just added a bit of red blush and the Mac Ultimate Lipstick in "Dangerously Chic". The perfect look to finish a perfect summer day.
Outfit-Details:
Top: very similar hier
Ribbon Skirt: Lena Hoschek
Earrings: Glitter Paradise
Necklace: Glitter Paradise
Ballet flats: Melissa
via Maison Chi Chi
---
By the way: If you have problems with the heat as well, you will find a list with ten tips on how to stay cool on hot summer days here.