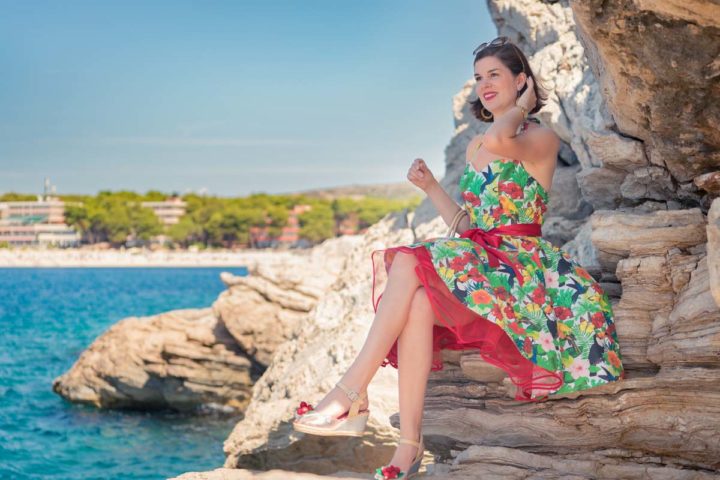 There are dresses that make me smile the moment I see them. One of them is definitely the colourful "Tropenwald" dress by Belle Couture. I'm sure this petticoat dress not only makes the wearer happy, but also the passers-by. In this blog post, I'm going to tell you a bit more about my outfit of day four of my vacation in Croatia.
Eye-catching and colourful: The Petticoat Dress "Tropenwald" by Belle Couture
Not only the exotic print is a real eyecatcher, but also the classy 50s cut. Belle Couture offers custom-tailored garments so everything fits absolutely perfect. The top with a heart neckline and neckholder looks super lovely while the full circle skirt swings wonderful when you are twirling around. To add a bit more volume, I wore a colour matching petticoat underneath.
Such a striking dress doesn't need a lot of accessories. I chose summery earrings by Glitter Paradise and comfortable wedges by Miss L-Fire. Huge sunglasses by Miu Miu as well as a true vintage handbag finish the retro outfit.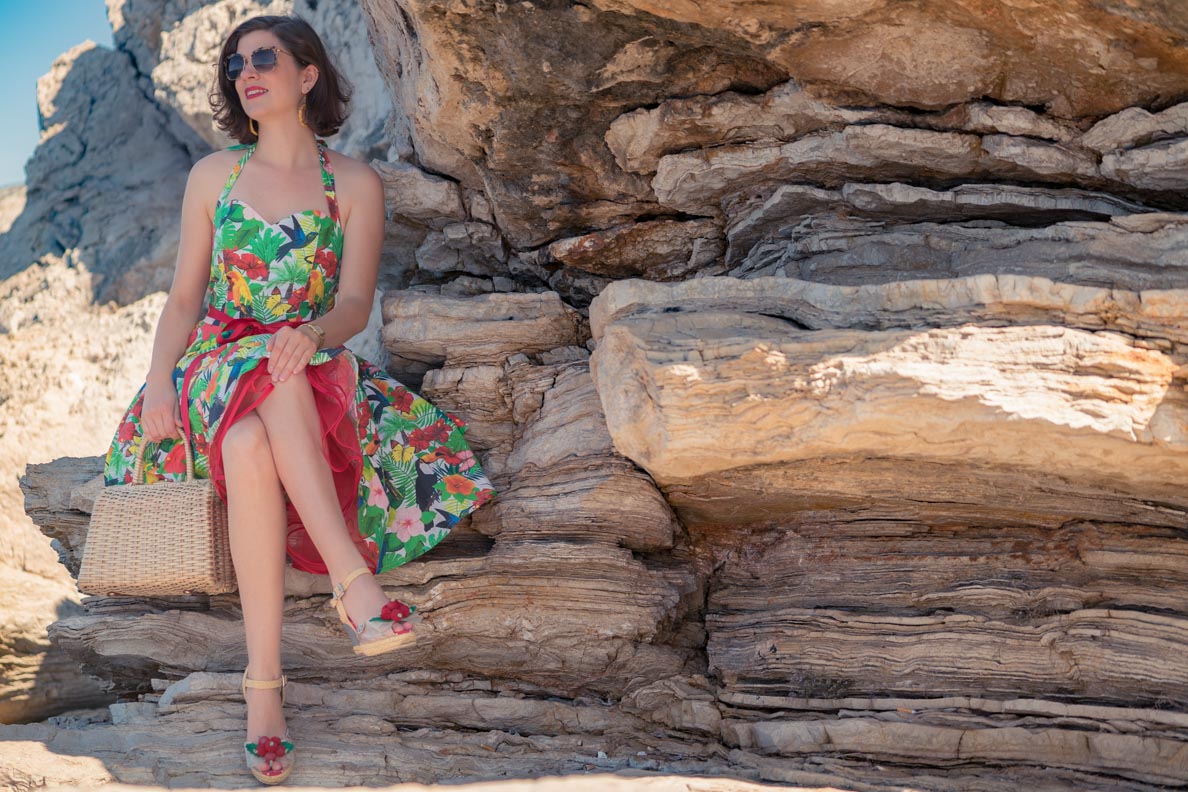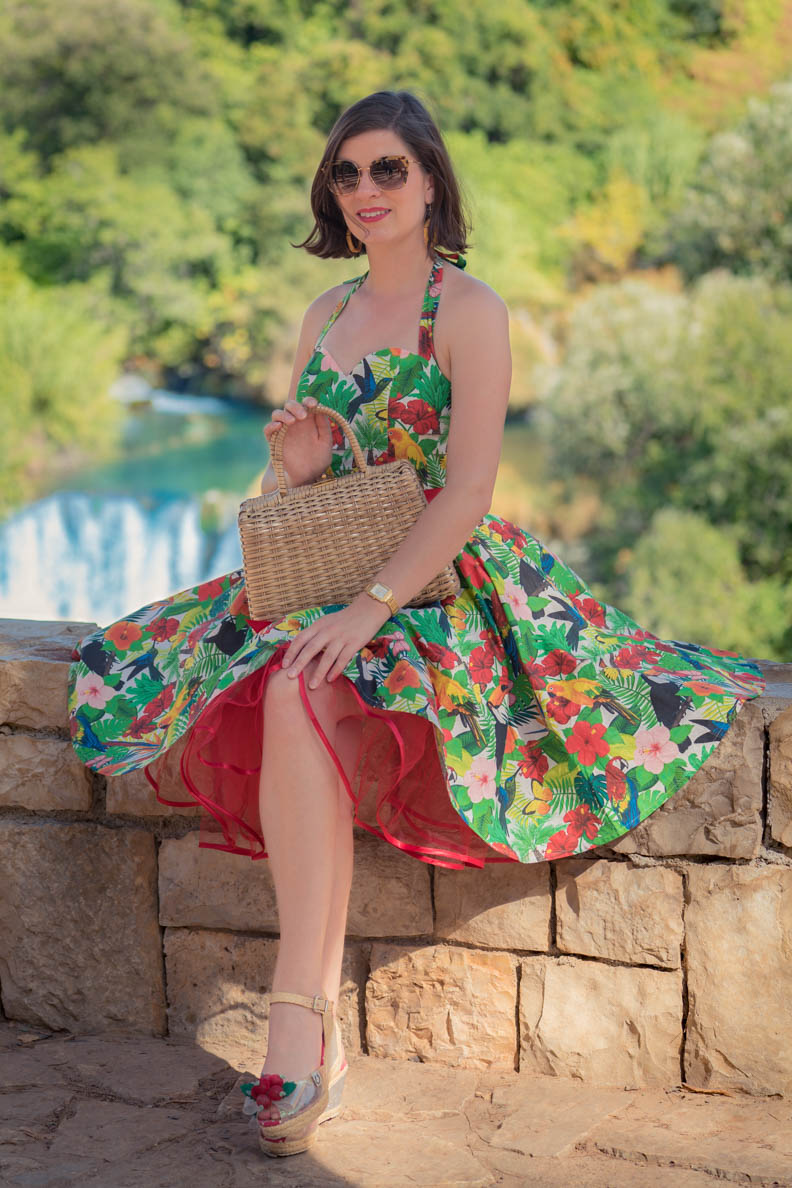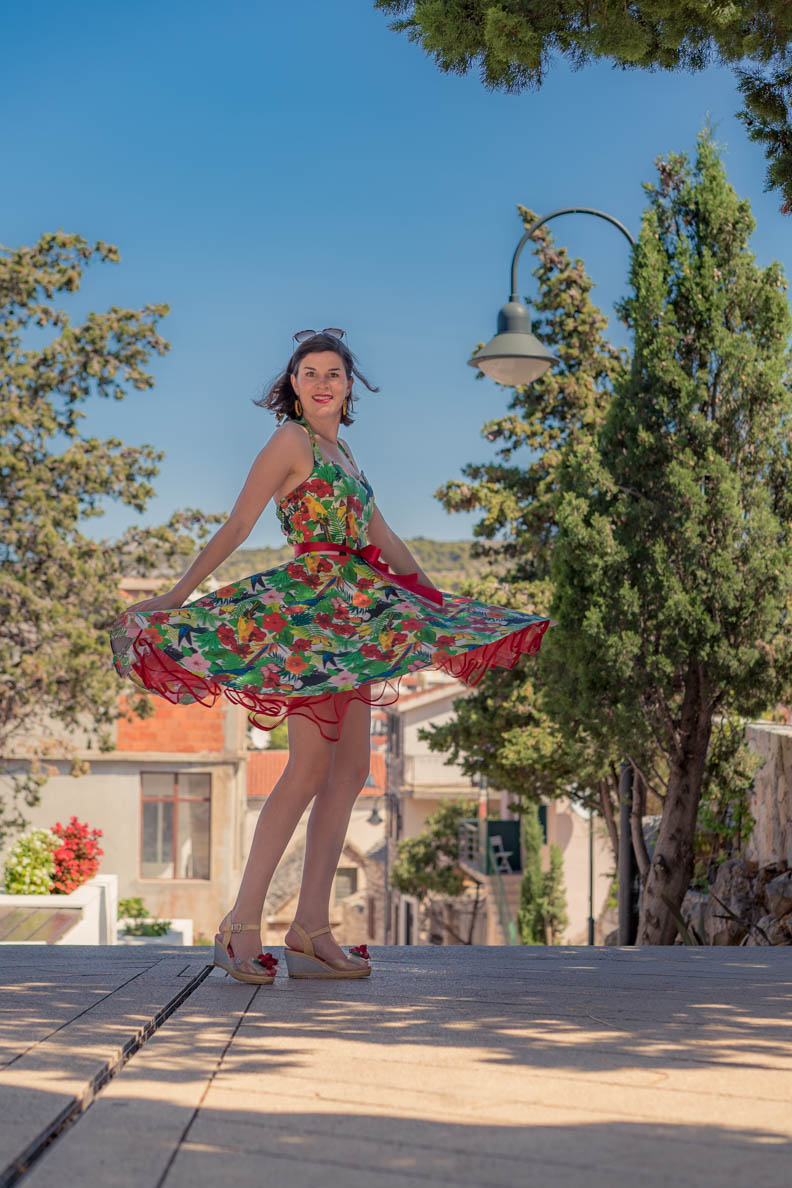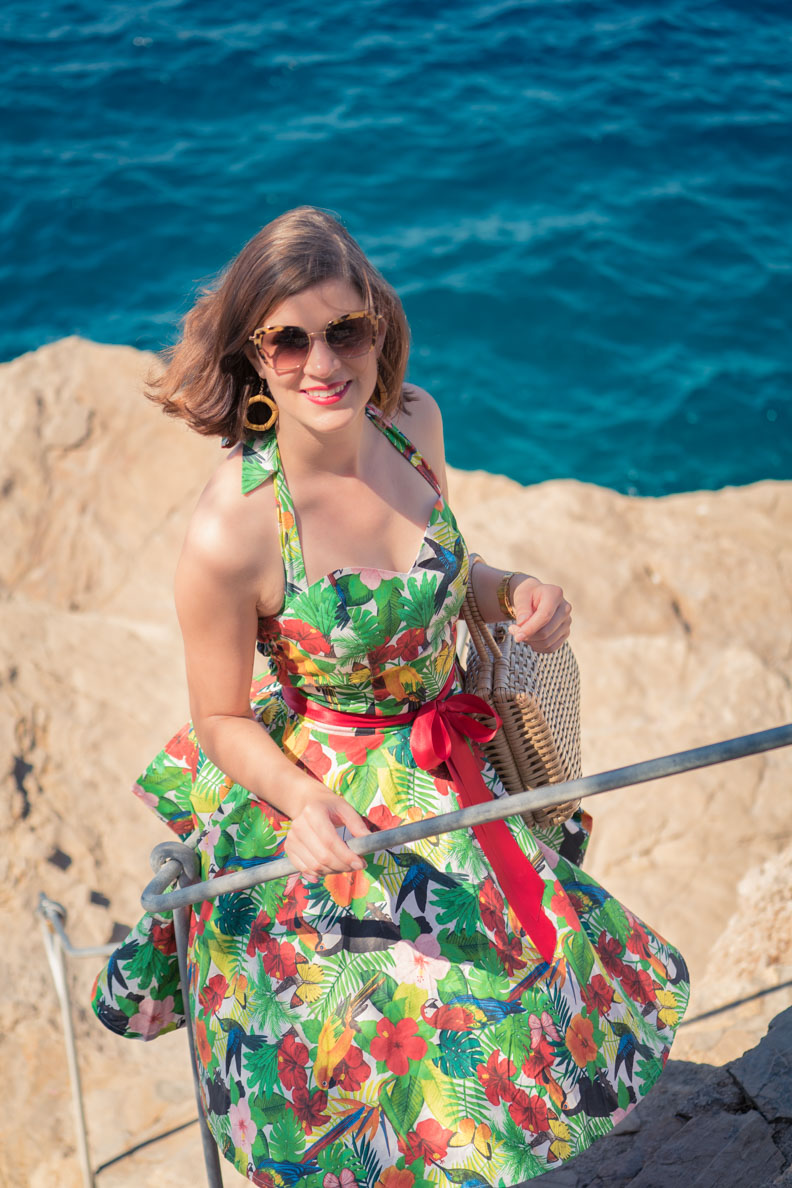 ---
Sightseeing Tour in Croatia: The coastal City Primosten
We took the photos for this blog post in the magical coastal city Primosten. The summer dress looks wonderful in those picturesque alleys, and with the Adriatic Sea in the background, everything is even more beautiful.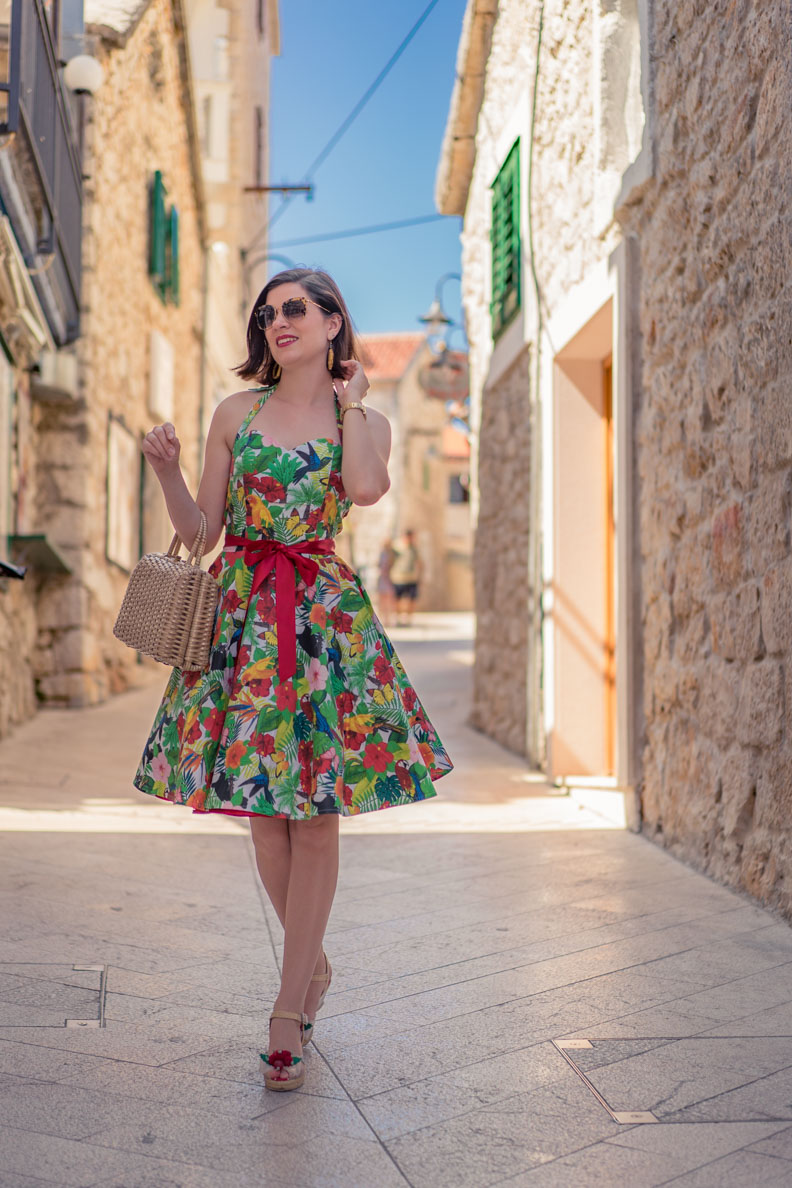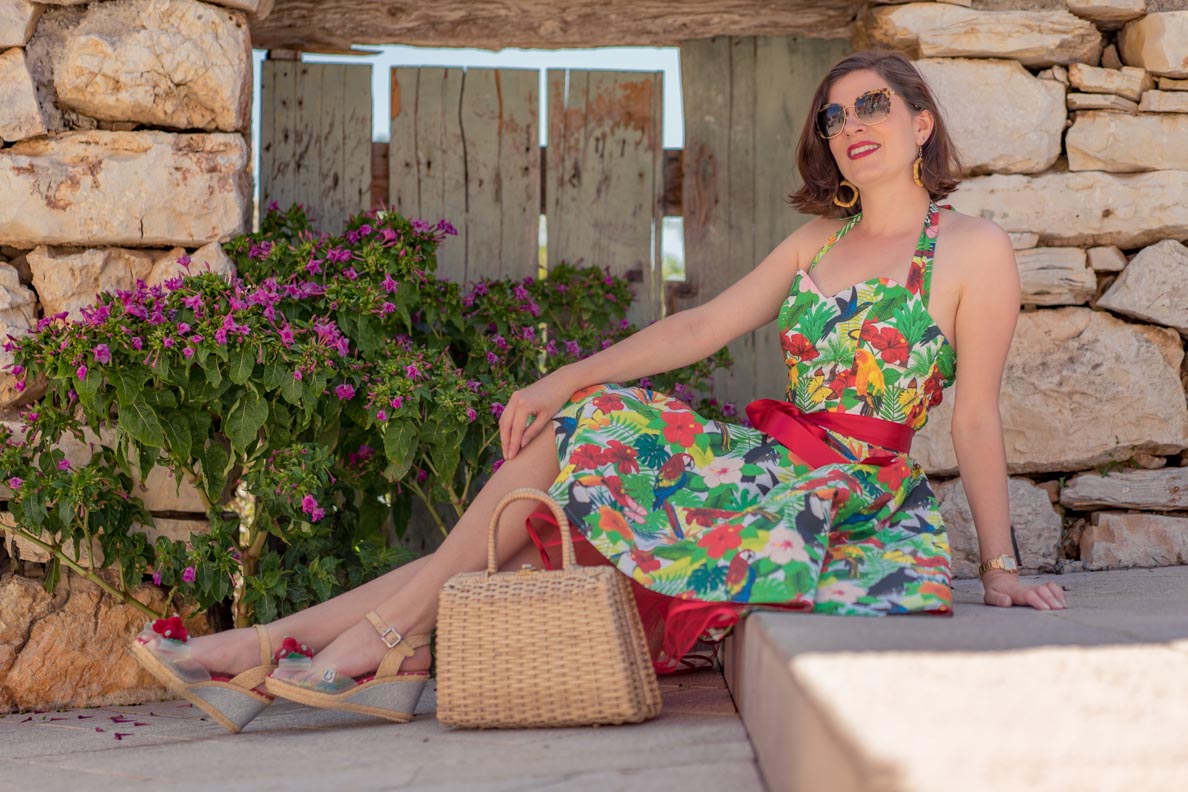 ---
50s Outfit – the Details:
Dress "Tropenwald": Belle Couture
Petticoat: Belle Couture
Earrings: Glitter Paradise
Sunglasses: Miu Miu
Shoes: Miss L-Fire
Handbag: Vintage
---
A summery retro Makeup – the Details:
Foundation: Diorskin Nude Air Foundation
Eyeshado: Dior Eye Reviver Palette
Mascara: Kat Von D Immortal Lash 24 Hour Mascara
Blush: Chanel Rouge Joues Contraste in "Rouge Profond" (No. 320)
Lipstick MAC Ultimate Lipstick in "Dangerously Chic"