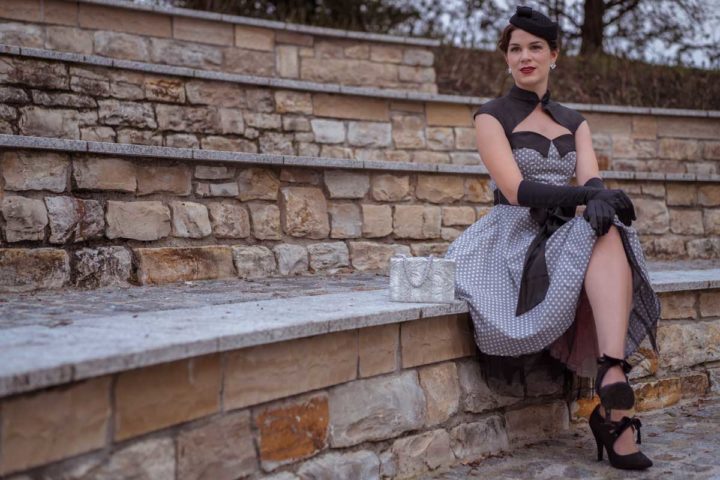 Halloween is over and all the Christmas occasions are just around the corner. As I told you in this blog post last year, I always try to plan my outfits for festive season in advance. If I don't do that, I always panic because I normally can't find a proper outfit, and buy lots of sparkling stuff I never wear. So today I'm showing you my first festive dress for this year: "Athena" by BlackButterfly.
The retro dress is available in different colours, I like the grey one with white polka dots most. The fitted top with a very special collar is a real head-turner. A black satin bow emphasizes the waist beautifully. Although the dress has a thin black underskirt, I wore a vintage petticoat underneath – the more volume the better. 😉 As you can see in the pictures below, the dress is swinging amazingly. Wearing "Athena" every woman can feel like Aphrodite, the Greek goddes of beauty and love.
When it comes to accessories, I decided to stay festive and elegant: long satin gloves, a hat, sparkling earrings and of course glamorous seamed stockings by Secrets in Lace. The glitter handbag is from the 50s and finishs the look.
By the way: If you have to go out, I highly recommend an elegant, warm coat. "Angeline" by Hell Bunny for example goes very well with "Athena".
---
---
Festive Retro Outfit – the Details:
Dress "Athena"*: BlackButterfly
Petticoat: Vintage, similar here
Hat: Collectif Clothing
Gloves: similar here
Stockings*: Secrets in Lace Europe
Shoes: similar here
Earrings: Vintage
Handbag: Vintage
*PR Sample