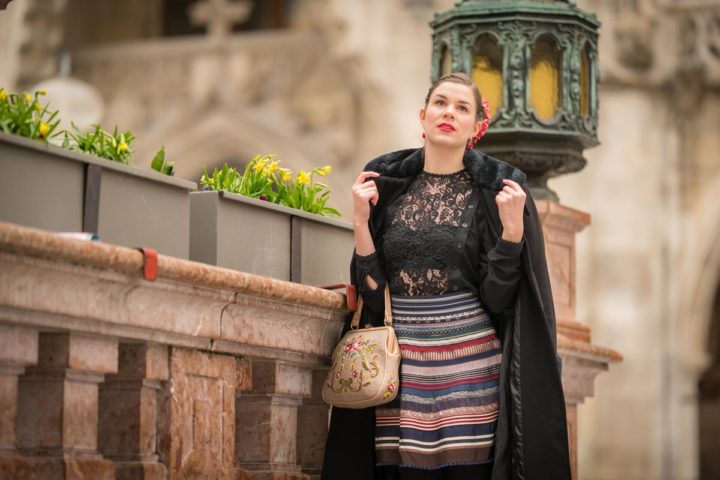 There are garments in my closet that are always a good idea. No matter which time of the day or which season it is, an for which occasion I'm dressing up. One of those allrounders is the Ribbon Skirt by Lena Hoschek. In winter, I team it with a sweater, boots, and fake-fur collar; just click here to see how it looks. In summer, I wear it in combination with a top (click here), and during transitional season, I choose a long-sleeved, but light blouse as well as warm tights.
For every Occasion: The colourful Ribbon Skirt by Lena Hoschek
The Ribbon Skirt by Lena Hoschek is made of many different, colourful ribbons. This is why the skirt goes well with almost every top! In combination with a knitted sweater or Bavarian janker, it looks very traditional. This time, however, I wanted a more seductive look and therefore chose a black lace blouse by Lena Hoschek, which I already introduced in this blogpost. Underneath, I'm wearing the black Sophisticated Strapless Bra by Secrets in Lace.
Even though it's already spring, temperatures are quite low at the moment. This is why I even had to take out my winter coat again, can you believe this? At least my hairflower by SophisticatedFlowers looks a bit like spring and goes very well with the rest of my outfit. Booties by Miss L-Fire, a Gobelin tapestry handbag, as well as red rose earrings finish my vintage inspired look.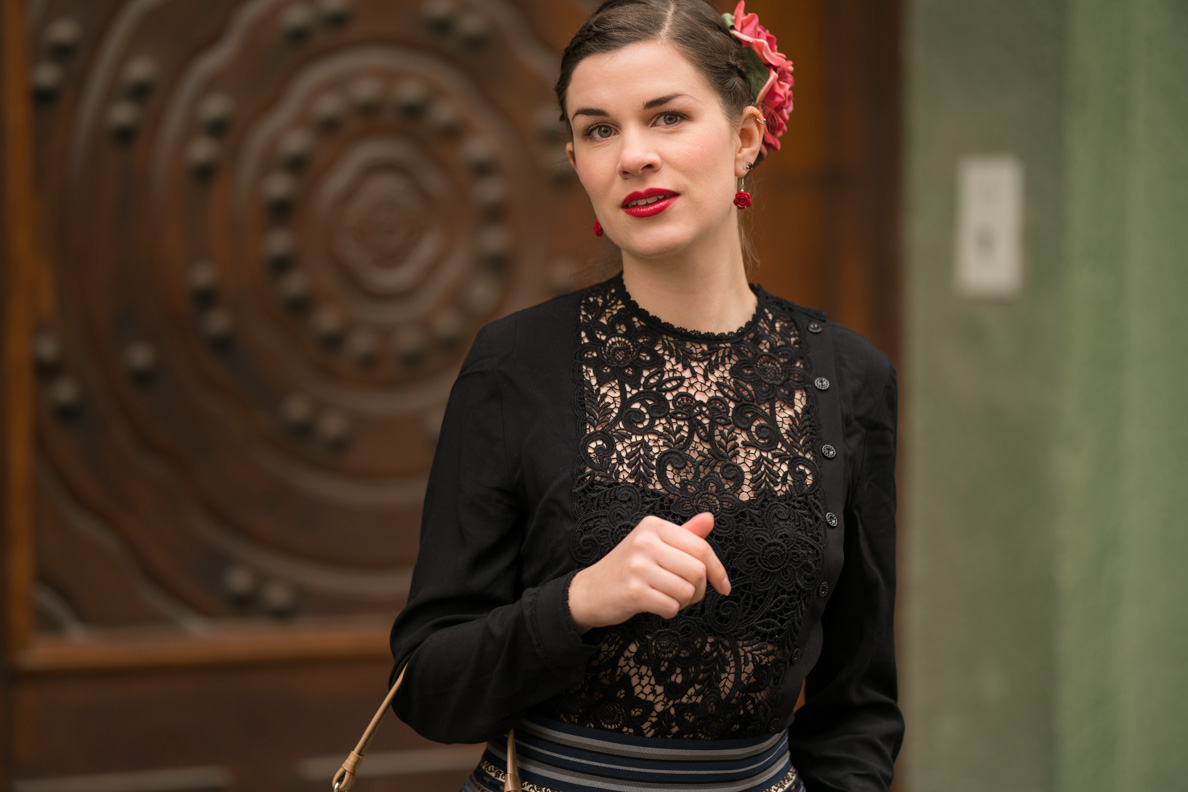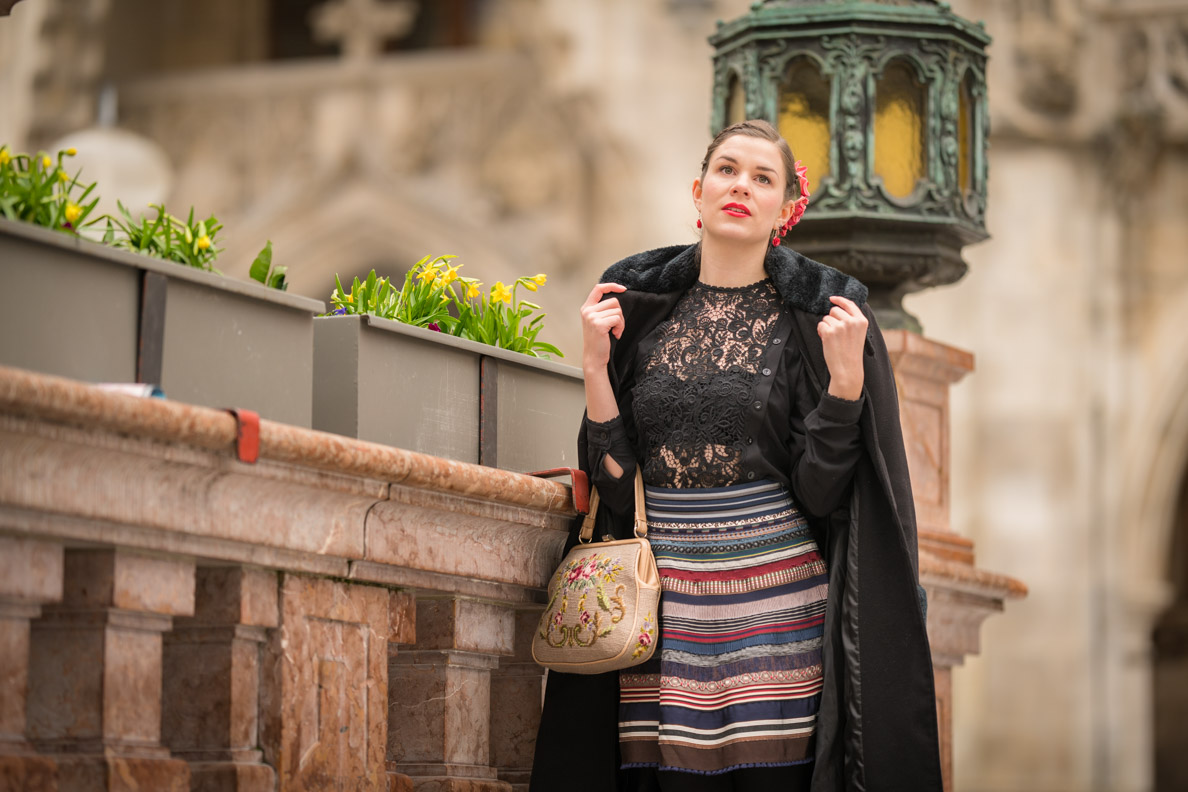 Shop the Look

---
A classy Makeup & a simple vintage Hairstyle
My makeup is very classy. I applied a little bit of brown eyeshadow, red blush, and red lipstick of course. As my hair looked quite bad on that day, I decided to plait my it and put it together in a bun. For more volume, I used a hair donut
. A hairflower finishes the simple hairstyle and adds that certain something to the look.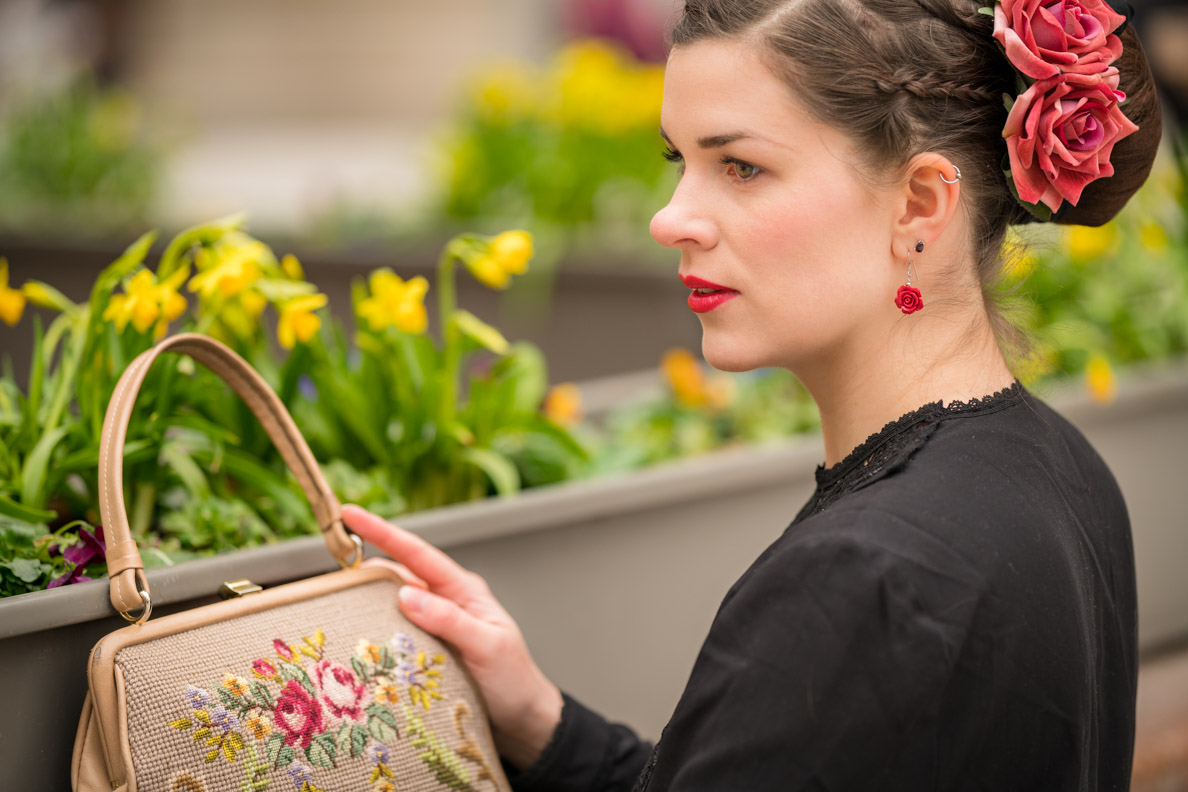 Makeup Details:

---
A sassy retro Outfit – the Details:
Ribbon Skirt: Lena Hoschek
Lace blouse: Lena Hoschek
Sophisticated Strapless Bra: c/o Secrets in Lace – Europe
Coat: Hell Bunny
Tights: Calzedonia
Shoes: Miss L-Fire
Hairflower: Sohpisticated Lady Hairflowers
Earrings: very similar here