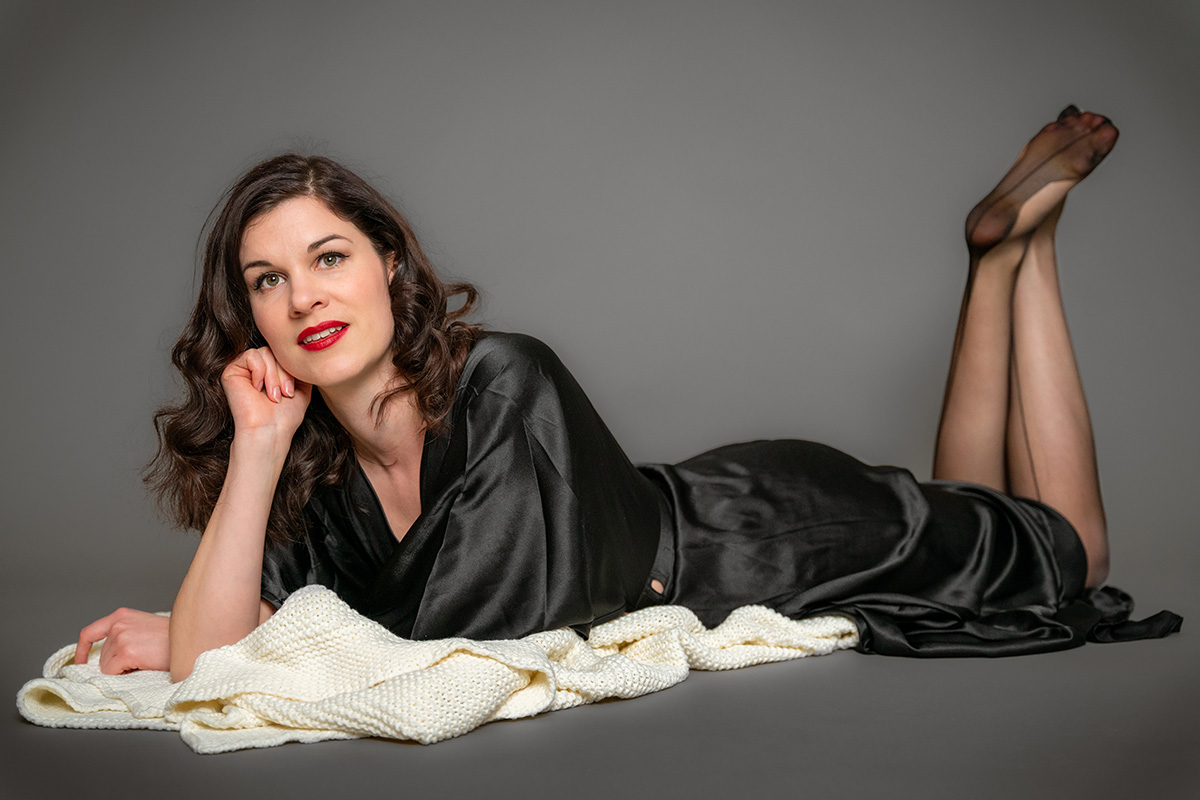 This blogpost contains affiliate links (marked with *). If you shop products via those links, I may get a small provision which helps me to maintain my blog. Of course the price doesn't change for you.
Lovely retro and vintage lingerie
I not only like vintage (inspired) fashion, but also retro lingerie! You now might think about huge romance killer underpants. I, however, think of lovely garter belts, sexy bullet bras and glamorous fully fashioned stockings. There are still some lovely shops and brands out there that are selling wonderful retro and vintage inspired lingerie. Some lingerie pieces are very authentic, others only have some retro elements. What I wear underneath always depends on the occasion. For a dinner date, photo shooting or a night out, for example, I usually choose something more fancy. In everyday life, I rather wear something comfortable and subtle. In the following, I am going to tell you where to find lovely retro and vintage lingerie, from affortable to luxurious. I divided this blogpost into two categories: Online shops that offer vintage inspired lingerie from different brands, and brands that mainly sell their own designs.
Online Shops for retro and vintage Lingerie
Ars Vivendi: Shop for vintage inspired Lingerie
The German shop Ars Vivendi* offers a great range of authentic retro lingerie as well as fully fashioned nylons. They have brands like What Katie Did, Lee Kleimann, Bettie Page Lingerie and many more in stock.
---
True vintage Lingerie on Etsy
If you are searching for true vintage lingerie, I recommend to have a look on Etsy*. I even own a few true vintage lingerie pieces, I only wear the petticoats and sometimes a garter belt, though. The bras and panties are only for my collection to look at.
*Affiliate links

---
Retro Lingerie at TopVintage
TopVintage* offers some lovely retro inspired lingerie pieces, stockings and tights that are adjusted to modern life.
---
Vintage and Retro Lingerie Brands
Modern retro Lingerie by Agent Provocateur
Agent Provocateur* offers some extraordinary beautiful lingerie pieces. Especially the corsets*, some of their garter belts* as well as the nylons* remind me of the lingerie from the mid-century. Due to new fabrics and adjusted designs, though, they are very wearable nowadays.
*Affiliate links

---
Retro inspired Lingerie: Atelier Bordelle
Atelier Bordelle creates some very seductive and luxurious lingerie pieces. Athough the designs are somehow quite modern, they also have some vintage elements. Especially the corset dresses* optically remind of the shapewear worn in the 1950s, they just have some modern and very sexy looking straps. The bras look great as well and are definitely too beautiful to be hidden underneath your garments. So I would wear them underneath a sheer blouse or top. You will find Alterlier Bordelle also on Farfetch* or LuisaViaRoma*, for example.
*Affiliate links

---
Lovely retro Lingerie: Bettie Page Lingerie
Bettie Page Lingerie is a brand that designs wonderful vintage inspired underwear that even Bettie Page would have loved to wear, I believe. 😉 You will find this brand at Ars Vivendi* or Amazon*, for example.
*Affiliate links

---
Dita von Teese Lingerie
Burlesque queen Dita von Teese knows how to create wonderful and everyday appropriate vintage inspired lingerie. I especially love the Madame X Bra*, by the way, and some of her garter belts. You will find her designs at Playful Promises, for example.
*Affiliate links

---
Fifi Chachnil
Fifi Chachnil is a French couture fashion and lingerie brand that offers some very pretty vintage inspired couture designs. Beside lovely lingerie pieces, you will also find some gorgeous retro dresses, swimwear and cardigans. Fifi Chachnil isn't a very affordable brand, the pieces are rather a timeless investment that will hopefully last a lifetime.
---
Retro lingerie from Kiss me Deadly
Kiss me Deadly is a British online shop for lovely retro lingerie. You will find things from sexy bras and corsets to garter belts over there.
---
Shop for retro Lingerie: Playful Promises
Playful Promises is another British online shop for lingerie, that offers underwear from different brands as well as lingerie pieces from their own line.
*Affiliate links

---
Rago Shapewear
Rago Shapewear is a brand for vintage inspired shapewear that helps to achieve an authentic vintage silhouette. You will find Rago Shapewar also on Amazon* or Ars Vivendi*, for example.
*Affiliate links

---
Vintage inspired Lingerie by Secrets in Lace
Secrets in Lace is one of my favourite brands for authentic vintage inspired lingerie and fully fashioned nylons. If you are from Europe, make sure visit their Secrets in Lace – Europe website.
---
Classy Lingerie from Triumph
Triumph* is a quite well-known lingerie brand that mainly offers modern designs. However, they also have a real classic in stock. The bra Doreen* that was firstly introduced in 1966. Of course they are now using modern fabrics and adjusted the design a little bit. Nevertheless, the bra has still a lovely retro look.
*Affiliate links

---
Authentic retro Lingerie: What Katie Did
What Katie Did is a very popular retro lingerie brand that has some wonderful and authentic bras, corsets, garter belts and nylons in stock. If you are searching for some lovely vintage designs, make sure to have a look at their online shop!
*Affiliate links

---