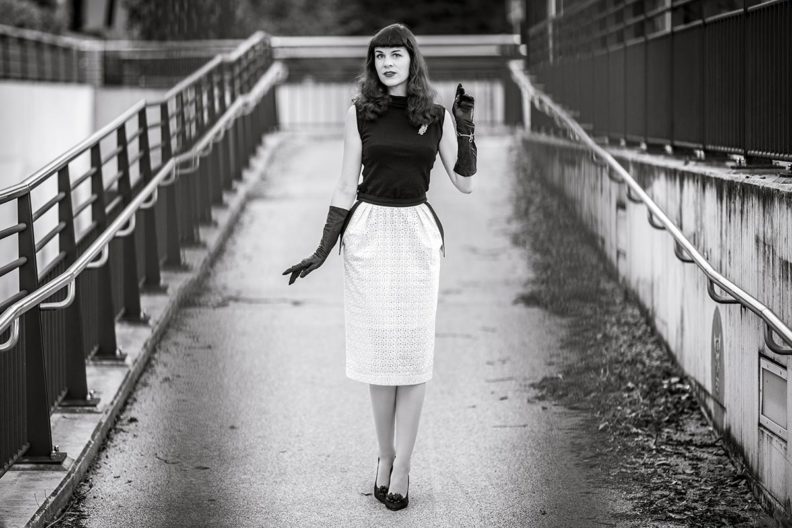 Thrillingly elegant: A black and white look
Often, a very thrilling look is actually quite simple. You don't need a lot of things to make an outfit special, you don't even need a lot of colours. Elegant black and white looks, for example, are a wonderful choice for many different occasions, as you won't either look underdressed nor overdressed when wearing them. So in the following, I am going to tell you step by step how to create a thrilling outfit in black and white.
This blogpost contains affiliate links (marked with *)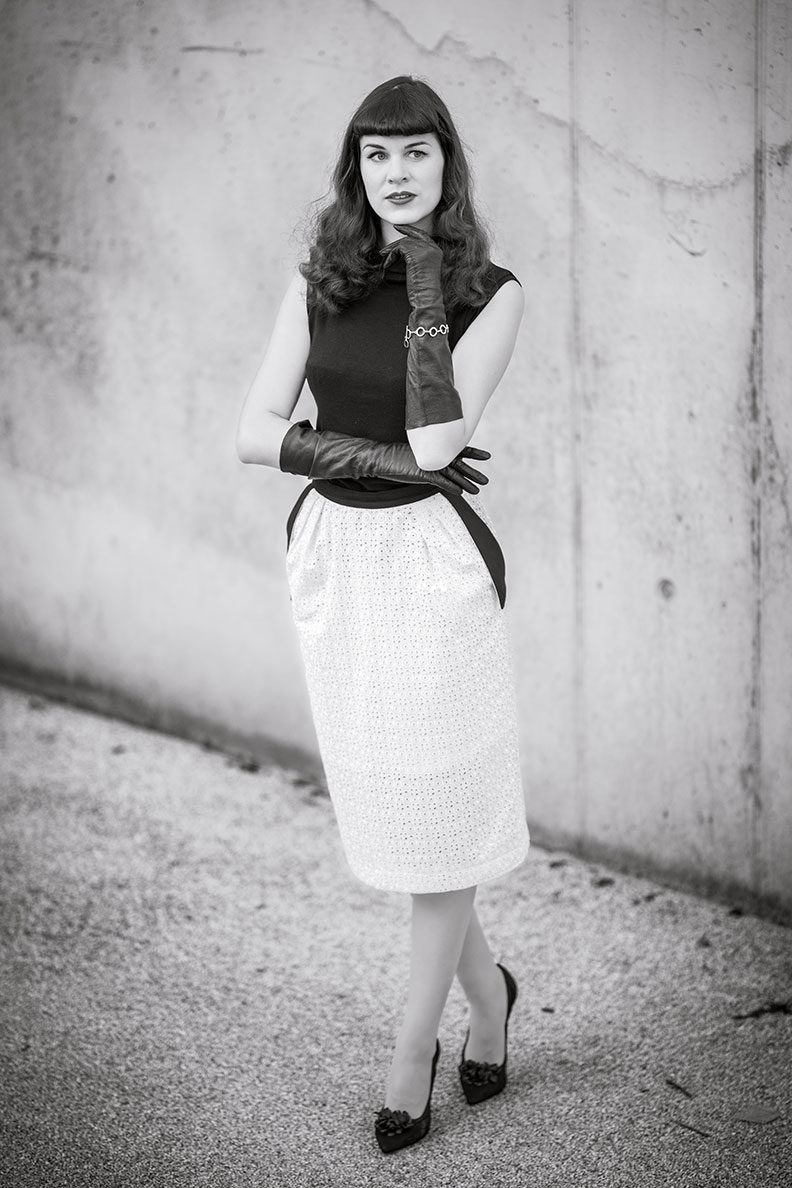 ---
How to make a Black and White Look more thrilling
Outfits in black and white can be very elegant, but also a bit, well, colourless – literally. This is why I always keep a few tips and tricks in mind when creating a black and white outfit.
Fabrics and Textures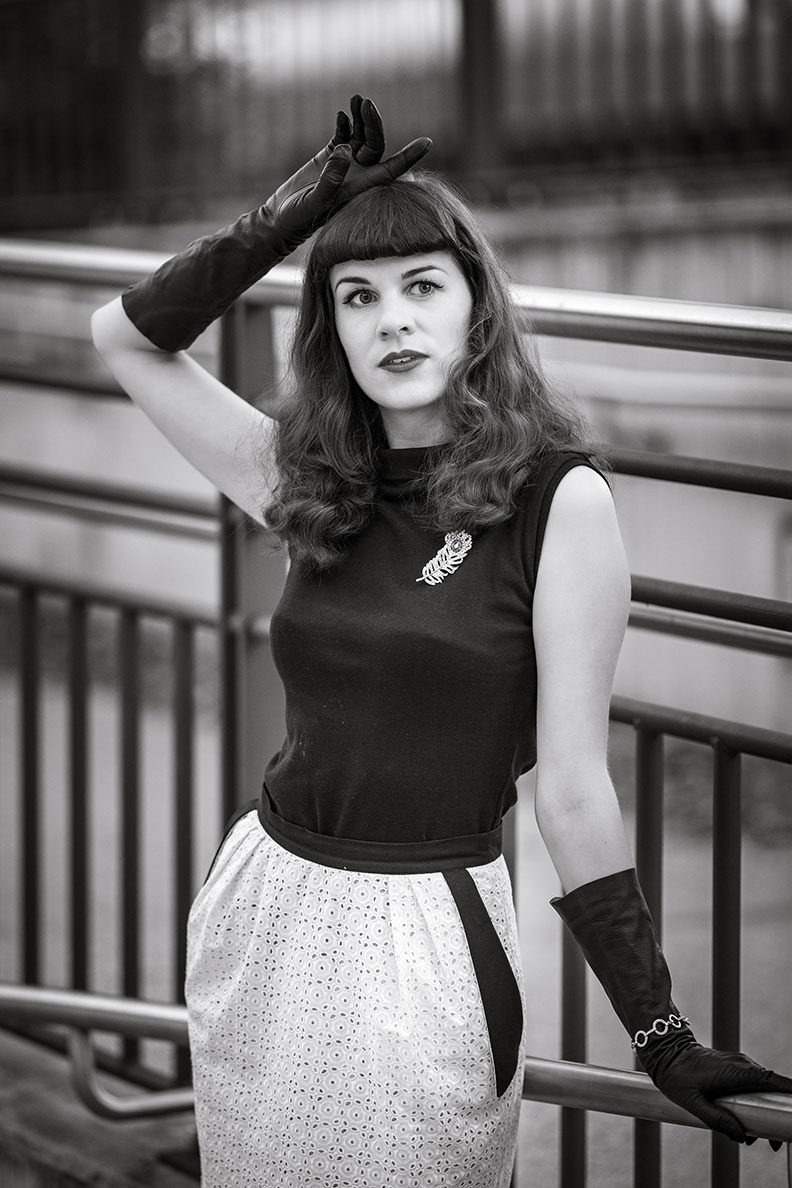 A mix of fabrics and different textures makes every outfit more interesting. For a great mix, I team a knitted top* with a white lace pencil skirt. Vintage leather gloves from the 1950s, as well as tights with rhinestones finish this wonderful outfit, and add some more textures to the look.
---
A thrilling Black and White Look: The Accessories
Matching accessories are the linchpin of every outfit – at least in my opinion. Accessories can make an outfit more specatcular, fancy, elegant, glamorous, or extraordinary. And the best: You can team your accessories with many different outfits. So let's have a look at the variety of accessories that help us to make our black and white outfit more thrilling.
---
Shoes
Shoes are such an important part of an outfit. Even if one doesn't look at them explicitly, they can make all the difference. Highheels, for example, change the full appearance, posture, and walk of the wearer.
The combination of a subtle top and a pencil skirt is the perfect base for a lot of different looks. When worn with medium high, subtle pumps*, the outfit looks elegant and is a perfect choice for the office, for example. As I wanted a look for a dinner date or event, though, I went for very high and pointy heels with some decorations.
Affiliate links

---
Stockings
Stockings and tights are other wonderful accessories to make an outfit more interesting. You can choose between many different kinds of hosiery: Subtle stockings, fancy fully fashioned nylons, or extraordinary tights.
I went for subtle tights with a wonderful, sparkly "Love" seam made of rhinestones. Those tights are interesting and elegant, but don't steal the show of the rest of the outfit.
*Affiliate links

---
Gloves and Co.
Accessories like gloves, sunglasses, etc. aren't a must. Nevertheless, they add that certain something to the outfit. For my black and white outfit, I went for long, black vintage leather gloves. Those make the look really special and even suitable for evening occasions. But of course, you can also skip the leather gloves, or replace them by more subtle ones.
As it was already dawning, sunglasses weren't necessary, in this case. 😉
*Affiliate links

---
Jewellery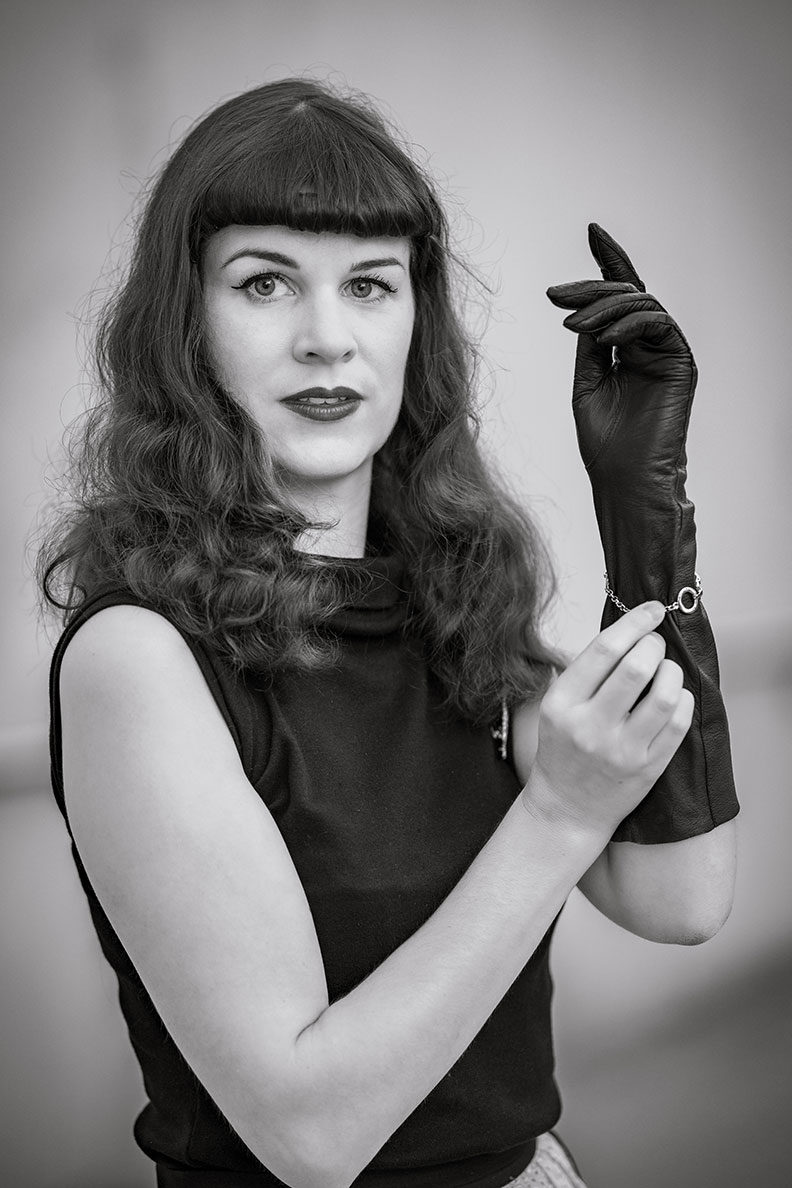 I personally don't wear a lot of jewellery, and rather choose a few special pieces for my outfits. One of my favourite pieces of jewellery are vintage broochs, by the way. I find them on flea markets, in antique stores, or vintage shops.
Beside a brooch in form of a peacock feather, I am wearing a sparkly bracelet. Both pieces add just the right amount of glamour to the look, but definitely aren't too much.
*Affiliate links

---
A thrilling Black and White Look: The Styling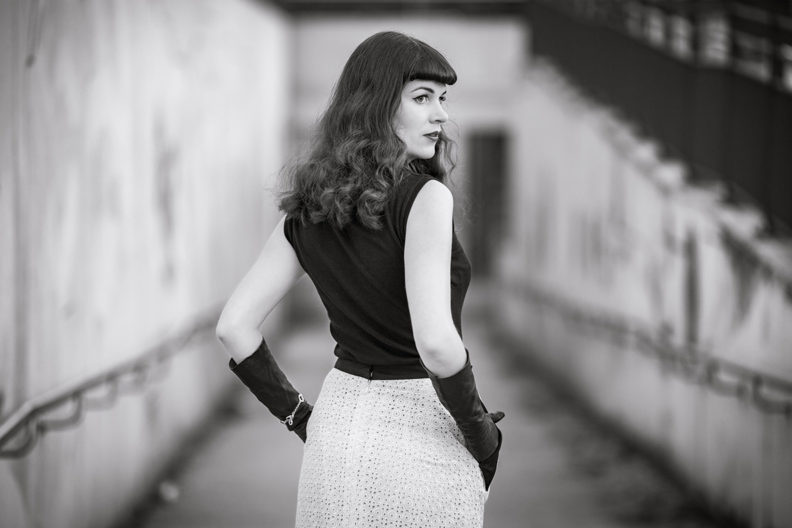 Beside the outfit and the matching accessories, the styling – hair and makeup, to be explicit – is another important part of a look. Just as with outfits, I personally like it classy when it comes to my styling.
I like to wear eyeliner, mascara, and red lips. The get some curls, I use sleep-in rollers*, and if I like, I create fake bangs inspired by Bettie Page.
---