This blogpost contains affiliate links (marked with *). If you shop products via those links, I may get a small provision which helps me to maintain my blog. Of course the price doesn't change for you.
Front Seam Pantyhose: Shopping and styling tips
After I visited the Thierry Mugler Couturissime exhibition last year, I absolutely fell in love with front seam stockings and tights! When I was at home, I thought I just will search for some online and buy them immediately. But little did I know! It was so hard to find a pair, I almost gave up. Finally, I got my hands on some, though. Where? This is something I am going to tell you now.
Front Seam Pantyhose: Why I love them so much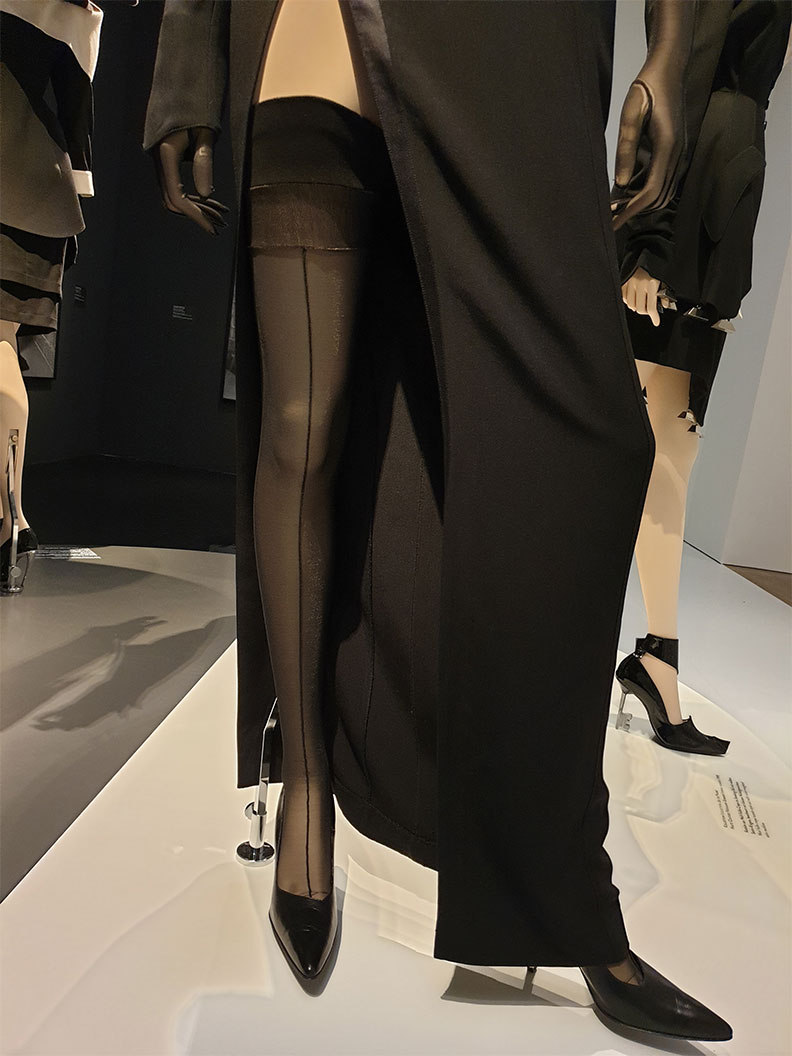 Everyone who follows my blog for a while now, might know how much I adore seamed stockings. They always look so glamorous and tempting, but are also very elegant and kind of subtle – a perfect mixture, in my opinion. I still love classy seamed stockings. Every now and then, though, I like to wear something a bit different. And then, front seam tights seem to be a wonderful option.
This kind of hosiery looks just a little bit naughty, but still not too sexy. The only problem: I couldn't find a pair, although I was searching for them over months. Until now!
Where to buy Front Seam Tights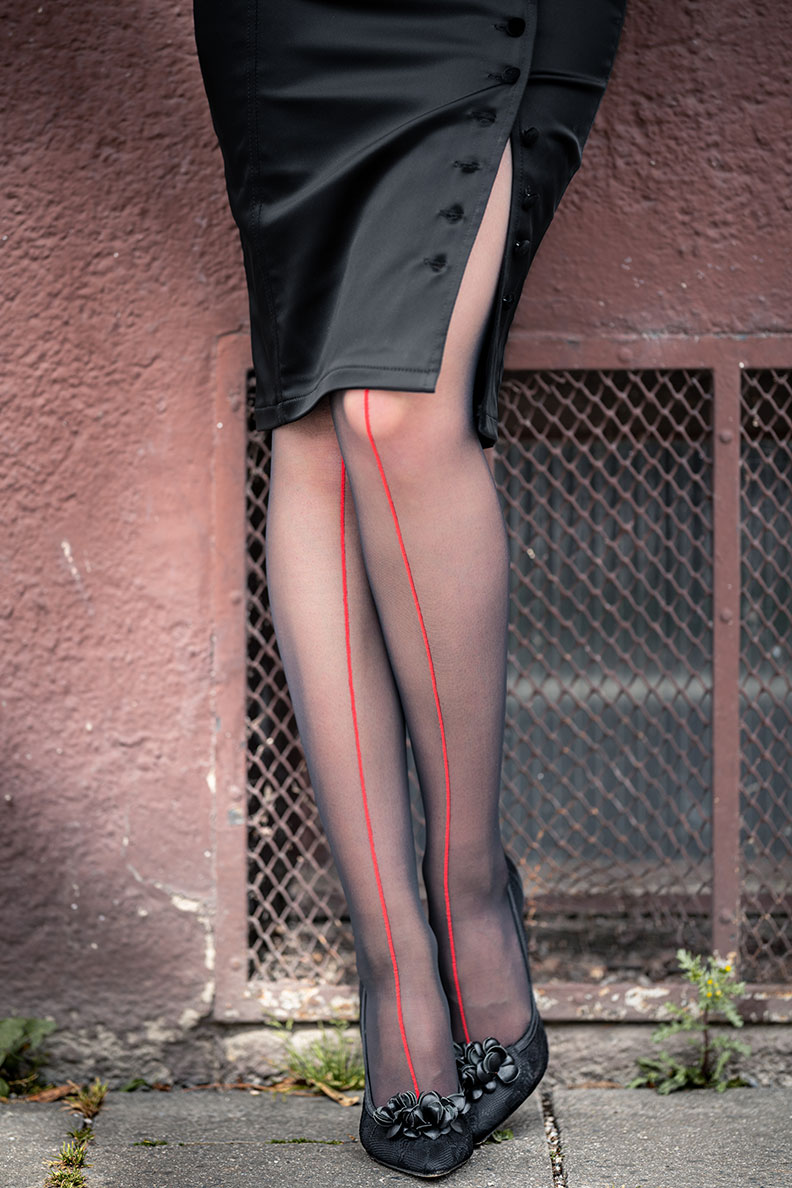 After a super long search and almost giving up, I decided to ask my wonderful followers on Instagram, if there is anyone who know where I can find a pair of front seam stockings or tights. And you now what? There actually were some wonderful recommendations! Most of my followers recommended the Paloma Pantyhose by Wolford.
Unfortunately, the Paloma tights are no longer available on the official Wolford website*, but I found a new pair on Ebay*. My tip: Search on Ebay and other second hand platforms for Wolford Paloma or Wolford Palomina, and don't give up if you can't immediately find a pair. I bought my pair in France, by the way.
The Wolford Paloma Pantyhose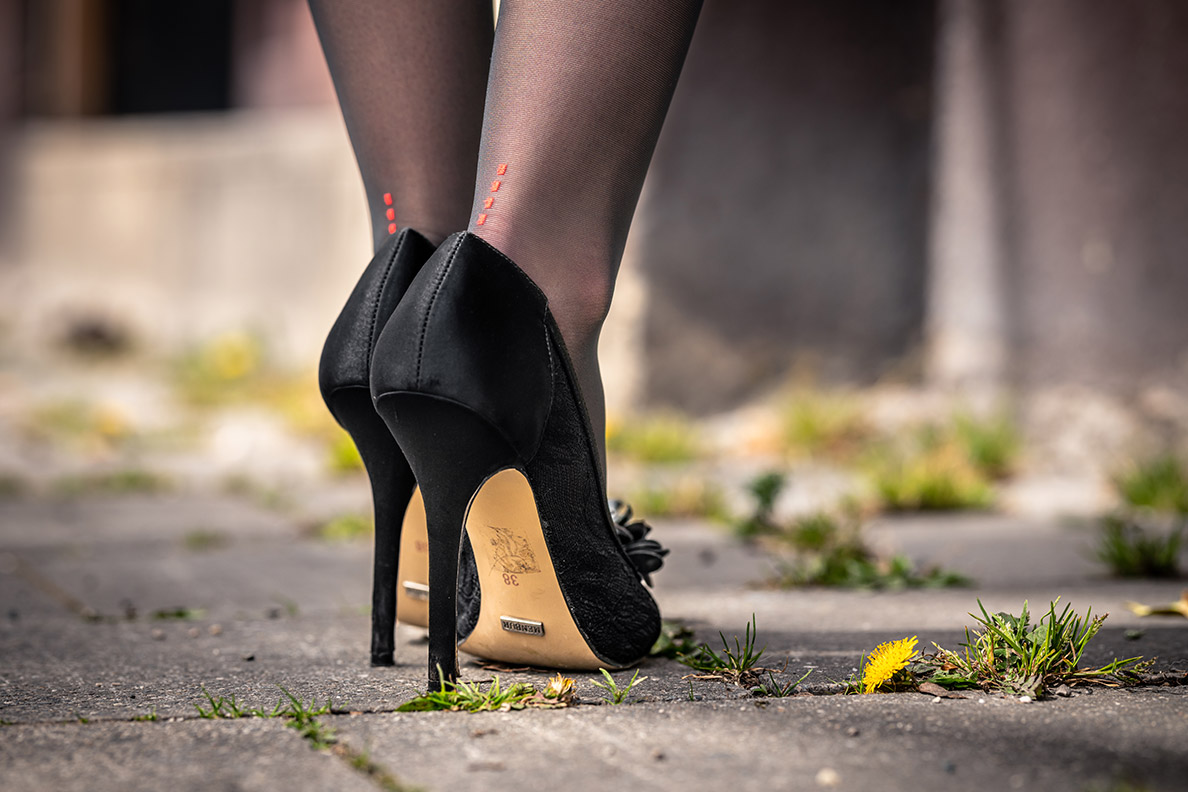 The Paloma tights are actually available in different colours. I only could find a pair in black with a red seam, though. However, this doesn't matter, as I really like this colour combination. And also the back of the pantyhose has some lovely details. I will definitely search for more Paloma tights in other colours, though. So hopefully, I will find another pair for my collection. 😉
Mugler X Wolford Tights
At MyTheresa*, you will currently find some super cool front seam tights that were made by Wolford in cooperation with MUGLER. They are not really a bargain, but definitely look super cool.
More Front Seam Pantyhose and Stockings
I also found some absolutely amazing front seam stockings and tight on Etsy by Yulia Chulkova*. What I really love about them: You can choose if you either want your pair of stockings/tights with only a back seam, or a back and front seam. I own a pair of stockings as well as tights from this brand an am absolutely in love with them. The quality really is amazing and so is the price.
Please just keep in mind that this shop is from Russia, so check the import duties of your country before ordering there.
*Affiliate links

---
How to style Front Seam Pantyhose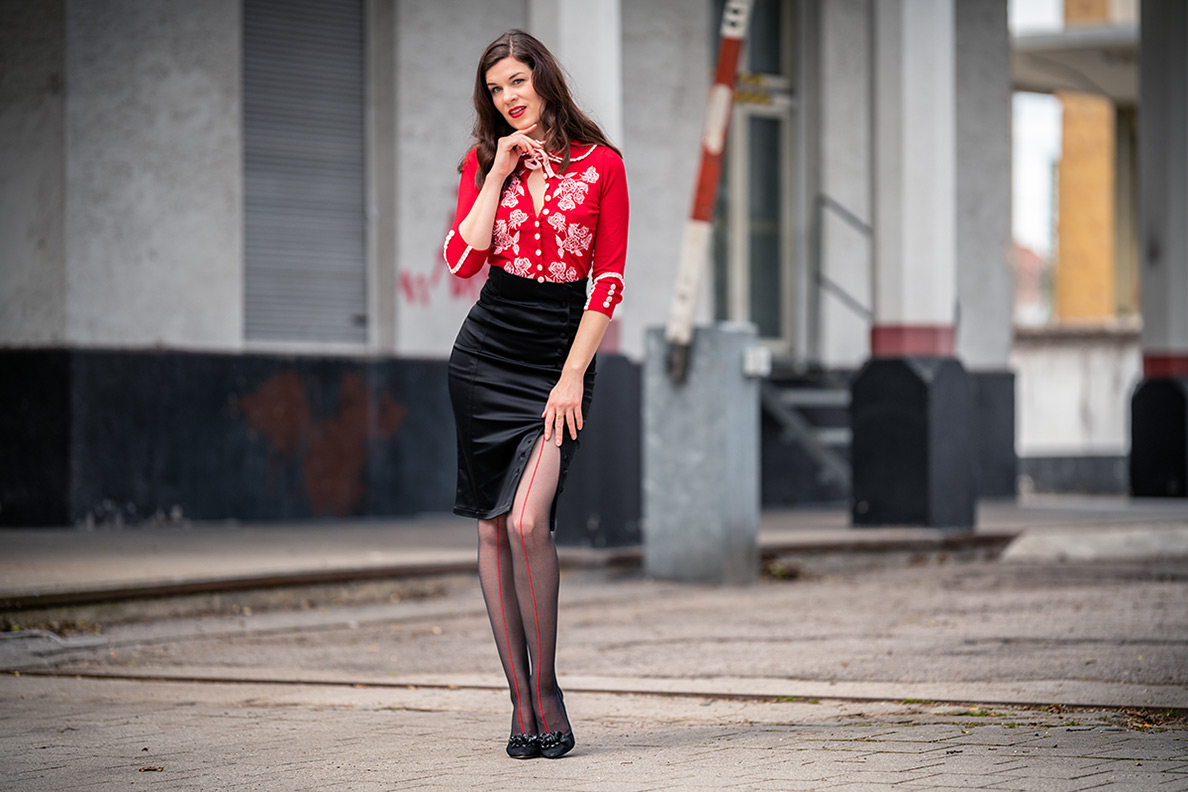 To really make your front seam tights pop, I recommend to team them with an about knee-length pencil skirt. So your outfit still looks classy, but also is able to show off the hosiery.
To make your tights even more visible, you can choose a skirt with a slit at the front, like the Irma skirt by Wheels and Dollbaby, for example.
Front seam pantyhose look best in combination with classy high heels, sandals or mules.
To finish my look, I went for a Dita von Teese Cardigan by Wheels and Dollbaby that matches the colour of the seam.
*Affiliate links

---
If you know another brand or shop that sells front seam tights or stockings, please share them with us in a comment! Due to so many messages on Instagram, I know I am not the only one who is searching for this kind of hosiery. 🙂