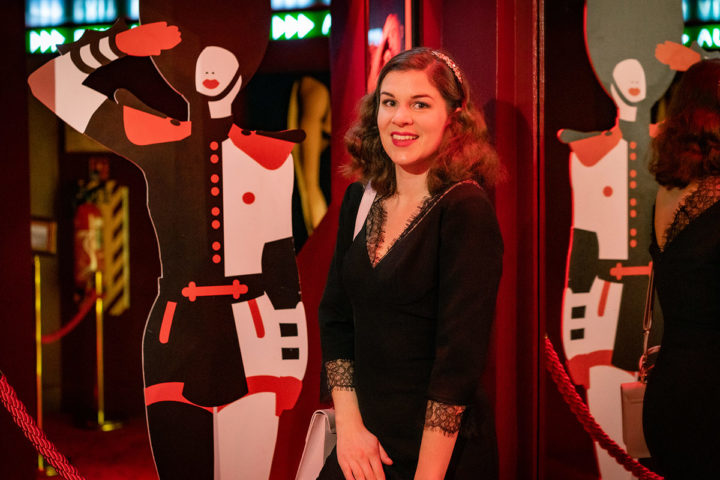 A visit at the Crazy Horse Paris
Cabarets have a long tradition in Paris and are definitely a must see if you are visiting the city of love, I think. During our trip to Paris, we decided to visit the Crazy Horse and enjoyed an unforgettable evening. So let's talk about what you need to know about this very special cabaret.
*This blogpost contains affiliate links (marked with *)
The Crazy Horse Paris
The Crazy Horse in Paris is a popular cabaret known for its nude female dancers and gorgeous light effects. It opended in 1951 and was founded by Alain Bernardin. Located in the Quartier des Champs-Élysées, the Crazy Horse is one of the most popular cabarets in Paris, which also has some special events and star guests like Dita von Teese or Conchita Wurst. In 2011, the popular shoe designer Christian Louboutin created an own show.
Crazy Horse Paris: The Show
Currently, the Crazy Horse shows the "Totally Crazy!" show. The show lasts 90 minutes and features classics like the opening act "God Save Our Bareskin", where the Crazy Girls (the dancers of the Crazy Horse) are dressed as very sexy soldiers, as well as acts in which only one or two dancers are on stage. The music is always on point and you easily get carried away into a different, seductive world. By the way: there is no continuous storyline.
The Crazy Horse is very popular for its light shows and effects, which is no wonder, as light is often almost the only thing the Crazy Girls are wearing. The effects are carefully chosen and you often don't really know if you saw "something" or maybe not. 😉
Are the Crazy Horse Dancers Naked?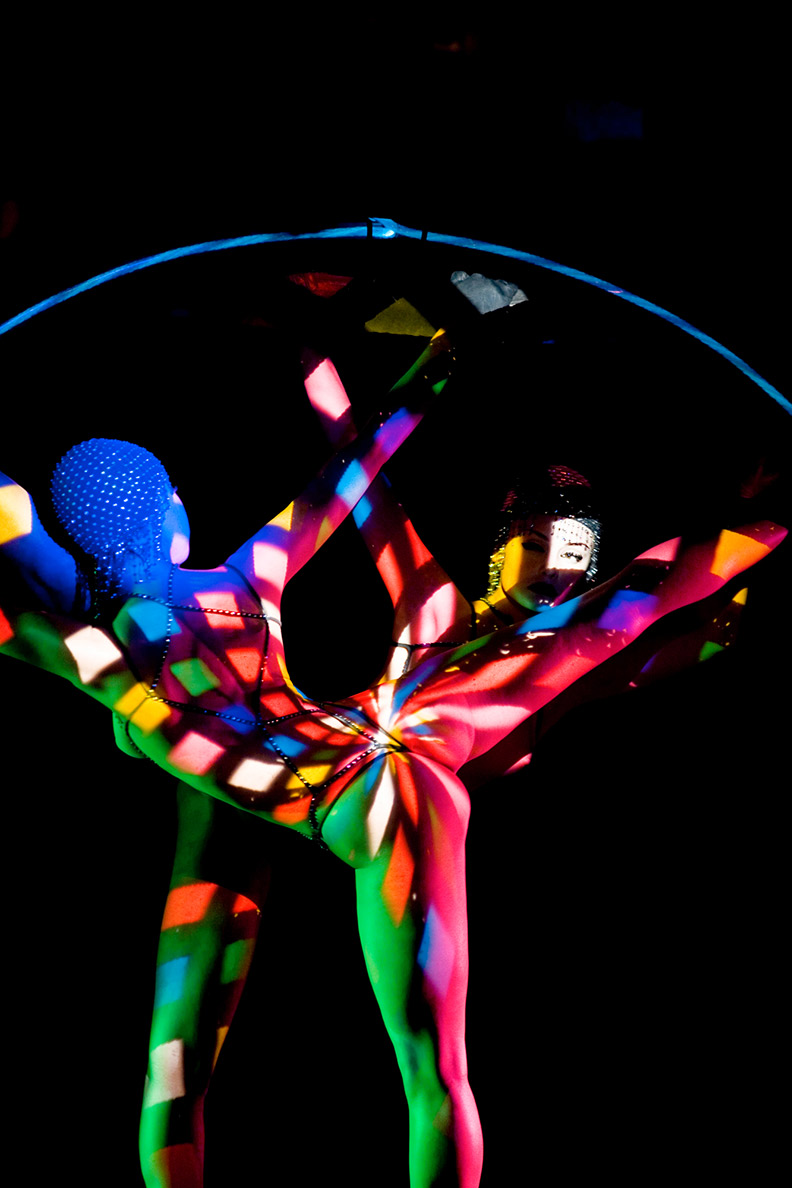 As mentioned before, the Crazy Girls most of the time don't really wear more than "light". They dance topless, and usually don't wear pasties (the little nipple stickers Dita von Teese for example usually wears). However, they do wear some very small thongs, and sometimes lingerie from popular designers like Chantal Thomass, for example.
Nevertheless, the dancers still look classy and never cheap. The light effects "dress" the girls and everything is very tasteful.
The Crazy Girls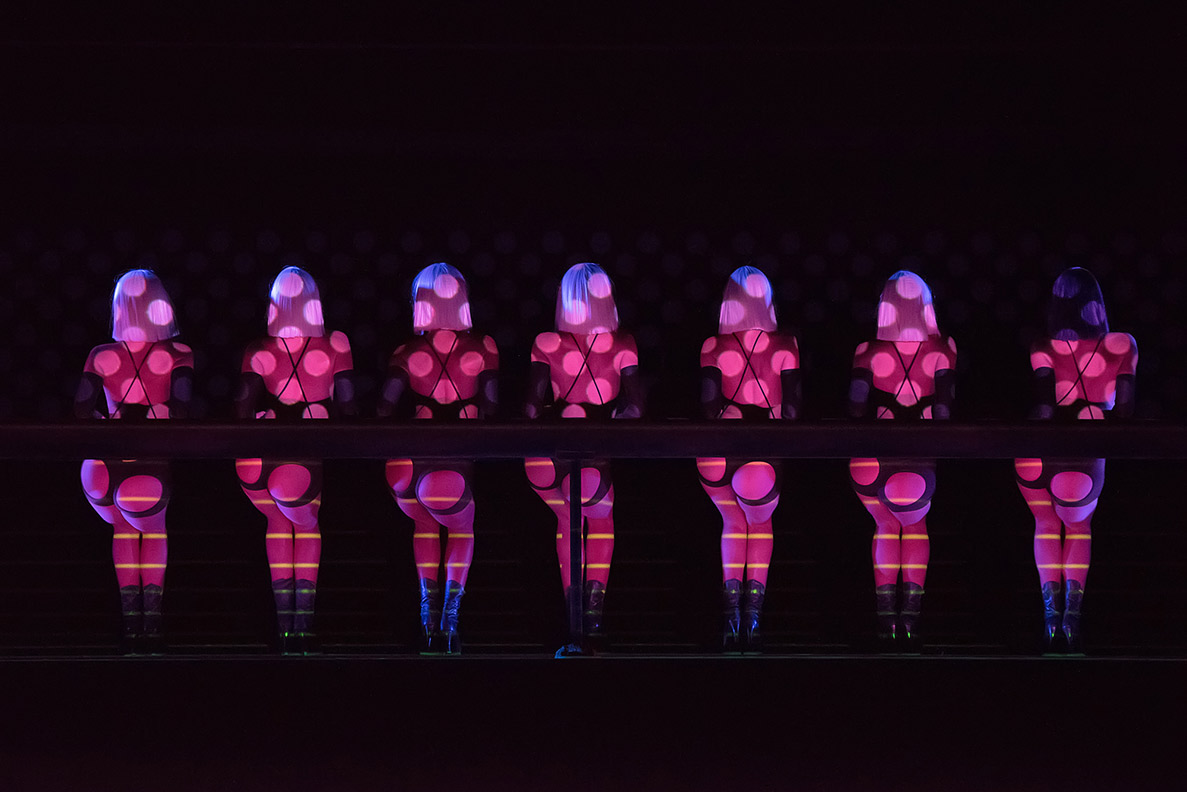 Beside the light show, the Crazy Horse is also popular for its amazing dancers. All of them are almost of exact the same hight and size. Hips and breast are on the same level and the bodies of the dancers look very similar. They often wear wigs, but there are definitely different kinds of skin tones and haircolours represented. Furthermore, the dancers show their different personalities during their acts. So all in all, it is a very harmonic but still varied impression.
How many Shows take place each Evening?
From Sunday to Friday, there are two shows each evening, one at 8:00 pm and one at 10.30 pm. On Saturdays at 7 pm, 9:30 pm and at midnight. By the way: You should check in with your ticket at the Crazy Horse 30 minutes before the show.
Can you dine at the Crazy Horse?
In contrast to the Moulin Rouge or Lido, it is not possible to have dinner at the Crazy Horse. There are tickets available which contain canapes, however, this isn't a real alternative to dinner. It is possilbe though, to book dinner before or after the show in a partner restaurant of the Crazy Horse (see next point).
---
What kind of Tickets are available & what to keep in Mind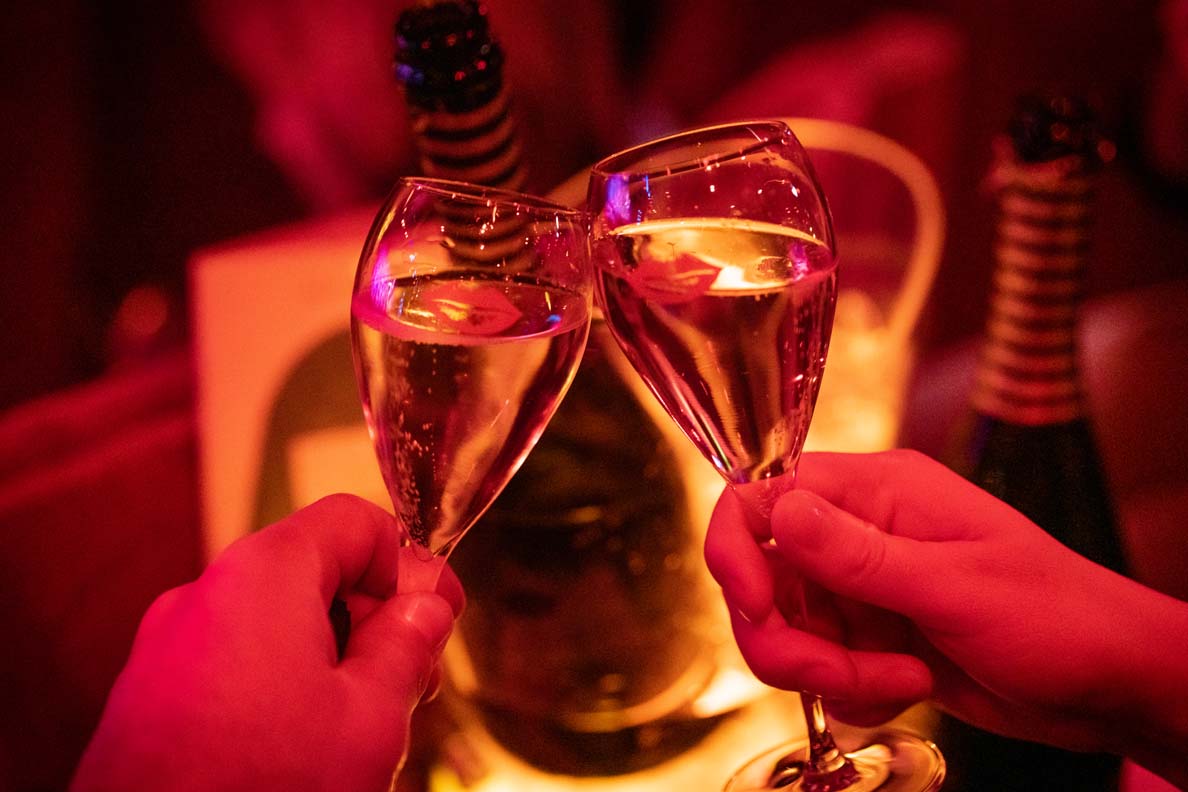 Want to visit the Crazy Horse by yourself, now? Then you only have to decide which kind of ticket you want to book.
The Crazy Horse offers different kinds of tickets. If you only want to see the show, tickets are available from 115 Euros (depending on which day you want to visit the cabaret | as of 10/2023). You can also book a ticket, were half a bottle of champagne for each person is included.
By the way: If you book the ticket with champagne, you get a bottle with 0.75 litres of champagne for you and your companion at your table. For me, half a bottle was definitely enough, but you can also order other drinks.
As I visited the Crazy Horse on my birthday, I booked the "Crazy Birthday" ticket, which can only be booked for two persons on and includes the following: half a bottle of champagne for each person, a bottle of champagne for the birthday girl/boy, VIP priority access and cloakroom, 10 % off at the souvenir shop, and a souvenir picture. I am not shure, though, if this ticket is still available, as we visited the show in January 2020.
No matter what kind of ticket you book, you don't have to be super early at the cabaret. There is a seating chart and you will get seated when you arrive, so there is no "fight" for the best seats. The room is intimate and the visibility is quite good from every seat.
Crazy Horse Paris Combination Tickets
Beside tickets for only the show, it is also possible to book combination tickets, were you can have dinner before or after the show in a partner restaurant of the Crazy Horse. The price for these kind of tickets depends on the restaurant you choose. You can have a look at the menu before, but I'm not sure if it is possible to order something different from that.
At least in early 2020, it was also possible to book the Crazy Horse show in combination with a dinnercruise at the Seine. This is something we thought about, as we wanted to do both. However, when booking this ticket, you have your dinnercruise at 7:30 pm and then visit the show at 11 pm or 11:45 pm (depending on which day you are visiting the show). So all in all, this is a very long day. If you don't have a lot of time in Paris, this might be a good option. We had to fill two evenings, though, so we decided to see the show on one day, and go on the dinnercruise on another day.
Special Tickets
If you want an even more special evening, you can book an exclusive backstage tour; find more information here.
How and where to book Tickets for the Show
As the Crazy Horse usually is well visited, I highly recommend to book your tickets in advance. You can either book online or via phone.
If you want to book personally, you can do this directly at the Crazy Horse.
Address: 12 avenue George V – 75008 Paris
Opening Hours:
Sunday to Friday: 7 pm to 1.00 am
Saturday: 6:30 pm to 2 am
---
Is it allowed to take photos at the Crazy Horse?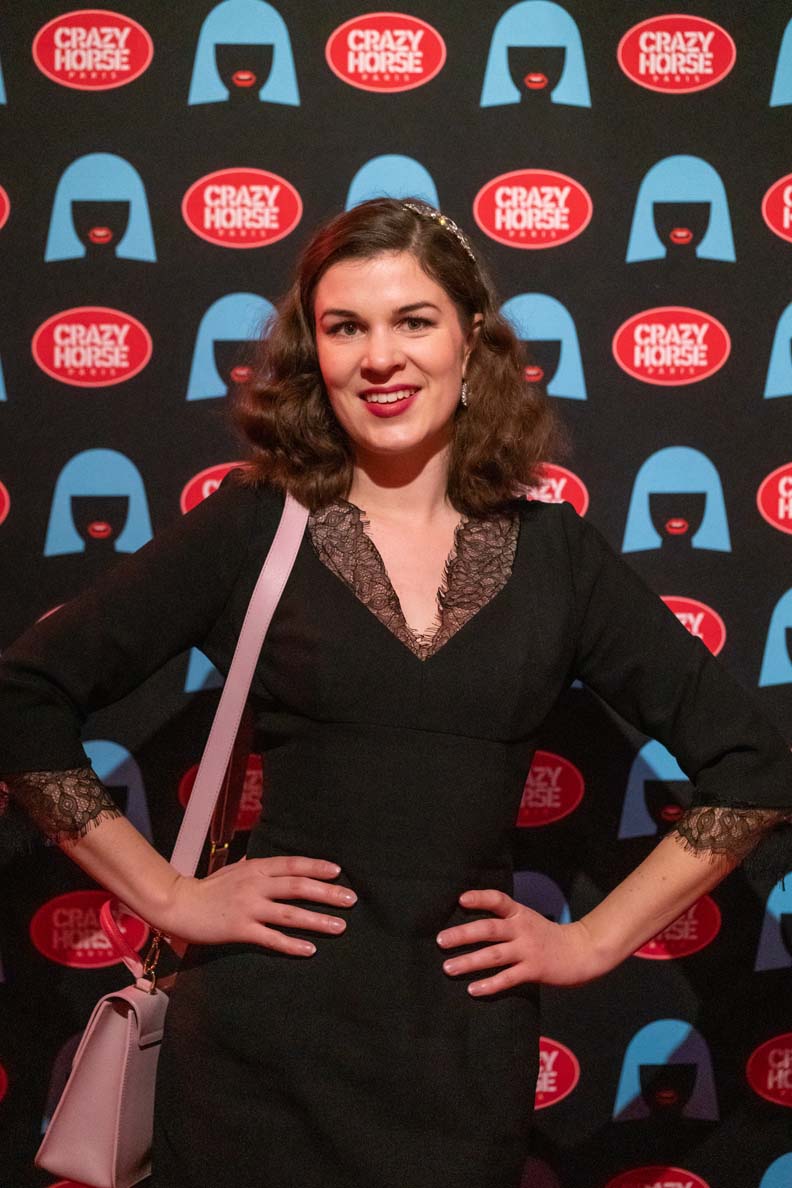 It is not allowed to take pictures or videos during the show, but there are photographers on site, who take souvenir pictures which you can buy printed and on a USB stick. The price for both would have been 50 Euros for us.
---
What can one buy at the Crazy Horse Shop?
There is a small souvenir shop in the Crazy Horse, where you can buy some lovely and seductive souvenirs. Beside DVDs, books, and some lingerie, there are also things like broochs or pens available.
PS: I bought a book as well as brooch. 😉
---
What to wear at the Crazy Horse?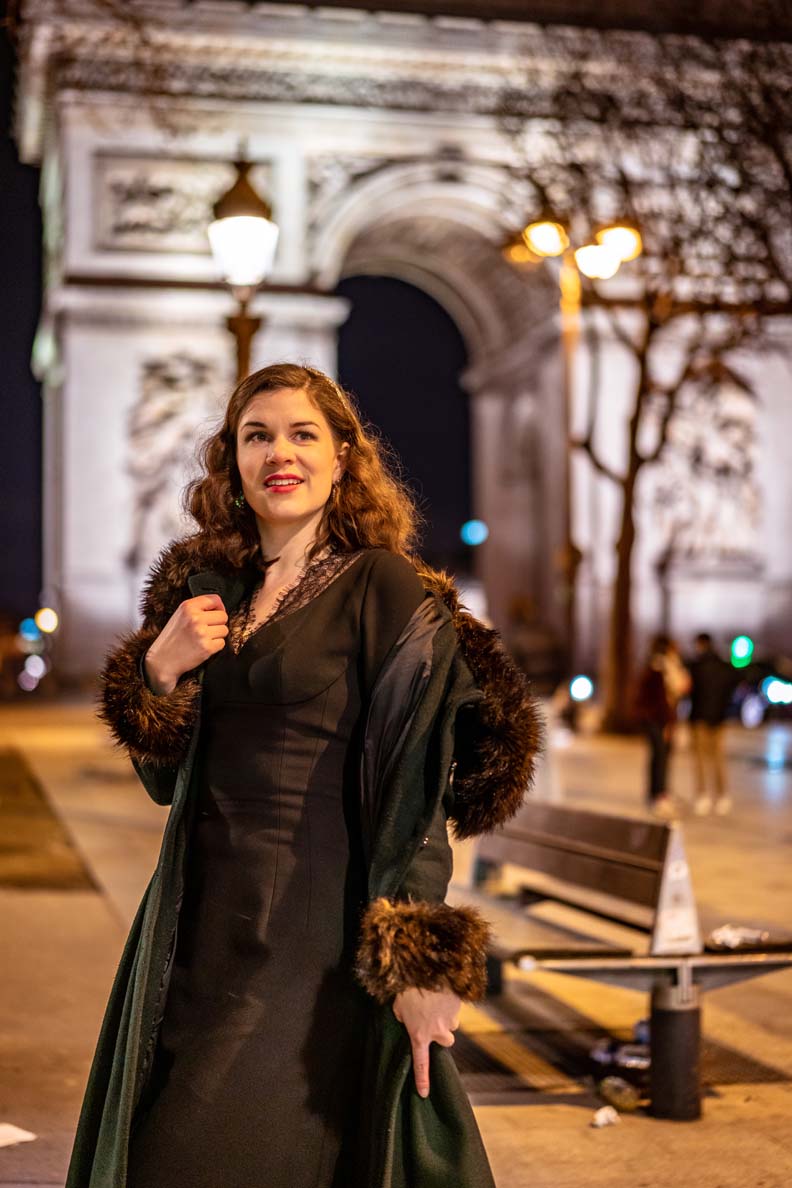 There is no specific dress code for the Crazy Horse. However, elegant evening wear is appreciated. You don't have to wear a suit or long evening gown, but you definitely can. It isn't a place for athletic outfits, sneakers, shorts, and flip flops, so make sure to wear something a bit more elegant. The Crazy Horse definitely is a very open minded place, so you absolutely can be your (chic) self. If you still have no idea what to wear to the Crazy Horse, here are some ideas:
Crazy Horse Paris: Outfit Ideas for Gentlemen
You can't go wrong with elegant trousers, matching shoes (I recommend to not wear sneakers, however, they won't refuse access if you do so), as well as a shirt, or polo shirt. As said before, a suit is not a must, however, you definitely can wear one if you feel comfortable in it.
Crazy Horse Paris: Outfit Ideas for Ladies
For the ladies, I recommend a nice dress, a chic skirt and top combination, or elegant trousers in combination with a great top. I went for a classic: The little black dress, in my case it is by Ginger Jackie.
The Crazy Horse definitely is a great place to dress up. So if you want, wear your seamed nylons, deep necklines, or short skirts! I teamed my dress with thrilling stockings by Agent Provocateur*, and some sparkly accessories. As we visited the show in winter, I wore the glamorous Pearl Coat by Collectif Clothing on top.
I personally think, this is a wonderful occasion to wear something chic and glamorous. However, I also saw people in jeans and t-shirts – so no severe dress code here! I personally would always overdress instead of underdress for a visit at the Crazy Horse, though. 😉
Outfit-Details:
Dress: Ginger Jackie
Stockings: Agent Provocateur*
Coat: Collectif Clothing, available in different colours*
Earrings: Vintage, similar here*
Head band: Vintage, similar here*
Shoes: similar here*
Handbag: Furla, very similar here*
*Affiliate links

---
Is the Crazy Horse worth a Visit?
I must admit, an evening at the Crazy Horse is not cheap. However, we really enjoyed our visit and were absolutely delighted with the show! Even though it was a bit chaotic at the check-in desk, the staff was always very friendly, and helpful. Plus: They were fluent in English, which was a big relief, as my French really isn't that good anymore. The show is something very special and was definitely a highlight of our trip to Paris.
So all in all, I can highly recommend to visit the Crazy Horse. And we definitely will see the show again at some place in the future.
---
DVDs & Books about the Crazy Horse
If you are still not 100 % sure if the Crazy Horse is something for you, you can watch some DVDs, first. I bought them all to be prepared for my visit. 😉
PS: Isn't a visit at the Crazy Horse a wonderful birthday, Valentine's Day, or Christmas gift idea for your love?
PPS: This is the men's toilette at the Crazy Horse. 😉