A glamorous Sunday at home
I actually don't like sundays that much. Everything is closed (at least in Germany), people are hungover, and all in all, sundays always spread some boring vibes, I think. To make matters worse for me, every day feels like a sunday, at the moment. So what can we do to make sundays (or every other day) more glamorous? Of course, I have some tips for you that always work (for me ;-)).
*This blogpost contains affiliate links (marked with *)
A glamorous Sunday at Home: Sleep in
Make sure to change the bedding the day before, so you can sleep in on your glamorous sunday, enjoy the fresh smell of your bed in the morning and wake up like a queen. How could a glamorous sunday start better?
[ap_divider color="#CCCCCC" style="dotted" thickness="1px" width="100%" mar_top="20px" mar_bot="20px"]
*Affiliate links
---
Drink some Tea and make yourself ready for the Day
Even when I'm not going to leave the house, I take some time in the morning to get ready for the day. I turn on my favourite playlist on Spotify and make myself a big cup with my favourite rose-scented tea by Kusmi. This tea, by the way, not only smells heavenly, it also tastes delicious! Then, I do my hair and put on some makeup. When I do not have big plans for the day, I usually only wear the CC Cream by Chanel, a bit of cream blush, mascara, brow powder, and a nourishing lipstick. As soon as I'm done with makeup, I put on some pretty clothes and make breakfast.
PS: If you prefer something more comfortable but still glamorous for your sunday at home than a dress or something like this, I recommend a chic vintage inspired dressing gown. 😉
[ap_divider color="#CCCCCC" style="dotted" thickness="1px" width="100%" mar_top="20px" mar_bot="20px"]
*Affiliate links

---
A glamorous Sunday at Home: Breakfast
On a glamorous sunday, I enjoy whatever I want for breakfast! Personally, I love sweet things in the morning, so beside croissants, I eat cinnamon rolls, banana bread, brownies. My love prefers something hearty most of the time, so we prepare breakfast together and make sure everyone gets what he/she wishes for. 🙂 For this occasion, I also like to use my vintage porcelaine I collected over the last few years. I got some very pretty dishes from my grandma, but also collected a lot of pieces from flea markets.
---
A glamorous Sunday at Home: Time to relax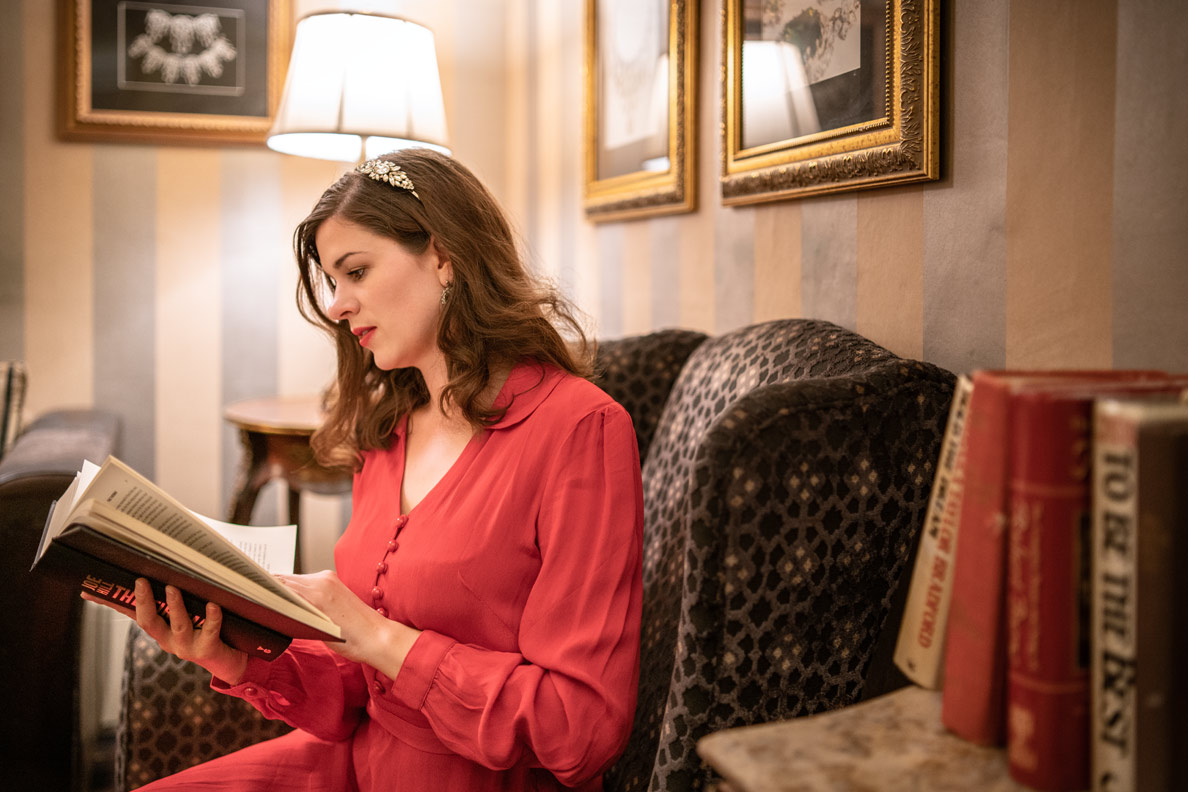 After breakfast, it is time to relax! I usually make myself another cup of tea, have a seat in my wing chair and read a good book. When the weather is good, I also like to enjoy the sun from my balcony, browsing one of my illustrated fashion books, or draw in a colouring book.
---
Call your loved ones
It is so important to stay in contact with your loved ones, especially when you are not able to meet them in person over such a long time. So grab your phone, call your parents, grandparents, friends, and family and talk to them. If you like, you can also have a video telephony and tea time with them, which leads us to the next point.
---
A glamorous Sunday at Home: Tea Time
It's tea time! I like to invite family and friends for this occasion, but if this is not possible, why not having a video chat with them? Everyone grabs some sweets or a piece of cake at homes, makes tea or coffee and then it is time to enjoy these treats together while maintaining distance – even grandma thinks this is a good idea. 🙂
---
A glamorous Sunday at Home: Time to play
After tea time, there usually is some time until dinner. And if my love is with me at home, we like spending this time together with playing board games or doing a jigsaw while watching an old movie. If you are a Downton Abbey fan, I recommend the 3D puzzle of Highclere Castle*. It is not only fun to do this puzzle, after it is finished, it also looks super nice in the flat. PS: Make sure to watch the movie or series while puzzling for a nostalgic and glamorous feeling. 😉
---
A glamorous Dinner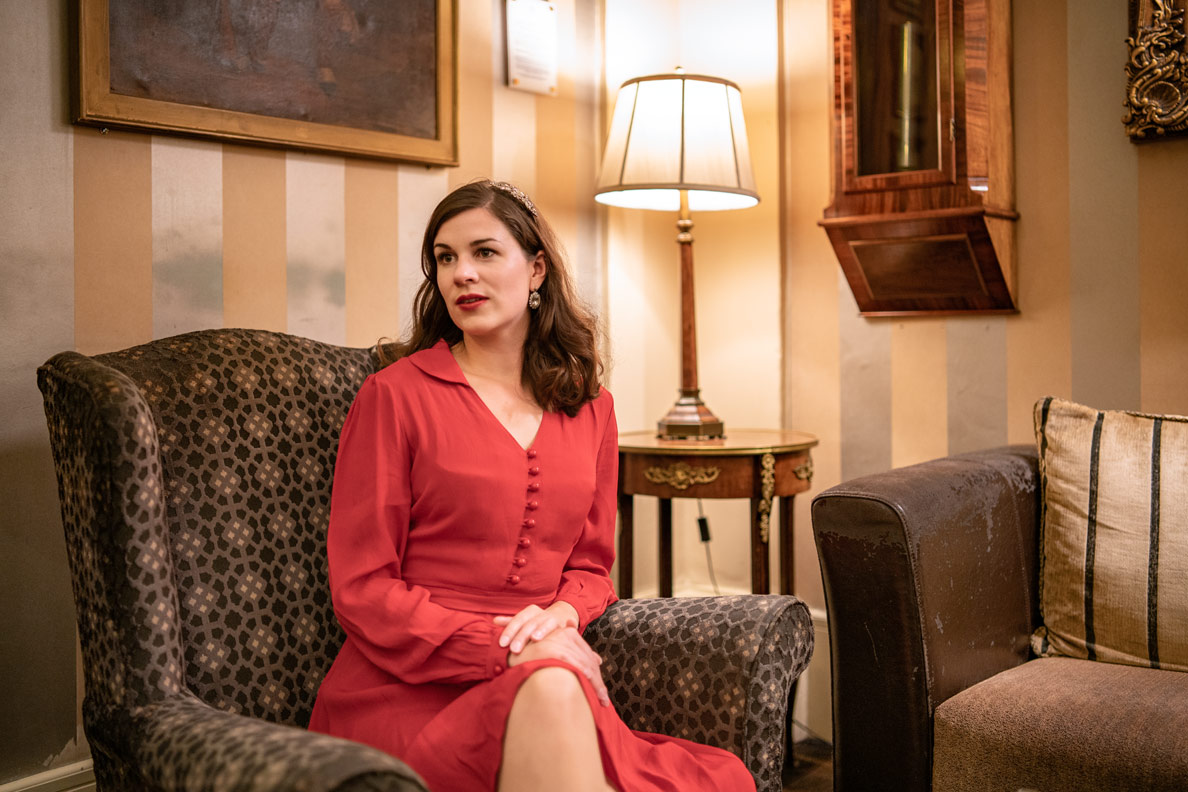 As we usually have a late breakfast at sunday and also snack some treats, we often skip lunch, and have a glamorous dinner instead. I like to serve it in my vintage porcelain and old crystal glasses, to make it even more special and we also make sure to wear something pretty for dinner. It might sound weird, but I think it really makes a difference if you put on something special, even when you only have dinner at home. A pretty attire immediately makes me feel more glamorous and elegant. 🙂
Talking about vintage porcelain and crystal glasses: My grandma only used her "good dishes" for special occasion. So some of them were completely unused when I got them. I somehow like this idea of saving them for special occasions, but on the other side, I think it is very sad to have such lovely dishes and almost never use them. So I simply make my dinners at home special by using procelain and crystal glasses, or feel like Marie Antoinette when sitting in my armchair and sipping tea from my most beautiful porcelain cup. I believe life is too short to wait for special occasions, instead we should make every day a special day.
---
Cocktail Hour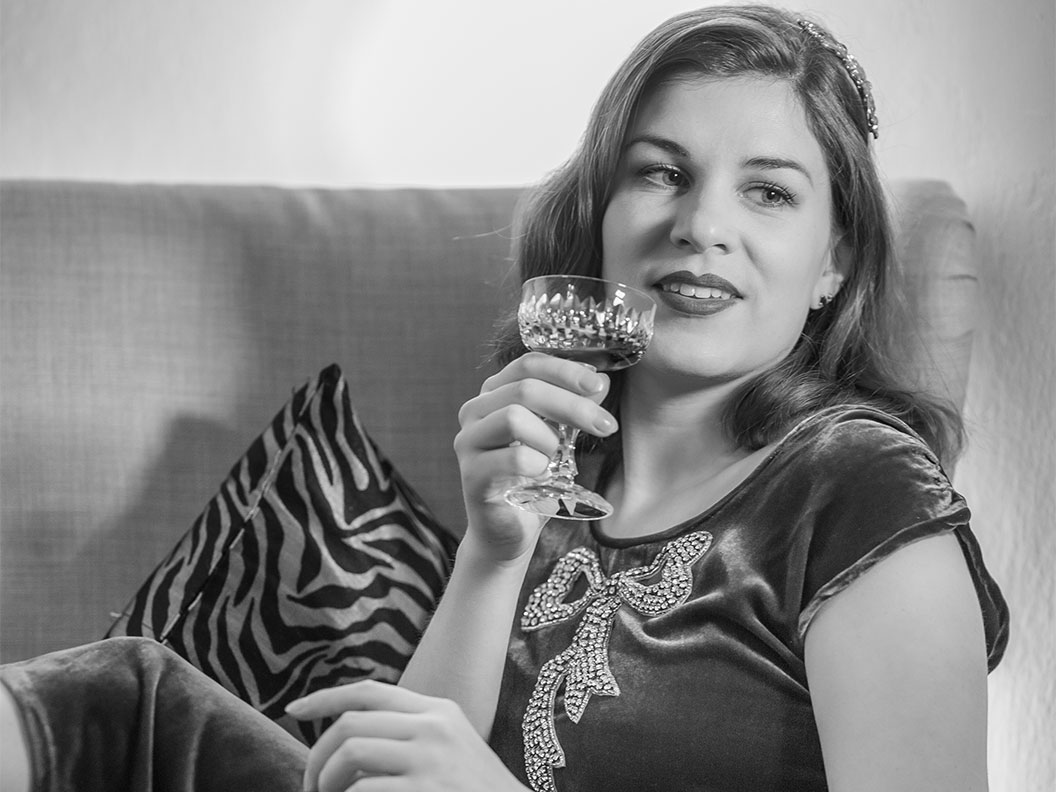 After dinner, we like to have a good drink, talk and laugh together and end the day together. If I'm alone at home, I like to have a glass of wine while watching old hollywood movies like Breakfast at Tiffany's or Sabrina. Afterwards, I go to bed and maybe read a little bit. After such a relaxing day, I'm ready for monday…
Even I could get used to such a glamorous sunday. What do you like to do on sundays? 🙂