This blog contains affiliate links (marked with *). If you shop products via those links, I may get a small provision which helps me to maintain my blog. Of course the price doesn't change. Items marked with c/o were given to me as free test samples.
Perfect for late summer: A wrap dress by Son de Flor
With August, late summer is slowly but surely arriving. A few more hot days are still awaiting us, but overall you can already clearly feel that midsummer is drawing to a close. The days are getting a little shorter again, the nights are getting cooler and sometimes the deep fog is already spreading early in the morning. But the temperatures are still pleasant and I enjoy the time in nature. Long walks with my retro pram in the balmy evening air are part of my daily routine. And we spend the warmest hours in the pleasant shade of our apple tree. A perfect outfit for all these activities is a fantastically beautiful and comfortable wrap dress from Son de Flor*.
*Affiliate links

When late Summer arrives: A Wrap Dress by Son de Flor
Swinging skirts, comfortable, loose cuts and pleasant linen fabrics: Son de Flor* makes even the most romantic Cottagecore dreams come true. Incidentally, linen has always been considered a classic summer fabric and not without reason: it feels nice and cool when you put it on, convinces with its high air permeability and allows the skin to breathe, but still provides sufficient warmth even in the cool evening hours. A perfect material for warm summer days and evenings!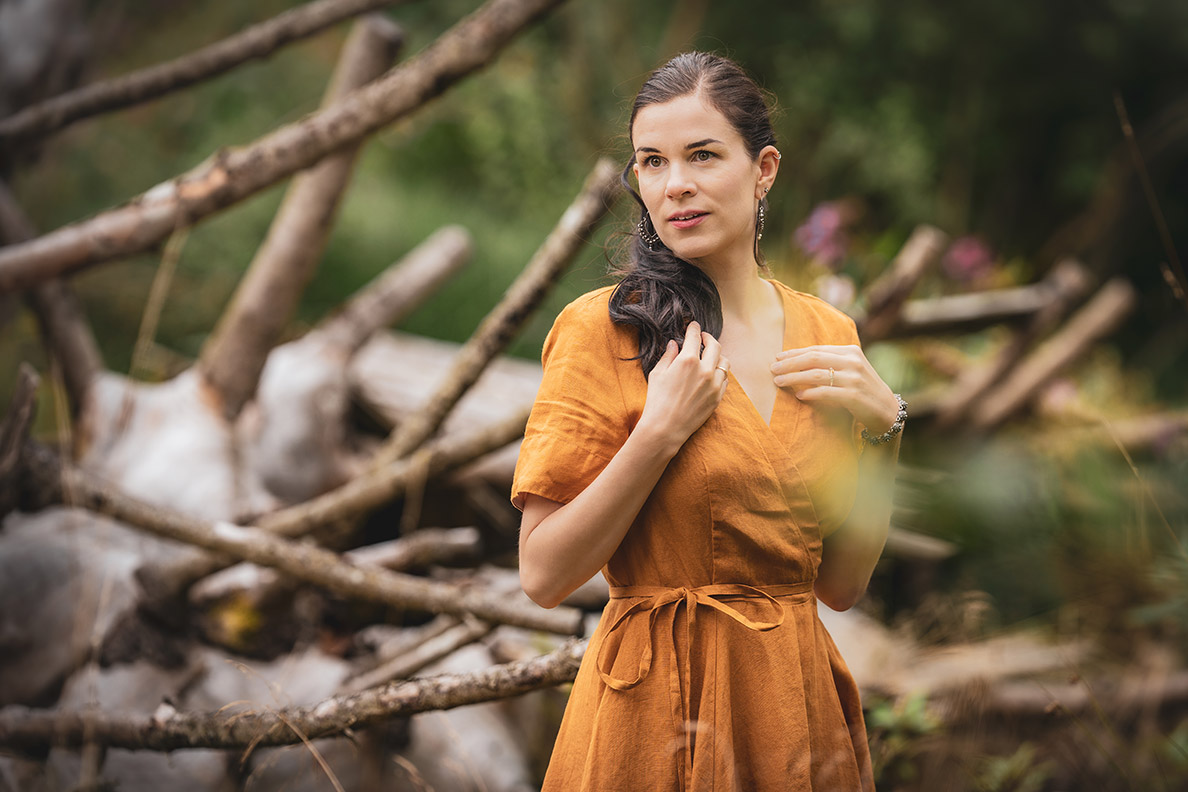 Wrap dresses made of linen are particularly practical, as they can be individually adapted to the body. So it doesn't matter if you've eaten too much ice cream. Simply knot the dress a little looser and everything is in place again. 🙂
The beautiful wrap dresses from Son de Flor* are available in different colours. I chose a strong ocher yellow. To me, it just reflects the season perfectly. It is reminiscent of sunflowers, cornfields just before harvest and the golden hour before sunset. And if the weather turns out to be a bit more dramatic, the color immediately provides bright spots. 😉
*Affiliate links

---
How to perfect your Cottagecore Look
The dresses by Son de Flor* exude a romantic cottagecore flair anyway. That's why it doesn't take much to perfect the look. I rely on comfortable, cognac-colored ballerinas from Ralph Lauren, pieces of jewelery that I bought at various markets in Croatia and a hairpiece that makes my hair look super long.
Outfit Details:
Linen wrap dress: c/o Son de Flor*
Ballet flats: Ralph Lauren, e.g. via Peek & Cloppenburg*
Earrings: no name, similar via Amazon*
Hairpiece: via Amazon*
*Affiliate links

---