How to style leopard print
Just as almost anything else, golden autumn seems to be cancelled this year. We went from summery temperatures and sunshine to freezing cold temperatures and rain. But I still have some hope for a few golden days, and am definitely prepared for them – at least from an outfit perspective. 😉 And what would be better colours for autumn outfits than warm shades of yellow and brown? Furthermore, I am totally into patterns, currently. At the moment, I especially love leopard print. And as animal prints can be a bit tricky to combine, I want to share my best advice with you on how to style leopard print. 
This blogpost contains affiliate links (marked with *)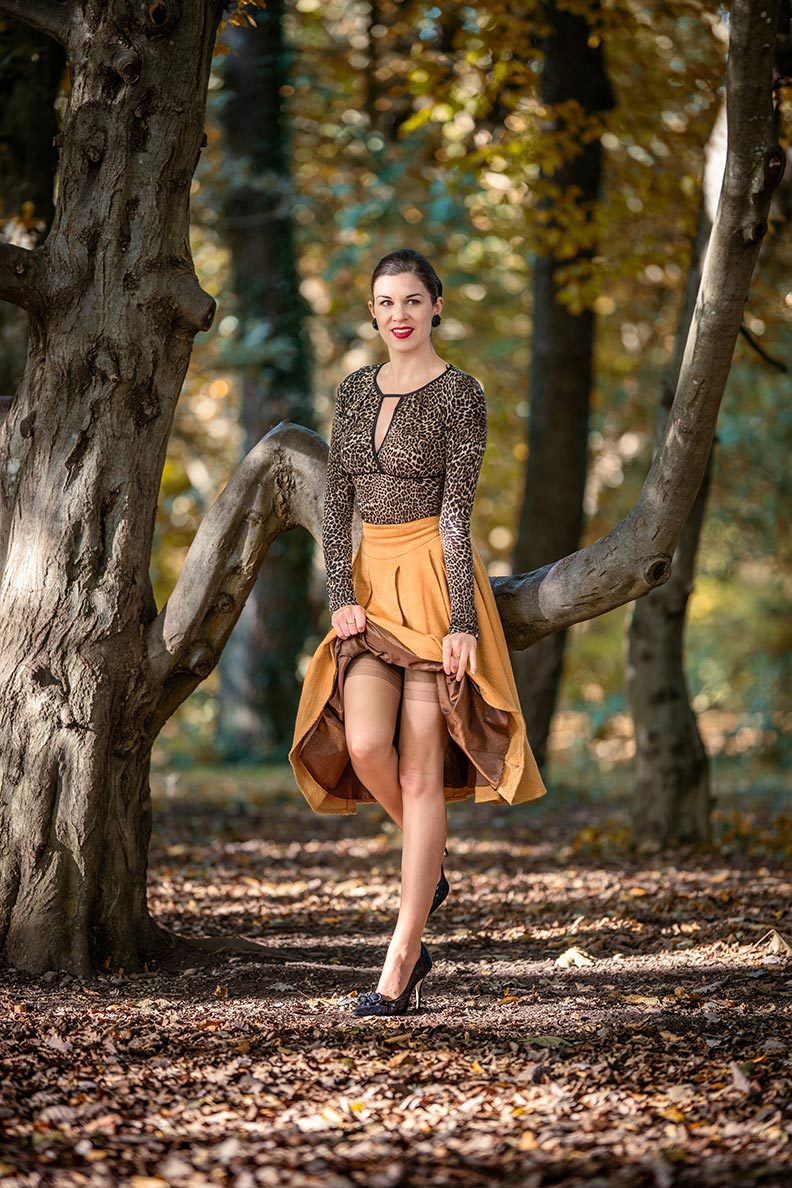 Outfit Details:
Leopard top: Mötivi, similar here* and here*
Skirt: Gracy Q, similar here*
Nylon stockings: Secrets in Lace
Shoes: Menbur, similar here*
Earrings: Glitter Paradise*
*Affiliate links


---
How to style Leopard Print: The Basics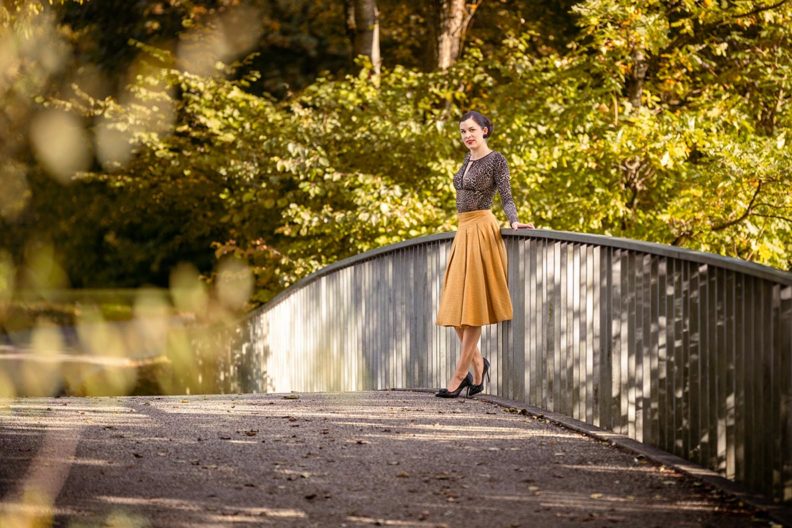 I really like leopard print! It always make me feel like a wildcat, and everyone who knows me just a little bit, knows how crazy I am about all kinds of cats. 🙂 Nevertheless, leopard print can be a bit tricky to style, as I am sure we all want it to look stylish instead of tacky. If you keep a few things in mind, though, your outfit will be quite an elegant head-turner.
Quality matters! Make sure your garments with leopard print look high-quality. I personally also prefer fabrics like cotton or jersey, and avoid shiny materials and polyester.
Leopard print is quite eye-catching and doesn't really tolerate any competition. So avoid other patterns and colour blocking, but rather team it with neutral shades like brown, beige or black.
If you are still not really sure about leopard print, start with a few leopard print accessories.
*Affiliate links

---
How to style Leopard Print: Lovely Details
To start with leopard or animal print, I recommend to choose a few small accessories or details with this patterns. What about fancy  leopard print tights* (one of the tight trends 2020, by the way), for example? Or maybe a leopard print beret to an elegant outfit? Other lovely options are a leopard print collar, hair accessories or a scarf.
*Affiliate links

---
How to style Animal Print: The Length matters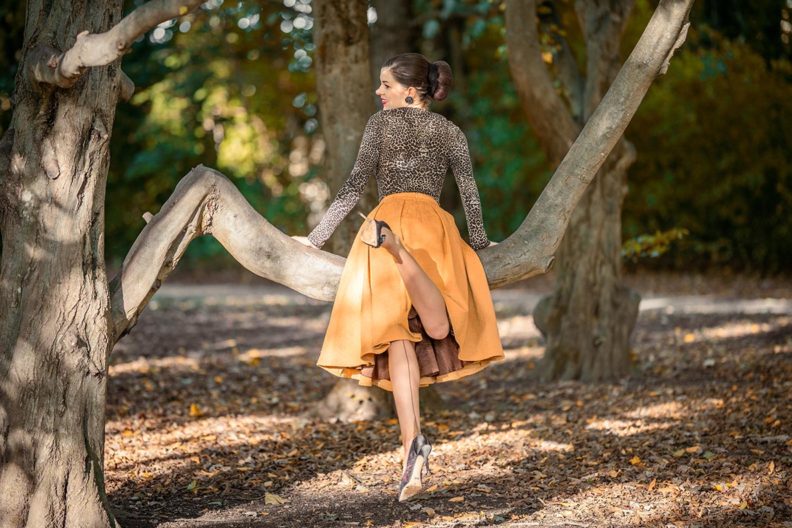 A sexy leopard top in combination with a mini skirt might be a real head-turner, but is not really my style. I perfer a more elegant look and rather choose a midi skirt or long swing trousers. This makes the outfit tempting, but still classy.
*Affiliate links

---
How to style Leopard Print: Subtle Accessories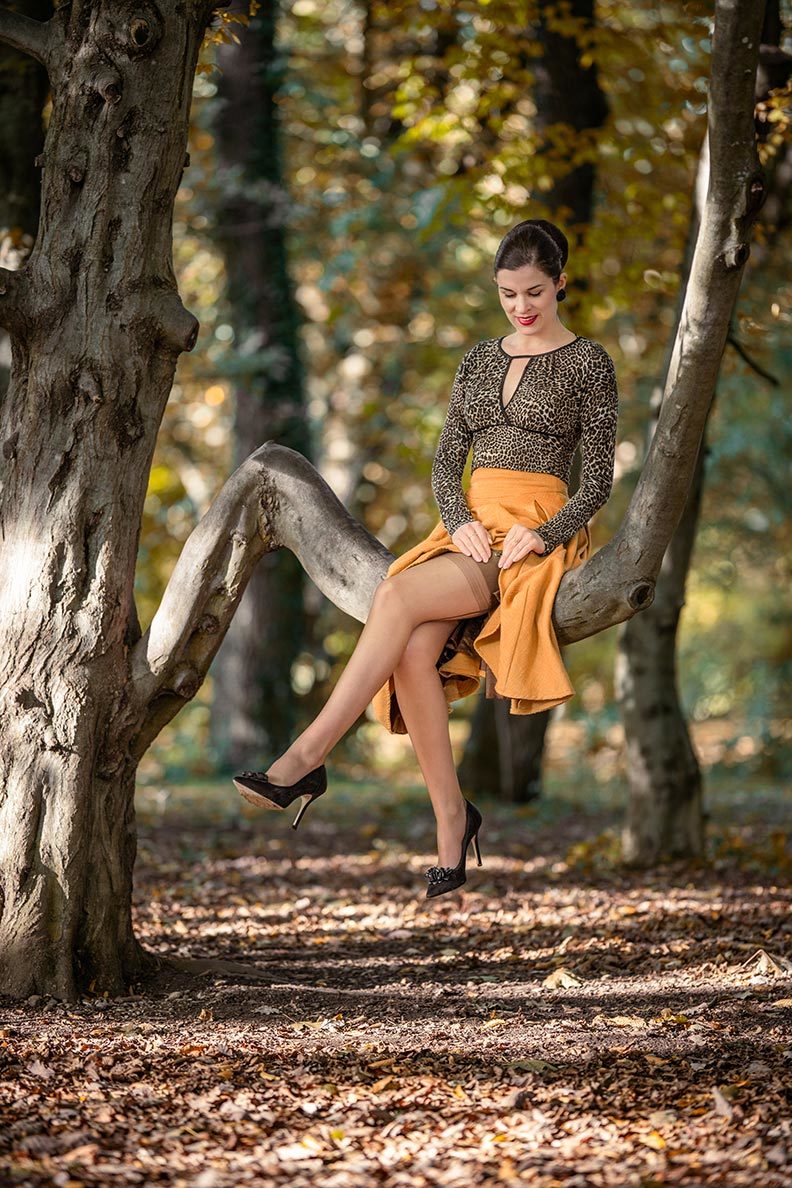 Leopard print already is quite conspicuous, so you don't really need a lot of accessories to finish the outfit. I went for rose earrings by Glitter Paradise*, and didn't wore more jewellery. But of course, matching hosiery was a must for me. My dark nylon stockings are by Secrets in Lace and definitely accentuate the legs in a classy way.
*Affiliate links

---
How to style Animal Print: Classy Shoes
Just as with the rest of the outfit, I recommend classy shoes when wearing leopard print. Mine are elegant black pumps with a high heel. And please don't ask how I climed onto the tree with them. I somehow felt like a wildcat on that day and thought it would be a good idea to rest on a branch. Well, my boyfriend thought my climbing skills resembled a clumsy bear and not an elegant cat. 😉
*Affiliate links

---