People often tell me how expensive my outfits look and are most of the time really surprised when I tell them, that they are less expensive than most of the jeans and t-shirt looks you see on the streets. Due to the figur-hugging cuts and many details, I guess repro garments often look like they are from an expensive designer boutique. So in this blogpost I'm going to show you a budget-friendly ultra-glamorous look for everyday life. The base of my outfit this time are the Venus Van Chic Dress "Fiona" as well as the Dana Glamour Stockings by Secrets in Lace.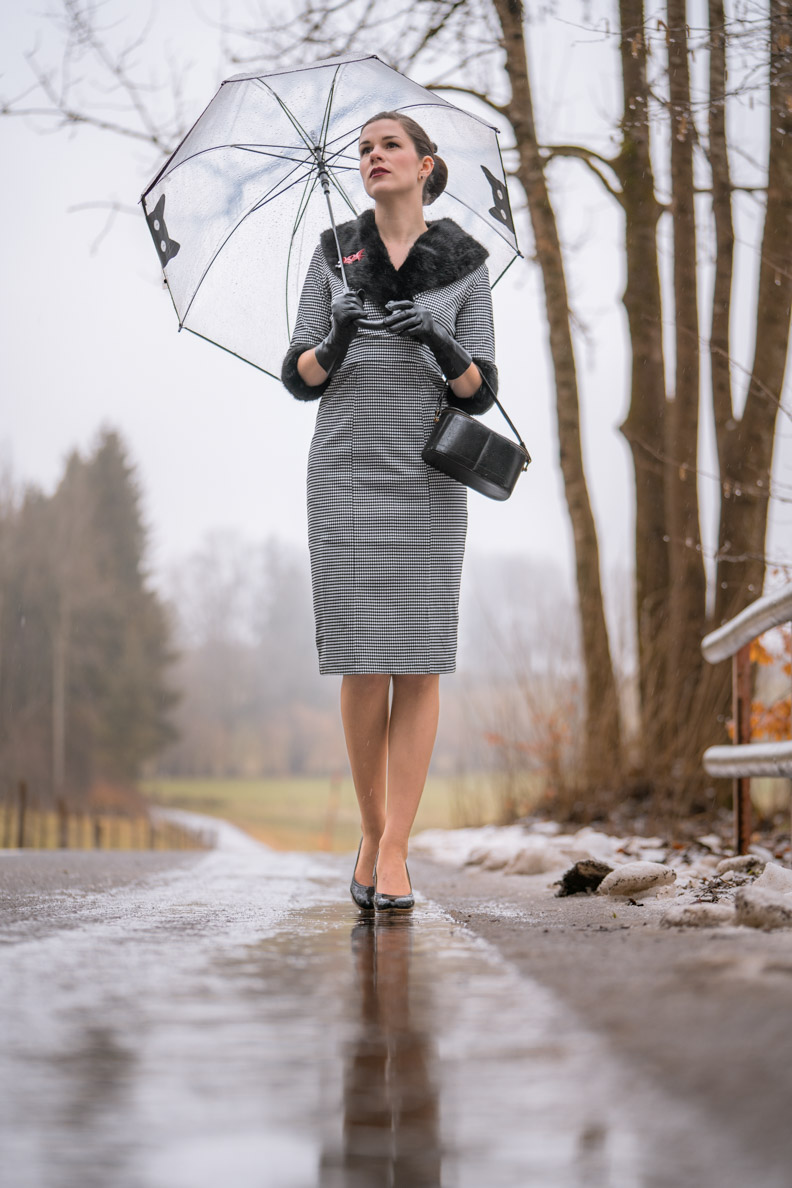 A glamorous Pencil Dress: The Venus Van Chic Dress "Fiona"
Venus Van Chic could be called the luxurious sister of Dolly and Dotty and offers some very elegant dresses that add that extra amount of glamour to everyday life. My favourite for the dreary and wet February is "Fiona". The fitted cut enhances the curves, but as the dress is made of a strechy fabric "Fiona" is still very comfortable. The fake-fur collars at the neckline and sleeves make it a real head-turner. And you know what's best? If you prefer are more subtle look, you can easily remove the faux-fur trims 😉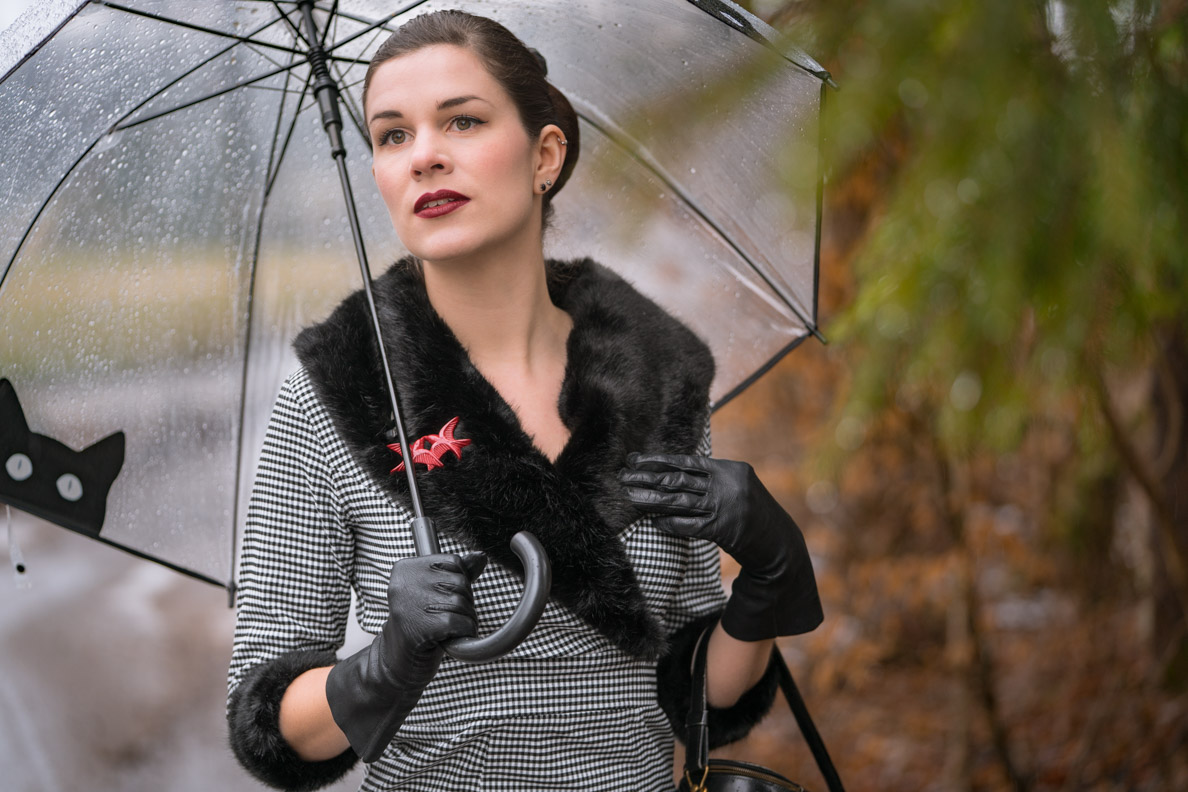 ---
For the extra amount of Glamour: The Dana Glamour Stockings by Secrets in Lace
A glamorous vintage outfit calls for seamed stockings, of course! Talking about hosiery, Secrets in Lace is my favourite brand, but I'm sure you already know this from my previous blogposts. This time, I chose the Dana Glamour Stockings. Dana Glamour was the very first pair of seamed stockings I ever bought a few years ago and I had them for such a long time. This is why I'm more than happy to own a brand new pair of them by now. 😉
The Dana Glamour Stockings are made of a strechy fabric and provide a nice cling to the leg. Moreover, they are very affordable and therefore perfect for everyday life or "beginners" who just want to try the vintage/retro style.
---
Stylish retro- and vintage Accessories for every Weather
In Germany, February is usually a very wet, cold, and gloomy month, so I need vintage inspired accessories that match my style and the weather. The kitty umbrella, which I already introduced in this blogpost, is my faithful companion these days. Furthermore, I add a bit of colour to my retro outfit with the help of the bluebird brooch by The Seamstress of Bloomsbury. A true vintage handbag, vintage leather gloves, as well as black patent leather pumps finish the look. Patent leather shoes are perfekt for bad weather, as they are so easy to clean and very insensitive.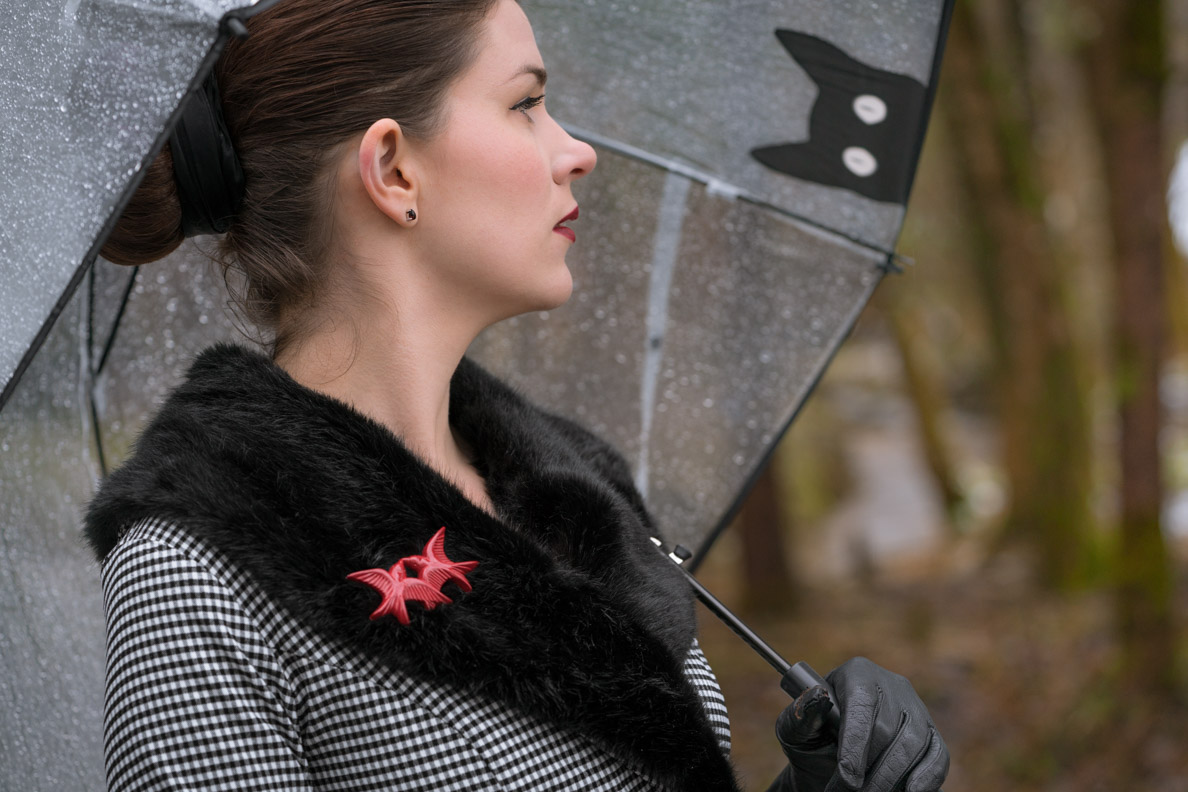 ---
Shop the glamorous retro Outfit (EU):
Venus Van Chic Dress "Fiona": c/o Dolly and Dotty
Dana Glamour Stockings: c/o Secrets in Lace – Europe (also available at SecretsInLace.com)
Garter Belt: Sophisticated Garter Belt c/o Secrets in Lace Europe
Umbrella: available here
Pumps: similar here
Brooch: c/o The Seamstress of Bloomsbury
Gloves: Vintage, similar here
Handbag: Vintage, similar ones are available at Etsy for example.

---
Shop the glamorous retro Outfit (US):

---