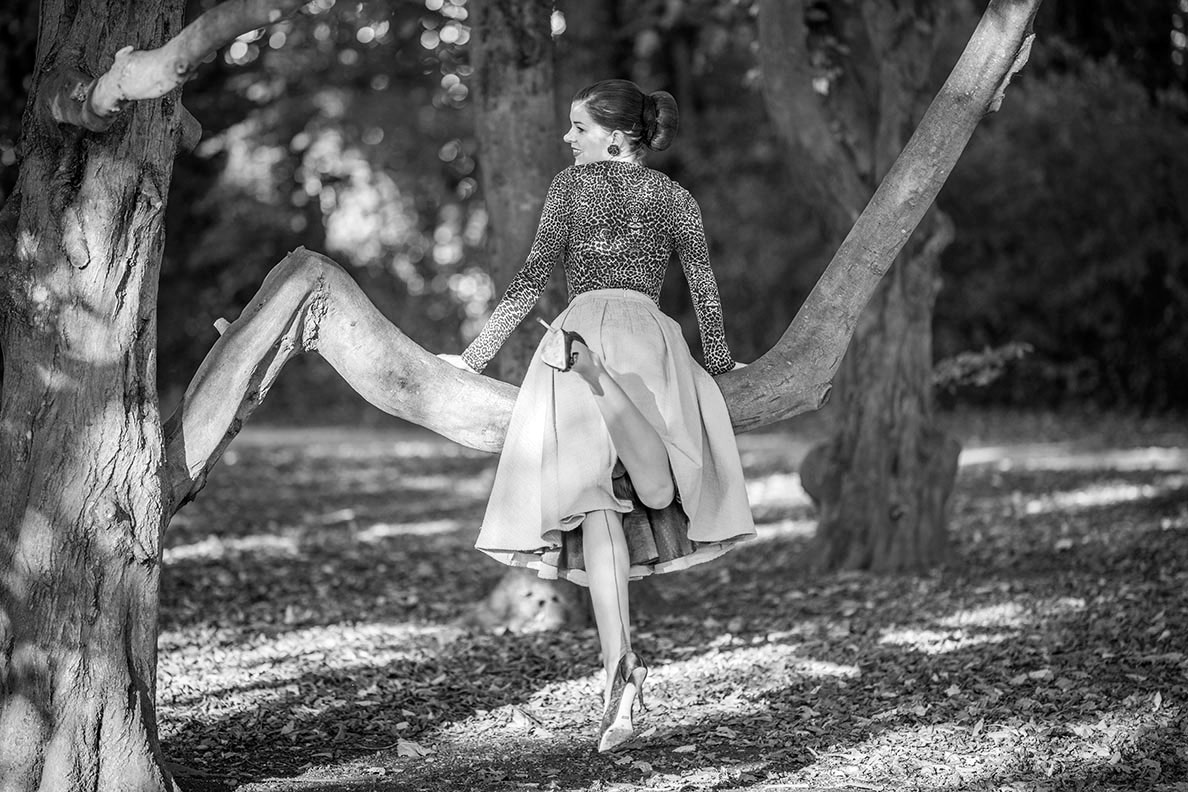 This blog contains affiliate links (marked with *). If you shop products via those links, I may get a small provision which helps me to maintain my blog. Of course the price doesn't change.
Fully fashioned nylon stockings: Size-guide
I already told you how to wear nylon stockings in everday life and feeling good while doing so. But especially when it comes to sizes, it often gets a bit confusing. And if nylon stockings don't fit perfectly, you won't feel good in them. Modern hosiery actually is not that complicated, as these usually have some elastan in them and are therefore quite stretchy. Real nylons, though, are not stretchy at all and therefore have to fit aboslutely perfect. So in this blogpost, I am going to tell you what to keep in mind when looking for authentic vintage-style nylons and how to find the perfect size for you.
Fully Fashioned Nylons: What you need to know
Fully fashioned stockings/nylons are vintage-style stockings, that has been very popular from about 1940 to 1955. Back then, hosiery wasn't strechy, as made of 100 % nylon. So the shape of the stockings had to be the shape of a leg. This is why fully fashioned stockings are not simply a "hose".
It wasn't even possible to knit hoses. So stockings were first knit flat and then sewn up the back in the shape of a leg. Hence, they have some special features: Usually darker toes and heels (French Heel, Cuban Heel or something similar), a seam at the back, and a keyhole. True vintage style fully fashioned stockings have a real seam. There are also nylon stockings in "leg-shape" without a seam or with a fake-seam available. These are most of the time more modern interpretations, though.
Important: The term "fully fashioned" mainly refers to the leg shape of the stocking and not primarly to the backseam.
As we cleared this, we are now finally going to talk about the sizes of vintage-style fully fashioned nylon stockings. As without any stretchy materials in it, these stockings won't just fit to your leg on its own.
PS: I talk about many more hosiery related vocabulary in this blogpost. And here, I tell you where you can still buy fully fashioned nylon stockings.
But before I will tell you how to find the perfect size for your nylon stockings, let's answer some questions.
Why do Nylons look so big and long?
In the pictures, you can see the difference between fully fashioned nylon stockings and modern stockings with elastan.
As I already mentioned, true nylon stockings are not stretchy and therefore might look very big and long at first sight. But actually, that's exactly how they are intended to look, as they already need to have the length and shape of the leg when putting them out of their package. We already know we can't stretch them when putting them on, so that's the reason why they look so long and big.
The Advantages of Fully Fashioned Nylon Stockings
In the pictures you can see stretchy stockings (left) and fully fashioned nylon stockings (right) in comparison. While the first ones tend to pull back together, fully fasioned nylon stockings stay in their exact shape. As you can see, the first ones are pulling at the garters, the second ones don't.
Doesn't it sound a bit daunting when reading all these things about fully fashioned nylons that are not stretchy at all? Well, they actually also have some advantages:
As fully fashioned nylon stockings need to fit absolutely perfect, they are available in different sizes, shapes and variations – from long to short and usually also for different feet sizes. So if you find your size, fully fashioned nylons look absolutely amazing on your legs and also feel great! Of course modern "stretchy" hosiery is available in different sizes as well. However, these hosiery usually follows the motto of "one shape fits all". Furthermore, there is nothing that looks more elegant than a pair of glamorous vintage-style nylon stockings, is there?
Stretchy hosiery tends to pull back. But this also has some disadvantages. While perfectly fitting fully fasioned nylons stay in place all day and night long, modern "stretchy" stockings tend to "pull" on my garter belt, especially while walking or moving around. This not only makes you feel uncomfortable, but can be a real problem if you are only wearing a very thin garter belt. I once even had to remove my stockings and garter belt due to this. With fully fashioned nylons, this never has happened to me.
As fully fashioned nylon stockings are not stretchy, they also won't cut into your thighs as long as you are wearing the right size. This is not only more comfortable, it also looks better.
But now, let's finally talk about how to find the perfect size for your nylon stockings!
---
How to find the perfect Size of your Fully Fashioned Nylon Stockings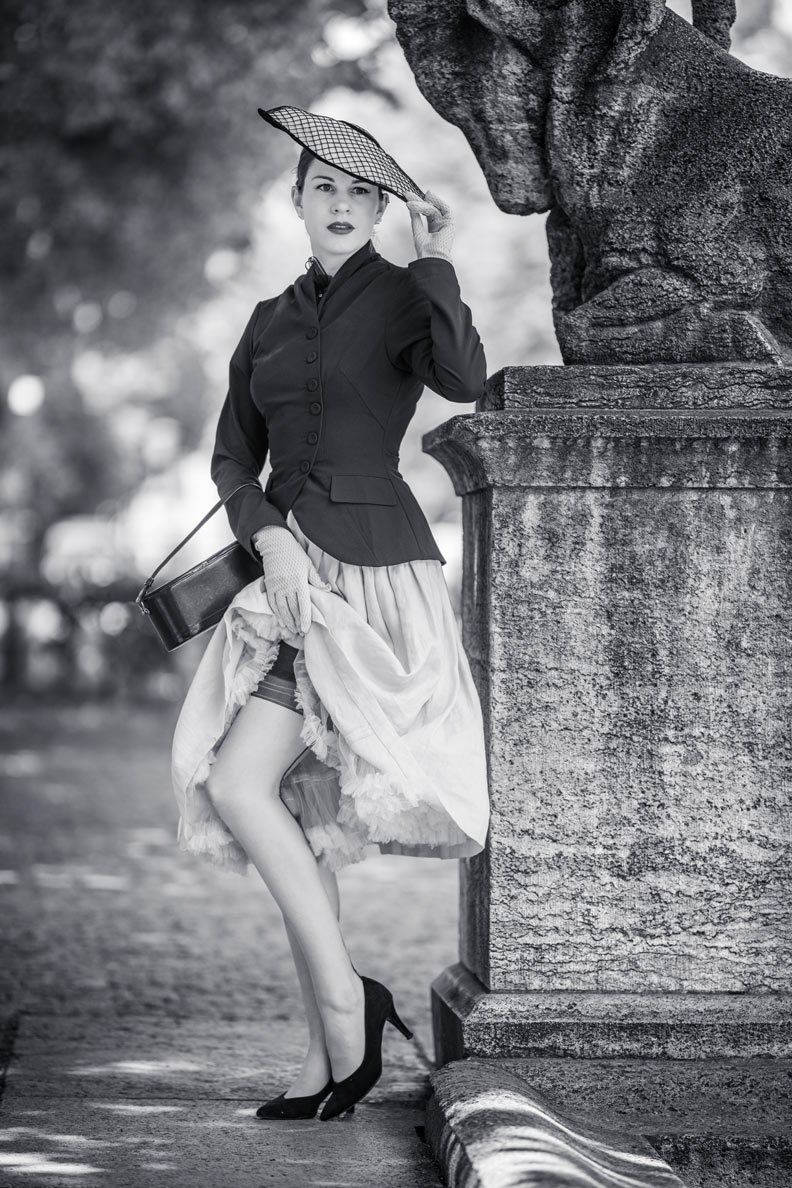 When it comes to find the right size of your fully fashioned stockings, the leg length is very important – even more important than your foot size, at least in my opinion. If your nylons are too long for you, they will wrinkle and sag. If they are too short for you, on the other side, they will pull on your garter belt and will simply feel very tight and short.
I know three manufacturers that still produce fully fashioned nylon stockings on true vintage machines: Secrets in Lace, Cervin Paris and Gio Stockings. There are other providers that buy from one of these brands and sell them under their own name, or produce their own nylon stockings but not on the authentic vintage machines. And then, there are true vintage nylons available. The problem: Sizes differ as the manufacturers are from different countries. So a look at the size guide of the respective manufacturer/provider is a must! Most of the time, sizes are put together by components like height and weight (Secrets in Lace and Cervin, for example), and sometimes your foot size and leg length, too (Gio Stockings, for example). By the way: The size guides of these manufacturers might also be helpful when trying to find the right size for vintage stockings!
Even though there are size guides available, experimenting is a must. But believe me, it is worth it! If you find your size, you will always be happy when purchasing a pair of nylons – at least I am. 😉
I am often between two sizes. But as I have quite slim legs and small feet, I usually go for the smaller one and simply make the suspenders of my suspender belt a bit longer.
Pro tip: If you know your size, always buy two pairs of nylons! If one gets damaged, you can replace the one stocking and still have another replacement stocking!
Due to the fact that there are only very few manufacturers for fully fashioned nylons, unfortunately there are sometimes not all sizes available. So maybe you have to go for an option with some stretch in them like you can find at Secrets in Lace, for example.
---
How Nylons should fit: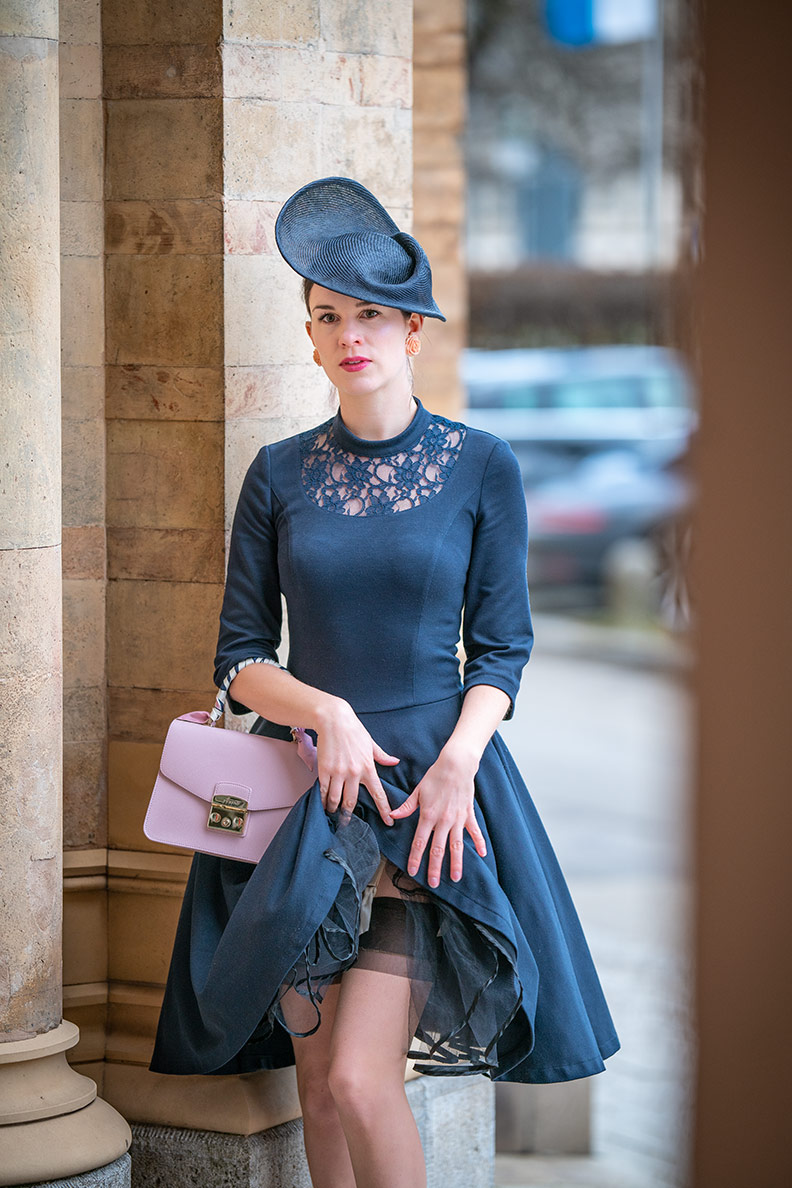 Your nylon stockings should hug your leg but not feel tight. If they feel loose on your leg, you are too small for them. But sometimes it is enough to just tighten your suspender belt a bit.
The stockings should end at the upper part of your thighs. I personally prefer nylon stockings that end just below my but, so others can't see my stockings even when I am wearing a skirt that is a bit shorter.
If your fully fashioned nylon stockings are just a teeny tiny bit too big for you, they might wrinkle at the ankles. But don't worry! This is exactly what some people find especially appealing.
Make sure the suspenders of your suspender belt fit well with the stockings! It is important that you can move freely and also sit down/bend down comfortably.
As we are talking about suspender belts: To feel comfortable in nylon stockings, a perfectly fitting, high-quality suspender belt is just as important as nylons in the right size. So make sure to check out my garter belt guide.
Shop Nylon Stockings:
*Affiliate links

---
This might be also interesting for you: