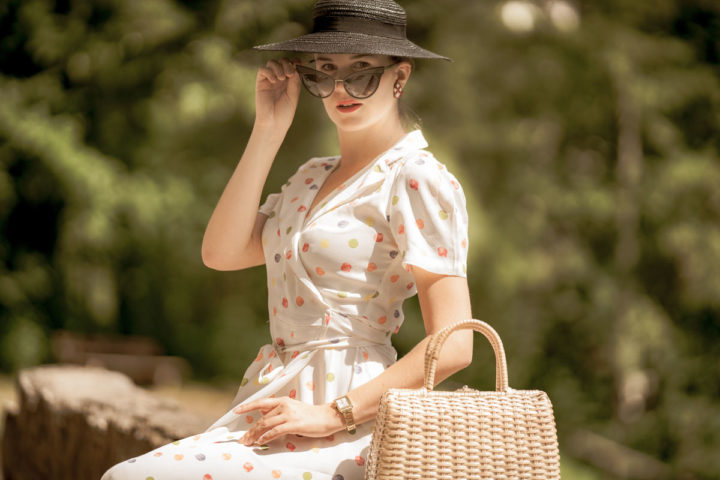 Summery and light: The Peggy Wrap Dress by The Seamstress of Bloomsbury
This blogpost contains affiliate links and pr samples
I haven't posted a lot here on my blog during the last few weeks. But I have a reasonable excuse: I finished my bachelor's degree! Beside writing a bachelor thesis, I also had some exams so unfortunately, I didn't have as much time as I would have loved to have for RetroCat.de. But now, I'm back with many beautiful new outfits to show! So let's start with an amazing dress for summer: The Peggy Wrap Dress by The Seamstress of Bloomsbury.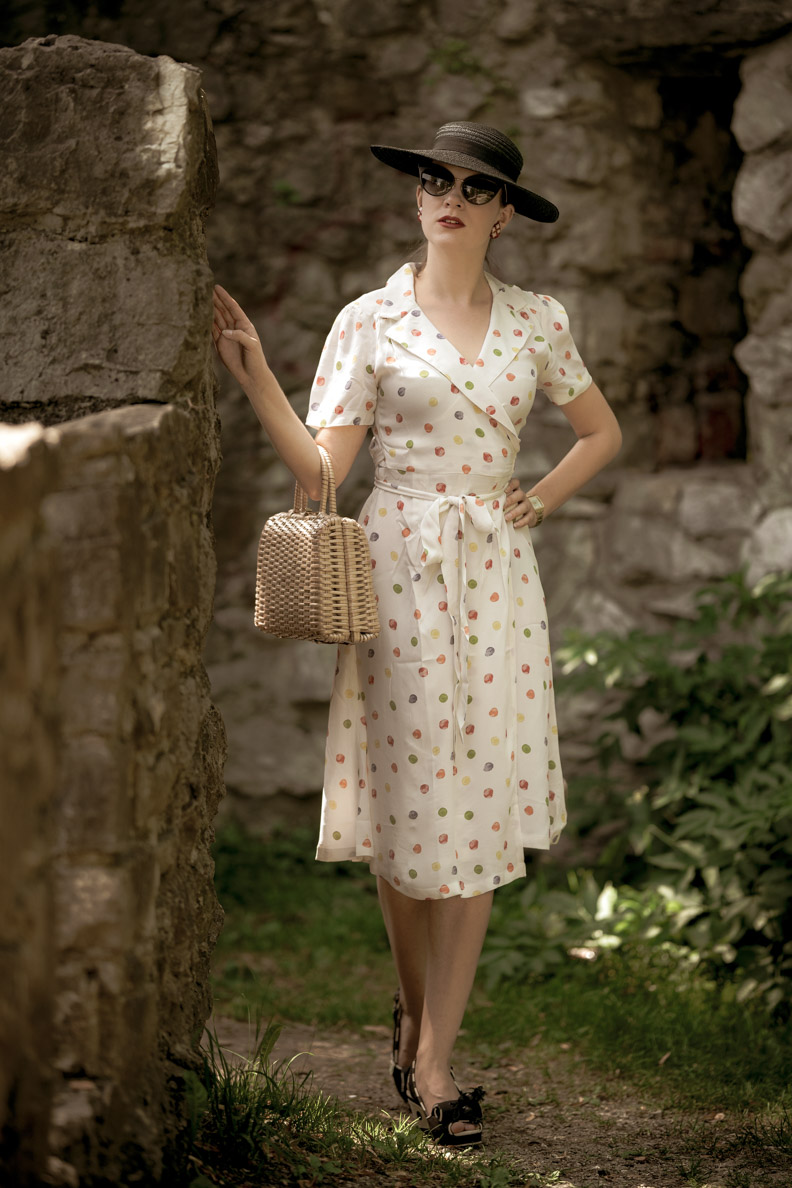 Perfect for hot Summer Days: The colourful Peggy Wrap Dress
I already showed you "Peggy" in wine red in this blogpost. But since there is nothing better in summer than a light wrap dress made of a Crepe de Chine fabric, I simply had to have it in another colour. The design "Rainbow Spot" is a new favourite of mine. Bright clothes are perfect for summer, as they are much more comfortable in the heat than dark garments. The colourful spots make "Peggy" a real eye-catcher. And you know what's best? If you ate to much ice cream, that's no problem at all; simply wrap the dress looser the next time. 😉 I'm literally living in "Peggy" during this heatwave we have here in Germany right now.
A big hat is always a good idea, especially in summer. This is why I teamed the dress with my favourite vintage straw hat. Black wedges with white dots by Miss L-Fire, cateye sunglasses by Dolce & Gabbana, as well as red earrings by Glitter Paradise finish this 40s inspired outfit.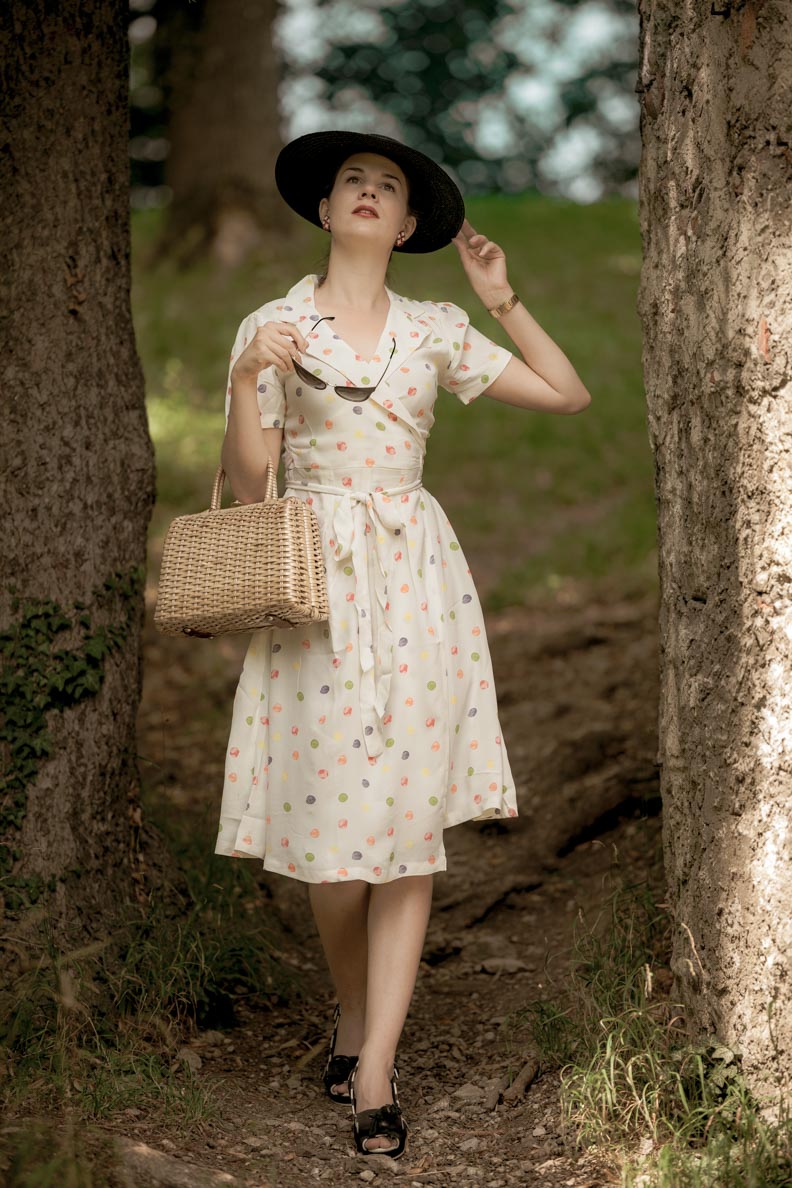 ---
A summery 40s Outfit – the Details:
Peggy Wrap Dress: c/o The Seamstress of Bloomsbury
Sunglasses: Dolce & Gabbana
Hat: Vintage, similar here
Basket bag: Vintage, similar here
Shoes: Miss L-Fire, similar here
Earrings: Glitter Paradise

---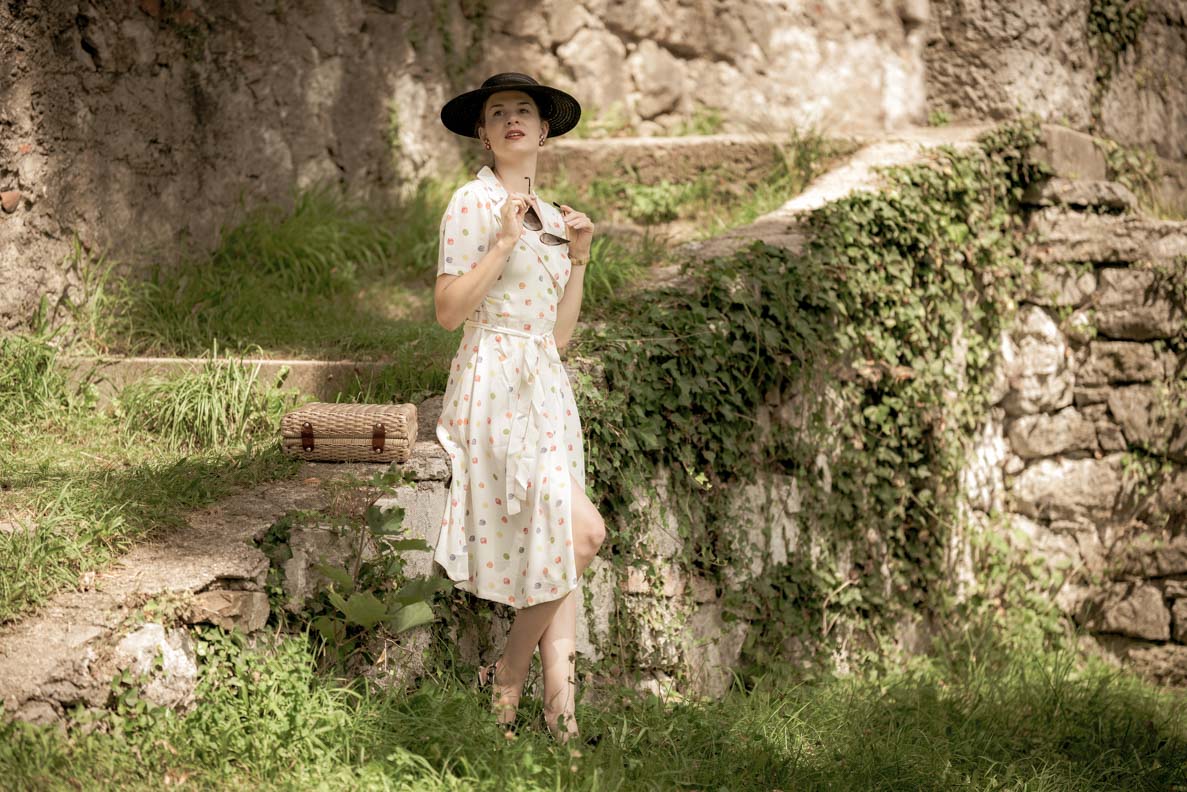 ---
A classy Summer Makeup
My makeup is classy but light. On hot days, I prefer less products, and therefore start with the CC Cream by Chanel with SPF 50. On my lids, I first apply the Urban Decay Primer Potion and use a nude-coloured eyeshadow afterwards. I use some mascara and a little bit of eyebrow powder. On my cheeks, I apply some blush, and the red lipstick "Gabrielle" by Chanel finishes the makeup. If you like, you can also add a bit of highlighter (I love the ones from the Kat Von D Alchemist Holographic Palette).
---
Makeup Details: 

---