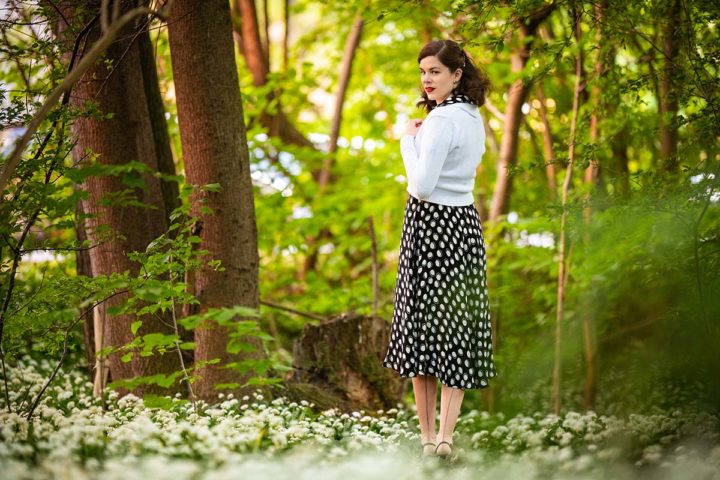 Old and new routines
How are you? Are you still at home all the time, or back to work? I'm still at home, but luckily, my love is in home office as well and therefore with me, so I'm not alone. Over the last few weeks, I somehow also lost the sense of time. On the one side, I feel like I haven't been somewhere else in ages, on the other side, it feels like I was in Paris only yesterday. There are some mental ups and downs, of course, but all in all, the ups outweigh the downs by now. I believe that in the end, everything will be fine. Nevertheless, there are some small, adjusted routines that help me to come through this time and stay happy. And of course, I'm going to tell you a bit about these routines, maybe they can help you as well!
*This blogpost contains affiliate links (marked with *) and pr samples (marked with *)
Talking about old and new Routines
Routines are a bit controversial, I think. On the one side, they help to structure a day/week/month, on the other side, they can enhance this boring feeling of daily grind. This is why I only have a few, fun routines. On the weekends, for example, I like to go out with my love to have dinner and a drink. I also meet my friends on a regular base at my favourite cafés and bars. I love to dress up for those events and wear my most beautiful dresses. The problem is: At the moment, my most exciting occasion are going to the supermarket and out for a walk in nature. Quite boring – at least from a fashion perspective.
So we decided to adjust our routines. Nowadays, my love and I cook together on saturdays and order some food on sundays. We then enjoy the meal in our flat with a glass of wine and some candles. Instead of meeting all my friends and familiy face-to-face, we have video calls. Before calling them, I like to bake brownies and make myself a cup of coffee or tea – tea time together is always great, even from a distance and via a video call.
I also go out for walks on a regular base. As everything is in full bloom currently, walks in nature are especially beautiful. I really enjoy catching some sun rays, and inhaling the lovely scent of spring. This time, we randomly stumbled upon a field full of wild garlic. You know, I love wild garlic! Especially together with pasta, small tomatos, and parmesan cheese – hmmm, delicious. But I digress, let's come back to my routines, or better: my outfit routines.
Even for my not that exciting activities, I try to dress up properly. Well, I don't wear my evening or ball gowns, but I still try to wear something beautiful every day. This makes a day at home, a walk in nature, a visit at the super market, or picking up some food from a local restaurant definitely more fun and glamorous. 🙂
---
The Iris Dress by The Seamstress of Bloomsbury
For a relaxed walk in the park, I chose a wonderful 1940s style dress called "Iris" by The Seamstress of Bloomsbury in the colour "Black Moonshine Spot". Such a charming dress for many different occasions! The light crêpe de chine fabric flatters wonderfully in the wind, the dress is about knee long, and the black and white pattern makes it super easy to combine with different accessories. "Iris" also has some wonderful details like square buttons at the top and bows at the short sleeves that add that certain something to the dress.
As it still can be quite chilly outside, especially in the shadow, I decided to wear a beautiful, cosy white cardigan on top of the dress, as well as some delicate nylons on my legs. The lovely shoes are true vintage, by the way, and one of my favourites, as they look beautiful and are still super comfy. A vintage handbag and that's it – this outfit doesn't need more accessories.
Outfit Details:
Dress: c/o The Seamstress of Bloomsbury
Cardigan: c/o Vivien of Holloway
Stockings: c/o Secrets in Lace
Shoes: Vintage, similar here*
Handbag: Vintage, similar here*
[ap_divider color="#CCCCCC" style="dotted" thickness="1px" width="100%" mar_top="20px" mar_bot="20px"]
More beautiful retro Dresses:
*Affiliate links

---
Playing with Makeup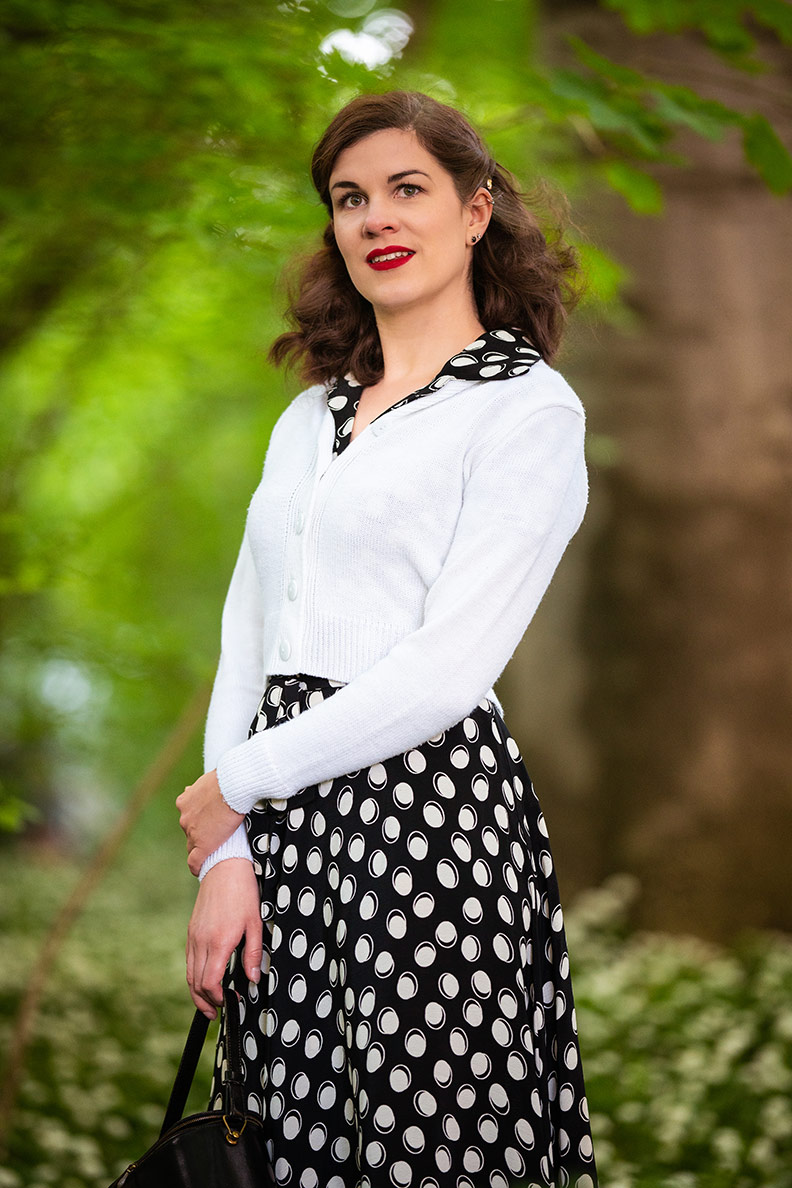 When it comes to makeup, the situation is quite similar to my current outfit situation. To be honest, I wear makeup less often, currently, which made my skin look pretty good – so definitely something positive that happened lately. Nevertheless, I do wear a bit of makeup when I go outside for a walk or the supermarket, simply to continue my habits and because I feel so much better with red lipstick (even if one can't see it in the supermarket when I'm wearing my mask). Whenever I get bored at home, by the way, I like to play with makeup and try new looks. One of my favourite YouTube accounts to learn more about makeup techniques and find new inspiration is the one by Lisa Eldridge. Watching her videos is always so relaxing and inspiring!
My Makeup Look:
Foundation: CC-Cream von Chanel mit Lichtschutzfaktor 50*
Powder: Guerlain Météorites*
Eyeshadow: Urban Decay*
Mascara: Essence*
Lipstick: Ruby Woo von Mac*
Blush: Exhibit A von NARS*
---
Hairstyles
I've never been a pro when it comes to hairstyles. However, I do like to play with different hairstyles and try something new. Without an occasion or special events, though, it is a bit hard to pull myself together and do my hair. So I decided I need some impulses to motivate myself and get better in doing my hair. This is why I got myself some books.
I invested in two books with historically accurate hairstyles and period instructions from the early 20th century – a perfect source for everyone who wants to learn more about hairstyles from back in time:
I also got some modern style books that feature vintage hairstyles recreated with modern products.
---
Do you also have some small routines that help you to get through this crazy times? Although we are no longer under a complete lockdown in Germany, and we have much less restrictions now, my love and I decided to continue with social distancing, and are still staying at home as much as possible. We don't want to risk anything, and we also enjoy spending time at home together.