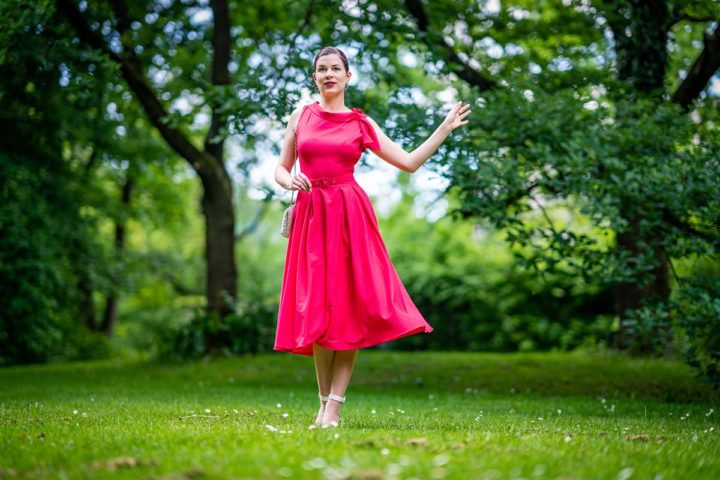 Spring outfit: The Thelise-Coral Dress by Miss Candyfloss
Isn't nature stunning, currently? All this green simply feels so good. It always fascinates me, how quick nature can change. On one day, everything seems to be bald after winter, and only a few days later, everything is in full bloom, just before trees and bushes spread their green canoy of leaves. This is why on my current to-do list are things like picnics in the tree shade, walks in the forest, and reading underneath my favourite apple tree in the garden. Furthermore, I want to transform my balcony into Garden Eden with many flowers, herbs, and other plants. I have pink roses, fragrant lavender, vivid coreopsis, aromatic herbs, and vegetable plants. But what I love most about this time of the year is the fact that I can go outside without a warm jacket, opaque tights, and boots, but it isn't too hot outside either. I now wear light dresses and pastel-coloured nylons. Futhermore, I discovered some new favourite shades for warm season.
*This blogpost contains affiliate links (marked with *) and pr samples (marked with c/o)
The Colours of Spring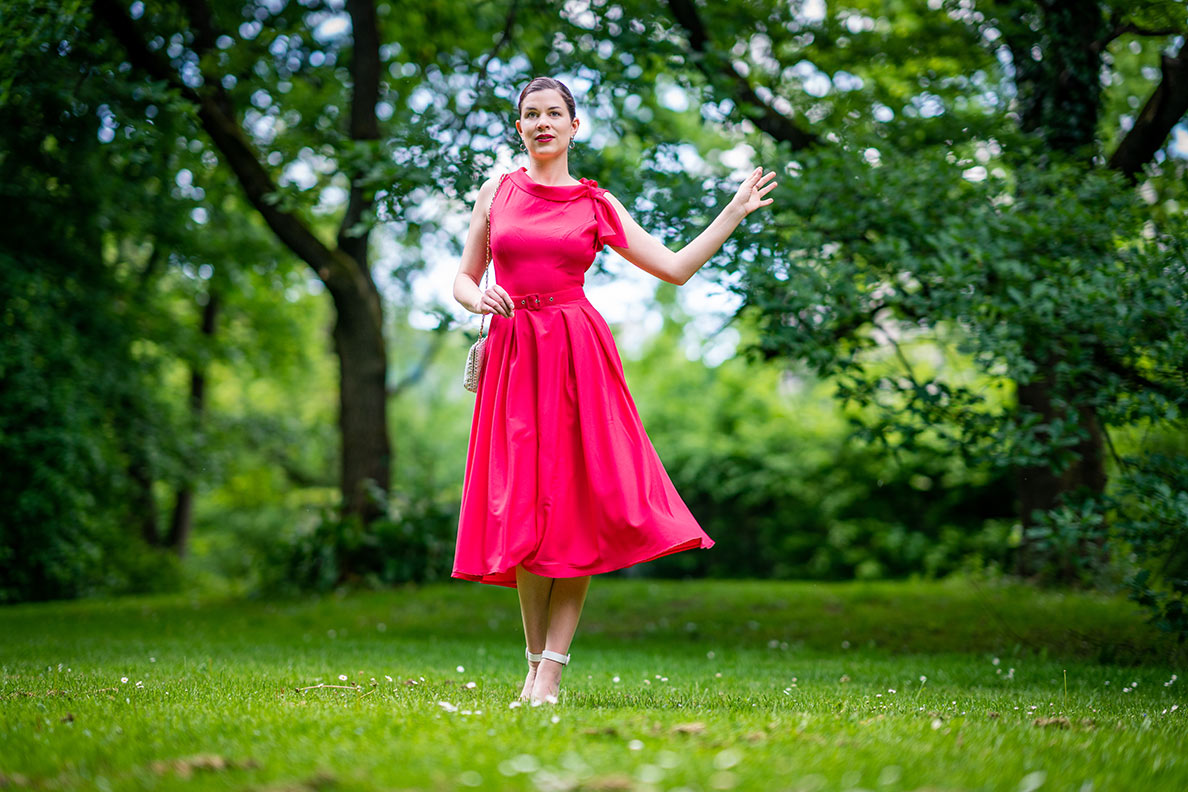 I like elegant outfits, the little black dress, and neutral shades, however, bright colours always make me happy – especially in spring! I not only like bright outfits, by the way, but also colourful makeup looks. So let's have a closer look at my outfit and makeup.
Colourful Spring Outfit: Retro Dress by Miss Candyfloss & summery Accessories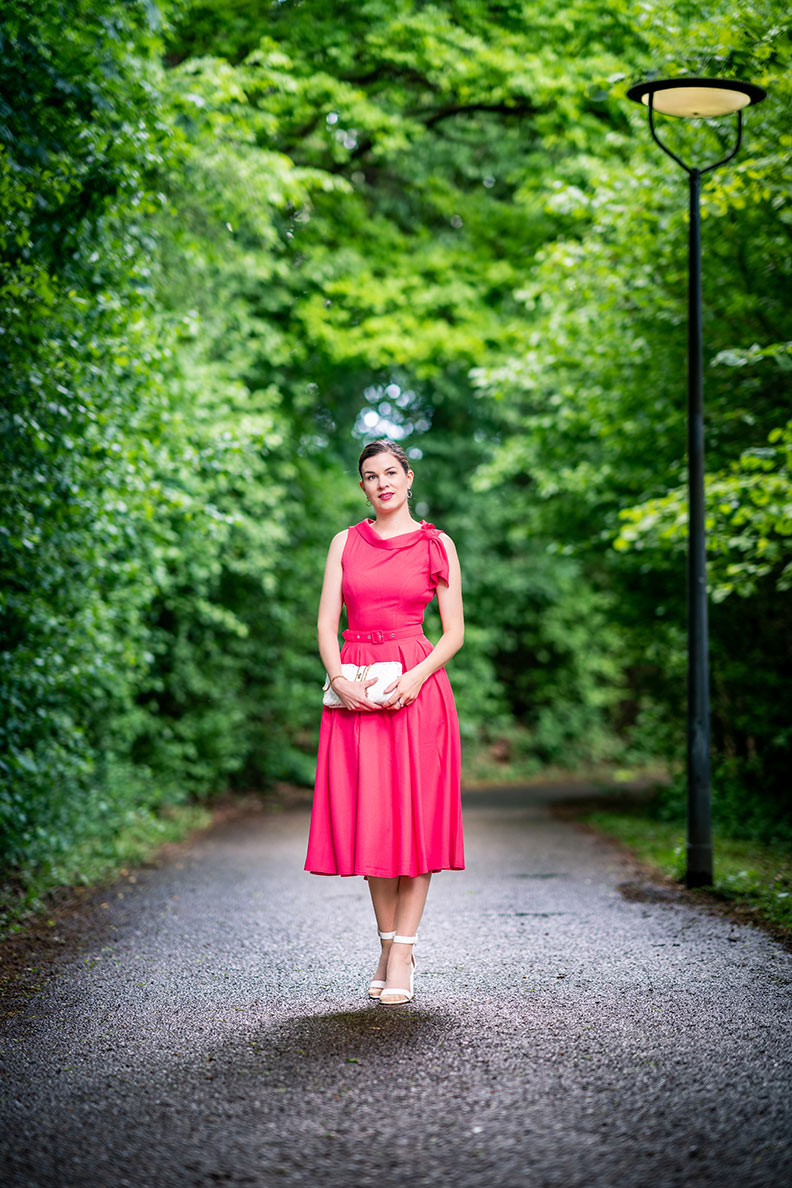 Outfit Details:
Dress "Thelise-Coral": c/o Miss Candyfloss
Nylons: c/o Secrets in Lace
Sandals: very similar here*
Handbags: Vintage, similar here*
Earrings: similiar here*
---
At the moment, I especially like coral shades, as they always look so summery and fresh. The wonderful dress I'm wearing is called Thelise-Coral and by Miss Candyfloss – a perfect dress for the warm season! The fabric is very light and feels great on the skin, while some wonderful details like the collar or the belt add that certain something.
To make the whole look even more colourful, I decided to team yellow pastel stockings by Secrets in Lace with the dress. Of course, other colours/styles work as well. I personally usually prefer pastel-colours for my hosiery in spring and summer, though, as they look best with light summer dresses in my opinion. But depending on the rest of your outfit, some bright colours or even dark stockings can look amazing as well.
---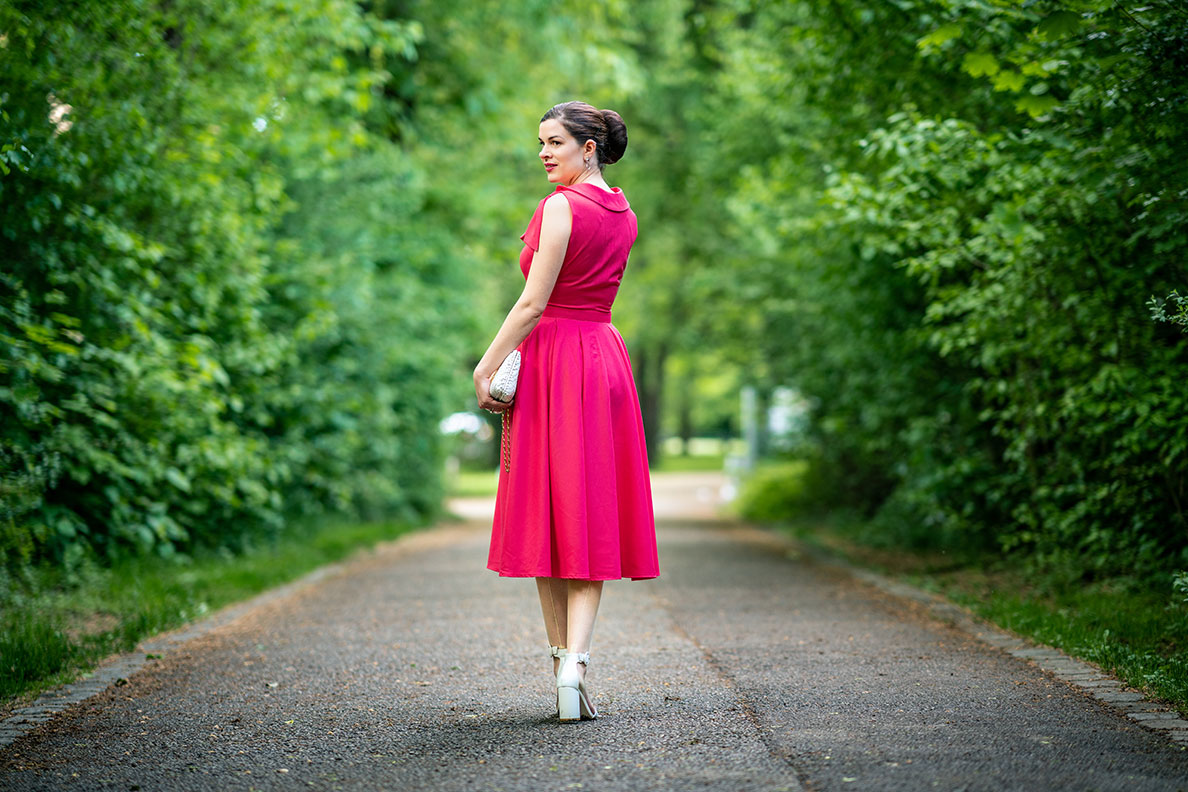 I combined the outfit with white, neutral accessories, as I don't want my look to be too colourful. You will find some tips on colour blocking in this blogpost, by the way. White sandals are a wonderful choice for spring and summer! They look great with a lot of different summer dresses and don't look as "harsh" as dark sandals sometimes do. My recommendation: Choose patent leather sandals, as they are easy to clean. Instead of white, you can also choose some nude colours, of course. And if you like it more colourful, have a look at pastel-coloured shoes, or sandals in bright colours like pink, for example.
---
Lovely Sandals for the warm Season:
*Affiliate links

---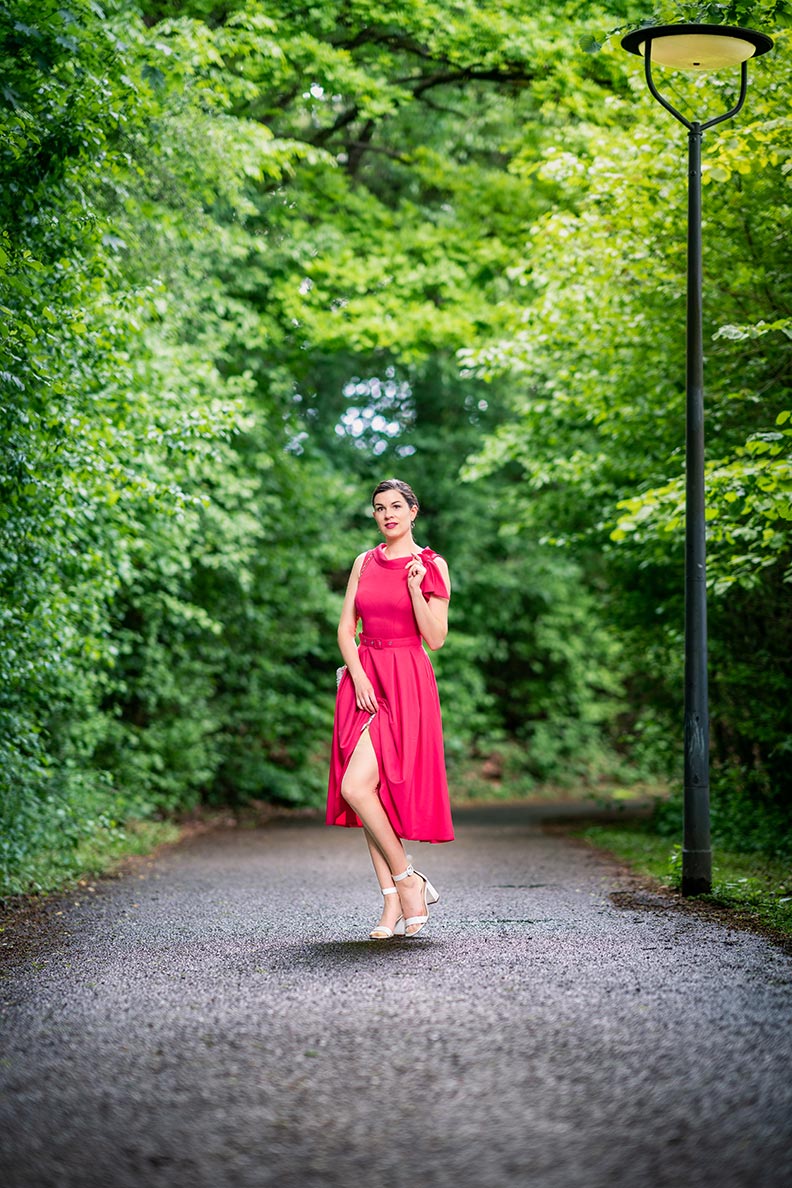 Straw or basket bags are another perfect choice for spring and summer. They always look stylish, but never too formal. I went for a white basket bag that matches my sandals for this outfit, but bags in natural colours are great as well.
---
Beautiful Basket Bags for Spring and Summer:
*Affiliate links

---
Isn't this just a wonderful outfit for so many different occasions? You can wear it easily in everyday life, but also on garden parties, weddings (if they are not too formal), birthday parties and so on. 🙂
---
Spring Make-up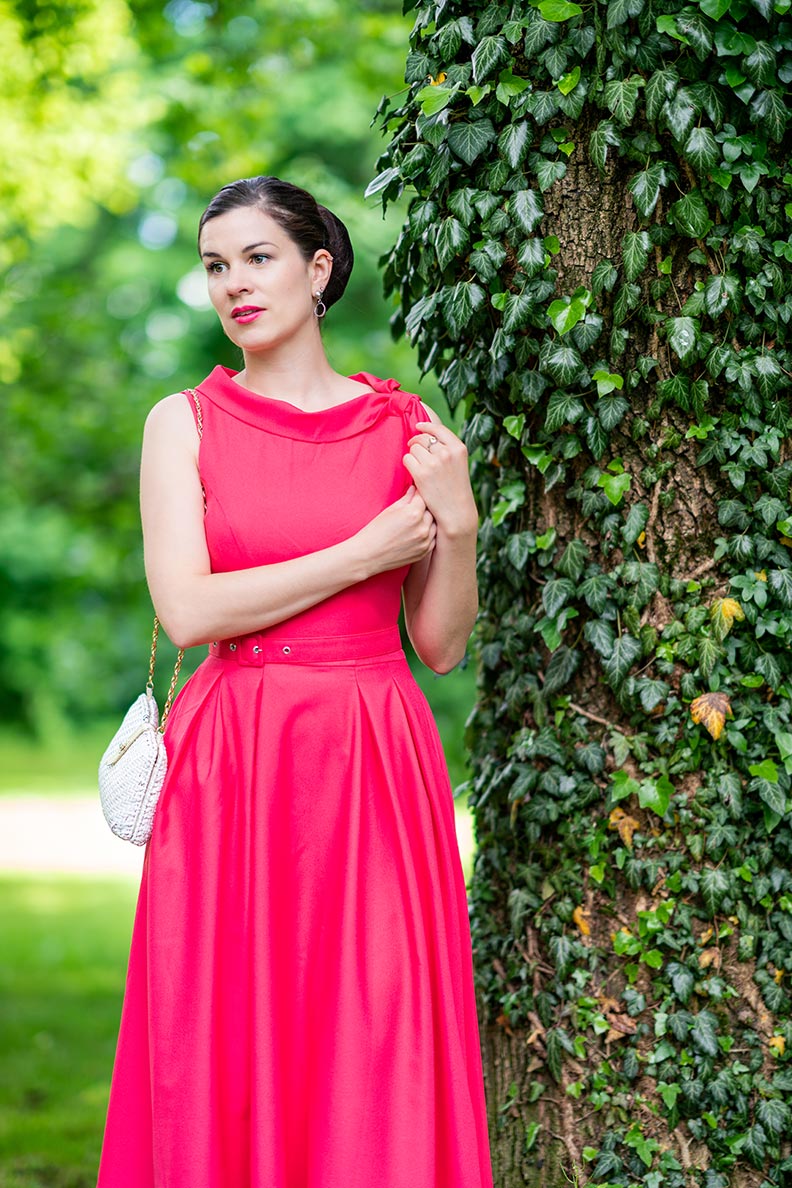 Coral shades not only look great on dresses, but also on lips and cheeks! In spring, I even like my eye makeup to be quite colourful. Altough I usually only use natural shades like brown, I now like to wear some pretty pastel colours. This time, I went for a light yellow and green eyeshadow, as well as a dark lilac eyeliner – a wonderful contrast to the coral lips and cheeks! Isn't it the perfect time to play and experimant a bit with makeup? Beside coral shades, by the way, I also like a bright pink colours for my lips currently, as a contrast to the bright red lipstick I usually wear. 😉
---
Colourful Lipsticks for Spring:
*Affiliate links
---