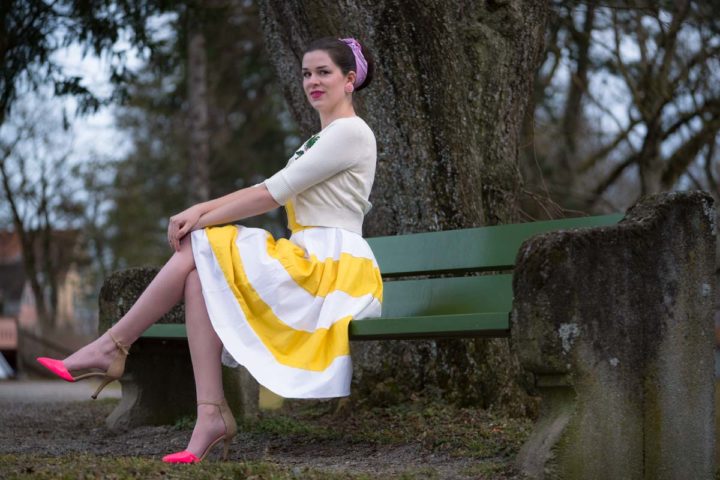 I didn't feel very well and was quite uninspired the last few weeks. I'm not sure if it was due to the gloomy weather or the busy time I had or maybe both. But now, the sun comes out on a regular base and I'm feeling better and better every day. I go out for a walk almost daily and even saw some crocuses. Colourful, springlike retro dresses like "Anna" by Dolly and Dotty emphasizes my cheerfulness.
Stylish in Yellow and White: The Anna Dress by Dolly and Dotty
Yellow always reminds me (and I guess you too) of the sun, so it's no wonder that this colour raises my spirits even more. Dolly and Dotty's Anna Dress has a yellow top and a yellow-white striped skirt. Thanks to the cotton fabric it's very comfortable and feels great on the skin. For more volume, I wore a petticoat underneath the dress, and as the temperatures were still a bit chilly a cardigan by Collectif Clothing on top.
Pink details make the retro outfit even more colourful. This time, I chose pink pumps by Buffalo which I already showed you here. And my light pink rose earrings by Glitter Paradise match perfectly with the bandana I'm wearing. Pastel-coloured stockings by Secrets in Lace finish the look and keep my legs warm. I like those especially in combination with light-coloured outfit as they don't look as harsh as classy black-seamed ones.
Apply a matching, fresh pink lipstick – "Le Fuchsia" by Yves Saint Laurent in this case – and the vintage inspired look for spring is perfect.
---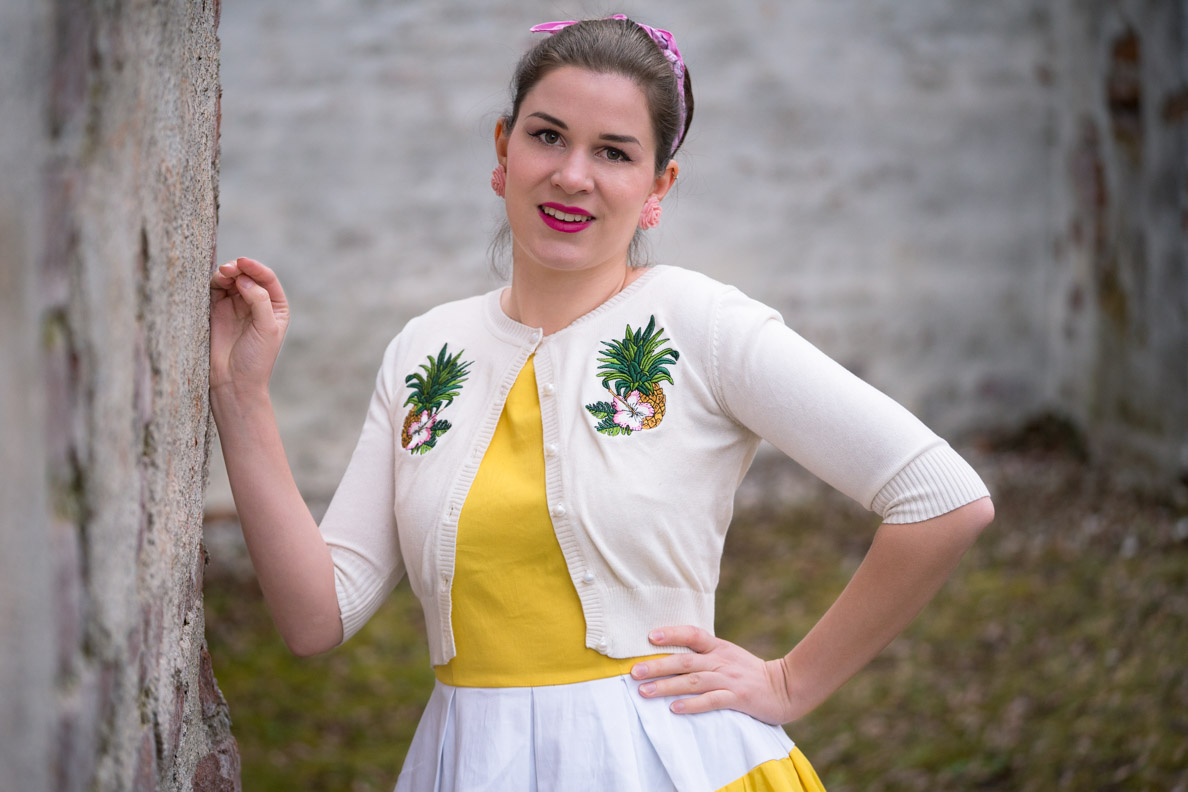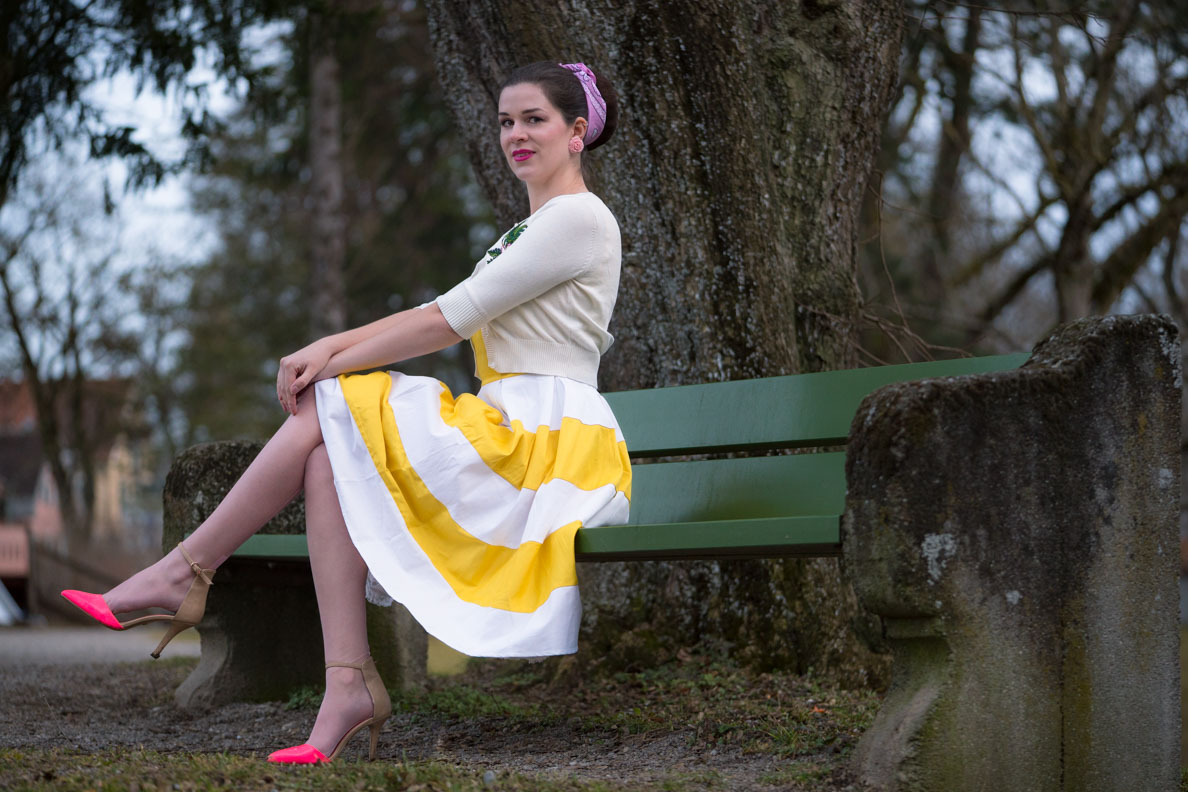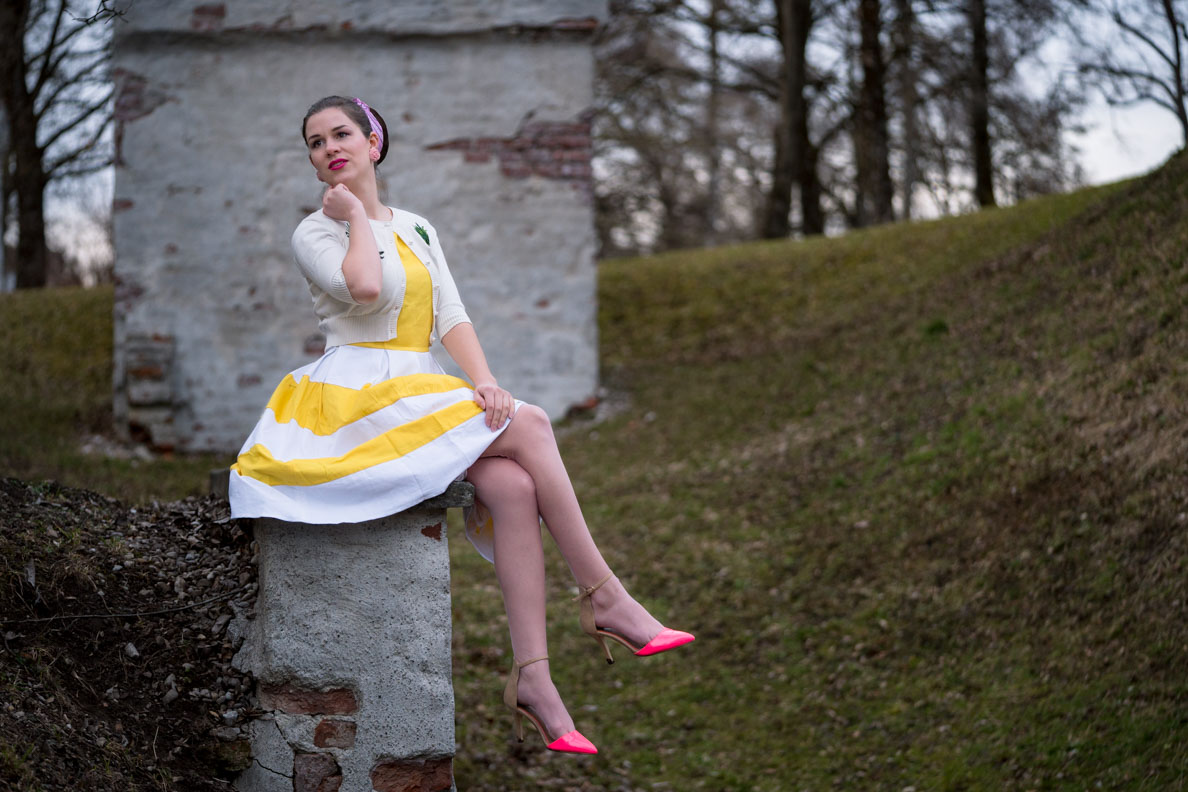 ---
A colourful Retro-Outfit for Spring – the Details:
Anna Dress: c/o Dolly and Dotty
Petticoat: Vintage (similar here)
Cardigan: Collectif Clothing (similar here)
Earrings: Glitter Paradise
Bandana: similar here
Stockings: c/o Secrets in Lace Europe
Pumps: Buffalo (similar here)