Perfect for summer: Romantic tops
I'm most likely going to spend summer in Germany, this year. Instead of the sea, my destination will be the Bavarian Alpine Upland. That's not too bad, though, as this region is very pretty and definitely can keep up with other popular European destinations. I also already know what I'm going to wear! On the one side, I will definitely slip into my dirndls and traditional clothings. On the other side, I will also wear one of my must haves for summer: romantic tops! And now, I'm going to tell you how I style such tops for different occasions.
*This blogpost contains affiliate links (marked with *)
Romantic Tops for Summer
Lace, frills, and puffy sleeves: cheerful tops always add such a wonderful romantic and nostalgic touch to the outfit – perfect for warm summer days in the countryside (and the city, of course). In summer, I like to wear such romantic decorations especially on neutral tops or blouses, so that they are easy to combine with different skirts and trousers. Romantic tops are available at a lot of different shops, of course, here are some of my favourites:
*Affiliate links


---
How to style romantic Tops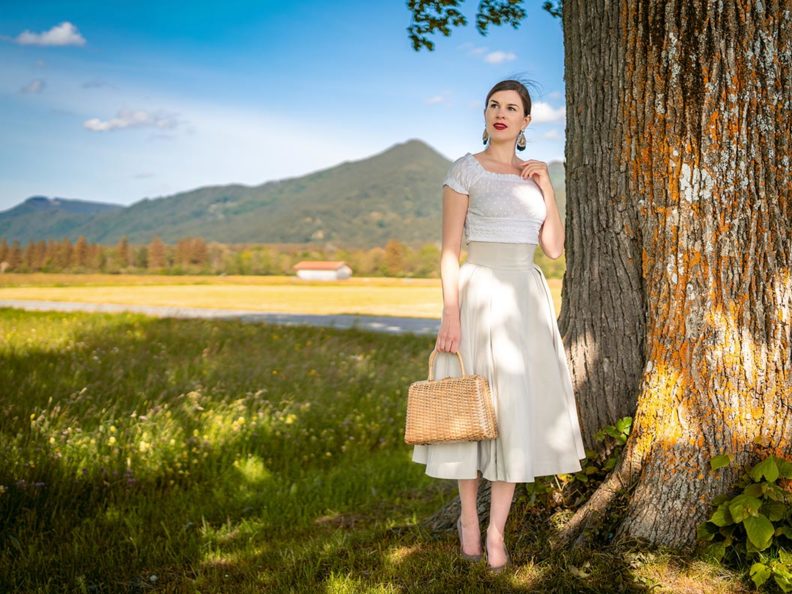 Depending on what kind of top you choose, you can either wear it with subtle, or colourful, or fancy skirts, and of course they also go well with trousers.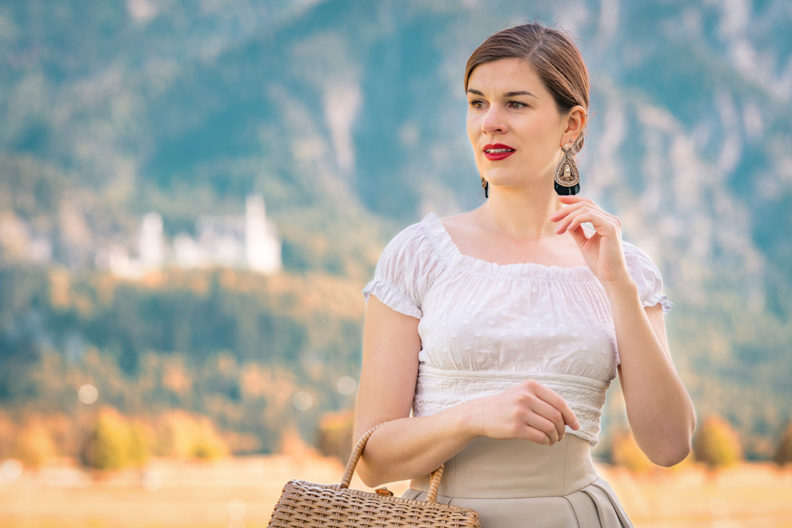 I personally recommend to choose a top in a neutral colour like white, creme, or beige, as these colours are super easy to combine with all different kinds of skirts and trousers. You don't always need an extra top for every skirt or trousers. If you make sure your garments can be teamed with many other things in your closet, you are able to save a lot of money in the long run and can invest in more high-quality pieces. So in the following, I'm going to show you different outfit combination with exactly the same top.
---
A romantic Summer Outfit for a Day in the Countryside
For a relaxed trip to the Alpine Uplands of Bavaria, I teamed the romantic top with a wonderful skirt by Ginger Jackie, which I already wore during our trip to Paris. My favourite vintage basket bag, huge earrings, beige shoes, as well as red lipstick finish this outfit.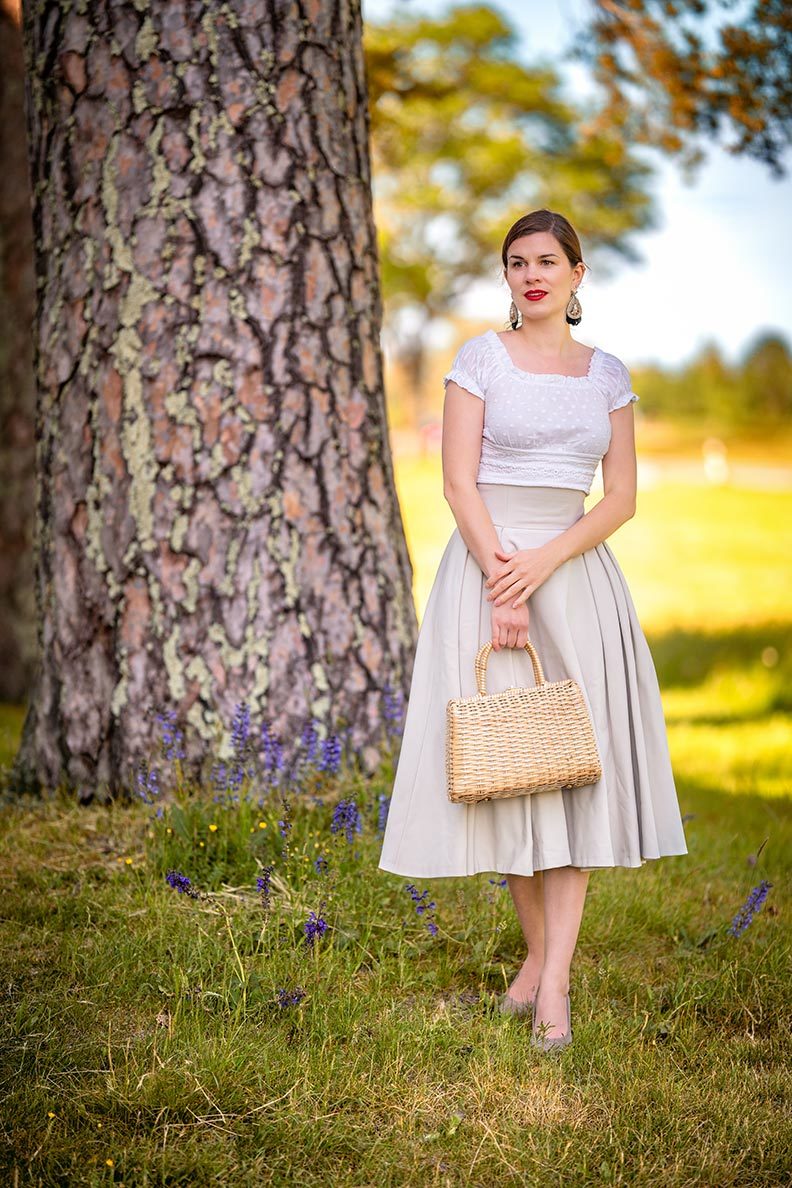 ---
A wonderful Outfit for a Walk through the Forest
Romantic tops are also perfect for a lovely walk through the woods. As it can be a bit chilly in the forest, I wear a traditional jacket on top. The skirt is one of my favourites and by Lena Hoschek. Depending on where you actually want to walk in the forest (path or directly through the woods), you can either choose comfy flats, or rather wear sturdy shoes. 😉
---
An elegant and romantic Outfit for relaxed Summer Days
Same top and same skirt as before, but a completely different outfit. For a walk in the city park, I teamed the outfit with a big straw hat, pink ballet flats, as well as a basket bag.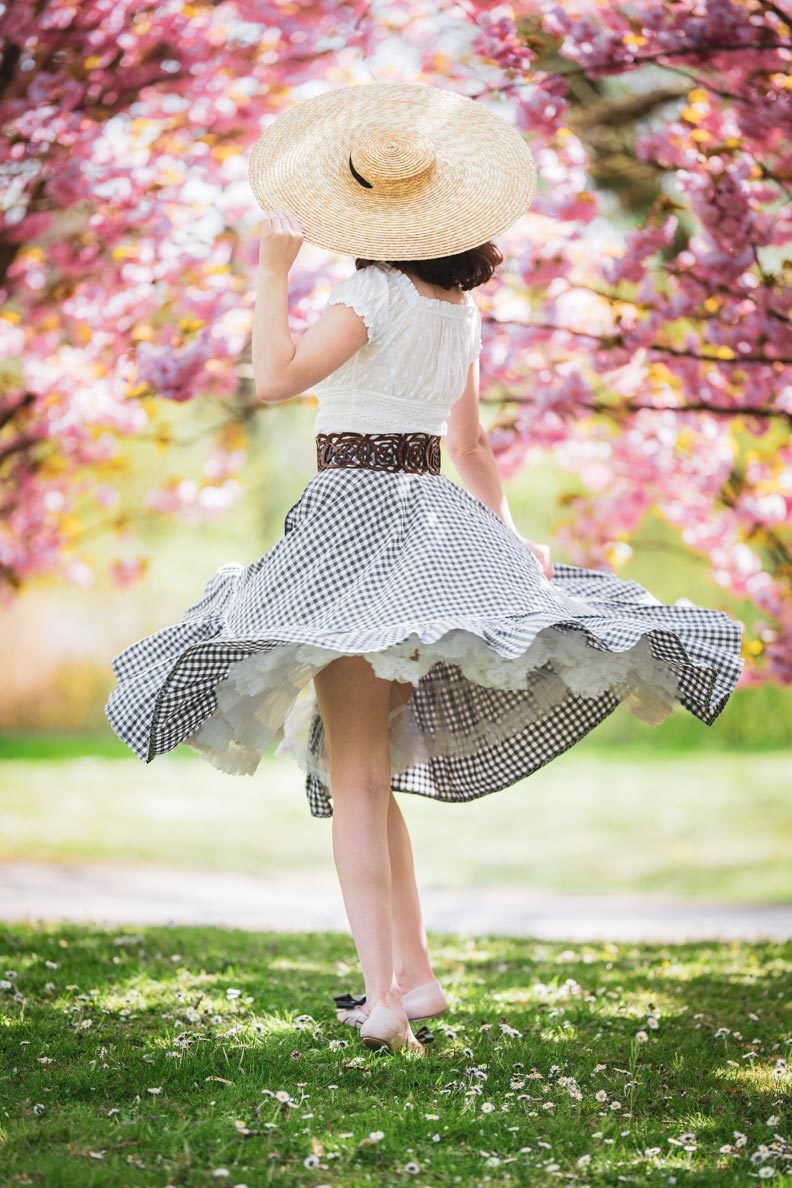 ---
A relaxed Summer Outfit for the City & Countryside
Light coloured, romantic tops also look good with bright colours. What about a bright blue midi skirt, for example? Just team the outfit with ballet flats, some hairflowers, as well as a basket bag and you are ready to go to the city or just for a walk in the countryside.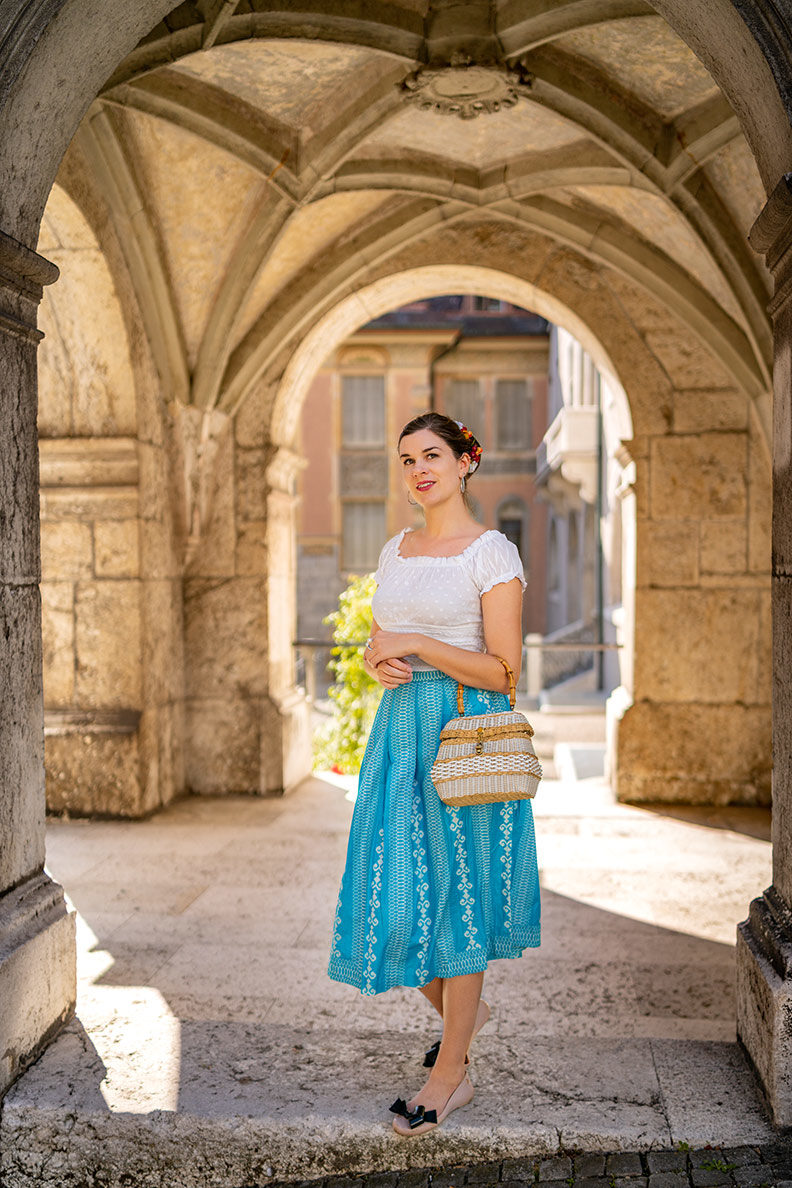 ---