This blog contains affiliate links (marked with *). If you shop products via those links, I may get a small provision which helps me to maintain my blog. Of course the price doesn't change. Items marked with c/o were given to me as free test samples.
White sandals: perfect for summer
There were times, when I bought a matching pair of shoes for almost every dress I owned. This is not only expensive, but also requires a lot of space. Luckily, now I found a pair of shoes that look great with (almost) every summer dress: white sandals.
Why white Sandals are my Summer Must-have
Sandals in white are real classics and are my must-haves for summer. What, at first sight, might look a bit like bridal shoes, definitely makes sense in the end.
They look subtle and go well with so many different dresses – even very light ones!
These white Sandals are especially stylish
I recommend to go for stylish, subtle and modern sandals. Furthermore, block heels are a great choice. They look cool and you are even able to walk on cobblestones. And especially in everyday life, I stay true to the motto: Less is more. I go for sandals with only a few very subtle straps that look modern, stylish and never over the top.
Sandals with Block Heels
*Affiliate links

---
If you now still have some budget, you can also invest in a more delicate pair of white sandals. They look simply amazing in combination with evening gowns or as a cool break of style with capri trousers, for example. But if you only want to buy one pair of sandals, I would definitely go for the more subtle ones, as they are a bit easier to style and more versatile.
Delicate Sandals in White
*Affiliate links

---
How to style white Sandals
You can't really make any mistakes when styling white sandals. They go well with many different summer dresses but also with trousers. In the following, I am going to share a few concrete outfit ideas.
---
---
Retro Dress and stylish Sandals – Outfit Details:
Dress: Miss Candyfloss, similar here*
Nylons: Secrets in Lace
Sandals: via Asos, similar here*
*Affiliate links

---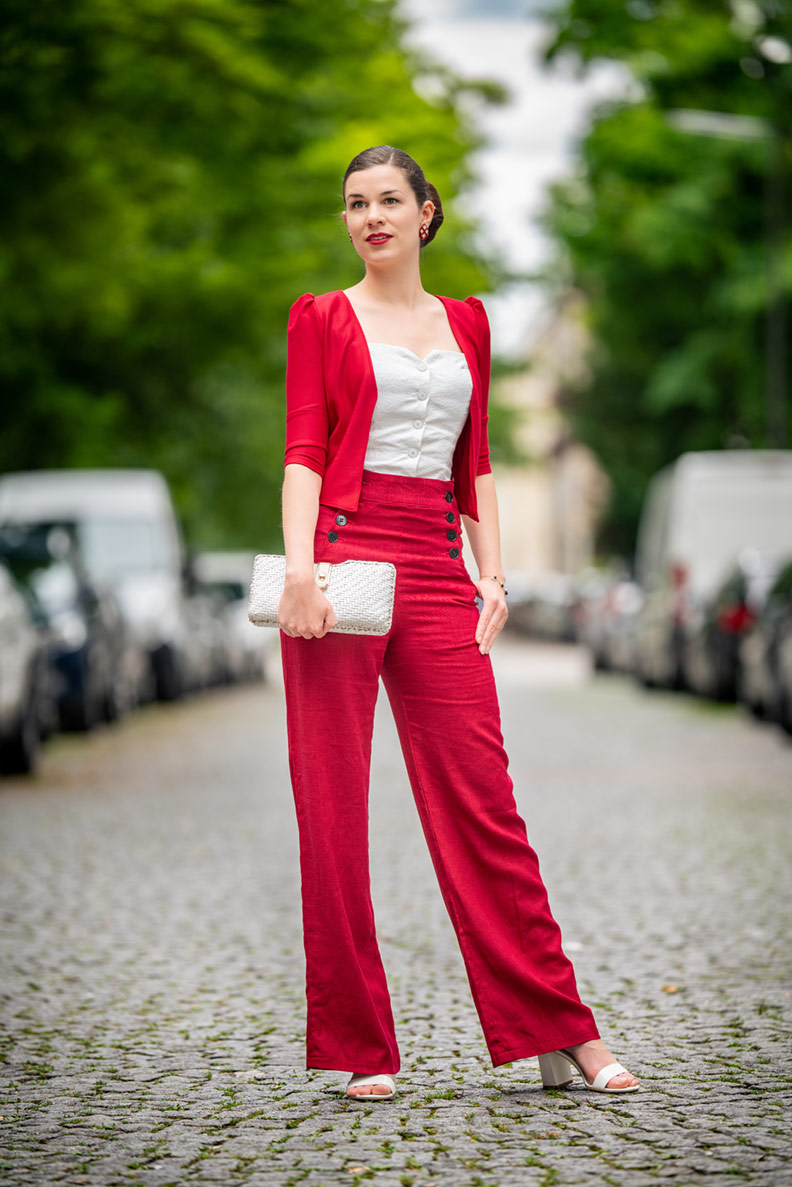 Sandals meet Trousers – Outfit Details:
Trousers: c/o 18nulleins Lady via TopVintage*
Cardigan: c/o 18nulleins Lady via TopVintage*
Top: Lena Hoschek, similar here*
Sandals: via Asos, similar here*
Earrings: Glitter Paradise*
Handbag: Vintage, similar here*
Bracelet: Swarovski, similar here*
*Affiliate links

---