This blogpost contains affiliate links (marked with *). If you shop products via those links, I may get a small provision which helps me to maintain my blog. Of course the price doesn't change for you.
Timeless classics from the TopVintage winter sale
Sale is fun! Especially if takes place right after Christmas. So we can invest all the money we got right away. 😉 And if one of my favourite shops like TopVintage*, for example, have a sale, nobody can stop me. However, sale also often leads to mispurchases and we tend to buy things we don't really need. I personally try to buy some timeless classics during sale that I can still wear in spring and will definitely wear during the next winter again. So in the following, I am going to introduce some timeless classics from the TopVintage winter sale that will still look good in spring.
A Flower Dress with Sleeves
After Christmas, I am always tired of all the reds and gold, and rather start wearing something that gives me spring fever. flower dresses with sleeves* are perfect for this time of the year and will still look amazing in spring. In winter, I team the dress with colourful, warm tights, a beret and coat. In spring, I go for lovely sheer nylons, high heels as well as some spring-like accessories.
---
Timeless Classics: Black High Heels
Black pumps are a must-have for me. They go well with almost every outfit and always look elegant. And with a pair of subtle black heels in your suitcase, you never go wrong when travelling. I personally recommend a pair with a not too high heel, like the Ava Hostess Pumps by Lola Ramona*, for example. So you can walk in them all day and night long.
---
Colourful Cardigans for cool Spring Days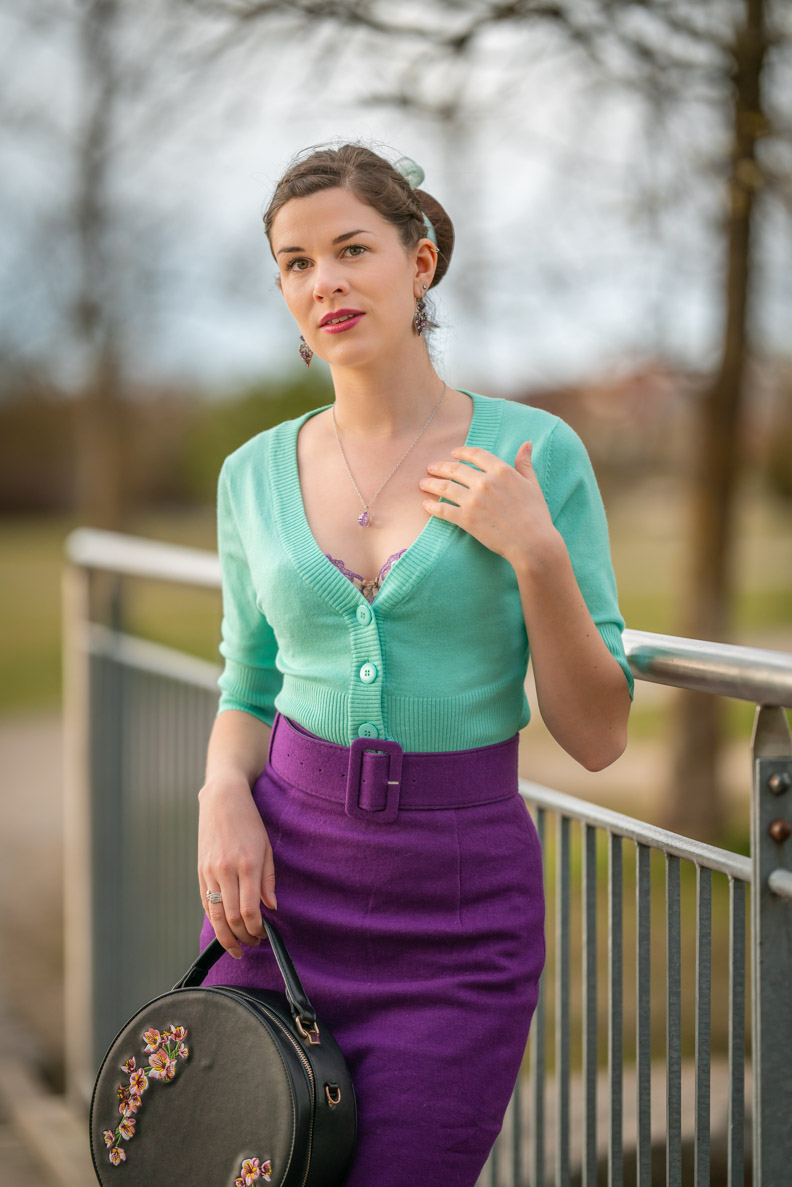 Especially during the first cold spring days, a cardigan is a must. I like to wear colourful ones with lovely details. The green cardigan by King Louie with a heart design*, for example, is perfect for these days, but also looks great during winter. There also some other lovely cardigans* available, though.
---
TopVintage Winter Sale: A little black Dress
A little black dress in another must have that should not be missing in any wardrobe. This is such an easy way to immediately look dressed very well. And with some casual accessories, it is even appropriate for everyday life (see the photo above). A subtle dress like the 50s Lolina Pencil Dress*, for example, is especially versatile and easy to style.
---
Fashion Classic: A black Blouse with Lace Details
A black blouse with lace details* looks super elegant. In winter, I like to wear such a blouse with thrilling lingerie and sparkly jewellery. In spring, on the other side, I team a lace blouse with pink, spring-like accessories.
---