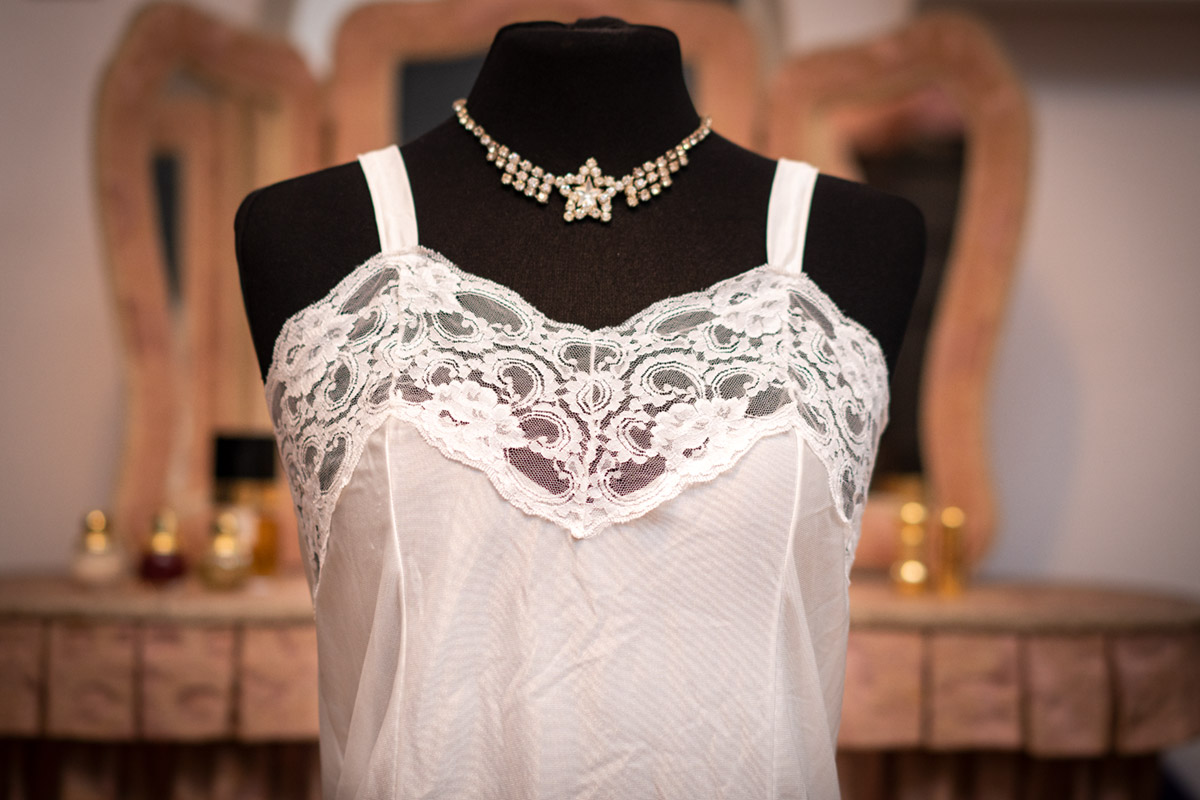 This blog contains affiliate links (marked with *). If you shop products via those links, I may get a small provision which helps me to maintain my blog. Of course the price doesn't change.
The reason you need a slip dress
I've been wearing retro and vintage outfits for quite a while now. And sometimes, people tell me they like my outfit. An older lady, for example, once spoke to me and told me she really like my fitted retro pencil dress. However, she said it shows some wrinkles and tends to slip upwards (she said in the most wonderful way, by the way). And then, she gave one of the most helpful fashion tips I've ever received: She said I should invest in a lovely slip dress and wear it underneath my dress. Then, it will look much better! Until then, I have never ever worn a slip dress. But this advice should change that.
The many Advantages of a Slip Dress
I did have no clue how wonderful slip dresses are! Back in time, they were an essential part of underwear, and they have some quite good advantages.
A delicate slip dress can be seen as a perfect connection between a dress and your skin! Made of silk or satin, they also help to prevent your dress/skirt from sticking to your skin. This really makes a difference! Try to wear it underneath a 1930s or 40s (style) dress to get a feeling.
I love my warm winter dresses, skirts, and sweaters. However, I absolutely hate the feeling of wool on my skin. If I am wearing a slip underneath, though, I feel so much better! Plus, an extra layer of clothing is always a good idea in winter.
Vintage slip dresses are often amazingly beautiful masterpieces. So they can even be worn as a dress. And with a morning gown on top, you immediately have a very glamorous outfit for your home.
I love the classy 50s silhouette a petticoat creates. However, a very scratchy tulle petticoat and my beloved nylon stockings are not best friends. I even ruined a pair of nylons with my petticoat once. So I like to wear a midi-length slip underneath my petticoat to prevent it from scratching on my nylons.
Some of my dresses are a bit see-through. A slip dress underneath helps to make me feel more comfortable in everyday life.
---
What is the right Slip Dress for me?
We now know why a slip dress definitely is a great garment to own. So it is time to have a look on the different types of slip dresses to find out which one is perfect for you and your needs.
Gorgeous Vintage Slip Dresses and Reproductions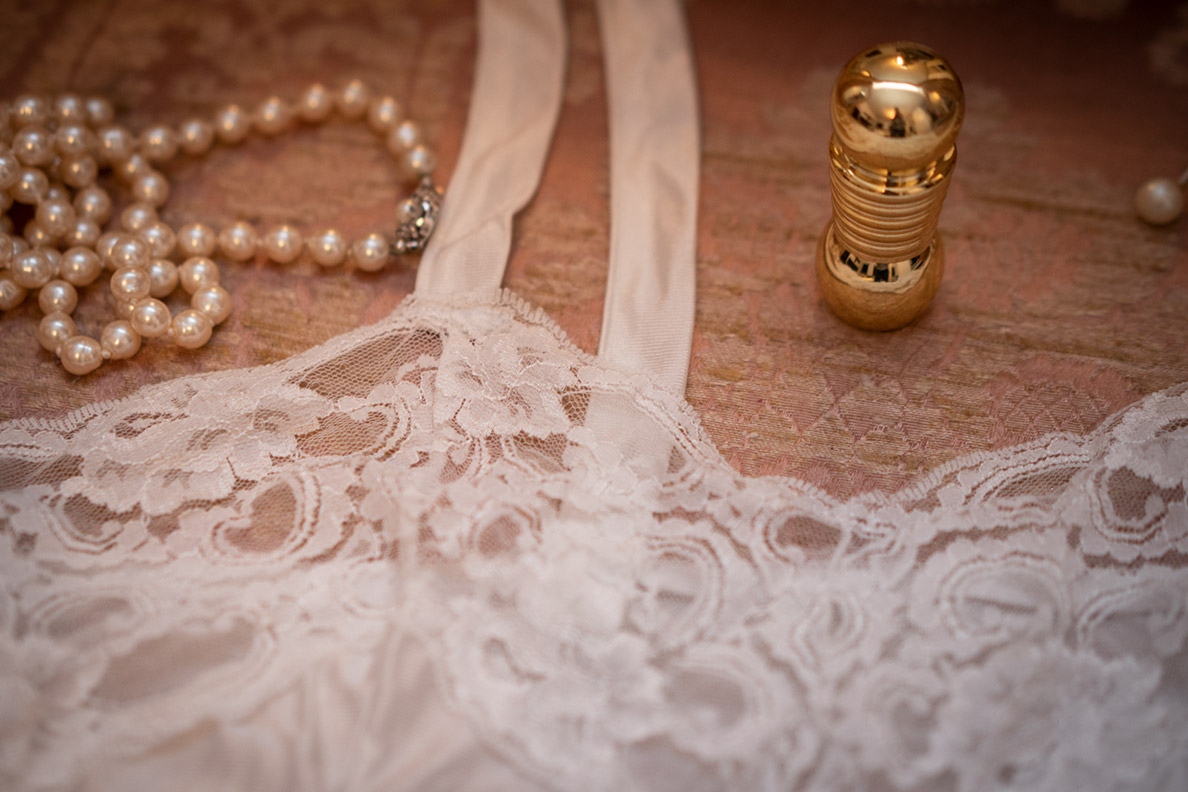 I especially like romantic vintage slips with lovely lace details. When wearing one like this, I immediately feel like a Hollywood movie star. Icons like Elizabeth Taylor, Marilyn Monroe and Zsa Zsa Gabor wore them in photos. Whenever I want to feel glamorous, I wear one and sip just a little bit of champagne from an old glass. 😉
By the way: One of my vintage slip dresses is from my grandma. She had a little shop where she inter alia sold some lingerie pieces.
I like to wear this kind of slip underneath my dresses with a bit thicker fabric, so that it doesn't show underneath my outfit.
You will find true vintage slip dresses on platforms like Etsy* or Ebay*, for example.
If you are interested in true vintage slips, keep in mind that the sizes are not always the same as nowadays. So make sure to have look at the measurements as well.
*Affiliate links

A great alternative to true vintage slip dresses are romantic reproductions by Secrets in Lace, Fifi Chachnil or Agent Provocateur*, for example.
*Affiliate links

---
Subtle Slips without Lace
Even underneath very delicate dresses I like to wear a slip, sometimes. But then, I go for one without any lace details so that is creates the smooth look I want to achieve. And then, there are dresses that are made to be worn with a sip dress.
These kind of slip dresses are still quite easy to find.
*Affiliate links

---
Delicate Tulle Slips
There are also very seductive slips made of tulle or lace available. However, I believe they are rather made to be worn in the bedroom than in everyday life. 😉
You will find them at Ars-Vivendi* or Agent Provocateur*, for example.
*Affiliate links

---
Shapewear Slip Dresses & Slips with a Bra
There are also shapewear dresses or slip dresses with a bra available.
I personally don't really wear shapewear in everyday life. But sometimes I just want this extra effect of an hourglass silhouette and wear one.
You will find vintage inspired shapewear dresses at Rago Shapewear* or Triumph*, for example. Of course, there are also more modern ones available
*Affiliate links

---
Delicate Slip Dresses for the Evening
In the 1990s, people started to wear a shiny slip dress as an evening gown. Especially Kate Moss's sheer, silvery slip dress she wore at the Elite Model Agency "Look of the Year" party is still in our mind. And now, this trend is back!
This is why there are quite a few lovely slip dresses available that can be worn as an evening gown, like this one by Agent Provocateur*, for example.
An outfit like this definitely is a head-turner and not very forgiving. I think this is a great look for a party or date (but not the first one – at least in my opinion 😉).
PS: Make sure to wear matching lingerie underneath.
*Affiliate links

---
Shopping Tips for Slip Dresses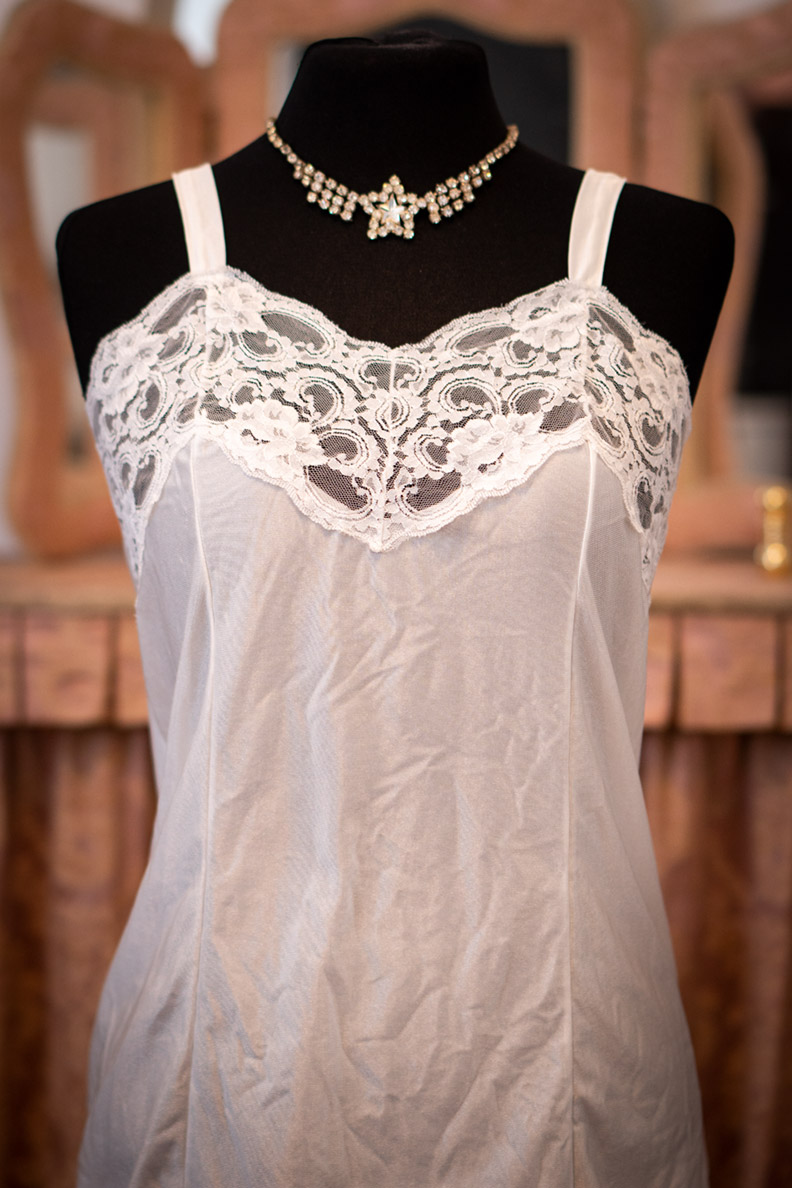 No matter what kind of slip dress you prefer, there are a few things to keep in mind when buying one.
Of course, size always matters! So make sure to buy your slip in the right size. And as I told you before, it can be a bit tricky to find the right size for true vintage slip dresses, so make sure to have a look at the measurements.
You don't need a lot of slip dresses. I personally would always rather invest in one or two high-quality ones than in many cheap ones.
As we found out before, there are different kinds of slip dresses available. When searching for the right one for your needs, keep your personal style in mind. A subtle one in a neutral colour like nude, for example, goes well with a lot of different outfits, even a bit sheerer ones. But if you are searching for this glamorous 1940s film star feeling, then invest in a luxurious one with amazing lace details!
Match the length of your slip with the length of your dress! If you only want to buy one slip dress and prefer a classy retro look like I do, I recommend to go for a midi-length slip.
---
Alternatives to Slip Dresses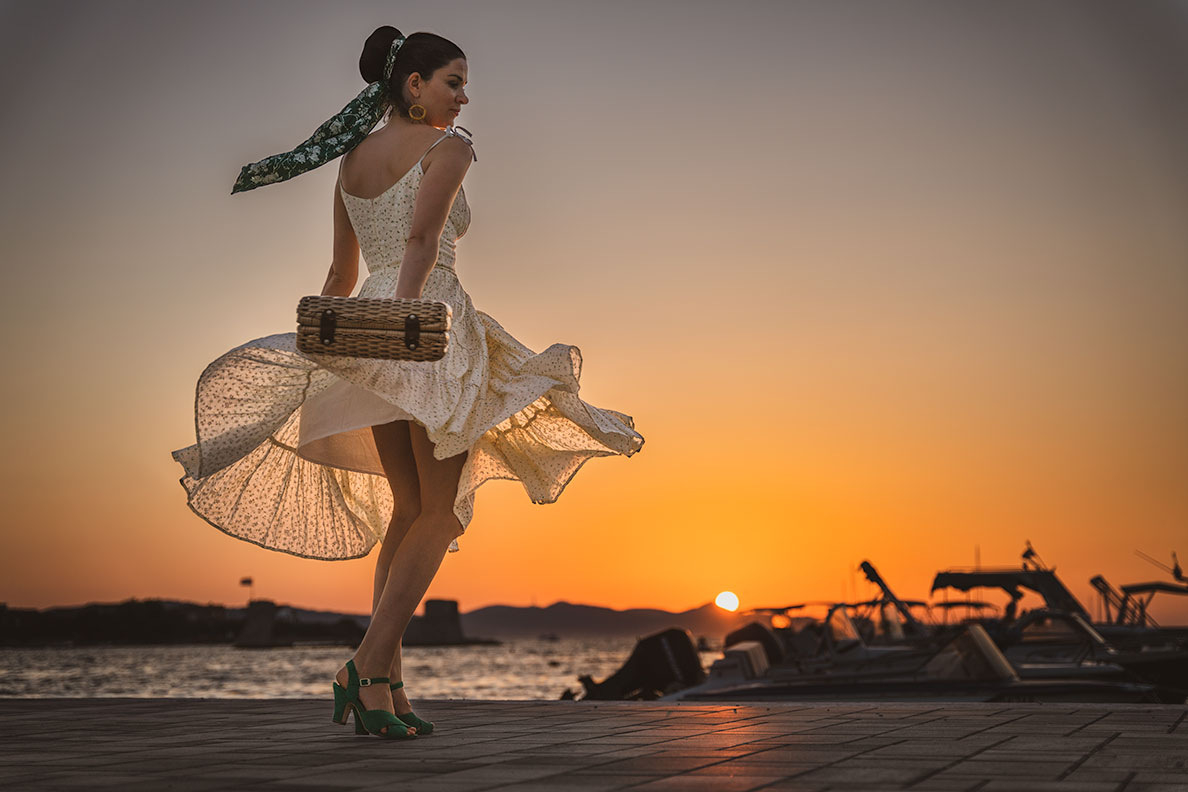 Slip dresses are great, but not always the best choice. But luckily, there are some great alternatives available! When wearing a combination of sweater and trousers, I wear a camisole instead of a slip dress.
*Affiliate links

Especially underneath very light summer dresses with only thin straps or no sleeves at all, a slip dress is not the best choice. In this case, I prefer a very delicate and thin petticoat.
*Affiliate links

---