Advert. This blog contains affiliate links (marked with *). If you shop products via those links, I may get a small provision which helps me to maintain my blog. Of course the price doesn't change.
A summer day at the lake
Advert | in collaboration with Nadja Christner and Namico Hatdesign
I spend almost the whole summer in the countryside. We visited castle ruins and gorgeous lakes in the alpine uplands. So I wore a bit more relaxed outfits than usual. However, I stayed true to my nostalgic retro look. My two favourite accessories for such romantic summer days in the countryside: A straw hat by Namico Hatdesign and a handmade handbag by Nadja Christner.
A summery Straw Hat by Namico Hatdesign
In the beautiful alpine uplands, summers are simply more beautiful. The days are usually not as hot as in big cities and thunderstorms in the evening cool everything a little bit down. And then, there are these amazingly beautiful tarns! Deep blue, cold as ice and in the middle of the mountains – the perfect place to enjoy nature to the fullest. On long walks around the lakes, I like to protect myself from the sun – and the most stylish way to do so is wearing an amazing hat. (Don't forget your sunscreen,too, though!)
One of my favourite summer hats is by Namico Hatdesign. The elegant straw hat with a sparkling ribbon and flower decorations goes well with many different outfits – no matter if very glamorous or more casual. The hat has the perfect size to protect your face from the sun, but still looks gorgeous and not too big. Furthermore, it is super light and therefore perfect for those warm summer days. By the way: Namico also makes hats following your individual wishes!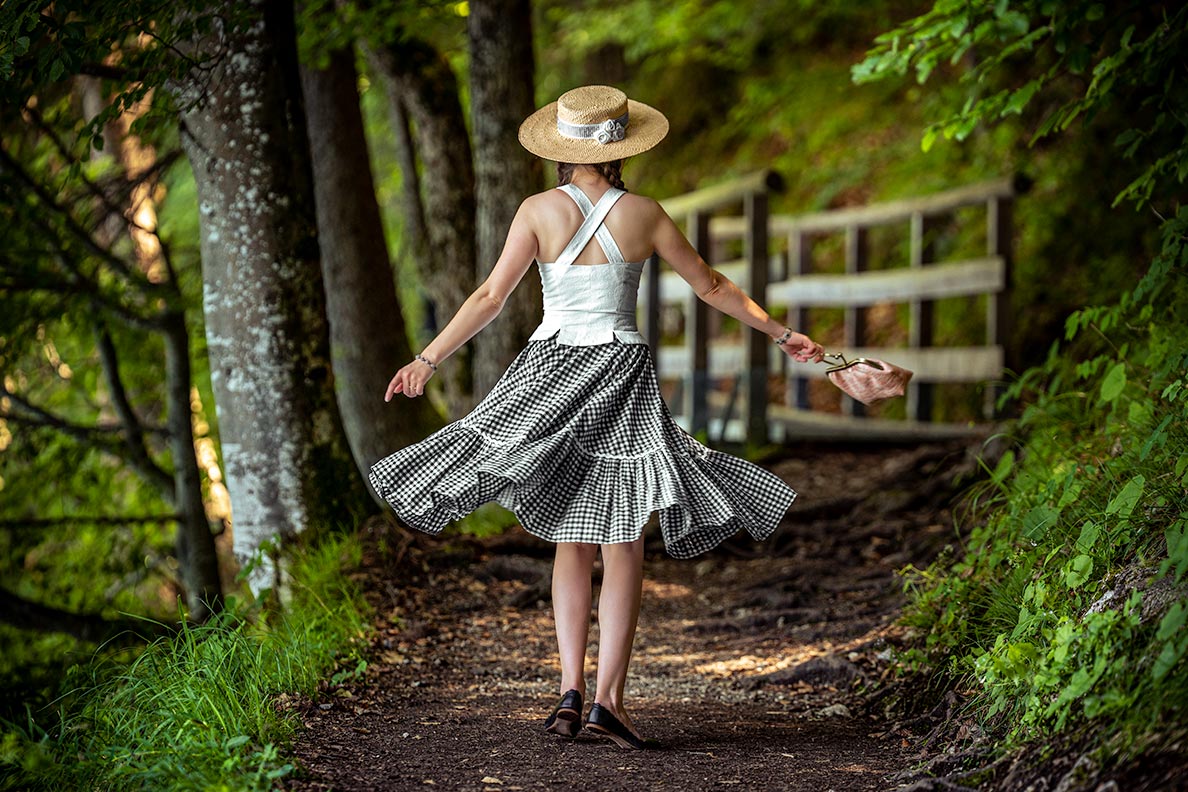 This time, I teamed the straw hat with a circle skirt by Lena Hoschek and matching white top – the perfect look for a relaxed summer day in nature!
---
The matching Handbag – handmade by Nadja Christner
Without a handbag, I somehow feel naked. I simply need something to carry my purse, smartphone and lipstick. A very pretty and sustainable way to carry these things around is a lovely handbag by Nadja Christner.
Nadja creates her wonderful handbags by hand and mainly uses remains of exquisite furnishing fabrics, which normally wouldn't be used anymore. The unique and robust bags look very beautiful and kind of old-school, which I really like. Read more in this blogpost.
---
Outfit Details:
Hat: Namico Hatdesign
Handbag: Nadja Christner
Top: Lena Hoschek, old, but similar via TopVintage*
Rock: Lena Hoschek, old, similar via Amazon*
Ballet flats: Fabio Rusconi, via Amazon*, for example
---