As you maybe already know from my blog post about Mainau Island, we stayed at Lake Constance over the Easter Weekend. Taking a few days off to escape from the everyday life and visit new places is always great. I especially love to explore places where water is around, may it be the sea or a lake. It feels so gorgeous to walk along the waterside promenade and leave the rush behind. But instead of wearing functional clothes, I prefer an elegant dress for this occasion. I just feel a thousand times better and more confident in a vintage inspired outift than I would in leggings and sneakers. This time, I chose "Lilian" by The Seamstress Of Bloomsbury.
Elegance in Red and White: "Lilian" by The Seamstress Of Bloomsbury
 "Lilian" is my first dress from The Seamstress Of Bloomsbury but definitely not my last one! I fell in love with the brand the moment I held the garment in my hands. The label still uses original patterns and designs from the 40s and therefore creates the most authentic vintage inspired clothes. The high-quality rayon crepe de chine fabric feels amazing, while the sarong wrap style enhances the curves without being to tight.
Ruffles, a tie belt, and little puff sleeves make the dress a real head-turner. It is available in different colours and patterns, I chose a classy red one with white polka-dots.
I normally wear a size 6, but here size 8 fits great. If you are a bit insecure, I recommend their size chart which you will find on the The Seamstress Of Bloomsbury website.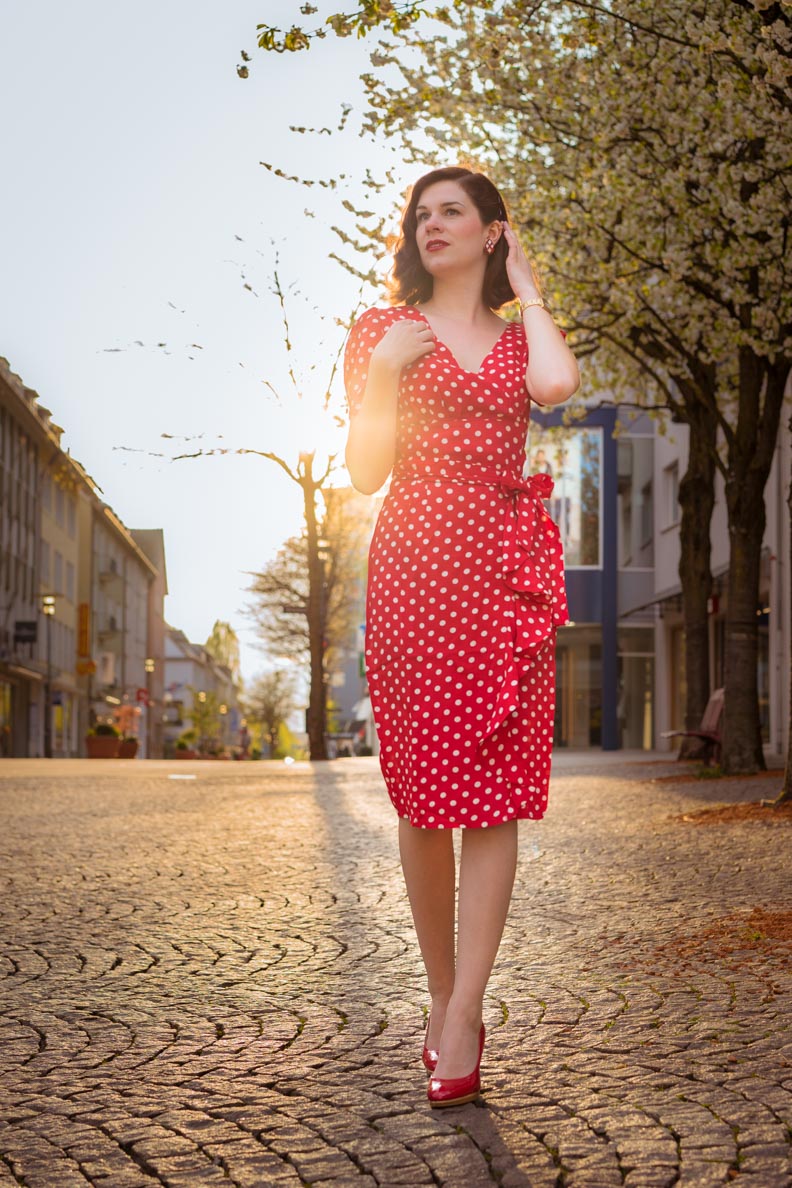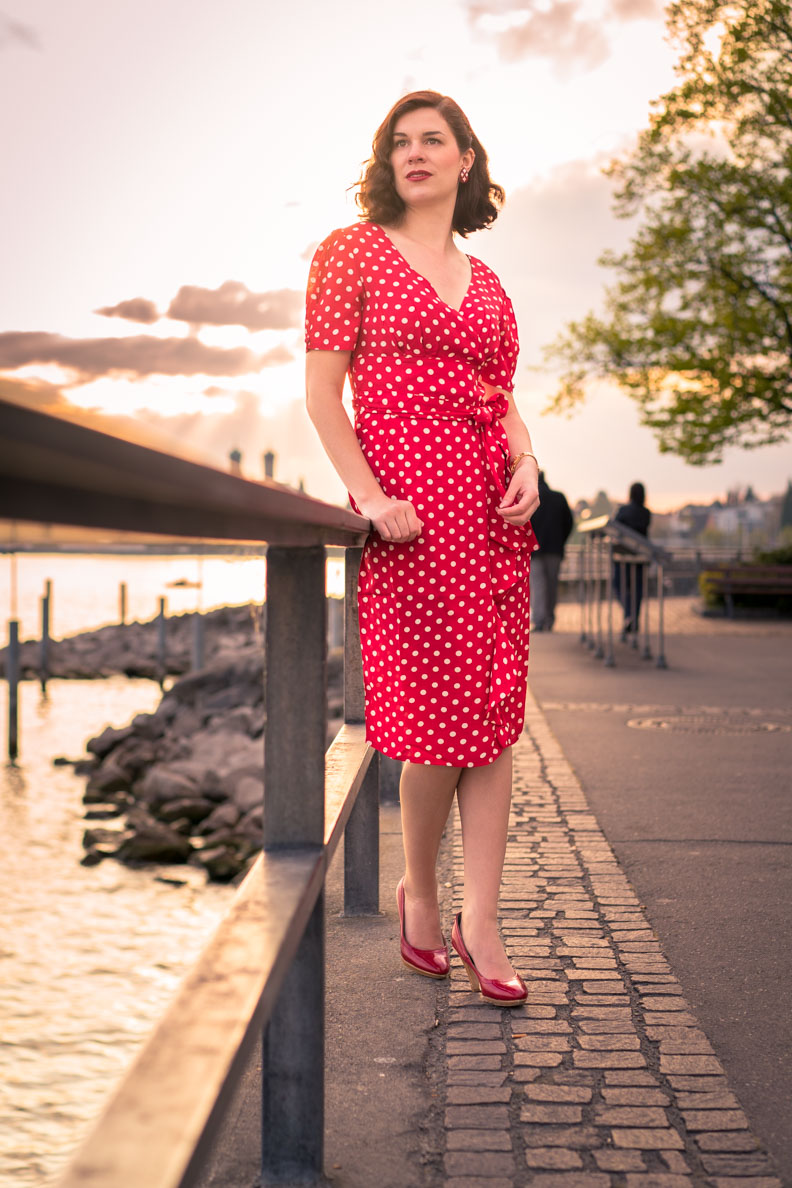 ---
Matching 40s inspired Accessories
In the 40s, opulent jewellery was taboo. Therefore, I only wear colour matching earrings by Glitter Paradise as well as a classy watch to match my 40s inspired outfit. I recently received a lot of questions about my watch, some people even thought it's a true vintage piece. It's not! I bought the watch a few years ago in a small jewellery store. I especially love the classy angular shape, which isn't easy to find nowadays. The watch is by Jaques Lemans and not that expensive!  Just have a look at the outfit details below.
No 40s inspired outfit is complete without seamed stockings. Mine are, as always, by Secrets in Lace. In this blog post, I talked a bit more about the "Dita's Glamour French Heel", and here you will find some matching garter belts. Red patent leather pumps finish the 40s look.
PS: Our photo location this time was Friedrichshafen.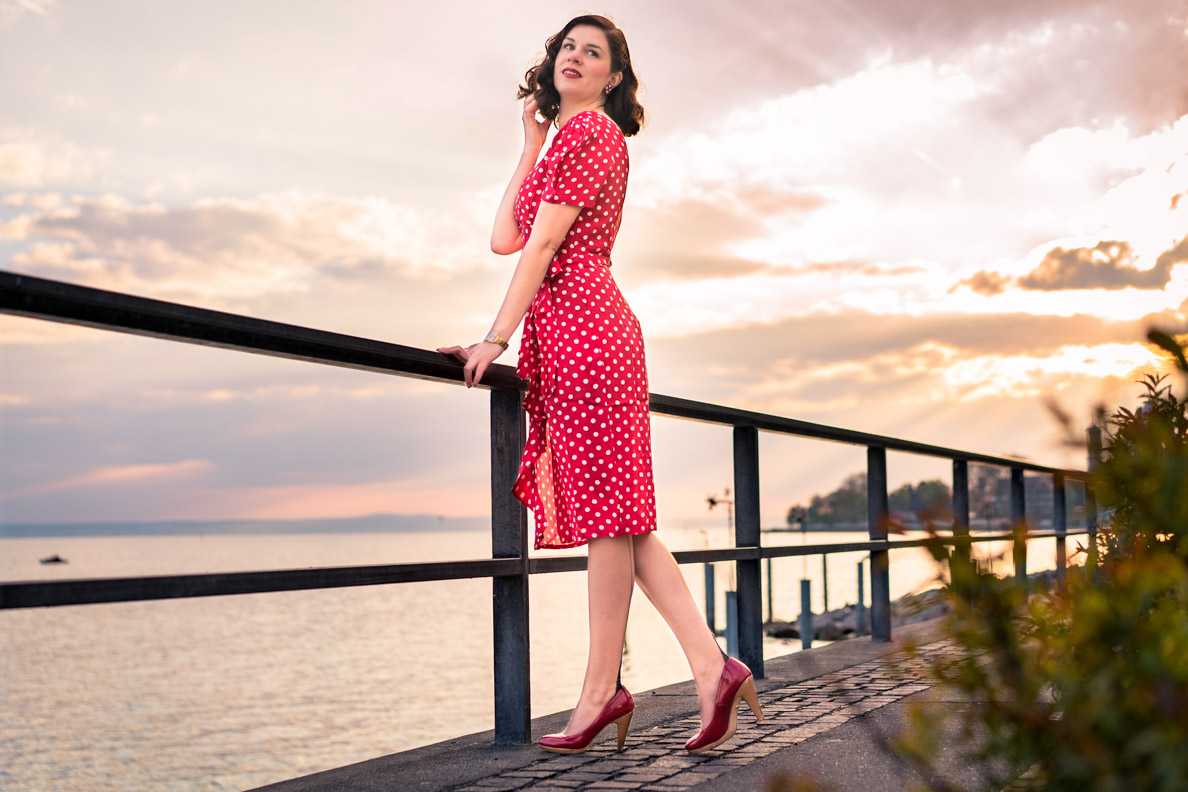 ---
40s inspired Outfit – the Details:
Dress "Lilian": c/o The Seamstress Of Bloomsbury
Earrings: Glitter Paradise
Pumps: Buffalo, very similar here
Stockings: c/o Secrets in Lace Europe
Watch: Jacques Lemans