January usually already starts with a hangover and has not much more to offer. Christmas and New Year's Eve are over, the pretty lights disappear from the cities, and the weather usually is grey and gloomy. Nevertheless, I must admit that I really like the first month of the year. The New Year's resolutions aren't forgotten yet (well, at least not completely), the days are getting very slwoly but solely a bit longer, we are getting a little bit closer to spring every day, and most important: It's my month of birth. 😉 To add a bit more glamour to this dreary month, I love to wear my most beautiful dresses during this time of the year. Last year, I already showed you a breathtakingly beautiful winter dress by Ginger Jackie. This time, I'm going to show a different but not less gorgeous garment fom the Russian fashion label: The black Cotton Velvet Dress.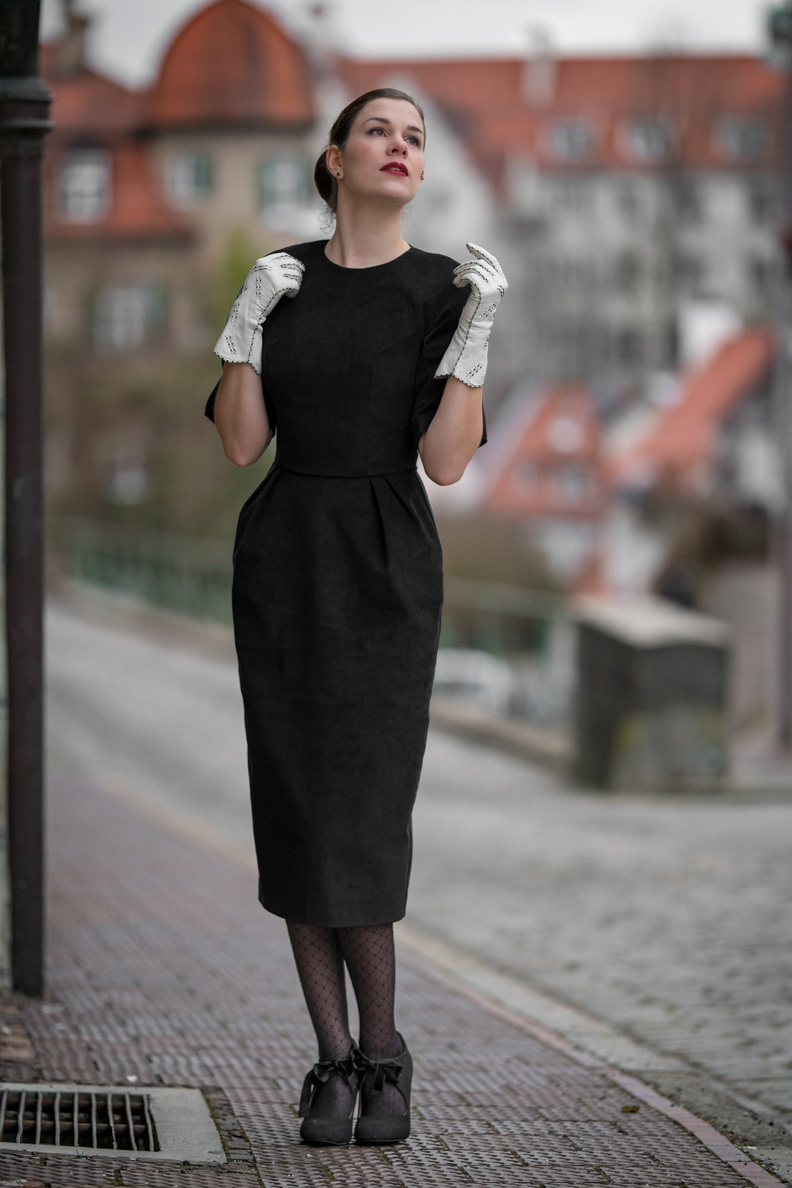 The gorgeous Cotton Velvet Dress by Ginger Jackie
The label from Russia really creates the most beautiful garments. Just like the dress I showed last time, the Cotton Velvet Dress is made of a soft corduroy fabric, and therefore it keeps its shape all day long. The amazing cut reminds me a bit of the designs created by Christian Dior. The gorgeously draped skirt is definitely a head-turner, just as the back cleavage. And did you notice the buttons at the back? Definitely another highlight. As the sleeves are only half-lengths, I teamed the dress with a bit longer, white vintage gloves.
The tights are by Chantal Thomass and the pumps by Mojo Moxy. A stunning dress like this doesn't need more accessories than a sleek hairstyle and red lipstick. Isn't this just a perfect outfit for day and night?
Unfortunately, it's pretty difficult to shop the garments by Ginger Jackie in Germany. But luckily, my favourite boutique Maison Chi Chi Vintage in Munich offers some designs from the Russian fashion brand. So if you are in Munich, make sure to visit this lovely store!
By the way: In this blogpost, I show you a great Ginger Jackie dress inspired by Hermès.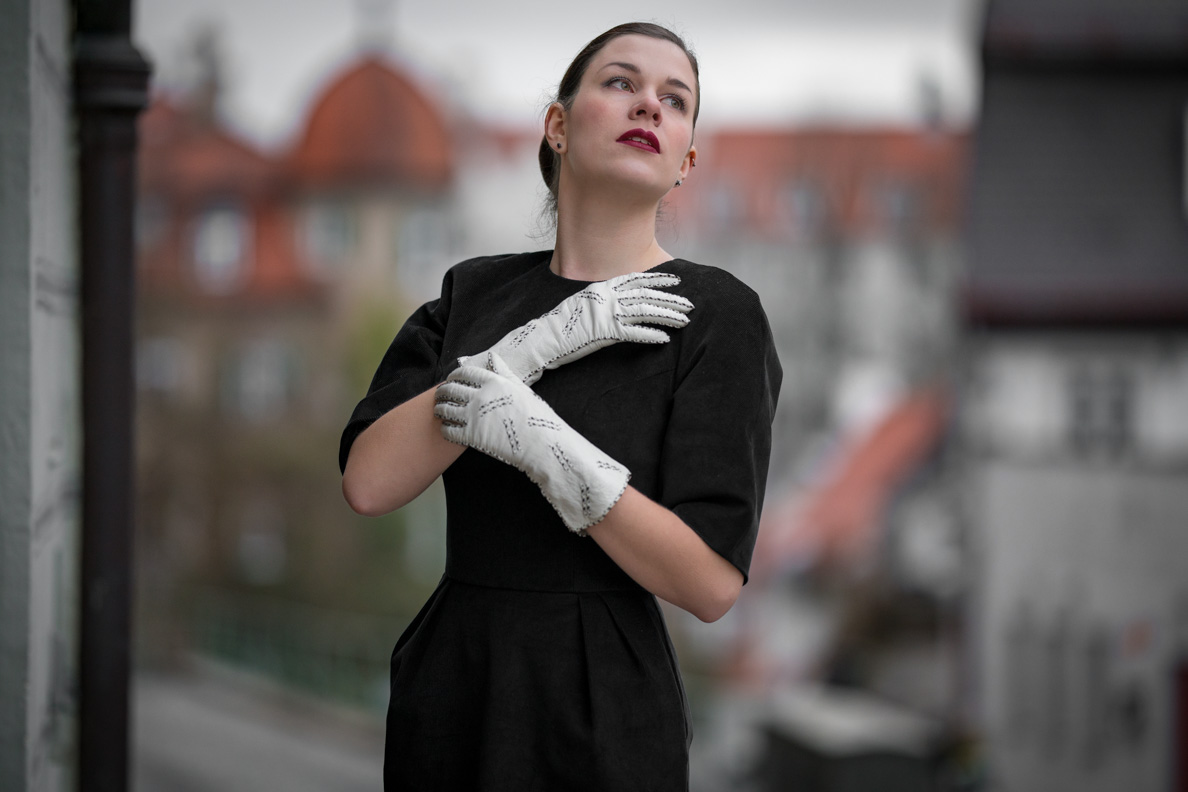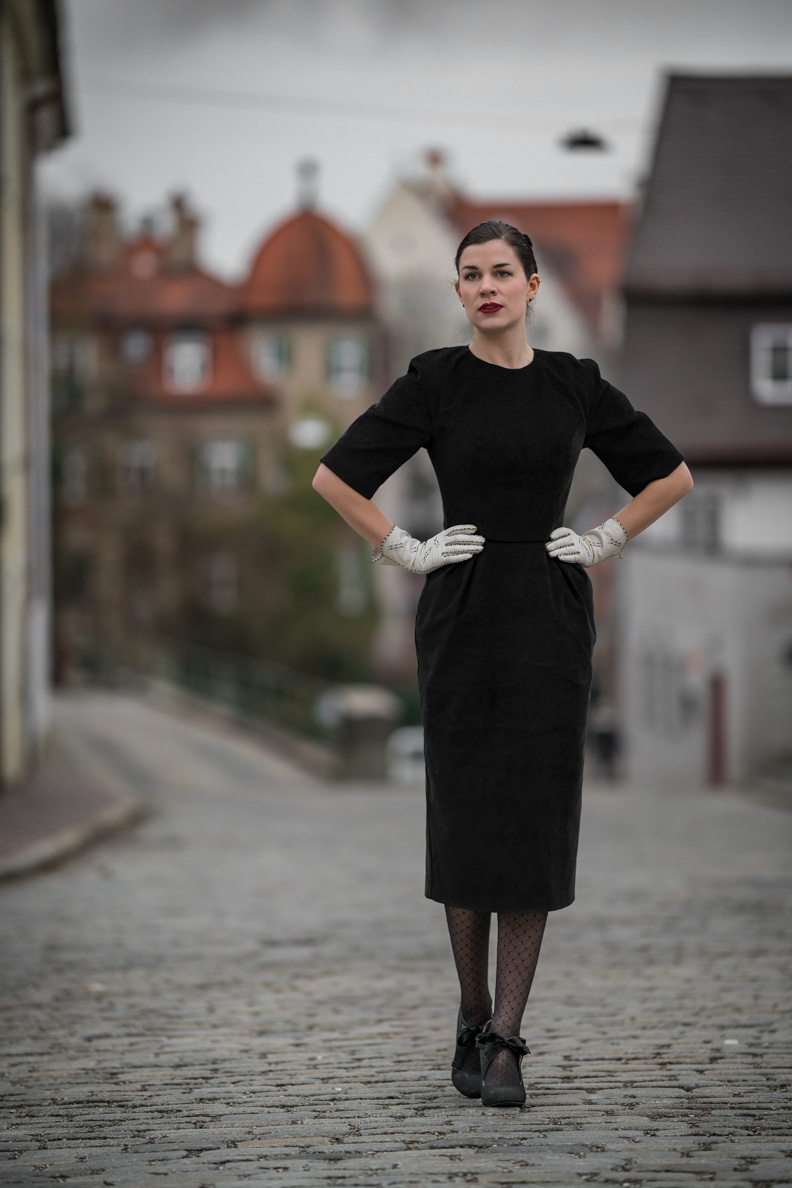 ---
An elegant Winter Outfit – Shop the Look (EU):
Cotton Velvet Dress: Ginger Jackie via Maison Chi Chi Vintage
Tights: Chantal Thomass
Shoes: Mojo Moxy, similar here
Gloves: Vintage

---
Shop the Look (US):