This blog contains affiliate links (marked with *). If you shop products via those links, I may get a small provision which helps me to maintain my blog. Of course the price doesn't change.
Pin-up Girls: Their story and how to become one
Seductive poses, a bright smile, feminine clothing, stockings, and a lot of red lipstick – pin-up girls can still be seen on many different articles, posters, and cards. In this blogpost, I'm going to tell you the story behind the pin-up girls and show you, how to become one by yourself. We are going to have a look at the clothes, hairstyles as well as pin-up makeup, and even some tips for pin-up photo shoots.
What are Pin-up Girls?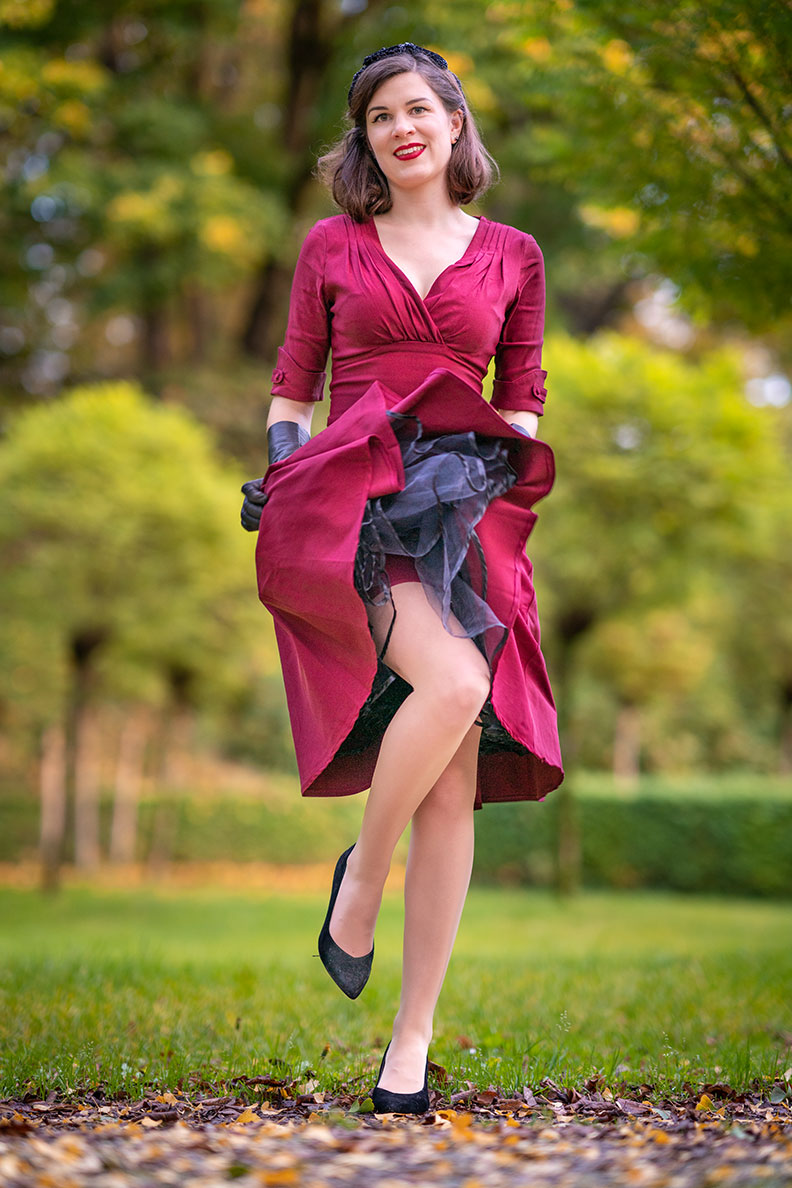 First of all, let's have a look on what pin-up girls actually are. The etymology of the phrase pin-up girl comes from "to pin up": The photos, calenders, posters etc. featuring those seminude or at least very alluring young ladies, were made to be pinned-up on a wall. So over the time, the models for those photos or illustrations got the name pin-up girls. Originally, the pin-up girls where shown as an illustration, but over time, photos of pin-up girls became very popular as well. However, even for the illustrations, the inspiration often were real women.
So all in all, a pin-up girl can be described as an erotic or provoking illustration or photo of an attractive, seductive young woman. The photo/illustration often has some nostalgic, romantic, narrative, or even patriotic elements. The model usually wasn't completely nude. A pin-up girl is usually shown in an everyday situation, where the observer may see a little bit too much skin. However a lot is left up to the imagination of the observer. Examples for such situations are a skirt flewing up in a flurry, or a girl that feels unwatched and therefore fixes her stockings. Overall, from our modern point of view, pin-up girls appear rather innocent than provocant, however, this was a bit different back in time. 😉
The term pin-up girl became more and more popular in the early 1940s, it wasn't until the 1980s, though that pin-up art was accepted offically as an art form. However, the story of the pin-up girls is much older.
---
The Story of Pin-up Girls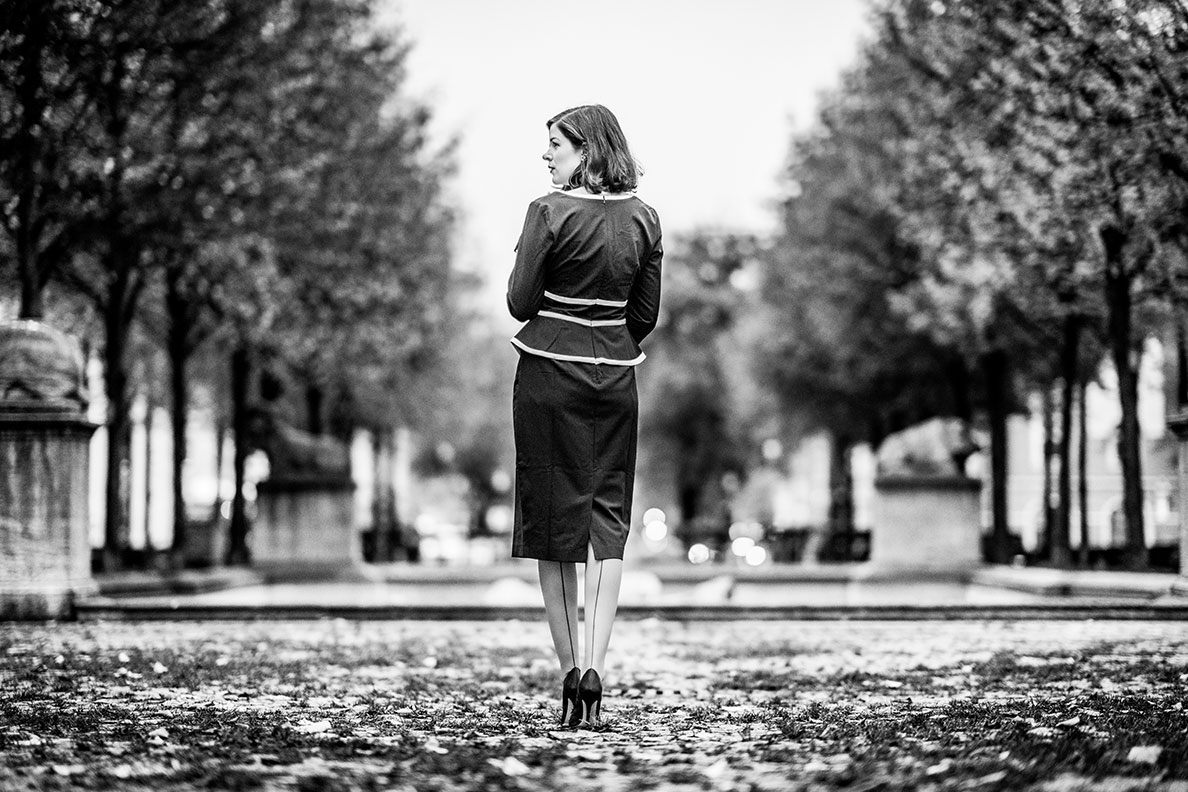 Although the phrase "pin-up girl" may not have existed back then, the practice of picturing young, beautiful, provocative woman is documented back at least to the late 19th century. Calendars, postcards, magazines (even the "reputable" ones) often featured beautiful, seductive young women, because we all know: Sex sells. 😉
Pin-up modeling though, also has origins in the "theatrical world". Burlesque performers and actresses sometimes used such seductive photos or illustrations to promote their shows or simply themselves.
First Successes
Pin-up girls became quite popular during the First World War. Already before the war, Charles Dana Gibson showed a new, exciting kind of woman: autonomous and confident women that dissolve slowly from the strict social norms. The magazine Life showed a so called Gibson Girl every week. With the beginning of the First World War, Charles Dana Gibson's illustrations became increasingly more political and anti-German. When in 1917, the American president Wilson founded the Division of Pictorial Publicity, Charles Dana Gibson became the head of this division. His task was to develop a new concept of war propaganda, and so, the first posters with beautiful young women in a military context appeared.
After World War I, a lot of things changed. Existing standards were put into question, women became more independed, and the first flapper girls appeared. Magazines competed with one another for the most popular models, who, by then, also were on very popular calenders, posters, etc. The flapper girls, though, didn't survive the global economic crises of 1929. Their decadent lifestyle was simply no longer appropriate. Provocative models, on the other side, became more popular once again.
In the 1930, the most glamorous and beautiful "American Girls" were displayed on advertisements, magazines, and cartoons, yes, even on cosmetic products and packages for sweets. So they kind of helped to sell things even during the hard years of economic crisis. 😉
The golden Years of Pin-up Girls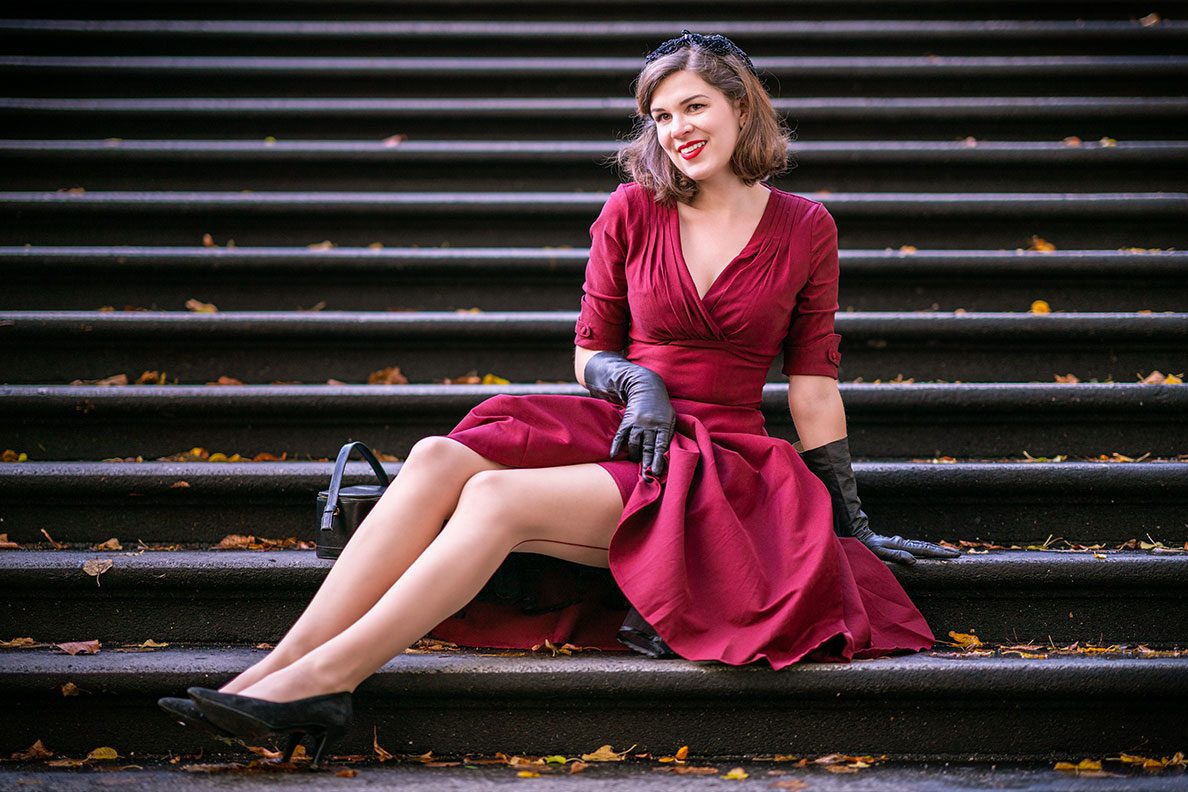 The golden years of pin-up girls were the years of World War II. Frankling D. Roosevelt was against a hate campaign, but wanted to spread positive messages, instead. The soldiers should be reminded of what they are fighting for: Their wives, families, and America. US American soliders took pictures of pin-up girls with them, who were mainly pictured as female patriots that were helpful for good luck. Pin-ups also were adapted as nose art on bomber and fighter aircrafts, and so, the American pin-up girls made their way to Europe. One of the most successful and popular pin-up girls during this time was the lovely Betty Grable, who also played in the movie Pin up Girl.
After the end of the war, pin-up girls remained popular, although, usually not in such a patriotic way. In the 1950s, photos became more popular and started to replace the pin-up illustrations. One of the most successful pin-up girls ever is definitely Bettie Page. She not only posed for pin-up illustrations, but was also a successful photo model. In the late 1960s, cencorship got less strict and the innocent pin-ups were not longer able to keep up with the growing sex industry.
One of the few artists, who still were popular in the 1970s, was Alberto Vargas, who inter alia worked for the Playboy. With the triumph of the internet and the relating availability of erotic, pornographic, and fetish photos/videos, it seems like a kind of oversaturation arose, and the innocent sweet but still sexy pin-up girls of the 1940s and 50s are now celebrating a revival. They are definitely no longer scandalous, however, they still fascinate us and can be found on calendars, posters, and retro design articles, again. Furthermore, pin-up girls are still a style icon for some modern celebrities, examples are: Dita von Teese, Lana Del Ray, or Katy Perry.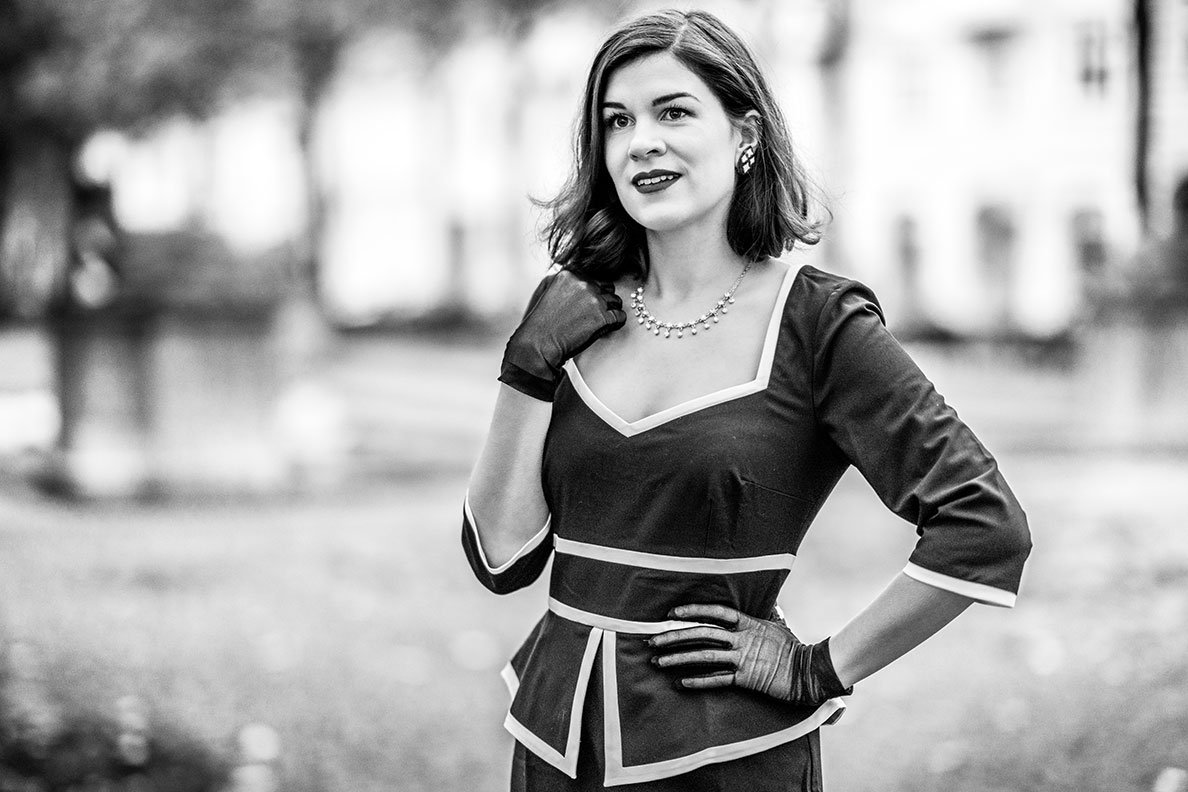 Popular Pin-up Artists:
Charles Dana Gibson
Rolf Armstrong
Gil Elvgren
Alberto Vargas
Olivia de Berardinis
Popular Pin-up Girls from then to now:
Marilyn Monroe (before she became an actress)
Betty Grable
Jayne Mansfield
Bettie Page
Dita von Teese
---
How to become a Pin-up Girl
After having a look at the story of pin-up girls, in the following, I want to show you how to become one by yourself. We are going to have a look at pin-up outfits, make-up, hairstyles, and even posing.
The following styles are inspired by the pin-up girls of the 1940s and 50s, as these are the styles we usually relate to the phrase "pin-up".
Pin-up Girl Outfits
To transform ourselves into an alluring pin-up girl, we need an appropriate outfit. And luckily, there are so many different options you can choose from!
Here are some shops that offer everything a modern pin-up girl needs from clothing, to beach wear, handbags, and accessories everything a modern pin-up girl needs:
But now, let's finally have a deeper look at our pin-up outfit. We are going to start with a very important part of the pin-up look: Lingerie!
Pin-up Girl Outfit: Lingerie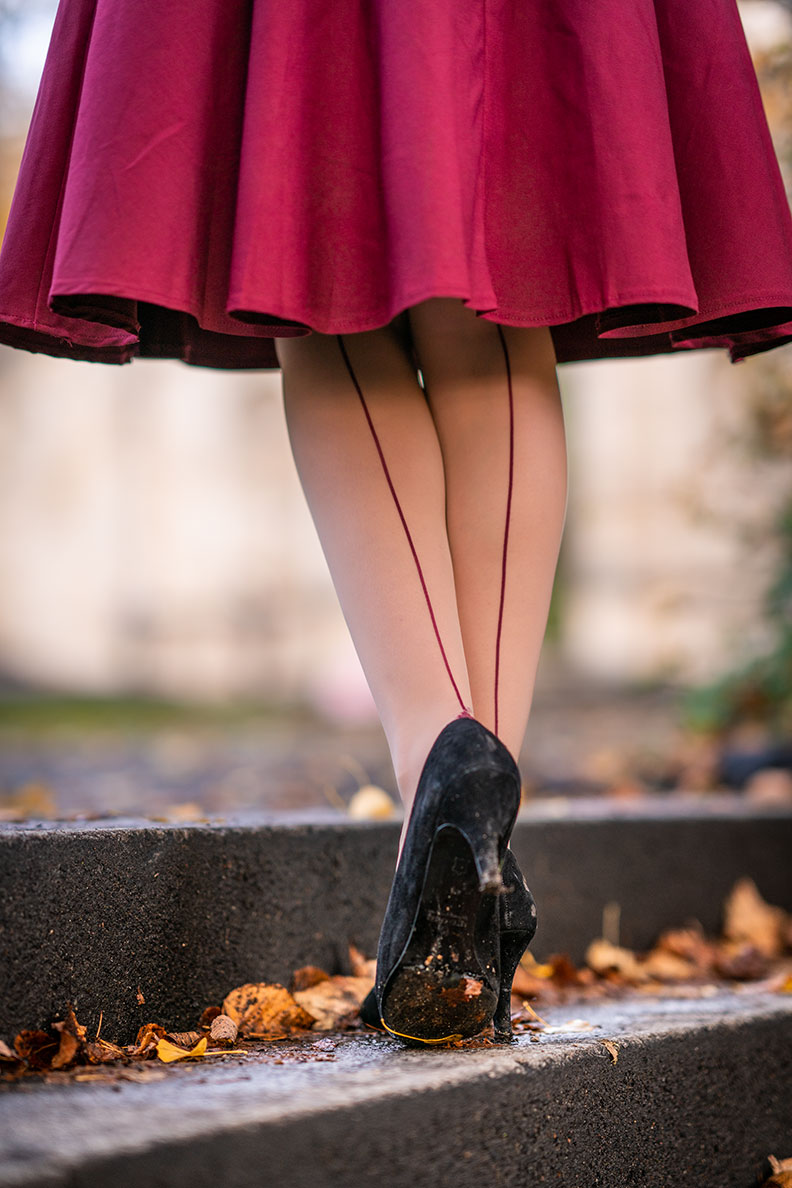 Pin-up girls like to show cleavage, so if you feel comfortable in such garments, wear something with a deep neckline. If you, just like me, don't have an ample bosom, I recommend push-up bras. If you are brave enough, you can also try a so called bullet bra, to create the iconic, pointy breast shape.
Beside the right bra, there is another very important pin-up girl essential: The stockings! Classy pin-up photos often feature pin-ups showing a bit of their seamed stockings and garter belts. You can choose from a variety of different styles. Maybe you prefer classy black seams, or maybe you want something a little bit more fancy. In this case, I recommend colourful seams.
PS: In this blogpost, I tell you how to find the perfect garter belt for every occasion. And if you don't feel very comfortable in stockings, I recommend this blogpost. If the post doesn't help, of course you can also simply wear seamed tights (just have a look here). 😉
Find some lovely retro lingerie in these shops:
*Affiliate links

---
Pin-up Girl Outfit: The Dress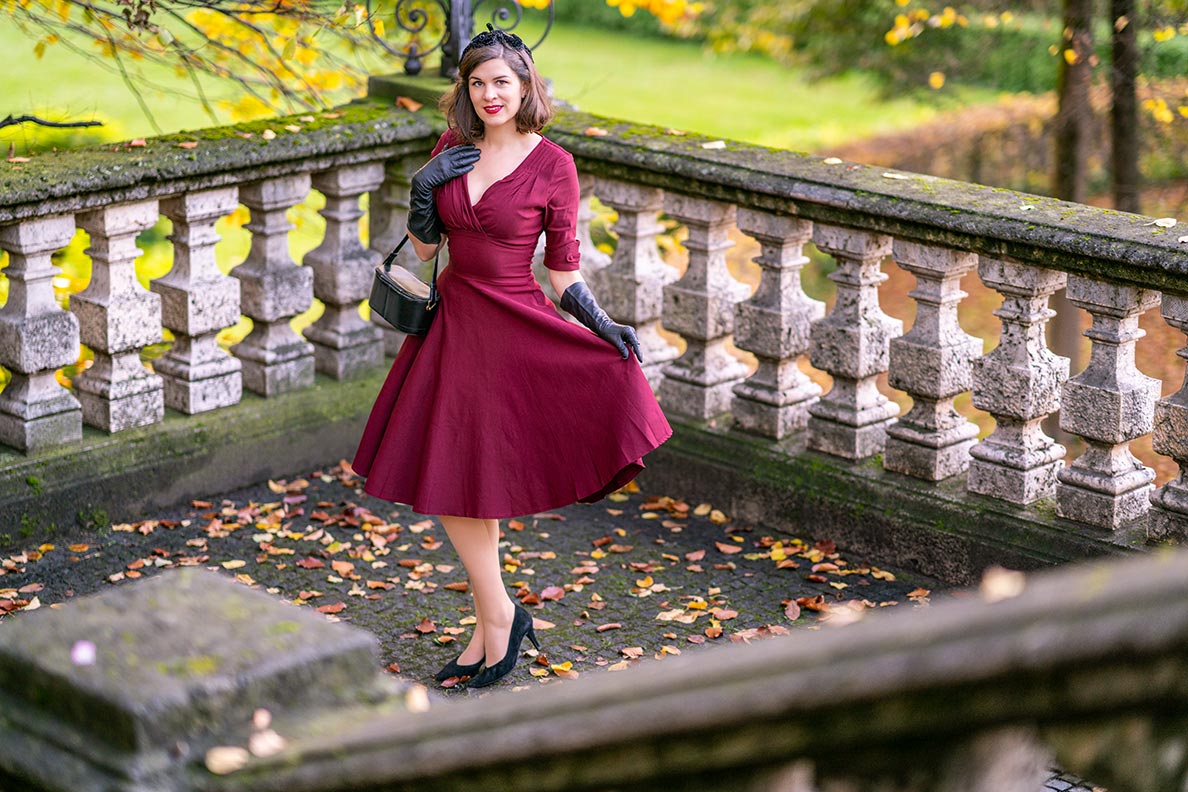 For a classy pin-up girl look, I recommend to choose a feminine dress. If you go for a flared skirt or pencil dress is totally up to you. Just wear something you feel great in. Beside classy plain colours, prints can look amazing, too. In spring and summer, try something floral, and polka-dots, of course, work great as well.
For a classy pin-up photo shoot, I always would go for a dress with a flared skirt. In this kind of clothing, it is so much easier to do those classy, cheeky poses, showing a little bit of your stockings or your garter belt. In the pictures, I'm wearing a red swing dress with a deep neckline as well as a flared skirt from Fräulein Backfisch (you can shop the dress here). Under such a skirt, it is a good idea to wear a petticoat for more volume and an authentic look.
---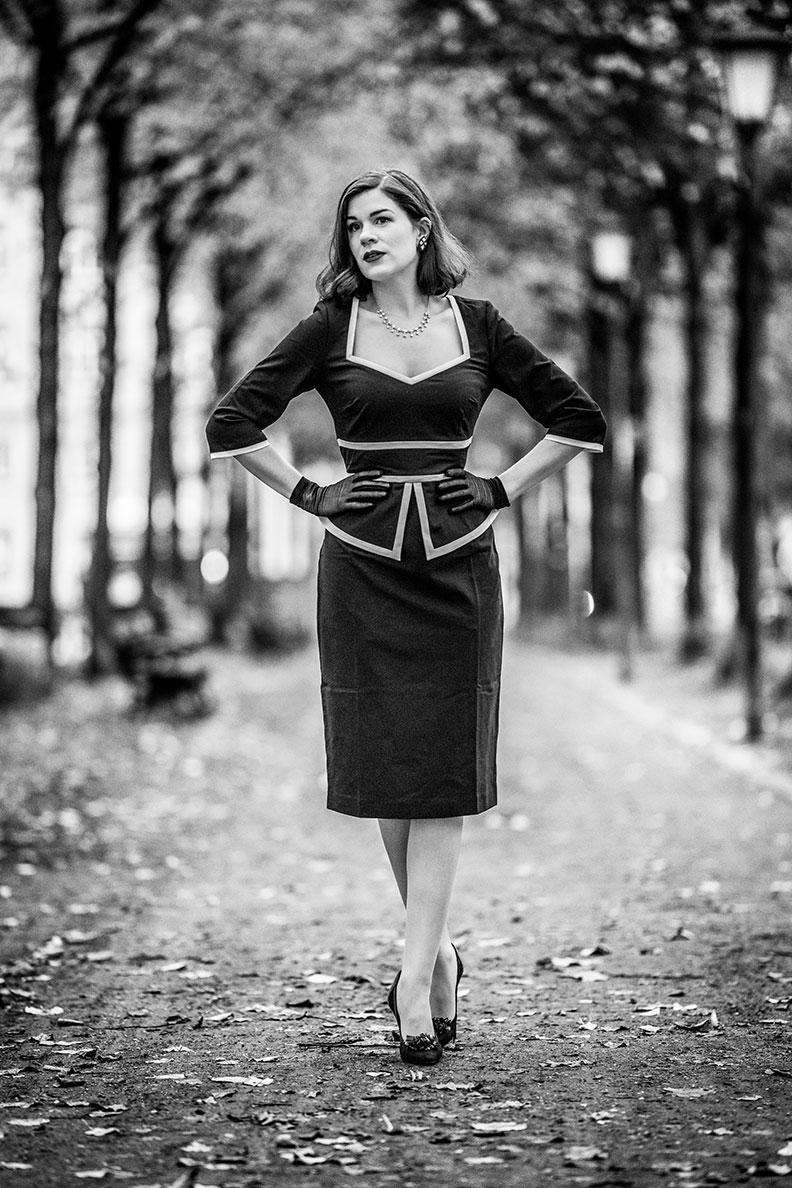 Of course, you can also wear a pin-up inspired look in everyday life. In this case, I usually choose a fitted pencil dress just like this one. Due to the peplum top, it makes such a nice silhouette and perfectly enhances a woman's curves. Now, you only need some chic pumps, the mandatory stockings, as well as some lovely accessories, and your everyday pin-up girl outfit is finished.
*Affiliate links

---
Pin-up Girl Outfit: The Accessories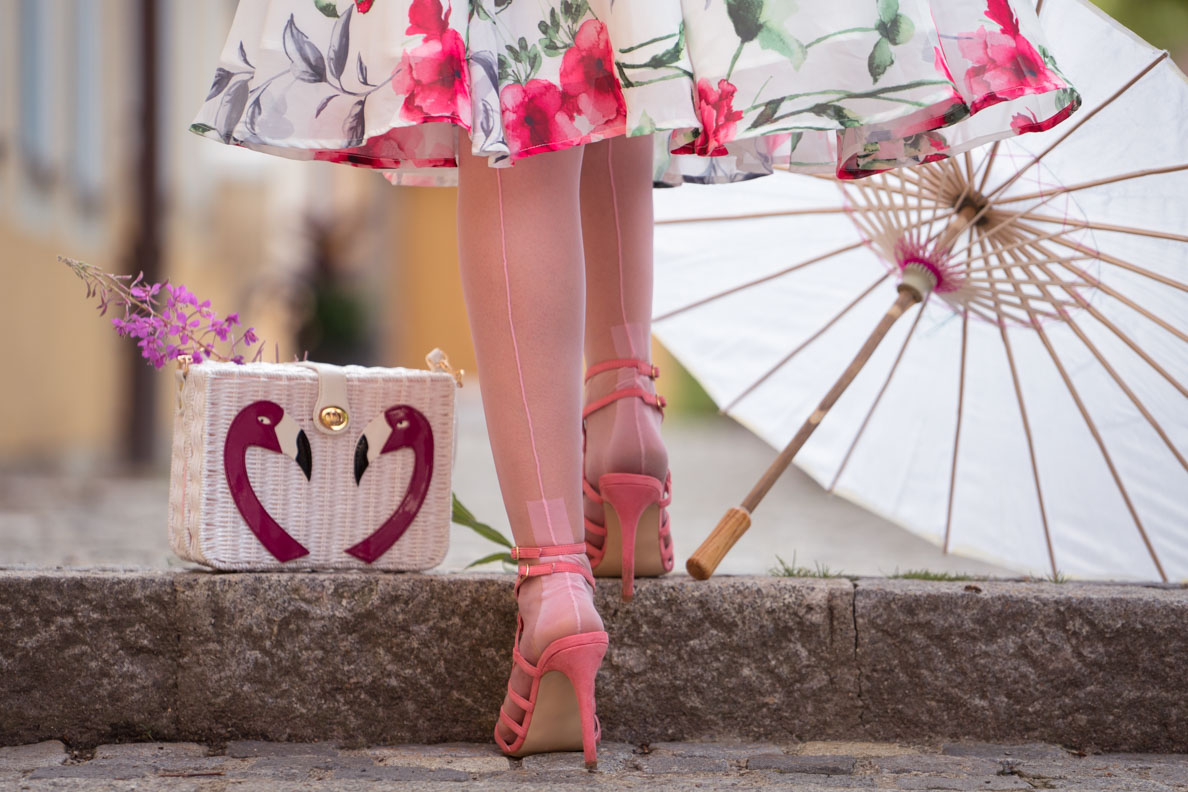 No pin-up outfit is perfect without accessories. You can definitely choose some very girly and feminine ones. Beside hats and hairflowers, gloves are definitely some great companions for pin-up girls.
When it comes to handbags. I recommend smaller ones. Decorated basket bags or handbags in crazy shapes are great as well. In summer, you maybe also want to take a cute parasol as well as some retro sunnies with you. And if you like, enhance your waist with a lovely belt.
Pin-up Girl Outfit for Summer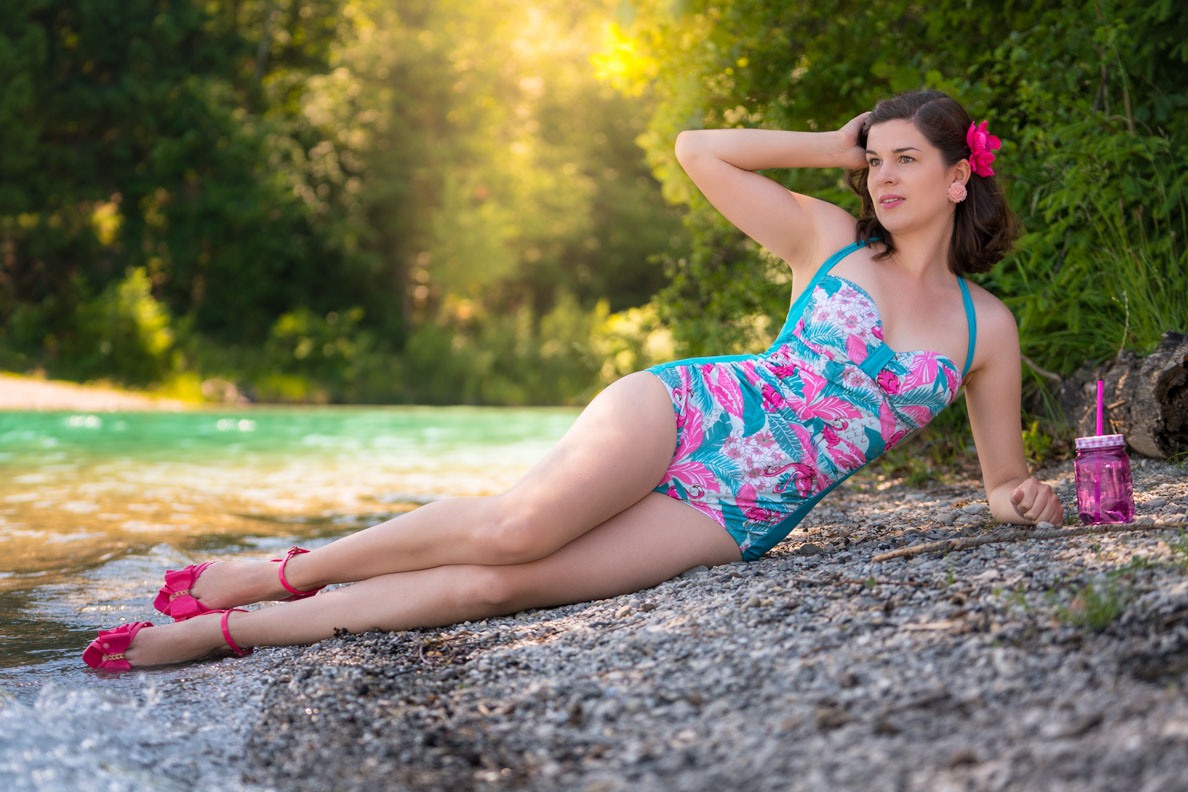 You can look like a cute pin-up girl even when you are at the beach. I recommend a colourful retro swimsuit or bikini. Put some flowers in your hair and you are ready to turn heads at the beach!
---
Pin-up Makeup & Vintage Hairstyles
Our pin-up girl outfit is finished, now we need a matching makeup and hairstyle. It is best to start with preparing your hair. I recommend lovely curls or waves. To achieve those, you can either use sleep-in rollers or hot rollers. And while your hair ist set, we are going to do our makeup.
An easy Pin-up Makeup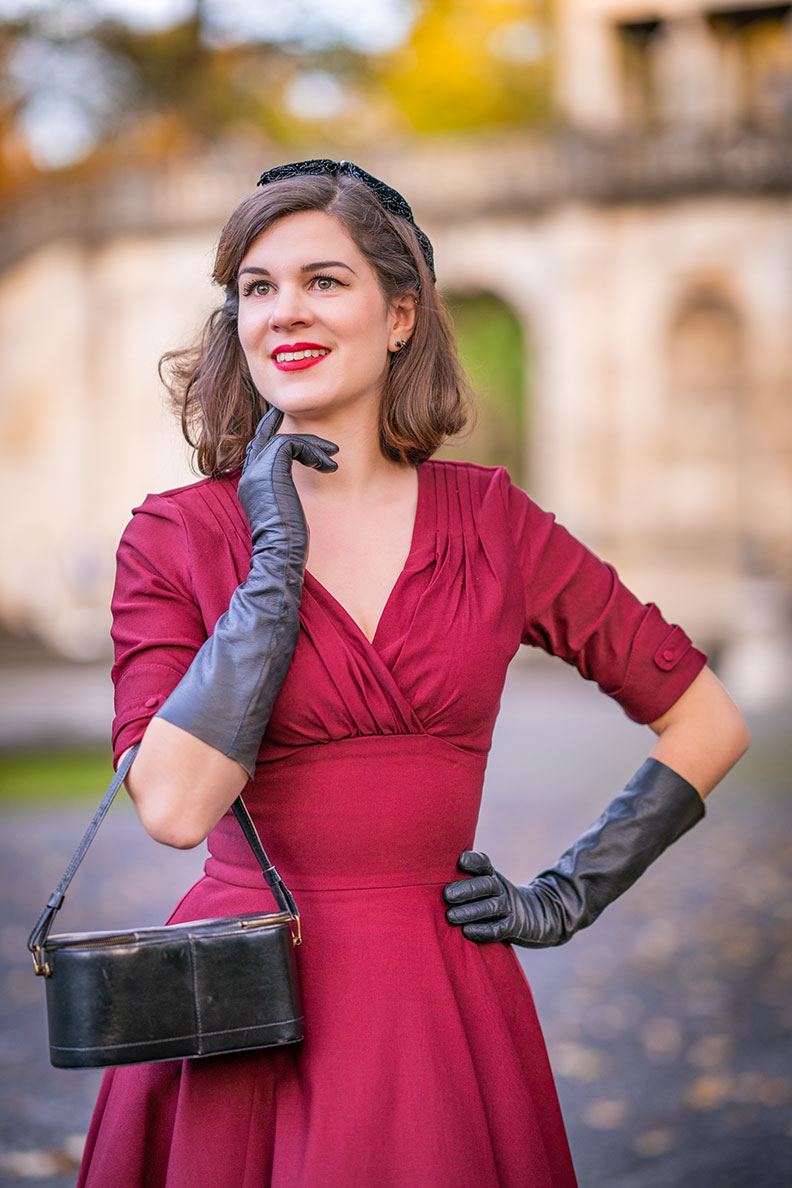 You actually don't need a lot of products for a classy pin-up makeup. During wartime, beauty products were scarce, women still liked to use a bit of makeup, though. For a great retro makeup, a good base is essantial. Use your favourite foundation and some powder for a matte finish. When it comes to eyeshadow, you can definitely use the classics: Grey or brown shades work great!
We often associate a winged eyeliner with a classy pin-up makeup. Eyeliner is typical for the 1950s, but can be a bit tricky. If you don't like eyeliner, you can also simply draw a thin line with a dark eyeshadow on top of your upper lashline. Afterwards, use a lot of mascara and apply false lashes, if you like.
Another important part of the pin-up makeup are the eyebrows. They usually were shaped but kept full. For this, you can either use an eyebrow pencil, powder (this is what I usually use), or eyebrow gel.
Apply a bit of blush or bronzer on your cheeks. Contouring wasn't really a thing back then, so you definitely can skip this part.
Last but not least, we need lipstick! Women were encouraged during the wartime period to still use lipstick and kiss the letters with them to boost the morale of the soldiers. For a perfect red lip, start with a lip pencil and line your lips. Then, fill them in with a vibrant, matte red lipstick. I personally love Ruby Woo by Mac, for this look. That's it! Your pin-up makeup is done!
Pin-up Hairstyles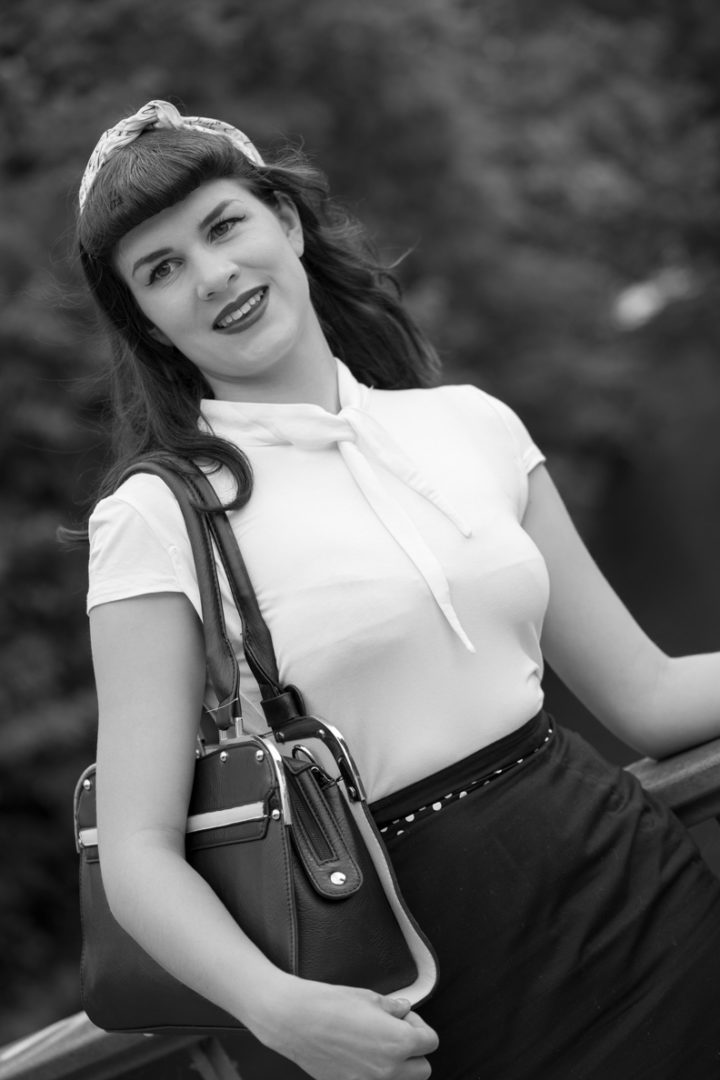 There are a lot of different pin-up hairstyles. Pin-up girls often wore most of their hair down, though. If you like, you can try victory rolls, short bangs à la Bettie Page, or a so called poodle. As my hair is quite short, I usually only curl it a bit and pin it behind my ear at one side. To literally crown your hairstyle, I recommend some hairflowers or a lovely little hat.
---
Photo Shoot & Posing Tips
If you would like to get some classy pin-up photos of yourself, I recommend to look for a photographer with experience in this area. With the help of Google and Social Media, this usually isn't a problem. Why I personally would always go for a "pin-up experienced" photographer: vintage style photos in general and pin-up photos in specific are completely different to modern photos. While the latter ones usually should look as natural as possible, pin-up poses are ways more extreme and a little bit over the top. A pin-up photographer is definitely able to help you with poses, when it is the first time for you to shoot such photos.
In this blogpost, I already shared some posing tips with you. In general, you can definitely exaggerate a bit when shooting pin-up photos. Play with your facial expressions, smile bright, put you hand before your mouth, play with your skirt, show your stockings, just have some fun and try something new!
---
---