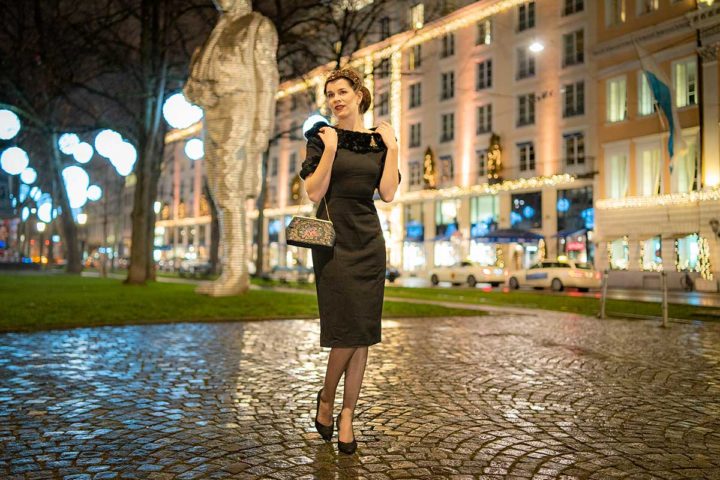 Christmas Outfit by Venus Van Chic & Secrets in Lace + Giveaway
This blogpost contains pr samples (marked with *) and affiliate links
Bells, golden lights, a lot of Christmas parties, and deadlines – pre-Christmas season is not only one of the most glamourous times of the year, it's also one of the most stressful. And on top, we moved into a new flat at the beginning of December. So this month hasn't been festive at all for us. However, by now, we managed to set up almost all of our furniture and most of the packing cases are tidied up. So now, it's time for us to get into Christmas mood. The only thing I haven't thought about a lot lately is what to wear on all those upcoming Christmas parties. 
Maybe the last few weeks have been busy for you as well, so I thought it might me a good time to share my best three tips on how to build a classy, chic, last-minute Christmas outfit. And the best: You can win a dress of your choice by Dolly and Dotty, but more on that later!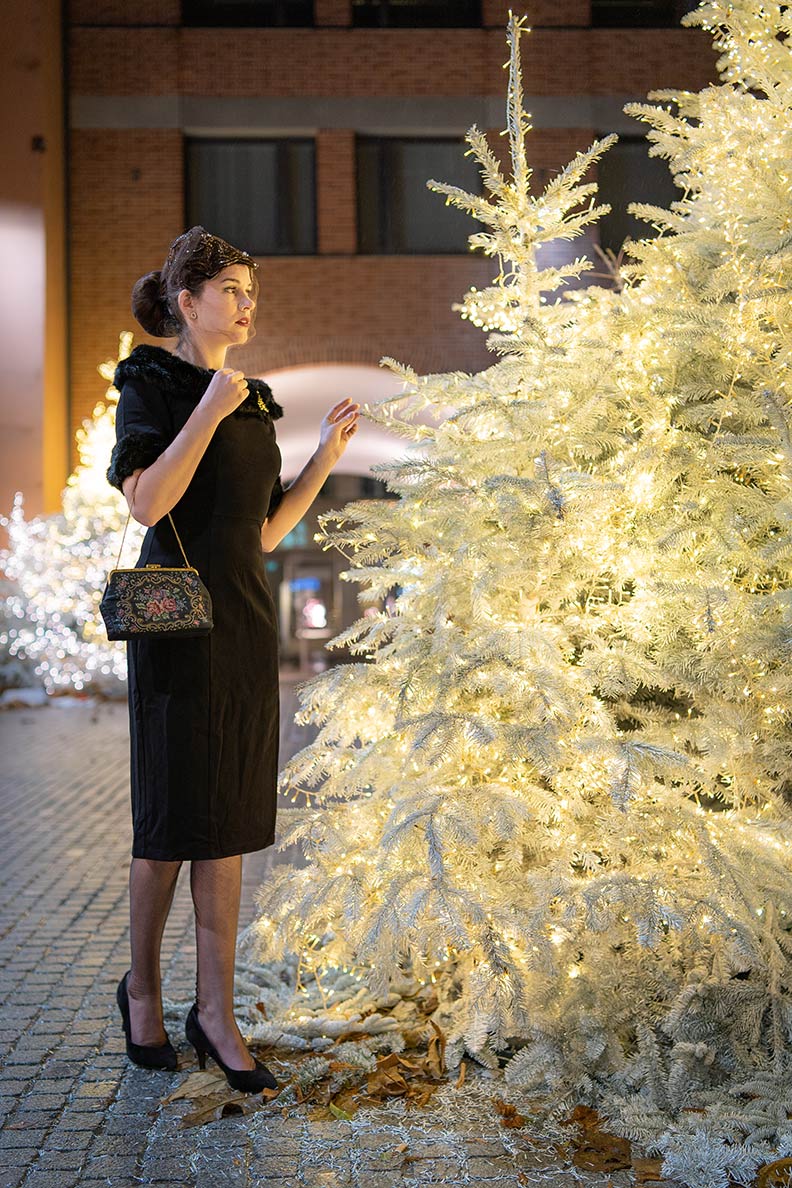 Classy Dress & fancy Accessories for a glamorous Christmas Outfit
Who doesn't know this: We often don't have time to think about our outfits for hours. Sometimes, I even don't have time to change shoes after work, and before I have another appointment. So everytime, when I don't have enough time to choose a fancy outfit, I follow these three points:
---
1st: Choose Classics
There are fashion classics we always can rely on. May it be a pencil skirt and blouses or the little black dresss. The latter one is such an elegant classic that goes for almost every occasion and is super easy to style. So it's no wonder, that a little black dress is the base of my Christmas outfit.
---
More fashion classics:
---
Valerie by Venus Van Chic
The little black dress I'm wearing in the pictures is by Venus Van Chic, a kind of luxurious sister of Dolly and Dotty, and is called Valerie*. The fitted cut as well as some lovely details make it a real head-turner, which directly leads us to the next point: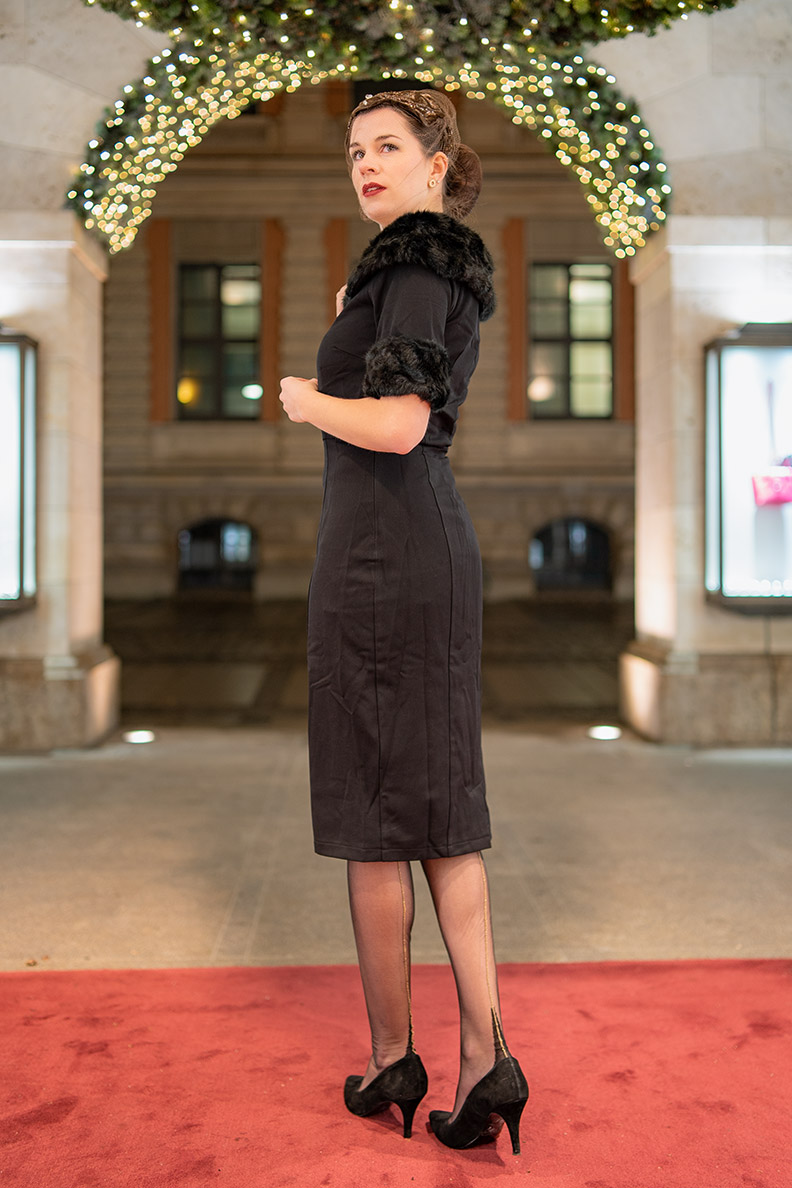 ---
2nd: It's all about the Details
Classics are great, however, sometimes they can also be a little bit boring. This is why I always make sure my clothes have some lovely details. Such details can be a specific cut or ornaments, for example. In this case, the lovely fake-fur collar definitely adds that certain something to the dress. And if you prefer a more subtle look, you can also remove the fake-fur from the collar and sleeves of Valerie.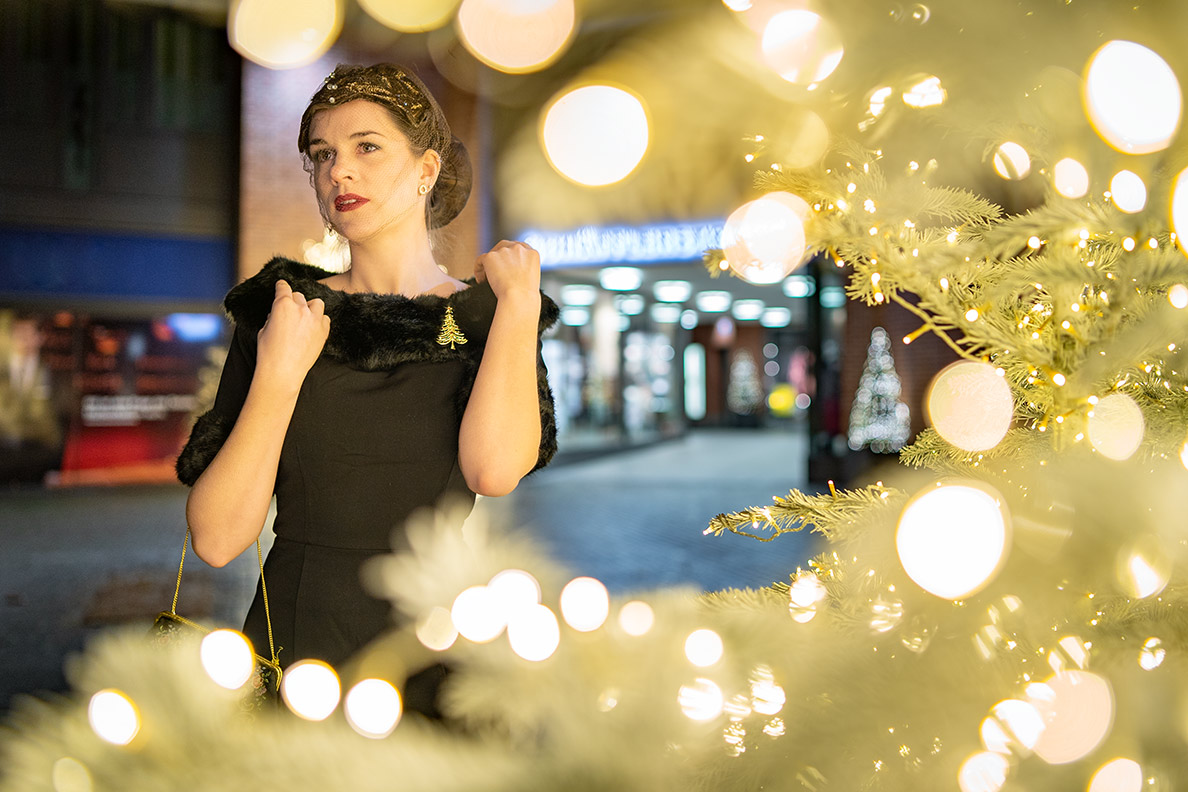 ---
3rd: Wear glamorous and fancy Accessories
No matter how great the details of a garment are, accessories can still add an extra amount of glamour. During festive season, I always follow the motto more is more. This is why I chose a wonderful vintage hat with a veil as well as golden jewellery.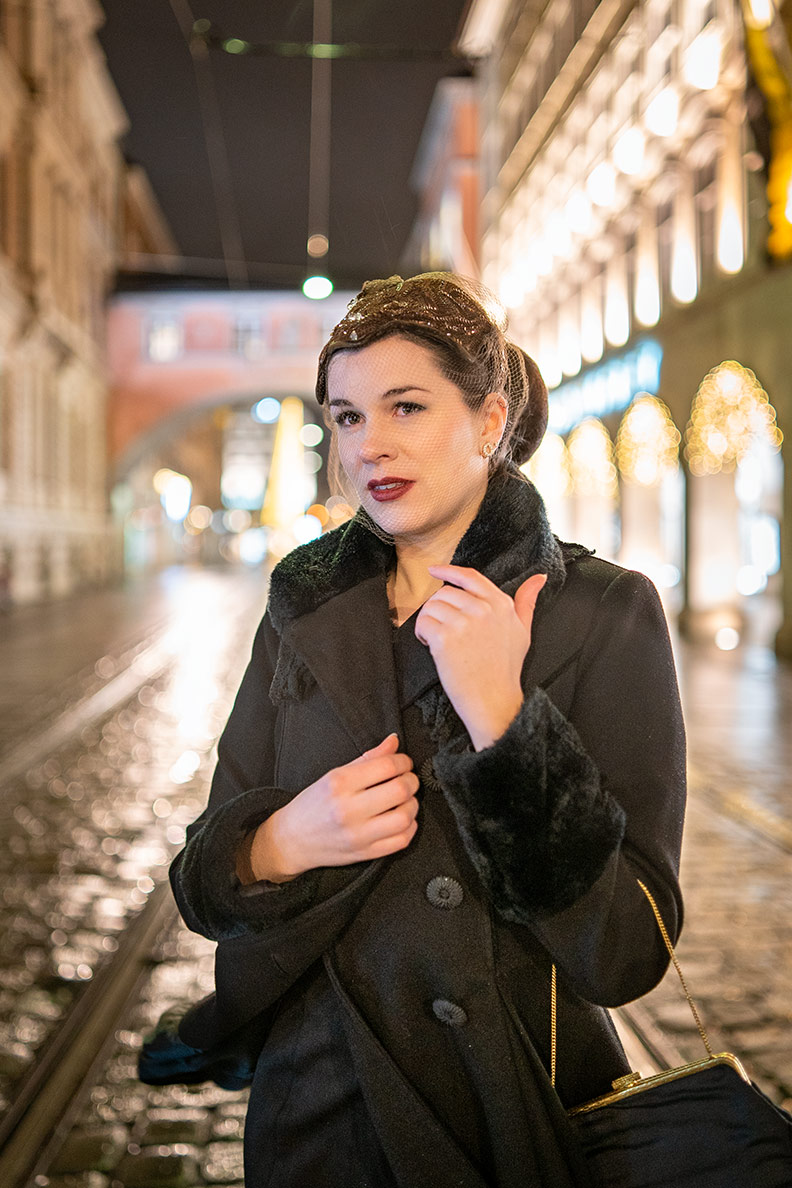 The Shiny Seamed Full Fashion Stockings by Secrets in Lace
The most special accessory, however, are my elegant stockings by Secrets in Lace*. They look super chic due to the black colour, but the real highlight of them is the golden seam. Matching it with my jewellery, it makes my outfit look so glamorous and festive. And as always when talking about Secrets in Lace, the quality is simply amazing.
PS: If you prefer a more colourful look, the stockings are also available with red seams (here) and metallic seams (here).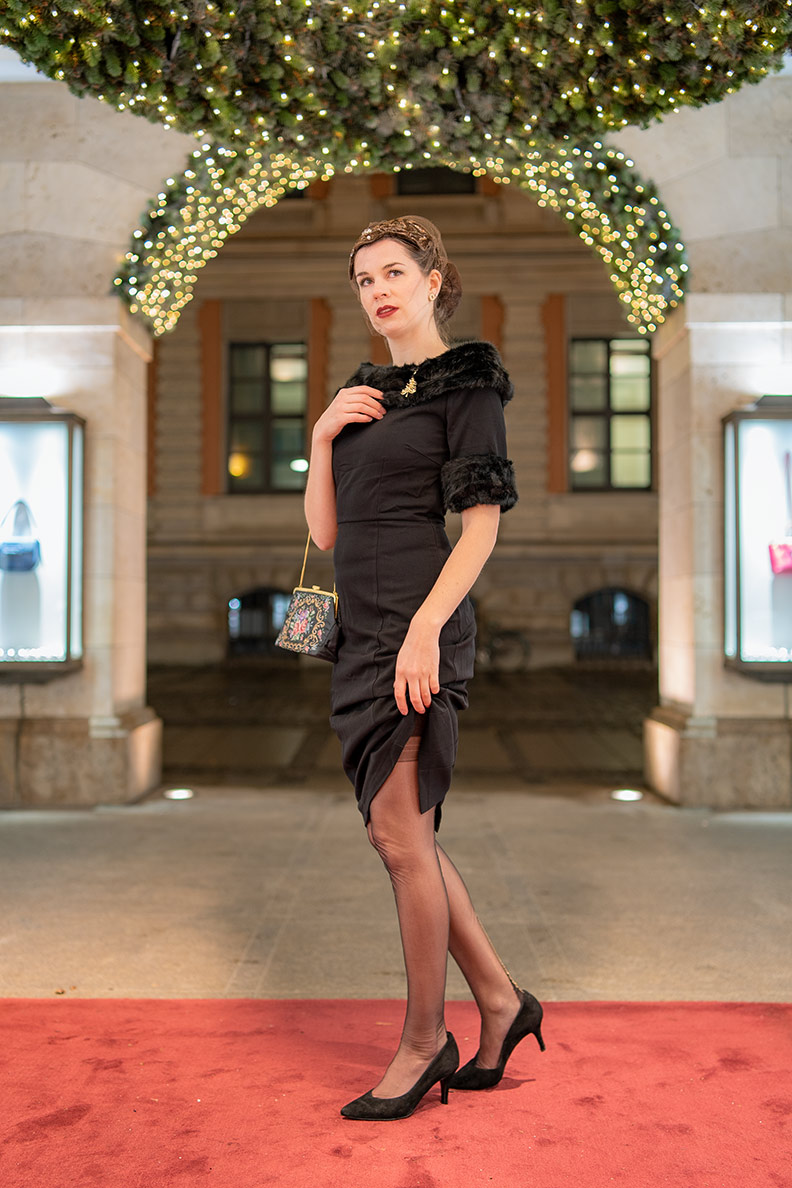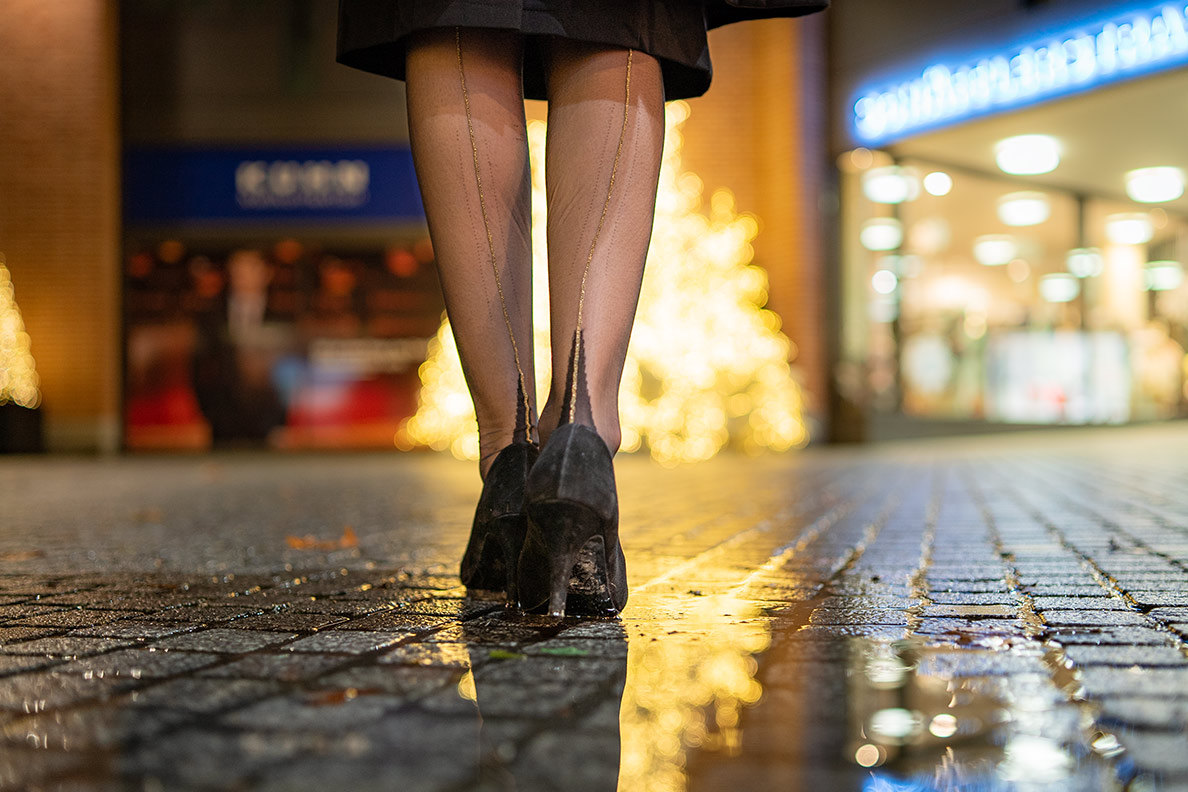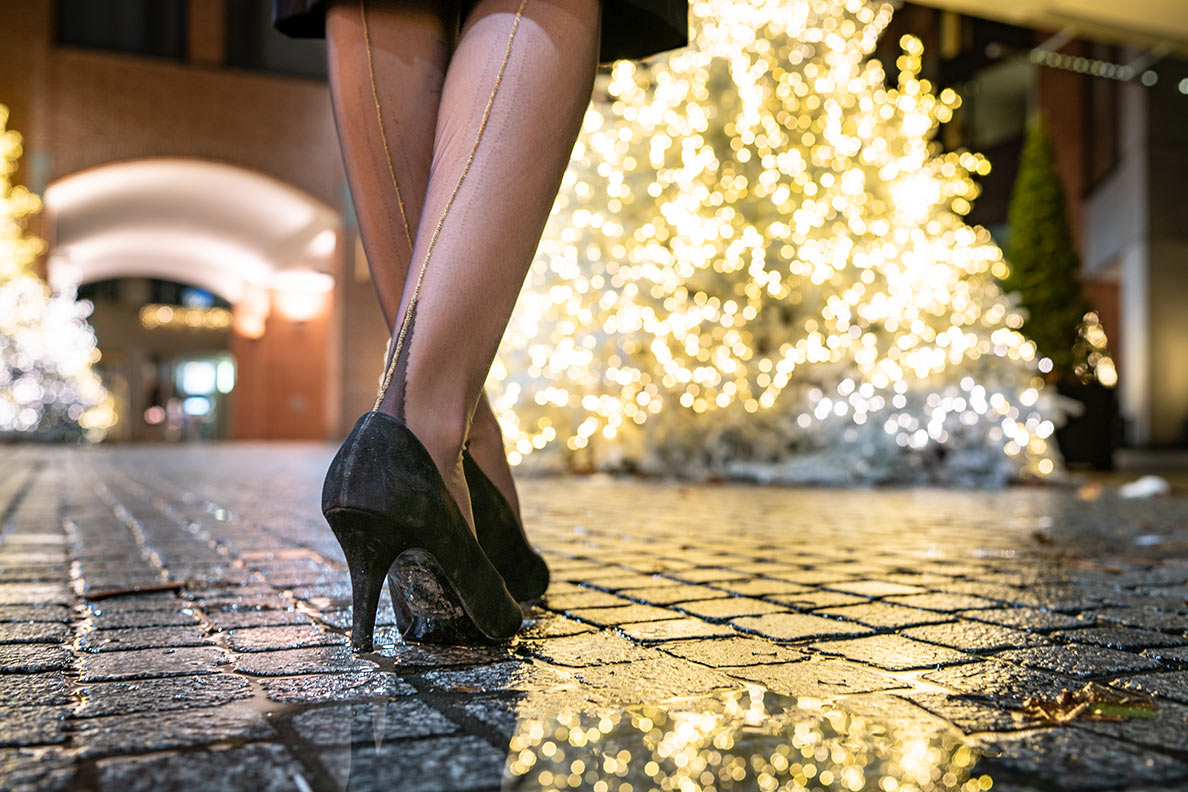 ---
Vintage inspired Christmas Outfit – the Details:
Dress: c/o Venus Van Chic
Coat: Hell Bunny, similar here
Stockings: c/o Secrets in Lace – Europe
Shoes: Peter Kaiser
Hat: Vintage, similar here
Handbag: Vintage
Earrings: Vintage
---
Win a Dolly and Dotty Dress – finished
And last but not least, you can win a dress of your choice from the Dolly and Dotty online shop! Here are the conditions:
To participate in this giveaway, please leave a comment until the 24th of December 2018 (midnight CET) under this blogpost telling me, which dress from the shop you would choose (click here to get to the shop) and follow me (here) as well as Dolly and Dotty (here) on Instagram. If you don't have Instagram, you can also like my (here) and Dolly and Dotty's (here) Facebook page.
Everyone who needs some inspiration to choose a dress, will find all my Dolly and Dotty outfits here.
Please make sure the mail address you leave in the proper field in the comment section is valid.
I'm going to send the winner an email. Please keep in mind that I'm going to share the personal data of the winner with Dolly and Dotty, as they are going to send the dress to the winner.
The winner has to answer my mail within 3 (three) days, if not, I'm going to draw another winner.
You can only participate once.
It's not possible to participate via email or social media like Twitter or Facebook.
The judges' decision is final and no cash prizes will be awarded.
You have to be at least 18 years old to participate.
I assume no liability for transport / no substitution in case of damage in transit.
The giveaway is open for people with residence within the European Union (EU).
The giveaway is not sponsored and not connected with Facebook and/or Instagram.