This blogpost contains affiliate links (marked with *). If you shop products via those links, I may get a small provision which helps me to maintain my blog. Of course the price doesn't change for you.
Outfit: Red winter dress and elegant accessories
Aren't those wintery nights with light, sparkly snowfall and all those lights magical? The streets are empty, and the air is so wonderfully fresh. I always really enjoy a walk in the dark with my love. Afterwards, I warm up at home with a cup of tea, a good book and a cosy blanket – and then, I fall asleep. I don't want to talk about sleep in this blogpost, though, but rather about my winter outfit. 🙂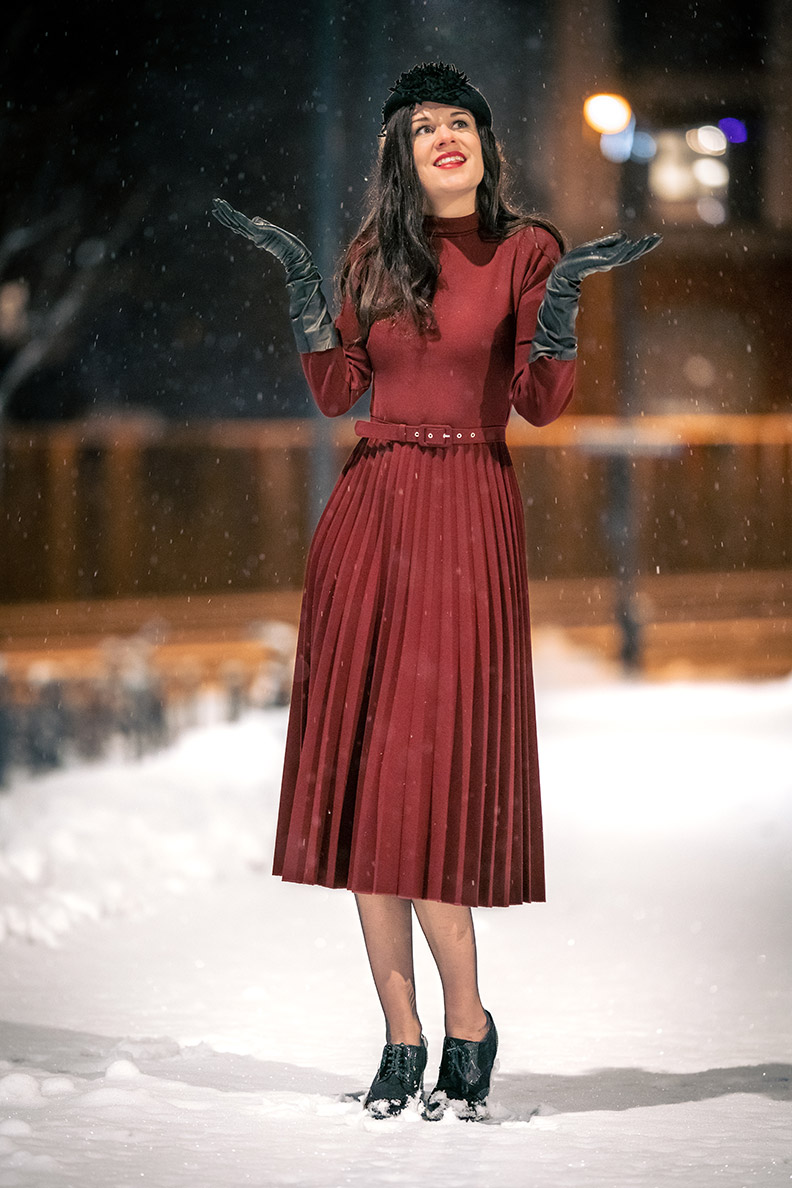 A red Winter Dress – the Outfit Details:
Red winter dress: Ginger Jackie
Coat: Collectif Clothing, similar here*
Stockings: Secrets in Lace, similar here*
Gloves: Vintage, very similar here*
Shoes: similar here*
Hat: similar here*
*Affiliate links

---
Beautiful Winter Dresses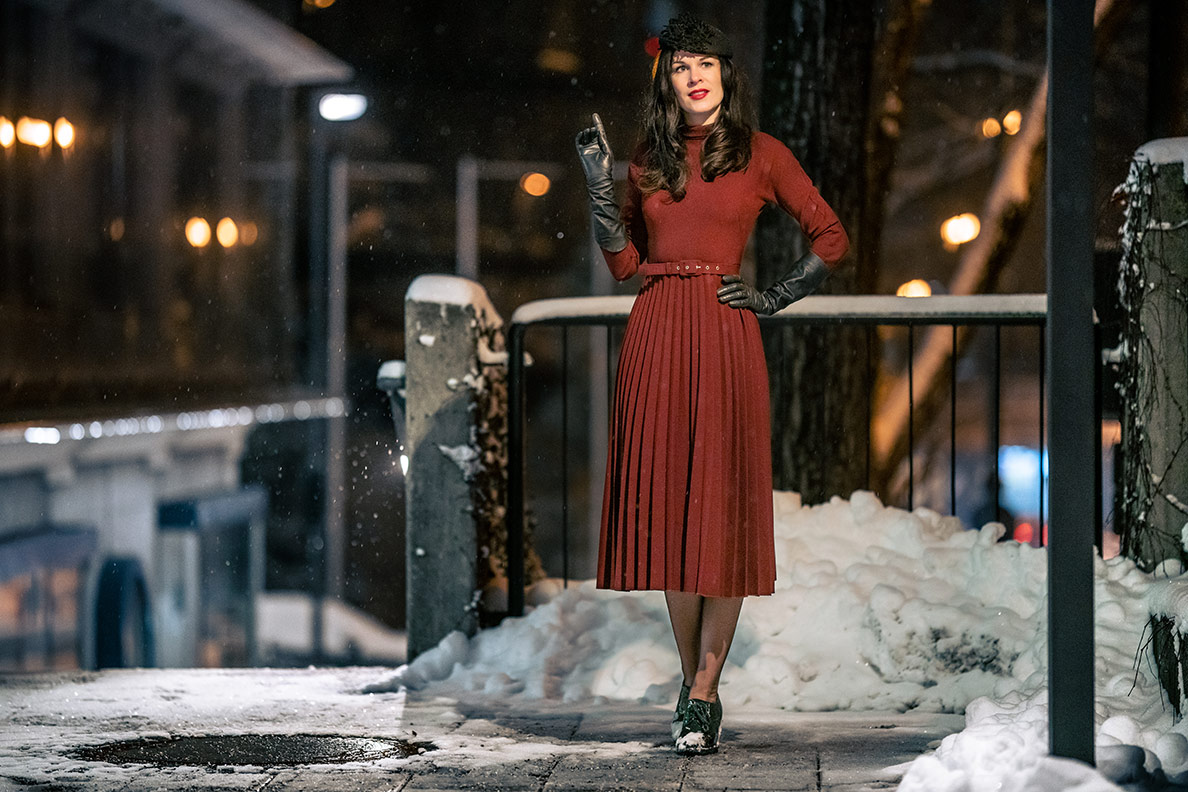 I mostly wear dresses and skirts, even in winter. Thick fabrics, long sleeves and some warm accessories are a must-have then, of course. My wonderful dress is by Ginger Jackie, by the way. I especially love the wonderful pleated skirt and the dark red colour.
PS: Here, I tell you how to wear dresses and skirts in winter, without being cold.
Beautiful Dresses for Winter
*Affiliate links

---
A glamorous Coat and wonderful Accessories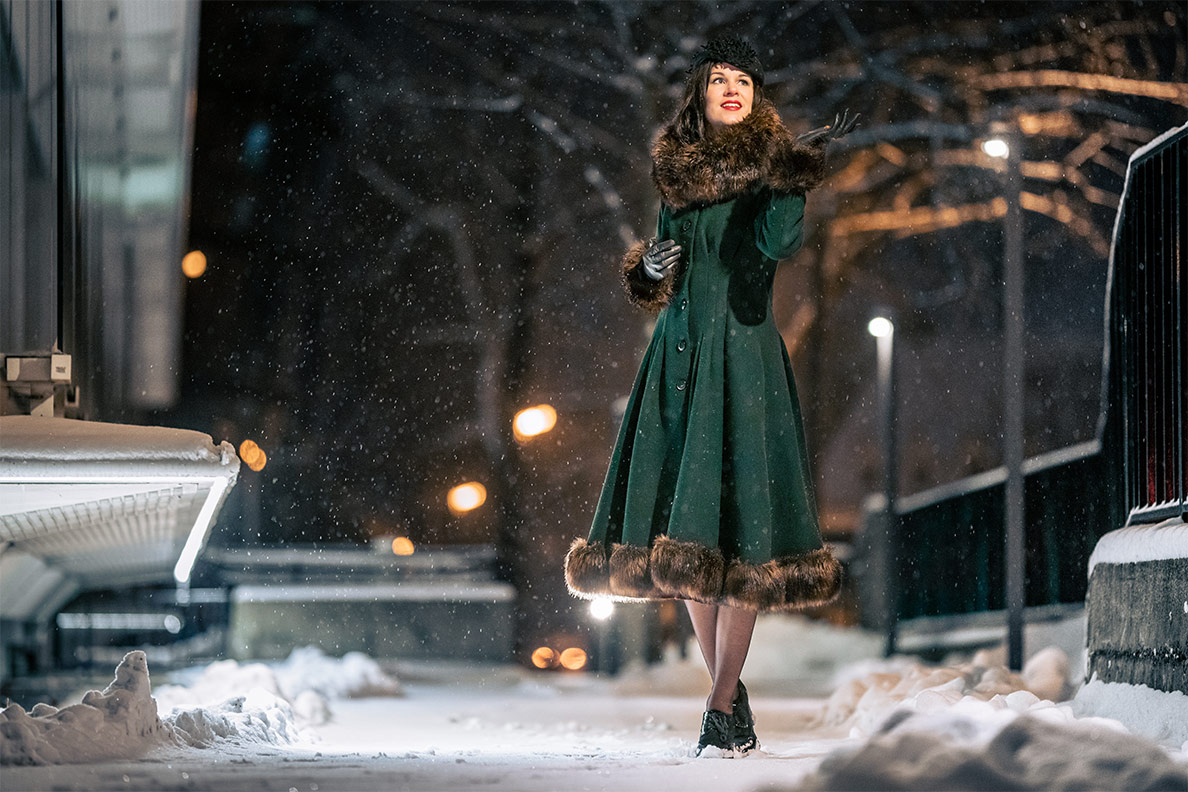 On cold winter days, a dress isn't enough to leave the house, of course. So I am wearing my most glamorous coat on top, the Pearl Coat by Collectif Clothing (this coat is available in another colour here* for example).
I team the dress and coat with elegant accessories like a small black hat, long vintage leather gloves (shop similar here*) and pretty ankle boots.
Pretty Coats and Accessories to wear with Winter Dresses:
*Affiliate links

---
From elegant to warm: Hosiery for your Winter Dresses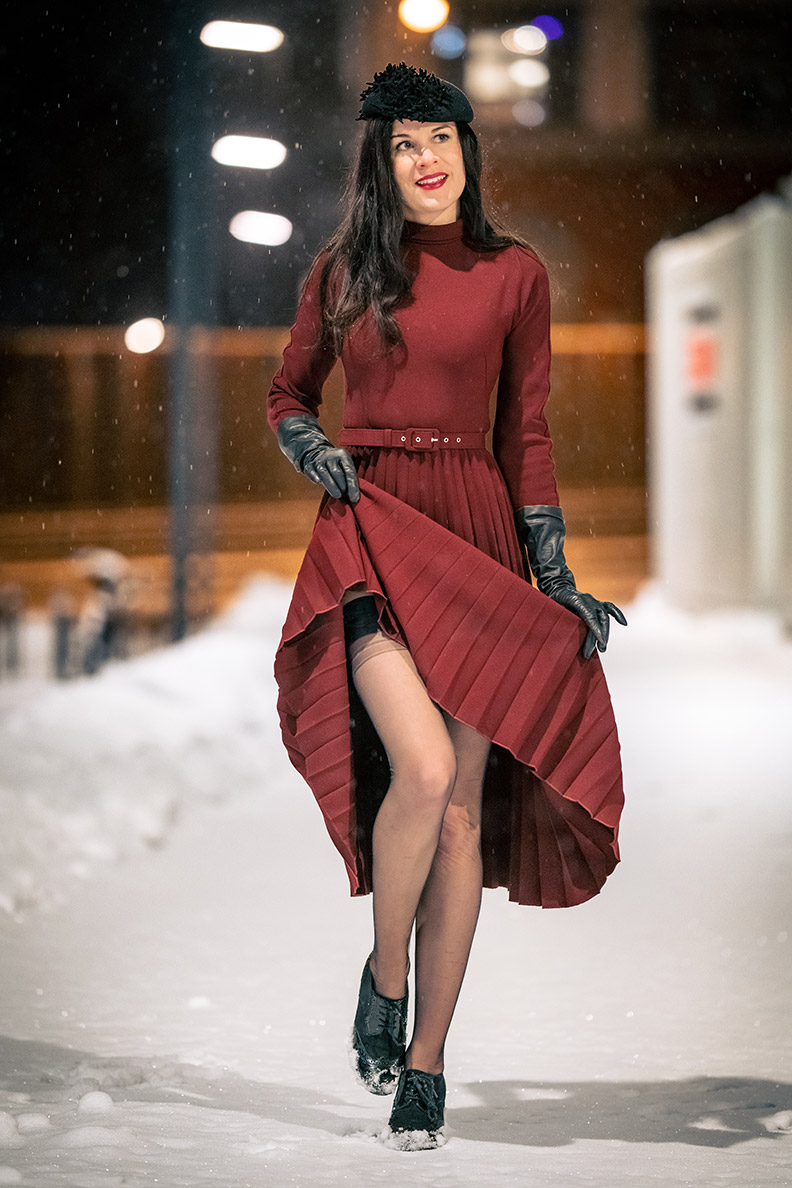 My legs are not very sensitive to cold, to be honest, therefore I wear nylons sometimes even when it snows. Furthermore, I think it is a pity that there are almost no occasions to wear my pretty seamed stockings, currently. So I thought, I will put them on for my walk in the snow. Nevertheless, I rather recommend to wear warm thermal tights on such cold days or nights, especially when you plan to stay outside for a longer time. 🙂
Pretty Hosiery from elegant to warm:
*Affiliate links

---