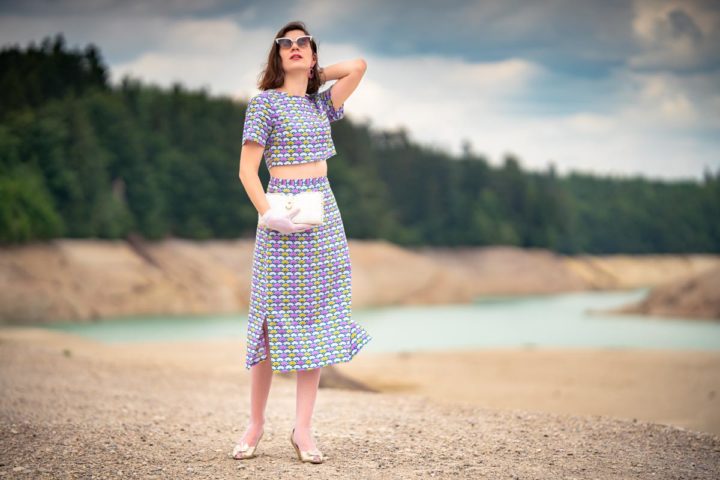 This post contains affiliate links and pr samples
Hot temperatures and even hotter clothes – summer is definitely here. I especially love to enjoy the good weather with friends in a café (in this blogpost, I introduce the in my opinion best and most beautiful cafés in Munich to you) or at the lake. But you know what? It's acutally pretty hard to shoot when it's very sunny due to the many shadows you have in your face. This is why we took adavantage of one of the first cloudy days we had since a very long time to shoot some new summer outfits for the blog. The first one I would like to show you is the 60s inspired Fan Dress by Grünten Mode.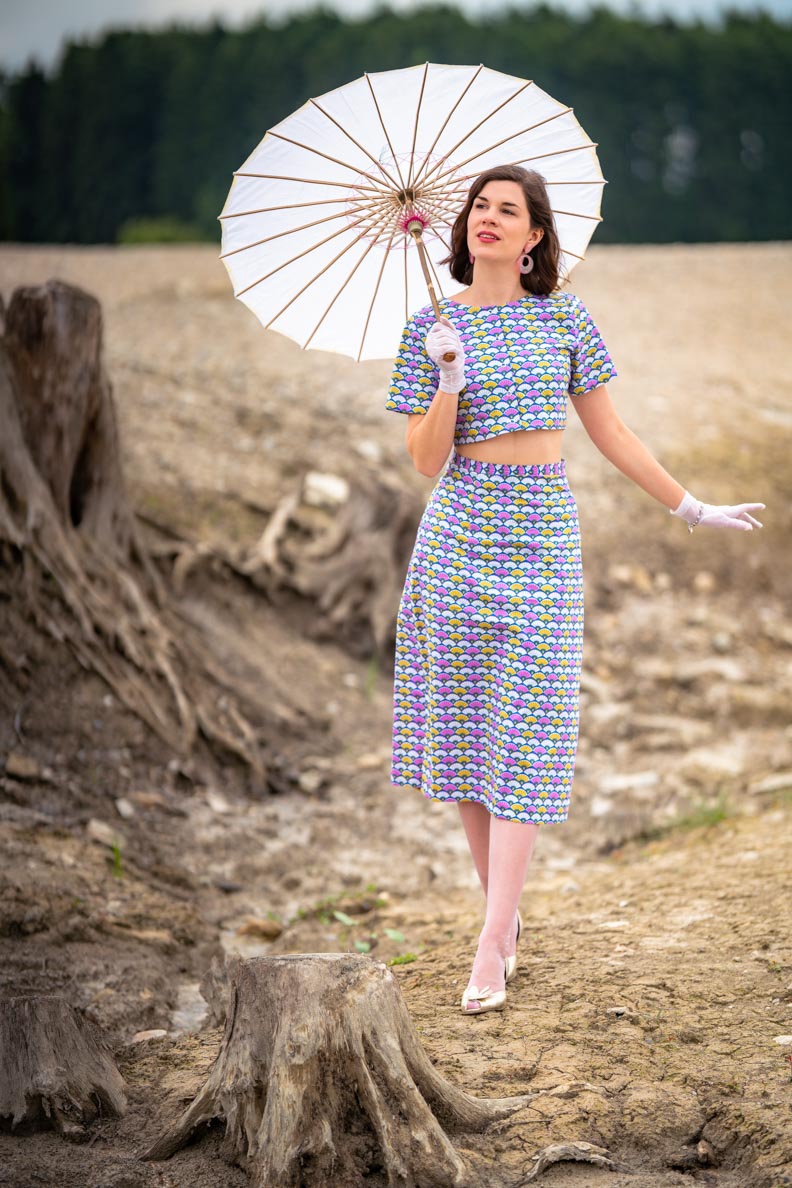 60s Outfit for Summer: The Fan Dress by Grünten Mode
Actually, the Fan Dress isn't really a dress, it's more an ensemble consisting of a fitted skirt and cropped top. Thanks to the slashes, the skirt is very comfortable and one is even able to jump, as you can see in the photo below. 😉 Another highlight is the colourful fan-print in blue, white, pink, and yellow. And due to the light cotton fabric, the dress feels great on the skin, even on very hot days.
By the way: In this blogpost, I show you more pretty designs from the latest spring/summer collection by Grünten Mode.
Lilac stockings by Secrets in Lace match the ensemble perfectly, while pink earrings by Glitter Paradise, white gloves by Secrets in Lace, as well as a white vintage basket bag pick up the colours of the Fan Dress.
---
More stylish Basket Bags for Summer:

---
A white parasol, retro cateye sunglasses, as well as golden shoes add that certain something to the look and finish the 60s inspired summer outfit.
---
More retro Cateye Sunglasses:

---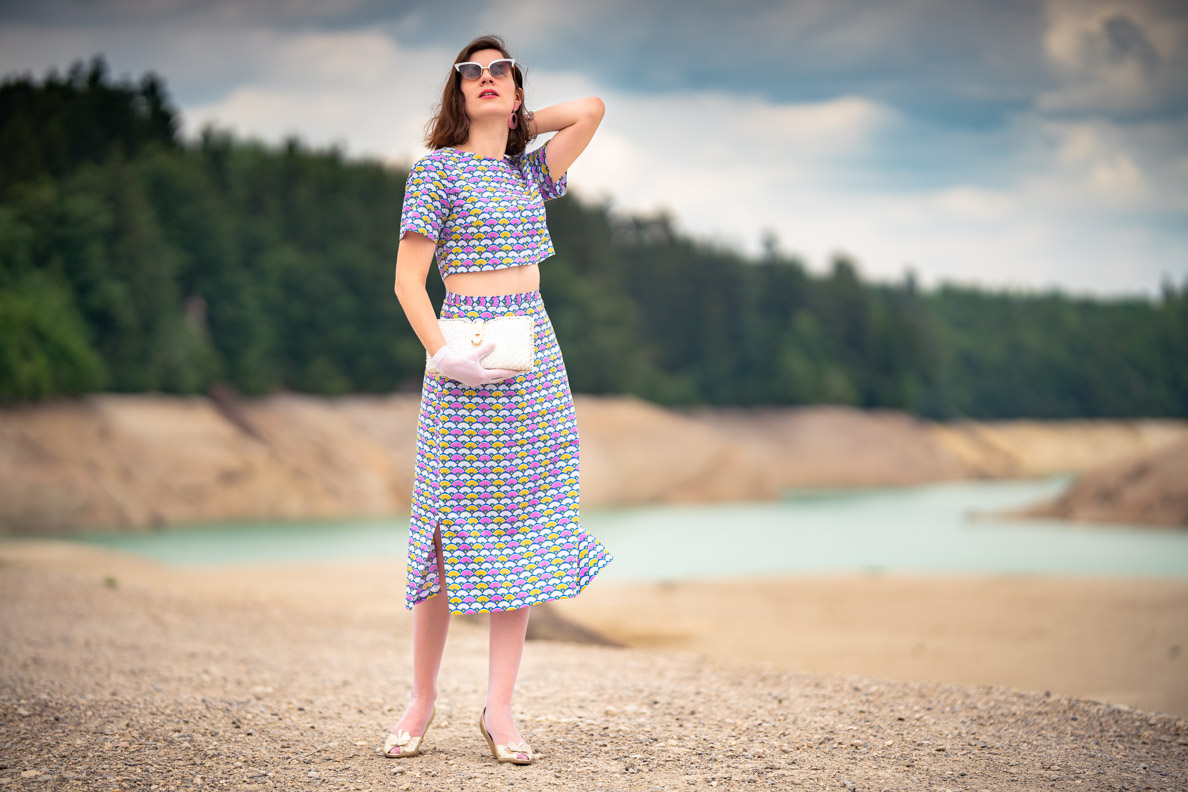 Isn't this the perfect 60s look for every occasion? It's fancy enough for exciting summer days in the city and comfortable enough for relaxed days with lots of ice cream at the waterside.
A summery 60s Outfit – the Details:
Fan Dress: c/o Grünten Mode
Stockings: c/o Secrets in Lace – Europe
Gloves: Secrets in Lace – Europe
Basket Bag: Vintage, similar here
Parasol: available here
Retro sunglasses: similar here
Shoes: Frollein von Sofa, similar here
Earrings: Glitter Paradise
---
---
A colourful Summer Makeup
My makeup this time is colourful on the one hand, and subtle on the other hand. I start with the CC Cream by Chanel with SPF 50s, which is perfect for summer. On my lids, I first use the Urban Decay Primer Potion and apply pink and purple eyeshadow afterwards. I use lots of mascara and enhance my eyebrows. Pink blush makes my face look fresher while the Dior Addict Lip Sugar Scrub is the perfect base for my lips. The Dior Addict Lipstick in "Fuchsia Twist" adds a little bit of colour and finishes my makeup.
---
Makeup Details:

---