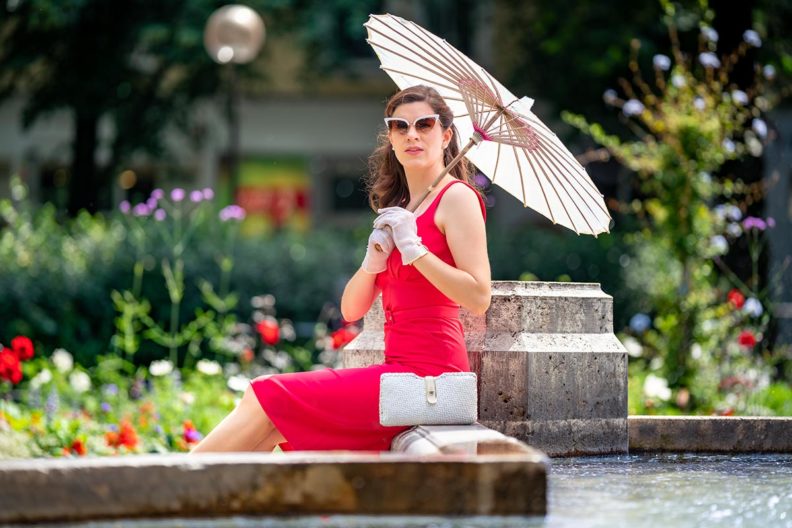 How to style coral colours: Lovely outfit ideas for summer
If there is a colour that calls summer, it must be coral! This fresh pink-orange-red always looks so summery and light, and always makes me think of vacation time. There is just one drawback: coral colours are often not so easy to combine. So in the following, I'm going to show you how I style coral colours for different occasions and temperatures.
This blogpost contains affiliate links (marked with *) and pr samples (marked with c/o)
How to style Coral Colours
All in all, we can say coral colours usually always look great in combination with white or black.
If you want to team corals with other colours, it gets a bit more tricky. You might want to start with other summery colours like yellow, for example. If you are brave, you can also do some colour blocking and wear corals with the colours of the sea like green or blue shades, for example.
Coral colours look amazing in combination with summer accessories like basket bags, delicate gloves, lovely sandals, as well as wedges, and sunglasses.
Coral colours are available in many different shades. Some of them look more orangey, others have a pink undertone, and some are a mixture of red and orange. It definitely makes sense to experiment a bit with these shades, to find out what suits you best.
*Affiliate links

---
Lovely coral-coloured Summer Clothes and Accessories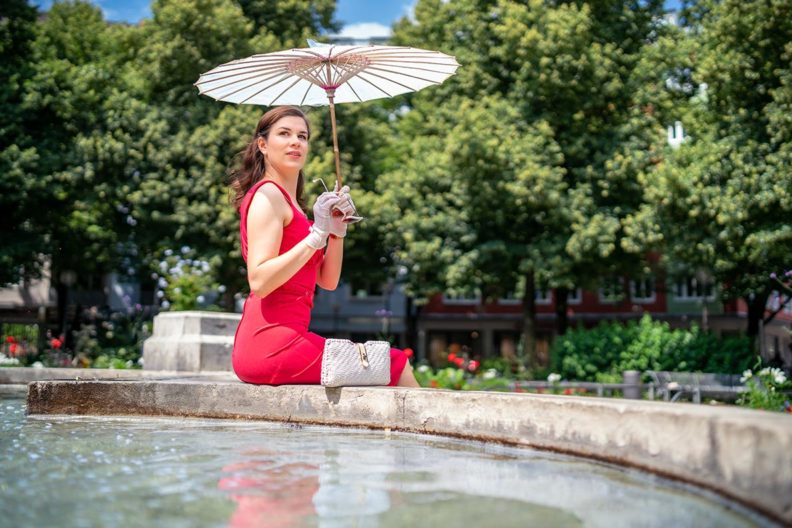 *Affiliate links


---
A thrilling coral-coloured Pencil Dress by Miss Candyfloss
The Bombshell Wiggle Dress in "Rim-Coral" by Miss Candyfloss is a summer dream! The figure-hugging cut, as well as the lovely details like the belt and pleats below the bust make it a real head-turner. For a stylish summer look, I team the coral-coloured dress with white retro cat-eye sunglasses, a white basket bag, delicate gloves, as well as white sandals. A parasol is a stylish sun protection and finishes the look.
A wonderful outfit for a summer day in the city, birthday parties, a sunday brunch with the family, or similar activities. I even believe that this is a wonderful look for not too formal summer weddings.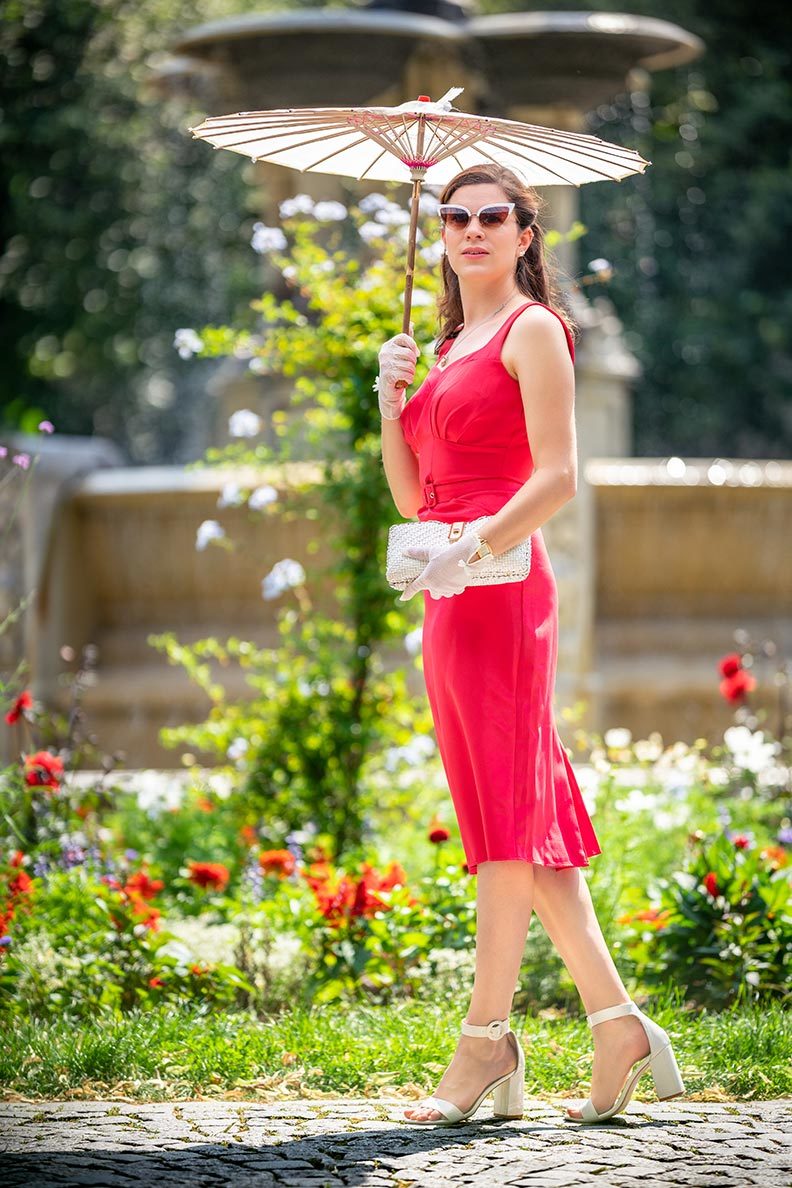 Outfit Details:
Dress: c/o Miss Candyfloss*, also via TopVintage* available
Parasol: available here*
Retro sunglasses: very similar here*
Shoes: via Asos*
Basket bag: Vintage, similar here*
Gloves: Vintage, similar here*
*Affiliate links


---
Coral meets Yellow: A wonderful Colour-Combination for warm Summer Days
Beside pencil dresses, flared dresses in coral colours look great as well. I already introduced the Thelise-Coral Dress by Miss Candyfloss a few weeks ago. I teamed the dress with yellow nylons for the cooler days and evenings. The rest of the accessories are white and quite subtle.
A perfect outfit for everyday life, or summer parties.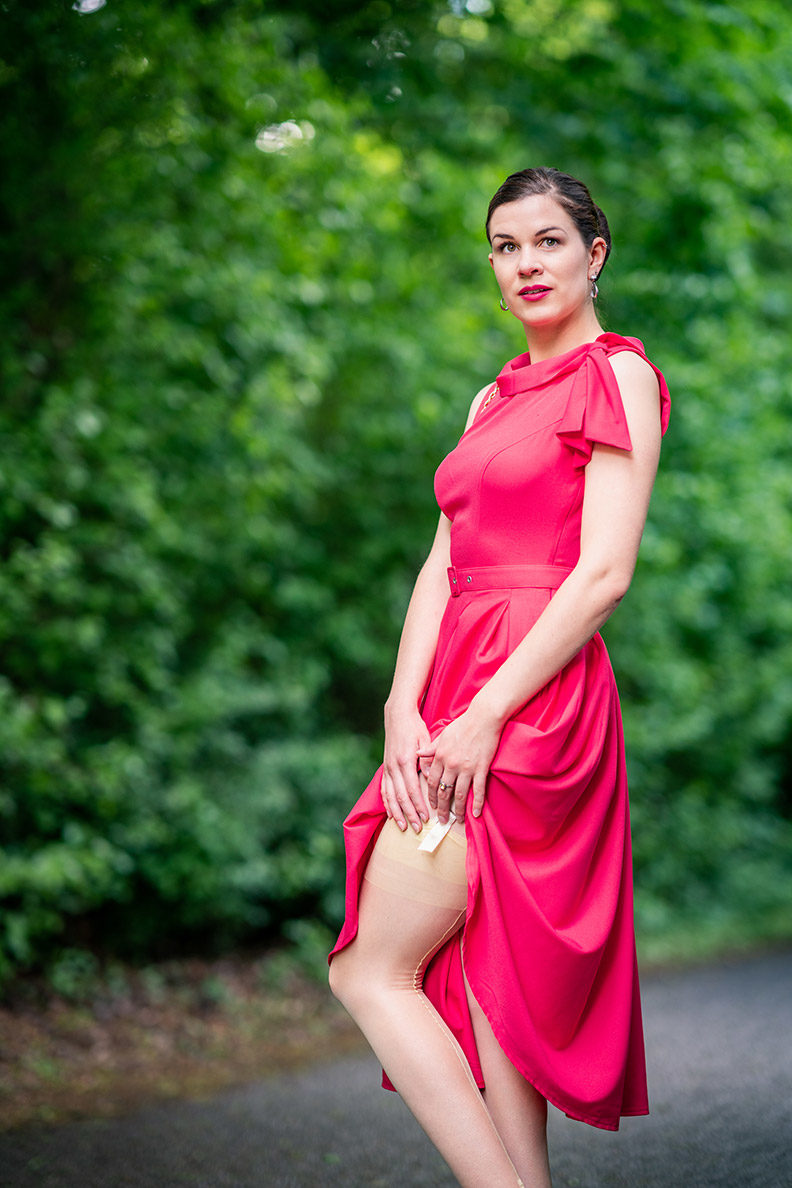 Outfit Details:
Dress: c/o Miss Candyfloss*
Nylons: c/o Secrets in Lace
Shoes: via Asos*
Handbag: Vintage, similar here*
Earrings: similar here*
*Affiliate links


---
A comfy Jersey Ppencil Dress for warm Summer Days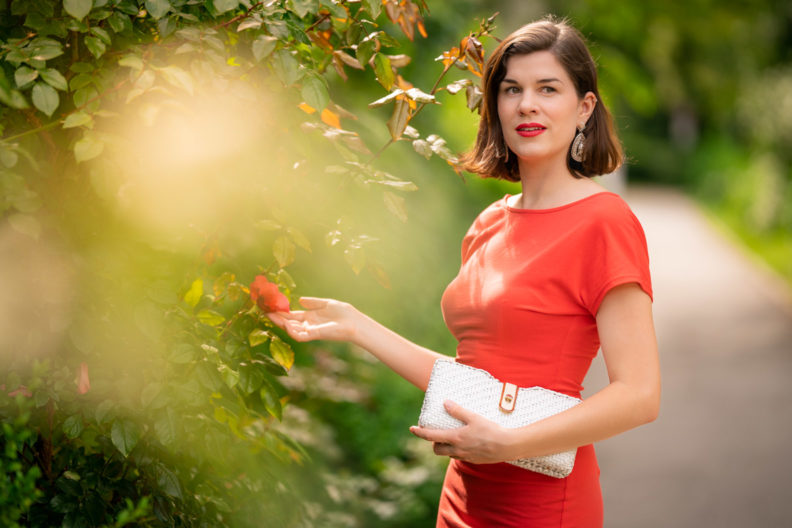 If you want a very relaxed, comfy, but still stylish summer outfit, just wear a subtle jersey pencil dress in combination with lovely sandals, a pretty handbag, as well as some jewellery, like huge earrings, for example.
A wonderful and simple outfit for relaxed summer days, lunch with friends, a visit at a café, or something similar.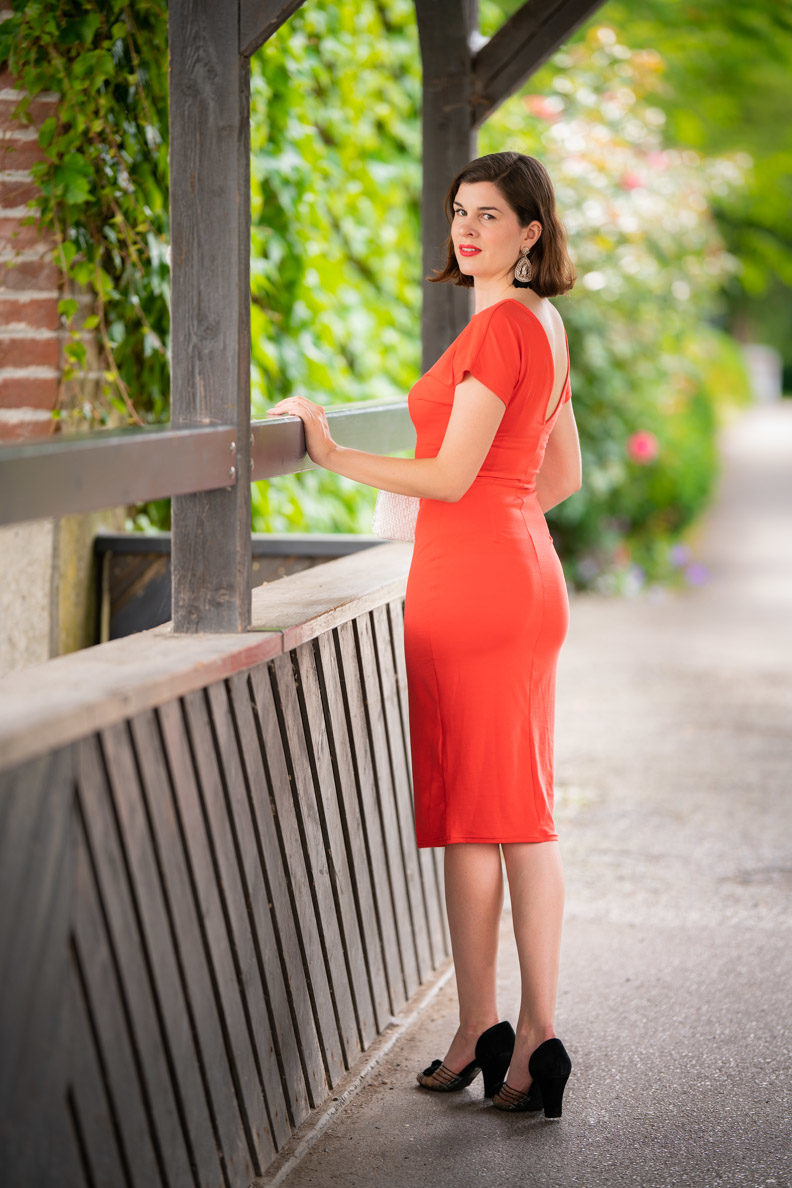 ---
How to style Coral Colours: A fiery Dress and black Accessories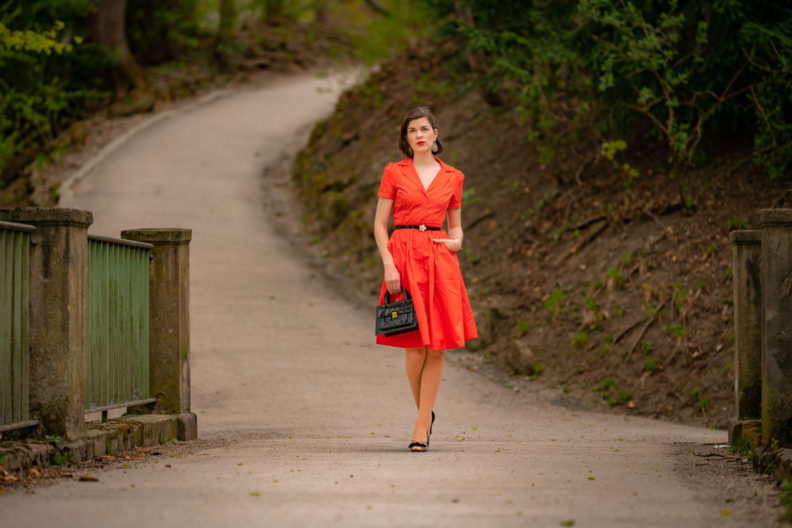 Coral colours also look great in combination with black accessories, just as this outfit proves. I wear the orangey coral dress with huge earrings, sandals, as well as tights by Wolford. If it is very warm outside, you also can skip the tights, of course.
This, by the way, is one of my typical daytime looks. I usually just put on a lovely dress, choose a few accessories, brush my hair, put on some lipstick and am ready to go. I don't need longer than a few minutes for this. 🙂
---
Perfect for Summer Vacation: A coral-coloured Dress and summery Accessories
Similar dress as before, but a more "vacation appropriate" styling: Instead of elegant sandals, I teamed the dress with comfy wedges, the elegant handbag got replaced by a straw bag, and I'm wearing sunnies on my nose.
A wonderful outfit for warm summer evenings or long walks at the water.
---