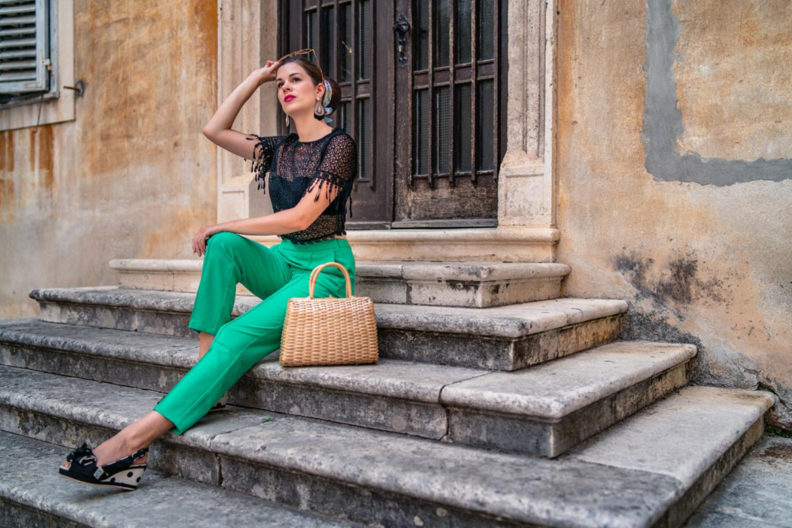 How to style crop tops elegantly
The higher the temperatures, the shorter my tops – this is how one can describe my styling preferences. 😉 To be honest, we usually don't associate short tops, so called crop tops, with an elegant look. But as always, this all is a matter of combination. When doing it right, crop tops can look very stylish and elegant. So in the following, I'm going to tell you how to style them the right way.
This blogpost contains affiliate links (marked with *)
What are Crop Tops and where to buy them?
Maybe we should start with clarifying what crop tops exactly are. Well, all in all, they are just short tops that show the belly – that's it. 😉
Crop tops are available at many different shops. Pretty retro tops can be bought at TopVintage*, for example. And you will find modern alternatives at Asos*, or Urban Outfitters*, inter alia. I personally don't wear crop tops with huge brand names or something like this. I rather invest in more "grown-up" tops.
Here are some lovely crop tops from different price categories I found in different online shops:
Budget-friendly Crop Tops for less than 25 Euros:
*Affiliate links

---
Beautiful Crop Tops for less than 50 Euros:
*Affiliate links

---
Luxurious Crop Tops from 100 Euros:
*Affiliate links

---
How to style Crop Tops elegantly:
To not look like a lost teenager from the 2000s that somehow made it into 2020, we should keep some things in mind when styling crop tops.
Short crop tops look best with high-waist trousers or skirts, so one can see a small "skin stripe" at the maximum. By the way: Such high-waist skirts and trousers often look better with short tops than long tops!
If you want to wear crop tops with high-waist mini skirts, you definitely need courage. The outfit will look more elegant in combination with skirts in midi-length.
It is absolutely necessary that your trousers or skirts fit perfectly, so that there so no "roll" between top and skirt/trousers.
Sublte crop tops are wonderful companions for leisure time, but not necessarily for the office.
Elegant, more fancy crop tops can even look good on glamorous events or evening occasions (see last outfit).
These Bottoms look good with Crop Tops:
*Affiliate links

And now, I'm going to show you some stylish crop top combinations for different occasions.
---
A 40s inspired Look for relaxed Summer Days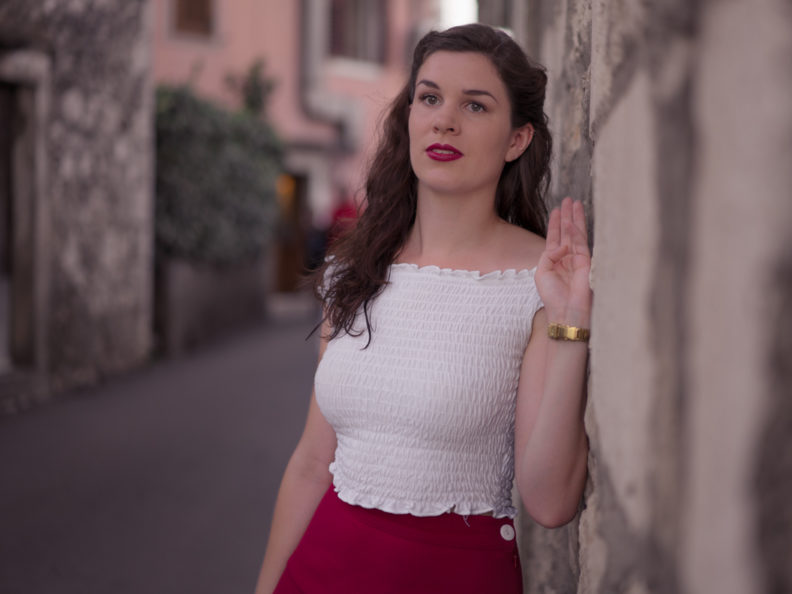 1940s inspired outfits are perfect for everyday life, as they look put together, but are also practical and comfy. The base of the outfit is a red swing skirt in combination with a white crop top. Comfy wedges, as well as a basket bag finish this look.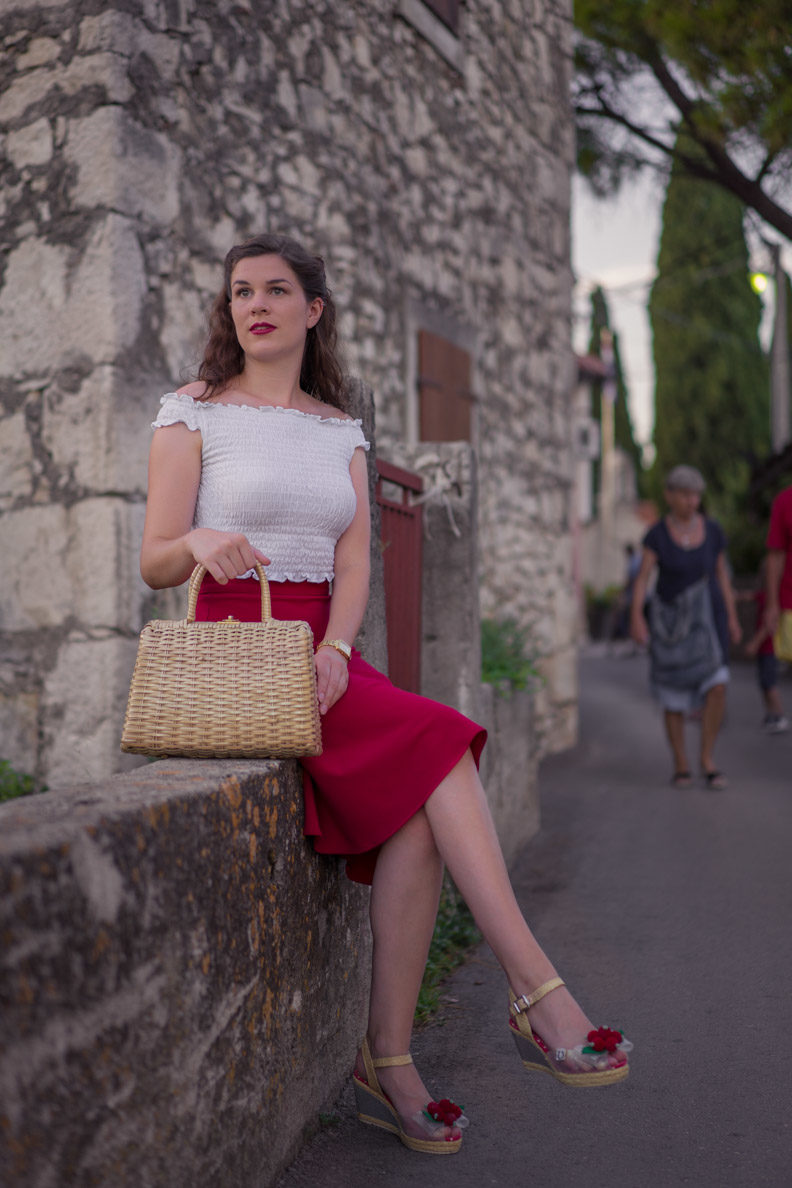 ---
How to style Crop Tops: A retro Daytime Outfit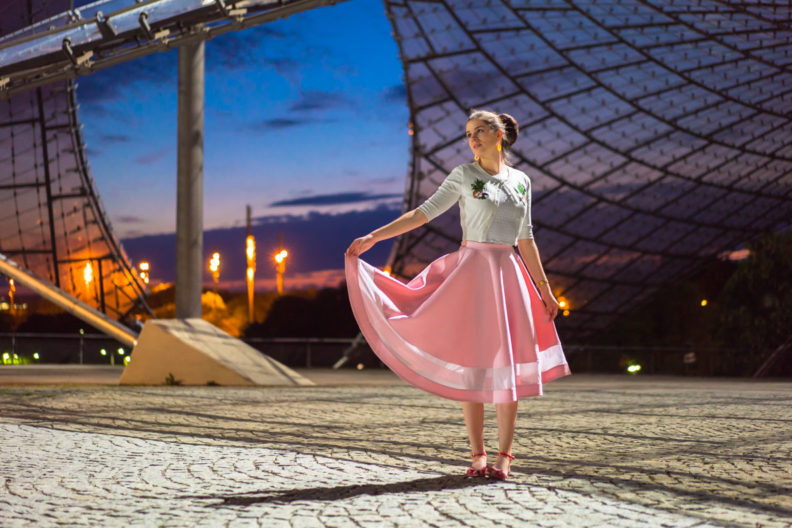 Another wonderful daytime outfit – this time inspired by the 1950s: A white crop top together with a swinging circle skirt. For a relaxed but fun daytime look, I team the outfit with pink flats, fruity earrings, as well as a cardigan for the cooler evening hours outside.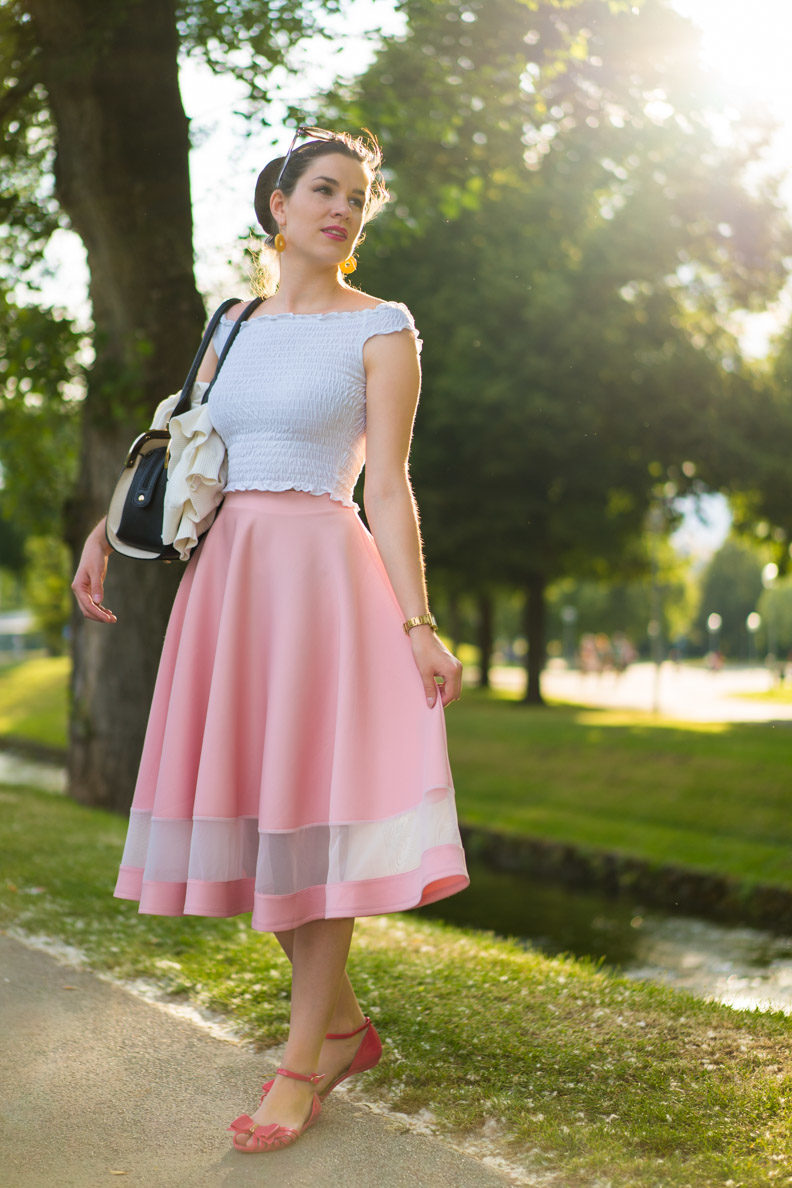 ---
A stylish Summer Outfit for the City: Crop Top and Cigarette Pants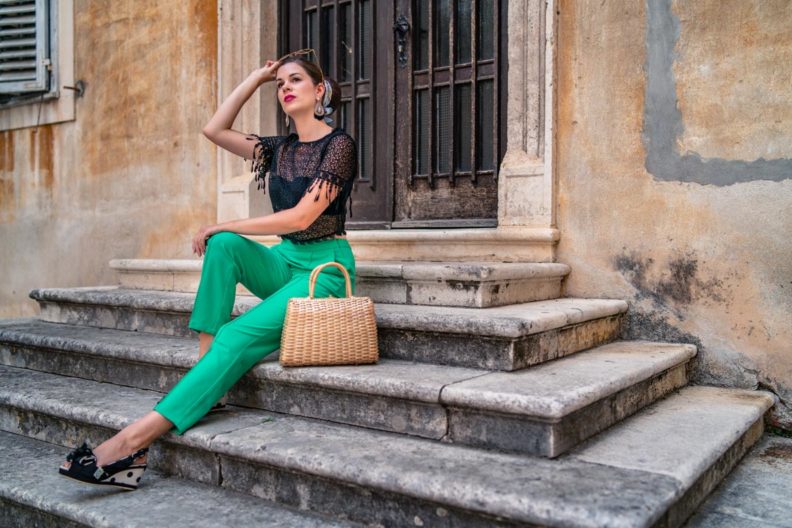 Crop tops can look super stylish for a day or evening in the city! For my look, I teamed a romantic top by Lena Hoschek with bright green cigarette trousers, and cool accessories like sunglasses, big earrings, wedges, as well as a basket bag.
---
Style Crop Tops elegantly with Pencil Skirts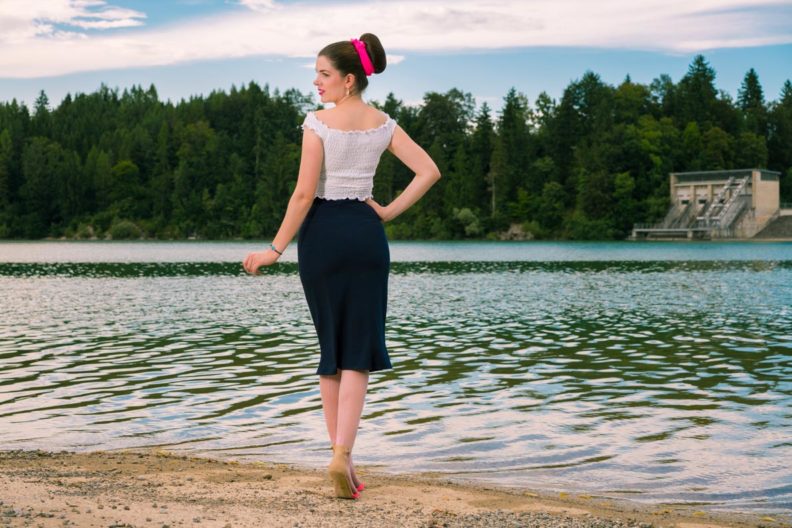 Short tops can even look elegant. Just team them with a very high-waisted pencil skirt, so almost no skin can be seen. Wear nylons and – if you like – some colourful accessories. Voila, the elegant crop top look is finished.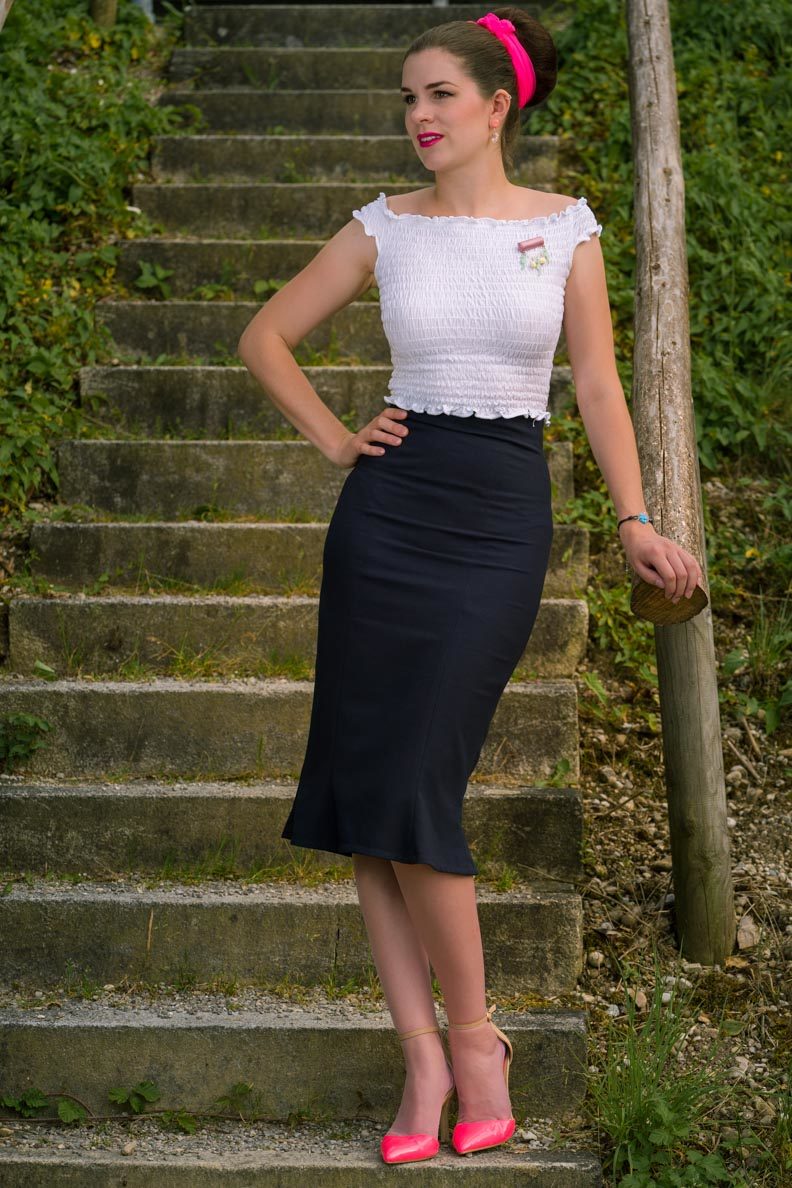 Outfit Details
Crop top: very similar here*
Pencil skirt: Gracy Q, very similar here*
Pumps: Buffalo, very similar here*
Stockings: Secrets in Lace
Earrings: similar here*
*Affiliate links


---
A colourful summer outfit: Pencil Skirt and Crop Top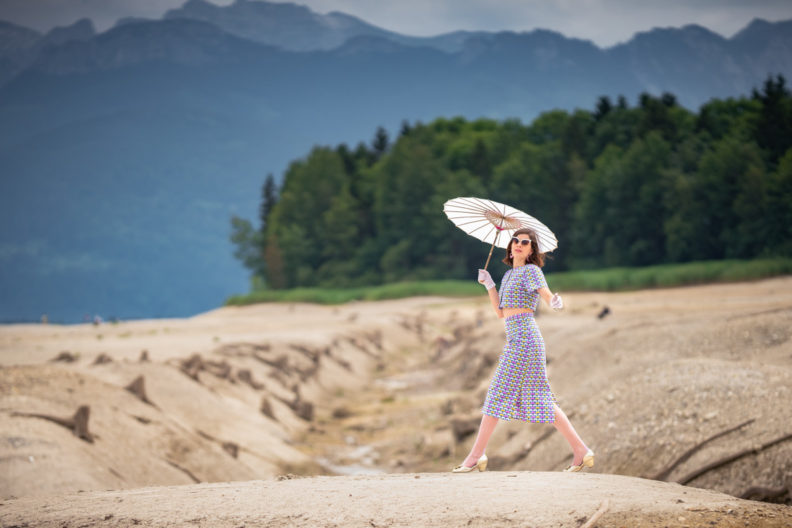 Colour blocking and cool accessories really make this stylish outfit. The Fan Dress by Grünten Mode ist the base of the outfit and looks wonderful in combination with stylish sunglasses, pumps, and other accessories like gloves, for example.
This look is not very appropriate for the office, obviously. But it is absoultely perfect for cool summer parties, summer vacation, or a day in the city with a good friend.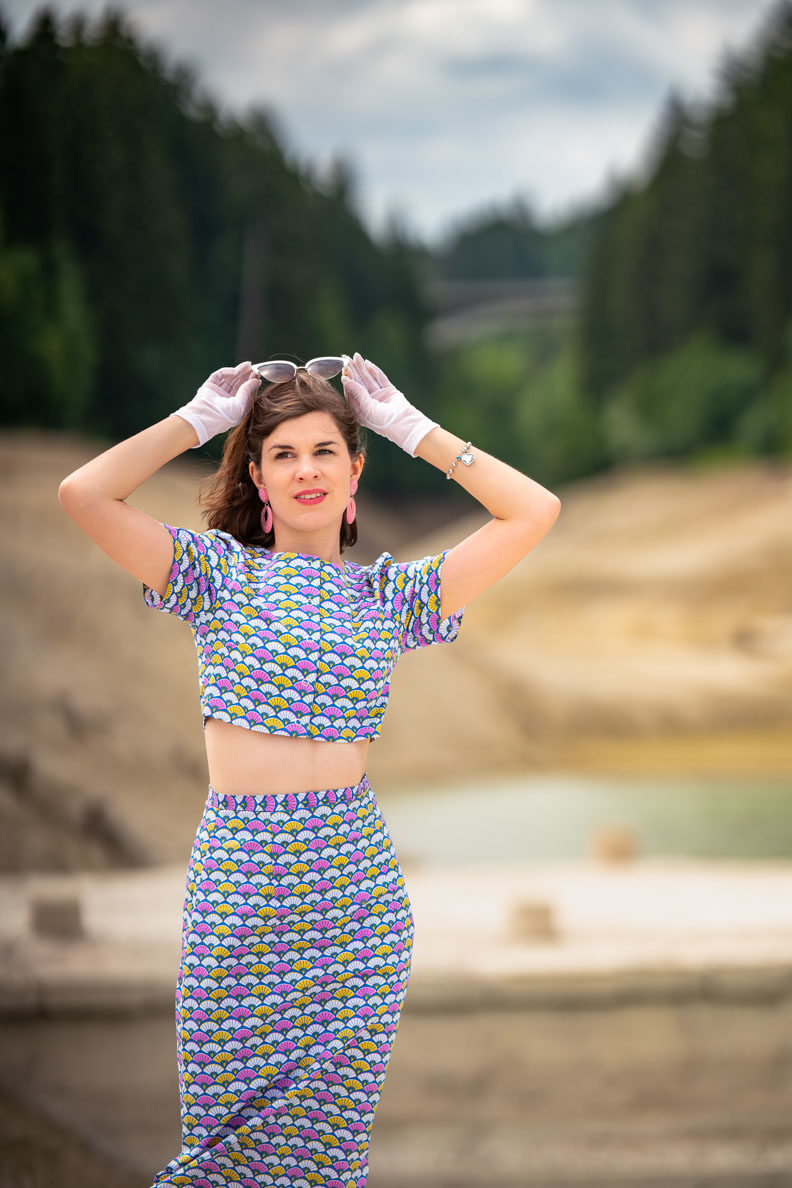 Outfit Details:
Ensemble: Grünten Mode
Retro sunglasses: very similar here*
Earrings: Glitter Paradise*
Gloves: Secrets in Lace
Parasol: available here*
Shoes: Frollein von Sofa, similar here*
*Affiliate links


---
How to style Crop Tops glamorously
Crop tops can even look super glamorous, as this ensemble by Marilyn Feltz proves! Shiny fabrics and an elegant cut are very important, fancy accessories are not necessary. I only wear golden shoes as well as a watch together with the ensemble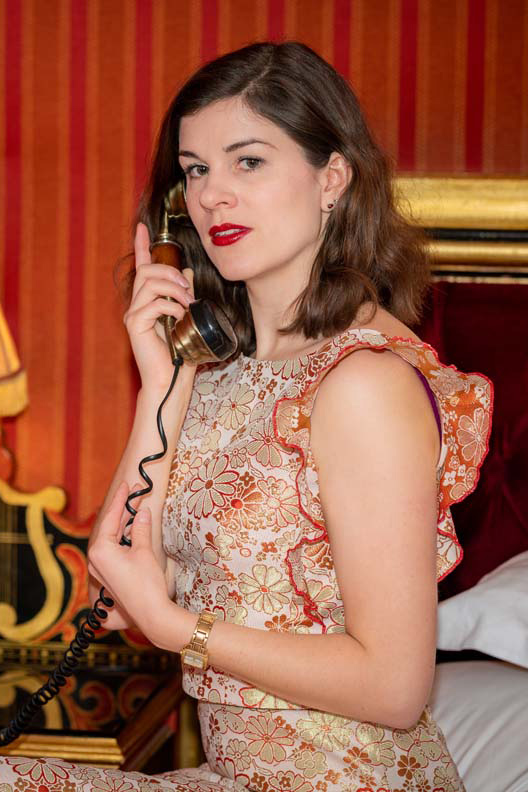 Outfit Details:
Skirt: Marilyn Feltz
Crop top: Marilyn Feltz
Shoes: Frollein von Sofa, similar here*
Watch: Jacques Lemans, similar here*
*Affiliate links


---
And now, I have a question: Do you like crop tops? And if you do, how do you like to style them? Tell me in a comment, if you like!