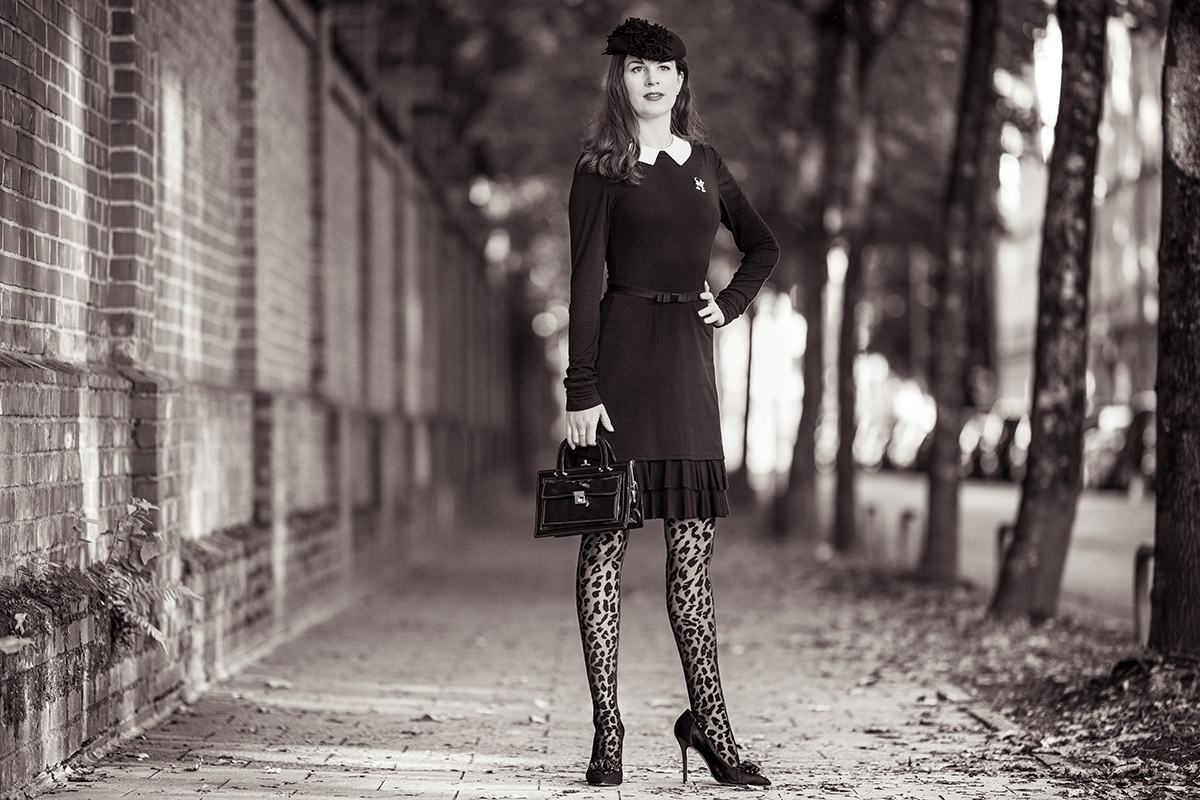 This blogpost contains affiliate links (marked with *). If you shop products via those links, I may get a small provision which helps me to maintain my blog. Of course the price doesn't change for you.
How to style patterned fashion tights
In my latest blogpost, I already showed you my favourite patterned fashion tights. This time, I want to tell you how to style them. Because although they look super stylish, they can be a bit tricky to combine.
Patterned Tights and a Little Black Dress
The easiest and most classy way to style patterned tights is to team them with a little black dress. This look simply always looks great – no matter if you are going to meet friends, do some shopping or are out and about for dinner. And as a little black dress always looks elegant, but can sometimes be just a little bit boring, I usually always wear fancy hosiery with my dress, by the way.
Even with a pretty 1940s inspired dress*, patterned tights look great. They simply add a modern touch to a very vintage style look. 😉
Especially tights with a subtle pattern* look absolutely amazing in combination with fancy lace-up boots*. I just make sure my dress is plain and elegant, if I want to wear this look in everyday life.
*Affiliate links

---
How to style patterned Tights in a colourful Way
Beside a little black dress, of course you can also wear colourful outfits with patterned tights. Subtle, plain dresses* go very well with patterned fashion tights – and if you want it super stylish, colour-match your hosiery and outfit!
If you choose subtle patterns like dots*, for example, you can even style them with a business outfit. I wear them with a classy pencil skirt and classy top in apricot*.
*Affiliate links

---
Patterned Tights and 60s inspired Outfits
Patterned tights go especially well with cheeky 1960s inspired outfits. So what about wearing checkerboard patterned hosiery with a stylish 60s inspired swing coat? Now, you only need some accessories like long gloves as well as a vintage handbag and you are ready to go.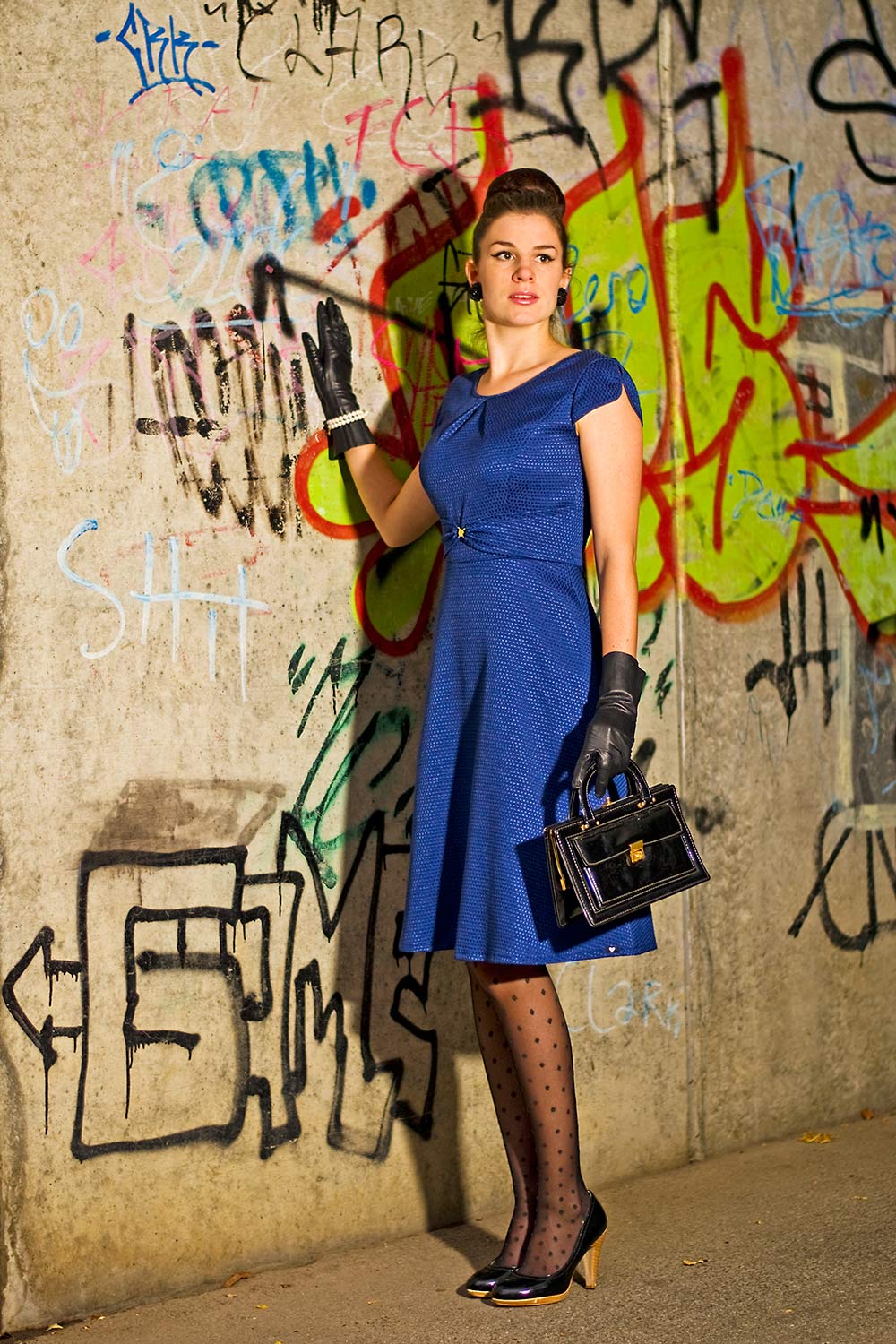 Of course, patterned tight go also very well with 60s style dresses. In this case, I teamed a royal blue dress with black, dotted hosiery* and matching accessories.
*Affiliate links

---
Patterned Tights and patterned Outfits
You can even mix the patterns of your hosiery and outfit! Just make sure the patterns are not too fancy and extraordinary. I, for example, went for a skirt with stars and tight with a subtle fishnet pattern.
Beside mixing patterns, matching them is also a great idea! What about a polka-dot dress worn with matching polka-dot tights?
*Affiliate links

---
How to style Lace Tights: Romantic or dramatic
Especially lace tights already look quite striking and are real head-turners. For a romantic look, I went for lilac hosiery and a colour-matching tulle skirt.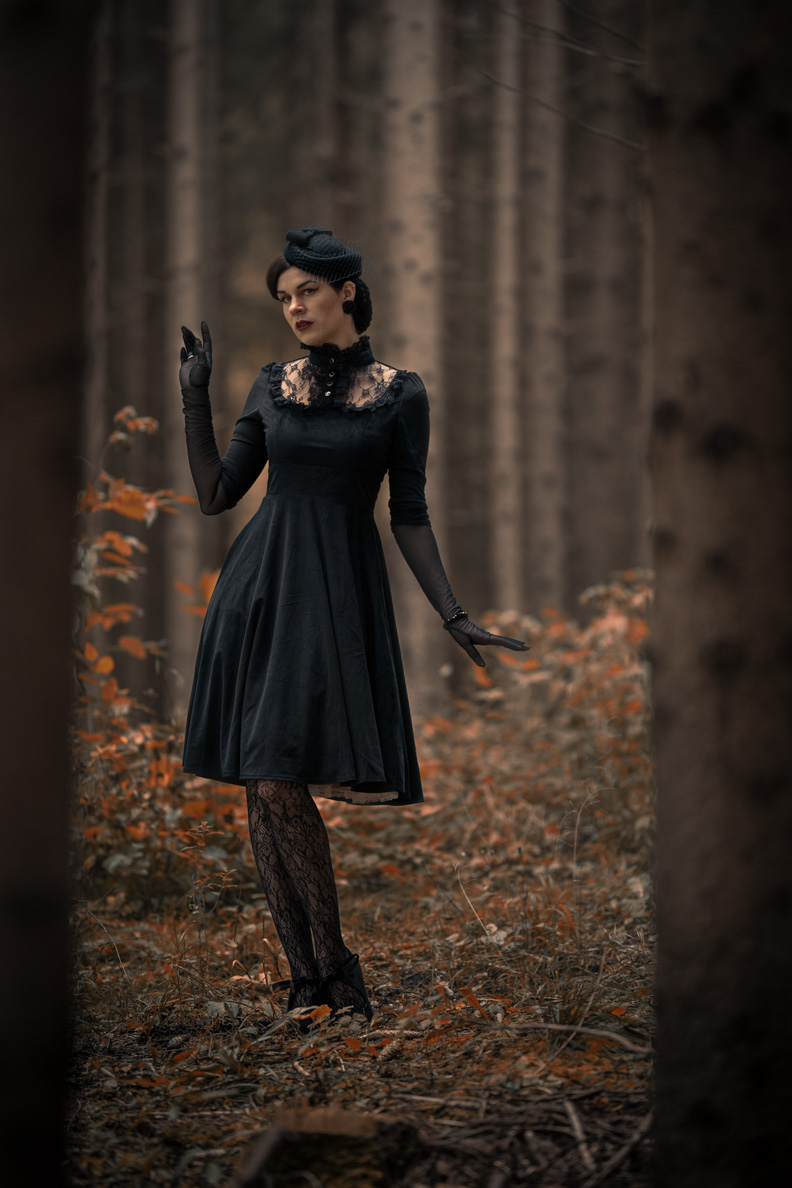 Lace tights, though, can also look very dramatic. I teamed my black lace tights with a dark gothic style velvet dress.
*Affiliate links

---
This might be also interesting for you: